At a Glance
Expert's Rating
Pros
Knock-your-socks-off bass response
Very comfortable to wear
Best performances are with EDM and games
Cons
They sound flat when the transducer is disabled
Not a good choice for classical music
iOS-only app is a little weak
Our Verdict
The transducer in the headband will bring a new dimension to your listening sessions.
Alpine is best known for building in-dash car audio systems, but they've done a terrific job designing a more intimate audio device: Alpine Headphones. The instant I wrapped these sleek, comfy phones around my head and hit play on my iPhone, I could literally feel my music.
That's because Alpine has put a bass transducer in the headband that essentially turns your skull into subwoofer. Sure, it's a little gimmicky, but that doesn't mean it doesn't work. I love bass, and I'm not exaggerating when I say these headphones made me remember why I love music.
This being the company's first very first foray into the headphone market, these headphones aren't perfect. While the thumping bass beat will make a bass-lover cry tears of joy, the phones do have a few design shortcomings. If Alpine enjoys market success with this first round and takes user feedback to heart, I imagine its second-generation product will be damn near perfect.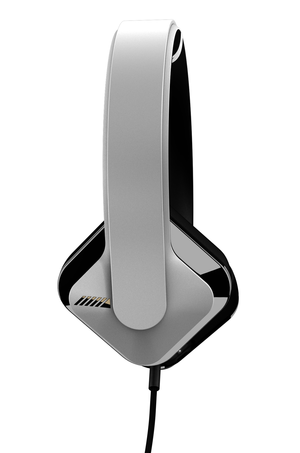 A curious design
Alpine's headphones are futuristically sexy. They look like high-end headphones without looking like any other high-end headphones on the market.
The set I evaluated sport a matte white headband over shiny metallic diamond-shaped ear cups that swivel in for flatter storage. They're also available in a glossy black finish.
The headband is lined with bouncy black padding with a slightly rubbery texture, and it provides just the right amount of tension to keep the phones on your head without giving you a migraine. These are some of the comfiest circumaural headphones I've worn.
But they're made for lounging—not working out. The headband is a bit too heavy to stay on your head if you're moving around a lot, especially in a horizontal position (think sit ups, push ups, etc). I'm not sure they're water resistant, anyway, so it's probably best to leave these headphones home when you're out for a morning jog. Sizing adjustments can be made via the cups, which click up and down to extend the headband's reach.
These pretty phones sport a few confusing design choices, though. For example, there are no markings to denote the left and right channels. Tradition dictates that the cord attaches to the left side, but Alpine shouldn't expect consumers to know that. In fact, I've seen a couple of seasoned headphone reviewers report that the power button and audio ports are under the right-hand cup.
Label your cups, Alpine!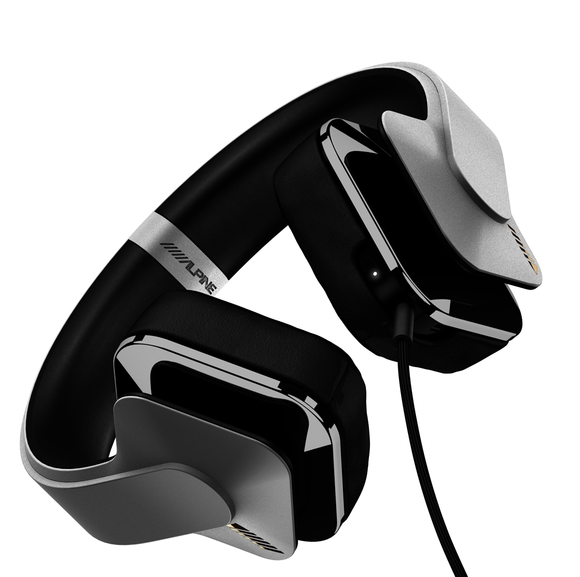 The phones come with two braided cables: A USB cable for charging the battery, and an audio cable for plugging into your device. Wait a minute, aren't these Bluetooth headphones? Well yes, they are. Sort of. Audio is transmitted through the included audio cable; Bluetooth is used only for the internal settings and audio tweaking using Alpine's Level Play app (free, but available only for iOS devices; an Android version is in the works). This bothers me. If I'm going to the trouble of pairing my headphones and running down my iPhone's battery, I expect to be able to move around freely while doing so.
An app that doesn't work with any of your music
The Level Play app's main appeal is its ability to sort the music on your phone and spit out curated playlists according to the tracks' "energy" level. It analyzes your music library and categorizes the tracks into "high," "medium," and "low" energy levels (based on beats per minute). When you want to listen to music, you can choose a level and it will play tracks that match.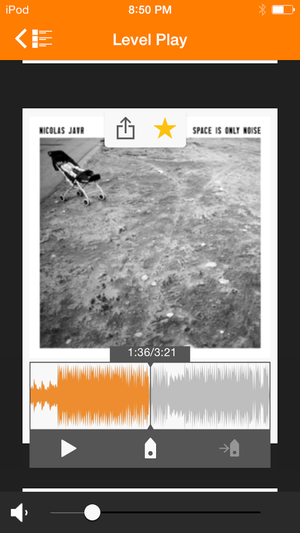 This is cool if you're looking for a thrown-together playlist, but this capability is not unique to Level Play. Apps like RockMyRun and PaceDJ do the same thing, offering up tracks with similar BPM rates for workouts (RockMyRun draws from its own database, while PaceDJ uses your music archive).
That's not all that Level Play can do. It also has a five-band equalizer that lets you manually tweak the sound of the headphones by way of their onboard digital signal processor.
But my biggest issue with Level Play is that it works only with the music stored on your phone. I'm a big Spotify user, so this app is mostly useless to me.
Headbangers' Ball
Alpine Headphones are clearly designed to appeal to a specific crowd: Gamers and fans of electronic dance music. Luckily, I happen to be right smack in the middle of that demographic. The deep, thumpy, dirty bass these headphones put out is just what I like.
You can disable the bass transducer if you tire of the vibration, but they sound a little flat without the assist (even after I played around with the EQ settings in Level Play). That puts them closer to lifestyle class than premium cans. With the transducer enabled, you get a much deeper, sexier bass that makes you feel almost like you're at an outdoor festival surrounded by speakers.
But outdoor festivals are obviously not everyone's cup of tea. Some listeners prefer to hear music in fine-tuned symphony halls and similar built-to-purpose venues. The bass the Alpines produce sounds great with EDM, rock and roll, and hip hop, but it's too muddy for classical music and heavily vocal ballads.
Should you buy a pair?
I love these headphones, but they're clearly not for everyone. And with a $300 price tag, it's fair to expect both just a little more refined audio performance and a more useful companion app. The unique bass transducer is clearly the star of this show, and I found that it delivered a new dimension to my listening sessions. But if you're not into games and EDM, you'll probably want to pass.