"Is there an Echo in here?" There could be soon. Amazon released a YouTube video on Thursday teasing a new product called the Amazon Echo. It's a cylindrical device that acts kind of like Siri for your house.
You give it a "wake word" that it listens for—the family in the video named theirs Alexa, so I hope they don't listen to a lot of Billy Joel—and then you can ask it to play music, look up information, set reminders, read you the news or weather, and help your kid with his homework.
Amazon says the seven microphones inside Echo use beam-forming technology to hear you from across the room, even if it's playing music. The onboard speaker (with a 2.5-inch woofer and 2-inch tweeter) can stream music from the cloud, including voice control for Amazon Music, Prime Music, iHeartRadio, and TuneIn. It's also got Bluetooth so you can stream music from any app on your phone or tablet. You can control the volume by turning the light-up ring on the top of the device.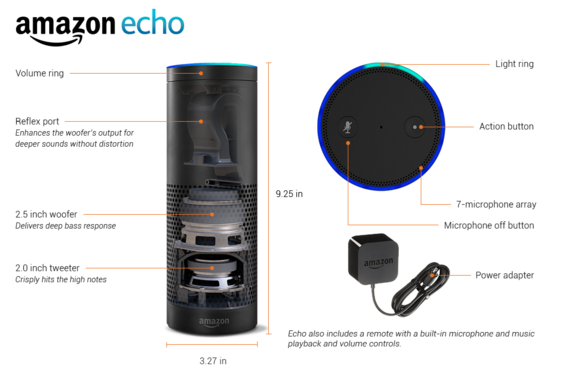 Echo will have a companion app for Fire OS and Android, plus a web version for computers and iOS devices, that lets you manage the music, alarms, and lists. And because it's always connected to the cloud via your home Wi-Fi network, Amazon can add more features and services down the line.
Echo will cost $199, or $99 for Prime members, but it's invitation-only for now—invitations will be issued "in the coming weeks," Amazon says—and the ship date hasn't been set. We're intrigued, but what do you think? Is having a Siri-like assistant your whole family can use convenient, or is it just overkill since so many smartphones have these features already? And if you can talk to it, why can't it look like a robot? Let us know in the comments
Note: When you purchase something after clicking links in our articles, we may earn a small commission. Read our affiliate link policy for more details.