One of the key factors to the success of a movie is the establishment of a world, and the rules and ways of operating within that world—or the ways in which rules can be broken. "World" is a very loose definition. It can point to a specific city, or a specific time, or it can be totally artificial and created for the camera. These 10 movies—five new and five classic, all new to Netflix—are interesting examples of worlds in movies. Now all that's left is to go traveling.
The Double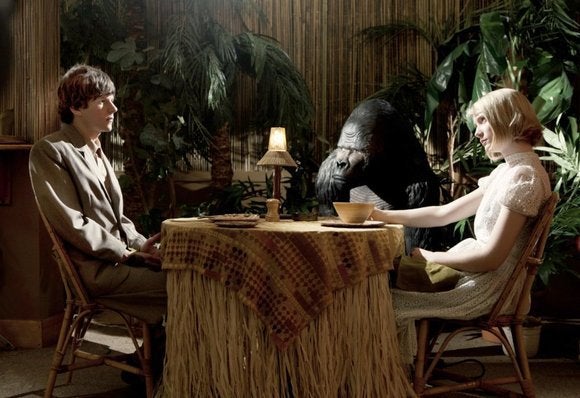 ★★★★☆
Actor, writer and comedian Richard Ayoade made an acclaimed feature directing debut with the coming-of-age movie Submarine (2010), and he follows it up with this even more unique oddball. The Double (2014) is based on a Fyodor Dostoyevsky novel, but turns into a black comedy after being filtered through David Lynch and Franz Kafka. It's set in an entirely artificial universe of drab, depressing buildings, weird TV shows, mass suicides, and general rudeness. Sad sack Simon (Jesse Eisenberg) is stuck in a dull job, with a crush on a pretty neighbor girl, Hannah (Mia Wasikowska), whom he doesn't know how to talk to. Suddenly, a new employee, James (also played by Eisenberg), turns up, an exact double of Simon. No one notices—or bothers to notice—the resemblance, perhaps because he's the exact opposite of Simon, confident, driven, and commanding. Ayoade is in complete command of this universe, combining industrial sounds, flat colors, and artificial surfaces to make Simon's plight seem all the more natural. Several great actors (Noah Taylor, James Fox, Cathy Moriarity, Sally Hawkins, Chris O'Dowd, Paddy Considine) show up in small parts, as if to knock things further off balance. Wallace Shawn is terrific as Simon's unforgiving boss.
The Sacrament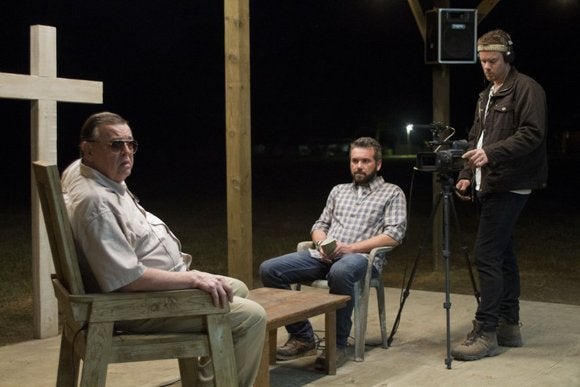 ★★★☆☆
After two exceptional, atmospheric, slow-burn horror films, The House of the Devil (2009) and The Innkeepers (2011), writer/director Ti West had something of a setback with The Sacrament (2014). For some reason, despite the glorious compositions of the previous two films, he decided to go with the tired "found footage" technique, wherein the characters shoot everything themselves on jerky hand-held cameras. Secondly, the movie more or less retells the story of the infamous Jonestown Massacre of 1978, which leaves very little in the way of surprise. (Doesn't everyone know the phrase "drinking the Kool-Aid" by now?) However, West is too good to ruin the movie completely. He builds a certain kind of dread from the journalistic exploring of the cultish compound, called Eden Parish, with all its blocky cabins and rigid spaces. He also gets a creepy, commanding performance from actor Gene Jones as "Father." Father agrees to an on-camera interview, in front of his followers, but manipulates the questions in a subtle and slippery way that's nearly seductive.
3 Days to Kill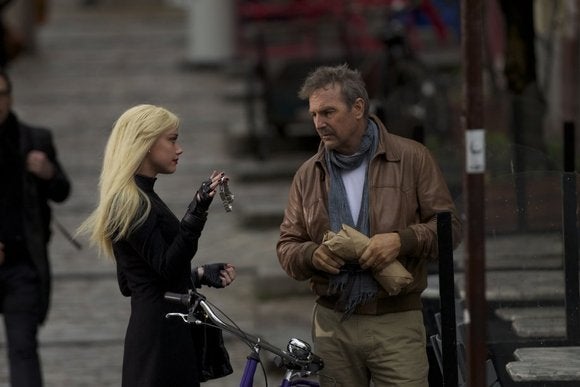 ★★★☆☆
3 Days to Kill (2014) is a long way from An American in Paris. Kevin Costner plays an American CIA agent with cancer who moves to Paris to spend time with his estranged daughter, Zoey (Hailee Steinfeld). Another agent, the sexy Vivi Delay (Amber Heard), turns up, offering him an experimental cancer cure if he'll help track down an international weapons dealer known as The Wolf. Unfortunately, he has agreed to spend three days taking care of Zoey. This is by no means a good movie, but it's a good-for-what-it-is, check-your-brain-at-the-door kind of movie. Writer Luc Besson has become an expert at these no-frills, fast-paced genre films, and while director McG has not proven himself a strong storyteller, he is at least adept at slick action scenes. Heard is perfect at this kind of thing, the epitome of a sexy drive-in queen from the 1970s. But Costner is actually quite good; he's become an appealingly weathered and rugged movie star. Connie Nielsen costars as Costner's ex-wife.
Bad Grandpa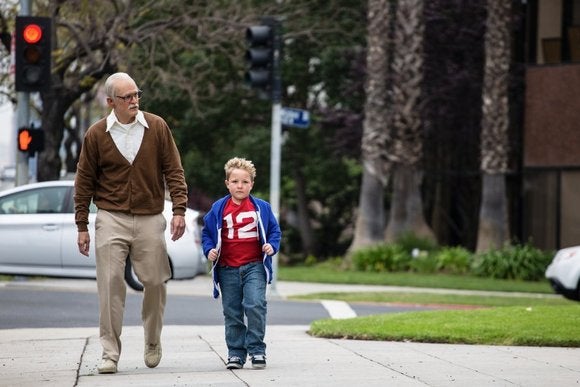 ★★★☆☆
The biggest surprise trick from the Jackass crew was Bad Grandpa (2013), a movie in which a viewer could actually care about the characters. The world of Bad Grandpa is a combination of stealth practical jokes, but also a plot following Irving Zisman (a heavily made-up Johnny Knoxville) and his grandson Billy (Jackson Nicoll); they each learn little life lessons from the other, but not in an obvious, syrupy way. It's a road-trip movie in which Irving drives the kid to live with his delinquent dad, while also transporting the corpse of his dead wife in the trunk. Aside from the dirty humor and wild slapstick, the movie ends with a genius tour-de-force, the prank of dressing up Billy for a little girls' beauty pageant. The shocked and appalled parents are apparently unable to see the fine line between Billy's stripper-like act and their own children's sexualized performances. Amazingly, the day it opened, Bad Grandpa earned better reviews than the latest Ridley Scott movie, and it also received an Oscar nomination for Best Makeup. Netflix has several alternate cuts available, but this refers to the 91-minute theatrical cut.
Killing Them Softly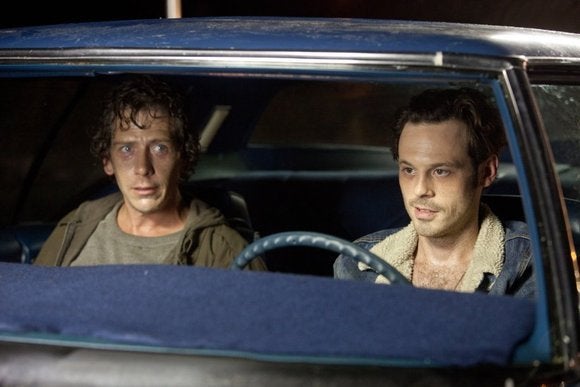 ★★★★☆
With only his second movie, The Assassination of Jesse James by the Coward Robert Ford (2007), Australian director Andrew Dominik established himself as one of the world's most interesting filmmakers. It was five years before a follow-up came, Killing Them Softly (2012). The movie had some passionate fans, and it turned a small profit, but many critics and audiences reacted strongly against it, calling it empty and cynical. Based on a novel by George V. Higgins, it features a huge, talented tough guy cast in a criminal underworld where the robbery of a back-alley card game causes untold repercussions. Brad Pitt (who had played Jesse James) heads the cast as a charismatic hit man, Richard Jenkins is a bureaucratic mafia man, and James Gandolfini is terrific as an unreliable colleague. Shot in New Orleans and set in 2008, during the financial crisis and presidential election, the movie has a blasted-out look and relies on great-sounding dialogue; though it's quite pessimistic, it's a minor crime classic. Ben Mendelsohn and Scoot McNairy (pictured) also star.
The Woman Chaser
★★★☆☆
Based on a novel by the great cult writer Charles Willeford (Cockfighter, Miami Blues), The Woman Chaser (1999) is a most peculiar movie, but also totally fascinating. Shot in black-and-white, it was nearly a lost film for a while—it never received a DVD release, and became very difficult to find or see. Thanks to streaming, it has finally been rescued from oblivion. Patrick Warburton, who was then known for playing Puddy on Seinfeld as well as lead in The Tick, plays Richard Hudson—he's not really a woman chaser, but he has no problems with women. Hudson dances with his mother, runs a used car lot, makes his employees dress up as Santa Claus during the summer, and decides to make a movie. It's difficult to describe just how weird this world is, like Eraserhead crossed with The Big Sleep: dreary, surreal, snappy, funny, and exciting. It's also like a twisted homage to French films that pay homage to American films. But with his burly frame and rich, sly voice, Warburton is almost like a 1940s movie star. He's the movie's center and its saving grace.
Tombstone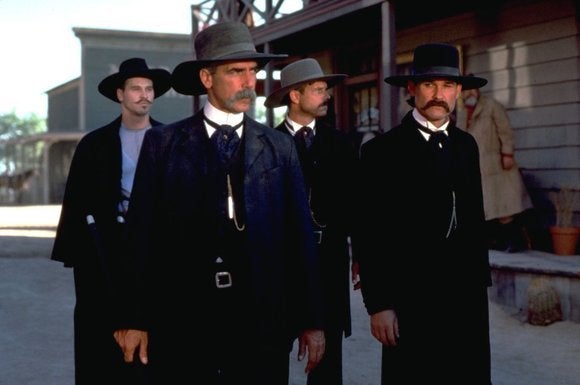 ★★★★☆
The distributor Buena Vista dumped Tombstone (1993) into theaters with very little support, but fans caught up to it anyway, praising the strong performances by Kurt Russell as Wyatt Earp and especially Val Kilmer as the tubercular gunslinger Doc Holliday. In it, Wyatt and his brothers decide to settle in the town of Tombstone and make a living with a drinking and gambling establishment. Unfortunately, trouble comes and the brothers must strap on their guns again. Even worse for the married Wyatt, he finds his attentions turning toward a younger, saucy showgirl (Dana Delany). Director George Pan Cosmatos, who helmed Rambo: First Blood Part II (1985), gives the movie a rugged, low-down Western town feel, which was a welcome alternative to some of the more picture-postcard Westerns that had come along, such as the following year's flop Wyatt Earp (1994). Tying it in with the more rough-and-tumble Westerns of the past, Charlton Heston makes an appearance, and Robert Mitchum narrates.
Zelig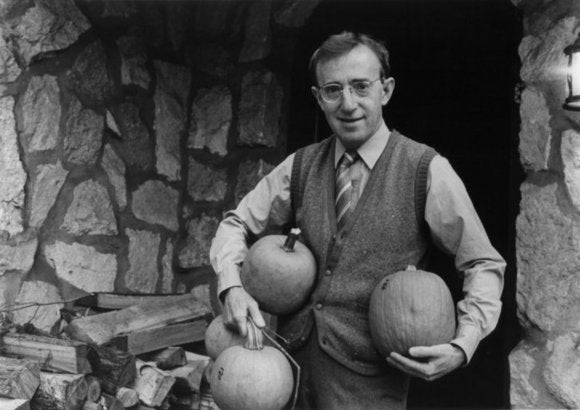 ★★★★☆
A year before This Is Spinal Tap, Woody Allen cooked up this slight, but highly inventive, intuitive, and very funny fake documentary. Shot in black-and-white and employing an earnest narrator, Zelig (1983) tells the story of Leonard Zelig (played by Allen), a man so insecure and so unsure of his own presence in the world, that he develops the ability to physically change his appearance to fit in with those around him. In the 1920s, Zelig becomes a phenomenon and is shown (through clever editing) to be hanging out with real celebrities of the time. Mia Farrow plays the psychiatrist who falls in love with him. The real-life Saul Bellow and Susan Sontag are "interviewed" on camera, commenting on Zelig's curious case. The movie only runs 79 minutes, and many critics complained of it only having a single joke, but of course, it's loaded with great Allen lines and gags. It received two Oscar nominations, for Cinematography and Costume Design.
Hit!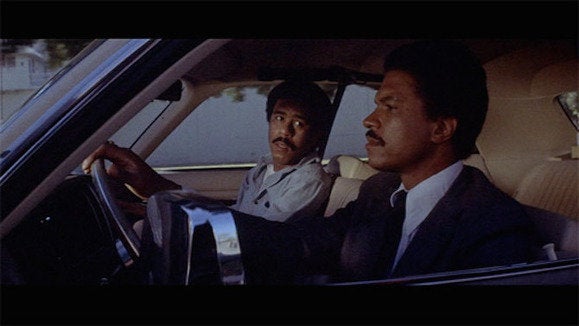 ★★★★☆
With Star Wars coming back into the news, it could be time to throw a little love toward some of the players that helped make it a success, specifically Billy Dee Williams, who played the ultra-cool, ultra-suave Lando Calrissian. (Williams made a small voice cameo reprising this character in The Lego Movie.) Before that, Williams was already playing, smooth, unflappable, sweet-talking badasses in cool movies like Hit! (1973). The movie was likely greenlit as a possible Oscar-winner, coming from the cast and crew of Lady Sings the Blues, and inspired by The French Connection. And, at 134 minutes, it's certainly long for an exploitation film. Playing federal agent Nick Allen, Williams wishes to avenge his daughter's death by taking out nine French drug dealers. He spends an hour assembling a team, and 45 minutes running drills, before the action kicks in. But director Sidney J. Furie uses his time well, establishing this world's interesting rhythms and unusual spaces. Richard Pryor costars and is allowed to improvise some funny lines from time to time.
Paths of Glory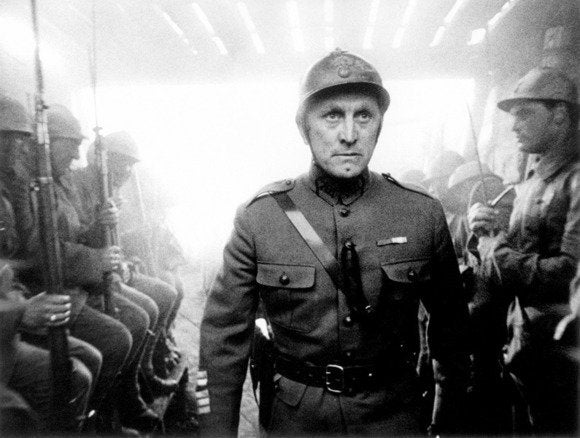 ★★★★★
An early masterpiece by Stanley Kubrick, Paths of Glory (1957) was a tough sell and was only made thanks to the active involvement of star Kirk Douglas. But it has become a lasting achievement, and arguably the greatest antiwar film yet made. It tells a story of the French army during the First World War. A regiment is ordered to take a particular hill, which is impossible, a suicide mission. When it fails, a general demands a court martial to pass the blame. Three men are chosen for this "honor," and though Regiment Colonel Dax (Douglas) tries his best to defend them, it's hopeless. The film ends with a memorable scene of a German woman (played by Kubrick's future wife) in a cantina, singing. The film is swift and cruel without being preachy or overstuffed; it helps that pulp novelist Jim Thompson cowrote the screenplay. Kubrick's use of space is unparalleled, crossing the cavernous rooms that the officers occupy with the snaky, deadly trenches on the front lines.
Notable Additions to Netflix
Affliction
Annie (1982)
Bananas
Carrie (2013)
Charlie's Angels: Full Throttle
Chicken Run
Fat Man & Little Boy
Finding Forrester
The Firm
The Fly (1958)
Galaxy Quest
Hatari!
Hoop Dreams
The Hunted
In a World…
Interiors
Jimmy Neutron: Boy Genius
Kramer vs. Kramer
L'Auberge Espagnole
A Long Way Down
A Midsummer Night's Sex Comedy
My Name Is Joe
Nell
Nick of Time
The Producers (1968)
Radio Days
Rescue Dawn
Romeo + Juliet (1996)
A Room with a View
Searching for Bobby Fischer
Shadow of the Vampire
Shane
Sleeper
Sleepless in Seattle
Shivers
Stardust Memories
Suddenly
The Talent Given Us
Team America: World Police