At a Glance
Expert's Rating
Pros
Good looks and protection without a lot of bulk.
Our Verdict
If you don't have reason to frequently remove it, the Resurgence is a great battery case. You just need sharp claws and steel nerves to get it open.
You know the feeling—that sinking feeling when you notice your phone is at 7 percent charged, and there's just no way you're going to make it to a power outlet for a while. You can turn the brightness down to barely visible, you can turn off Wi-Fi and Bluetooth, heck you can even put that sucker in airplane mode, but it's not going to save you. You're stuck choosing between using your phone now, or trying to save that 7 percent to play some music on your bus ride home…which isn't for hours.
You're screwed.
I'm an old fart who sits at the same desk all day, surrounded by free USB ports and power strips studded with AC adapters, and my car is one big charging station too. But college students spend long days wandering around sprawling campuses where they might not stay put in one spot for more than a couple hours at a time. If anyone needs a good battery case, it's a student. And while it's a drag to pay triple-digit prices for an iPhone accessory, I found three battery cases for iPhone 5 and 5s that go beyond just juicing up your phone.
Otterbox Resurgence, for the school of hard knocks
I've shattered three iPhones. My husband has broken zero—his iPhones stay pristine, actually, because he keeps them safely ensconsed in the nigh-indestructible Otterbox Defender. And every time I break another phone, my friends ask me, "Don't you use an Otterbox?" while my husband is smart enough to keep quiet.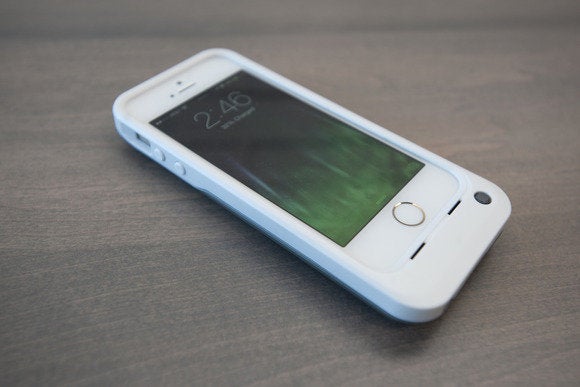 Be smart like him, not dumb like me. The Otterbox Resurgence isn't cheap—it costs $100, but it beats paying to fix a shattered screen. Your screen stays uncovered, unlike the Defender, but the Resurgence curves around the front edge just enough to protect against most drops where the iPhone lands face-down—unless, say, your screen directly strikes the corner of a table on its journey to the ground. (Otterbox offers an "Alpha Glass" screen protector add-on for $30.)
Besides the Otterboxy protection, the Resurgence has two things going for it: a beefy 2000mAh battery, and some style. It comes in four colors—I like Teal Shimmer, and even the gray (sorry, Glacier) is nicer-looking compared to basic black. In our lab test, the battery was enough to bring a completely dead iPhone 5s back to 74 percent charged in 1 hour and 13 minutes. If you're just topping off your iPhone, the Resurgence knows to stop charging when the phone hits 100 percent, which is very handy.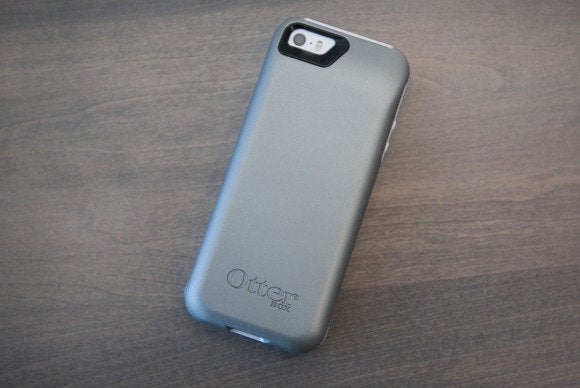 Its biggest drawback is that it's really hard to take off. Every time I had to remove the case, I felt like I was going to break my phone in half. The Resurgence comprises two pieces that snap together, and having to pry the face piece off the sturdy battery that makes up the back is a nerve-wracking experience. (You can charge and sync your iPhone with the Resurgence case still on, but I need to access my phone's Lightning port pretty frequently, to connect to my car stereo.) I also didn't like the way the covered sleep and volume buttons felt, kind of mushy, without the satisfying metal clicks that you get from a naked iPhone.
Mophie Space Pack, like a backpack for your phone
Mophie's Juice Pack line is pretty much the Kleenex of iPhone battery cases—you just say "Mophie" instead of "battery case" and everyone knows what you're talking about. The special brilliance of the Space Pack is that it combines a Juice Pack with extra storage, like a built-in thumb drive. You'll pay a premium, of course: the 16GB case is $150, 32GB is $180, and 64GB is $250. The 16GB version should be enough for most students, storage-wise, but doubling that for $30 isn't a bad deal.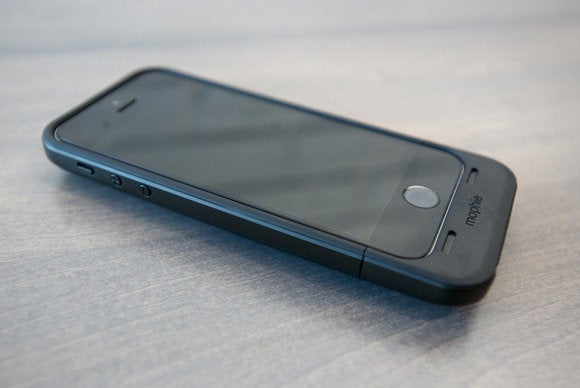 To add files to your Space Pack, you connect it to your computer with a micro-USB cable, and then just drag files onto it like you would a flash drive. There's no restriction on file type, but each file has to be 4GB or smaller. Then on the phone, a companion app called Space lets you access those files, and it automatically sorts them into folders for you based on file type: Photos, Videos, Music, Documents, and Other Files. A built-in player lets you listen to music and watch videos right in the Space app. You can view documents like PDFs and Word files in the Space app too, or use the Open With command to send them to a different app for editing.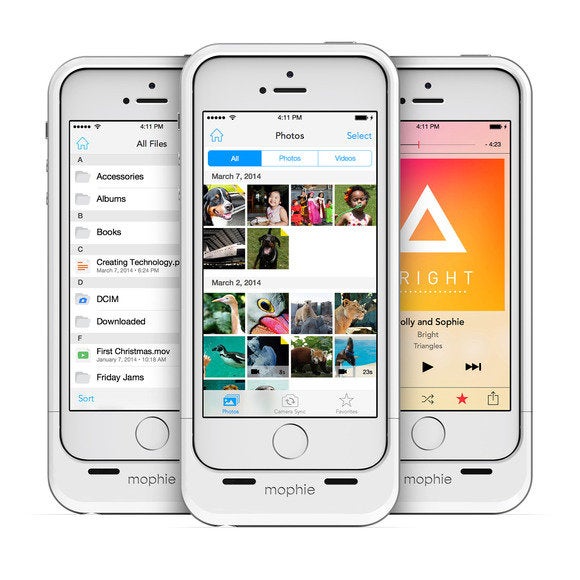 This is a great way for college students to keep a backup of important coursework, or just extra movies and music that wouldn't normally fit on your phone. The drag-and-drop syncing is so convenient, and you don't have to worry about crowding your phone's built-in storage or relying on iCloud or Dropbox to access your files. A thumb drive is a cheaper way to port files around, but with this, you can actually read those files when you're away from your computer.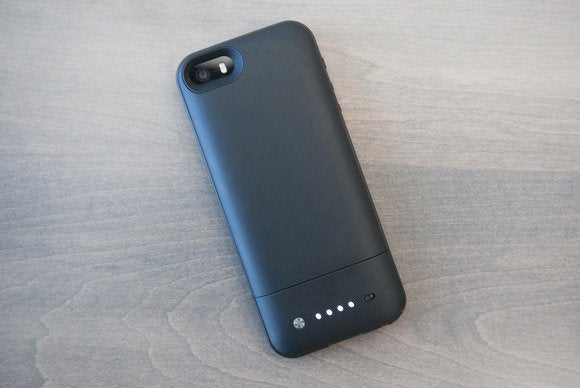 The Space Pack is easy to put on and take off too—the bottom part pops right off, exposing the Lightning port in case you need to plug something else in. The covered buttons are just as mushy as on the Otterbox, but the Space Pack is slightly slimmer. A switch on the back lets you control when the Space Pack recharges your phone, and four little LEDs make it easy to see how much charge you have left—info that's also in the Space app.
In our tests, the 1700mAh Space Pack brought a dead iPhone 5s up to 70 percent in 1 hour, 18 minutes before croaking. The case itself recharged the fastest of the three reviewed here, going from dead to fully charged in 2 hours, 7 minutes, which is 30 minutes faster than the Resurgence.
Duracell PowerCase and PowerMat, your phone's home base
I could probably misplace something in a phone booth. I lose stuff in my cubicle all the time, and it's way smaller than a dorm room. So the thing I like most about using the PowerCase is having one spot to put it down every single time—the PowerMat wireless charging station. Another bonus is that the Lightning cable I used to charge my phone with is now just…an extra cable. You can never have enough extra Lightning cables.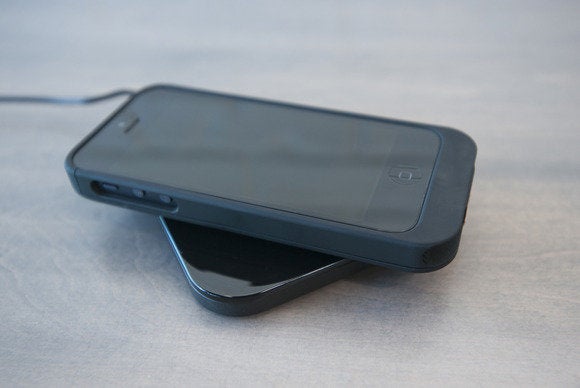 This particular PowerCase and PowerMat combo is $120 at the Apple Store, only a small premium over the Otterbox. The case is easy to put on and off, and I love the big cutouts at the bottom—depending on the size of your favorite headphones' connector, you might not even need to use an extension cable, which you definitely do with the other two cases. Cutouts for the iPhone's sleep, volume, and mute controls avoid the mushy-button problem of the other two cases, too. A button on the back of the PowerCase controls charging and lights up LEDs to show you how much is left.
The square PowerMat stays plugged in to the wall, and then you can just drop the PowerCase on top. The P on the back of the case lines up with a P on the mat, but it can go in any orientation. It's easy to get right every time, because hidden magnets help snap it into place as soon as you get anywhere close. You can choose to stick the PowerMat onto something with two adhesive strips, which helps it not lift up when you pick up your phone (since they're stuck together with those magnets, after all). But even if you don't use the adhesive, it's still possible to pluck the iPhone off the charging pad one-handed, after just a little practice.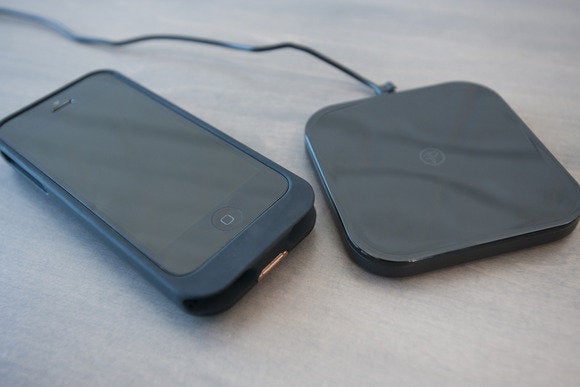 Using the PowerMat is convenient and charmingly futuristic—OK, OK, until you compare it with Android and Windows phones that have wireless charging built in. In our tests, the 2000mAh battery performed the best of these three, charging a dead iPhone 5s to 84 percent in 1 hour, 24 minutes. But using the PowerMat to fully charge the dead PowerCase also took four hours, compared to around two hours to charge the Space Pack (using a wall charger), and two and a half for the Otterbox. The PowerCase does have a micro-USB port under a little flap that you can use for wired charging and syncing away from the PowerMat.
Bottom line
These cases all performed well, so it comes down to choosing the feature to best suit your needs: If you just want a solid case with a battery and drop protection (not to mention a little color), the Otterbox is a good buy. I love how the well-made Space Pack fits the phone and carries tons of extra files. And the convenient PowerMat and the best battery performance are huge points for the PowerCase. Any of them has enough power to make sure your iPhone 5 or 5s can keep up with you.