The problem with your typical smart TV is that it doesn't feel so typical. Each TV company uses a different interface and a different remote and offers different content channels. Even if the interface is well done, like LG's webOS version, there is still a learning curve.
One of the best parts of using a set-top box like the ones made by Roku is that the interface is the same no matter which TV you have. And the new Roku TVs from TCL and Hisense put that familiar Roku interface right on your TV. You don't have to switch inputs or juggle remotes. And all 1,500 Roku channels are available, far eclipsing the amount of content you'll find on other smart TV platforms.
I got to see and try out both the Hisense and TCL Roku TVs at a recent demo in San Francisco, and the most striking thing about the sets was their simplicity. Getting set up is simple, finding stuff to watch is simple, and switching between live TV, Roku's OTT content, and your other inputs is a piece of cake, too.
Using a Roku TV
The TV's home screen looks just like the home screen when you're using a Roku box, with a few adjustments. A list along the left contains items like Movie Store and TV Store—both of those are shortcuts to M-Go, where you can rent or buy films and TV shows a la carte, just like on the Roku set-top boxes and Streaming Stick. The excellent Search feature returns results across all of your installed channels, so you can see if the movie you're looking for is included in a Netflix or Hulu subscription you're already paying for, or if you should rent or buy it from Amazon or elsewhere.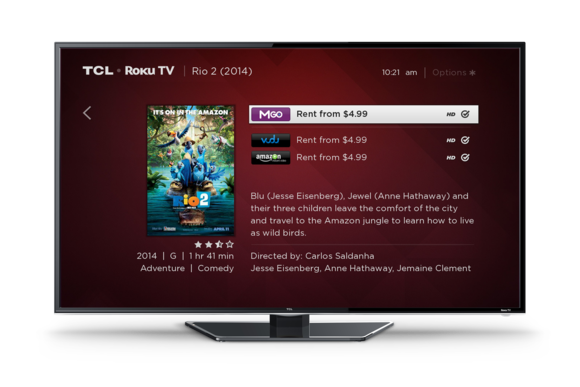 The "Streaming Channels" item in the list is the Roku Channel Store: The company added the word "streaming" to avoid confusion between services like Netflix and HBO Go, which on Roku boxes are called channels, with regular TV channels. So you'll go to Streaming Channels in the menu to find and add more content to your Roku TV; those are added to the right side of the home screen. There, you'll see familiar tiles for not just your OTT channels like Netflix, Pandora, Vevo, and so on, but also the other inputs you have connected to your TV, such as a cable box, game console, or Blu-ray player. Select one of those, and Roku TV will change the input for you, and stay there until you press the remote's home button once again.
The TCL and Hisense models of the Roku TV each come with a slightly modified Roku remote that can control the whole TV, of course. So the remote has volume buttons, a Mute button, and a back button. (The TCL remote puts the volume buttons on the side, while the Hisense remote has them on the face.) A home button at the top always takes you back to the home screen, and four shortcut buttons along the bottom let you jump to Netflix, Amazon, Rdio, and Vudu.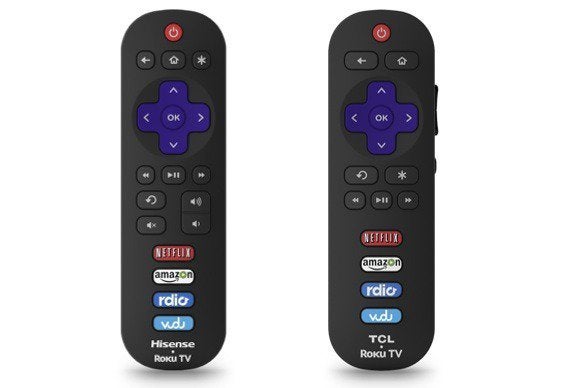 But mainly it's the same Roku remote you know and love, and the company didn't clutter it up with a number pad for changing the channels when you're watching live TV over the antenna tuner or your cable box. Instead, pressing the Star button brings up contextual menus for wherever you are in the interface; if you're watching live TV, that includes a scrollable list of channels. You can configure the list to remove channels you never watch, but I'm a little wary about whether scrolling through a list will be a better experience than just punching in a number. But at least I won't have to waste brain cells remembering which cable channel is Bravo HD and which is ESPN News. And if you don't like the 20-button Roku remote as your main remote control, you can control the Roku TV with the Roku app on your iOS or Android phone, or use a universal remote like the Logitech Harmony line.
Roku TV's contextual menus have other nice touches, too: If you are adjusting the brightness, the options panel shrinks down dramatically so you can see more of the screen, all the better for fine-tuning the brightness. For other controls, like tint, you even get some tips as to when or why you would adjust them. Tint, it turns out, is to fix weird-looking skin tones, not just something you'd use to make everyone look blue just for fun. When you adjust the volume with the Roku remote, the onscreen indicator is vertical instead of horizontal, because it's a bit of a disconnect to press volume up and see the volume bar on the TV go right. If you're turning it up, the indicator should go up, and on the Roku TV it does. And that sums up the Roku TV experience well: little changes that make a ton of sense.
The TCL version
TCL is a fairly new brand in the United States, but worldwide it's the third largest TV maker. Chris Larson, the vice president of sales and marketing for TCL in North America, explained to me that since the TV market has been flat lately, the most efficient companies survive. TCL makes its own screens, to better control cost and quality, and the Roku TVs are being made at a new manufacturing plant in Tijuana.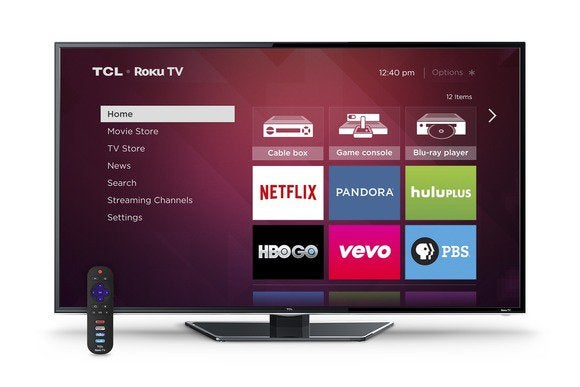 TCL will sell its Roku TVs in popular sizes at impressively low price points: 32 inches for $229, 40 inches for $330, 48 inches for $500, and 55 inches for $680. They're all 1080p screens with three HDMI ports, USB, and dual-band Wi-Fi, along with a composite video input and digital optical audio output. Larson also pointed out that a TV should look good even when it's off, and I thought the TCL Roku TV blended in well, with a thin bezel and tasteful stand.
The Hisense models
Hisense's representative, Director of Product Management Chris Porter, kept his message even simpler: Smart TVs are about content, "and Roku has the most content." Hisense had already been a Roku Ready partner, producing TVs with MHL ports perfect for the old Roku Streaming Stick (Roku Ready version), which came before the Roku Streaming Stick (HDMI version) that any HDTV can use. So it makes sense that Hisense would jump at the chance to produce smart TVs with the Roku interface already installed.
Hisense will manucature Roku TVs from 32 inches to 65 inches, all 1080p models that look similar to the TCL versions, down to attractive hardware and the same software interface. The logo is different, of course, and the UI uses Hisense colors and slightly different icons, but other than that they're identical, and Roku will be able to update the software on both the Hisense and TCL televisions to keep feature parity with the Roku set-top boxes.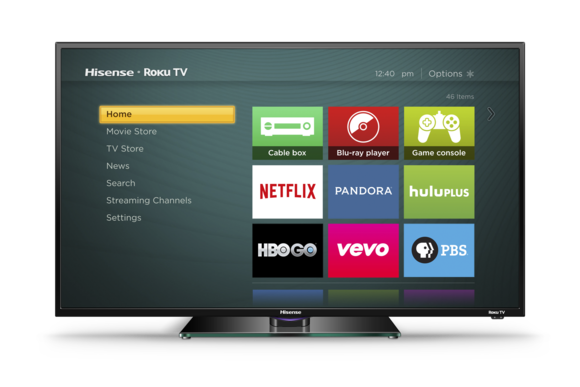 Prices remain unannounced for the Hisense models, but that isn't the company just being coy: Porter explained that Hisense isn't setting MSRPs or minimum advertised prices, instead going for a "stack 'em high and watch 'em fly" model of letting the retailers set whatever prices they want. Hisense is selling through retail channels including Best Buy, Walmart, warehouse chains like Costco, and Amazon, and those retailers will be able to pick whatever price they want—we wouldn't be surprised to see these TVs used as doorbuster deals around Black Friday in November, since the TV-and-Roku-in-one model adds a lot of value for consumers.
First impressions
I think TCL and Hisense are smart to partner with Roku for their smart TVs—the manufacturers can focus on making affordable, well-designed hardware, and let Roku handle the content deals and software updates. The TVs themselves look great for low-cost 1080p sets: thin and attractive, with a simple, easy-to-use interface. If you are in the market for one more 1080p TV before jumping on the 4K bandwagon, the Roku TV is a solid choice.
TCL is taking preorders on Amazon now, and the Hisense models will hit stores in late September.