If they work as billed, 2014 Samsung Smart TVs and Blu-ray players should reduce the agony of waiting for online TV signals to buffer. That's because these components are being equipped with Giraffic's Adaptive Video Acceleration (AVA) technology.
Unlike conventional video streams, whose monolithic and massive chunks of data downloads are vulnerable to network congestion and other delays, AVA works by requesting multiple feeds of small fragments of files. "In this way, AVA works within the historical design limits of HTTP, which is an old protocol that was not designed to support large data files and rich media streaming," said Yoel Zanger, Giraffic's CEO and founder. "Requesting small file fragments over multiple channels results in a video stream that is far more reliable, and far less disrupted by Internet congestion and packet loss."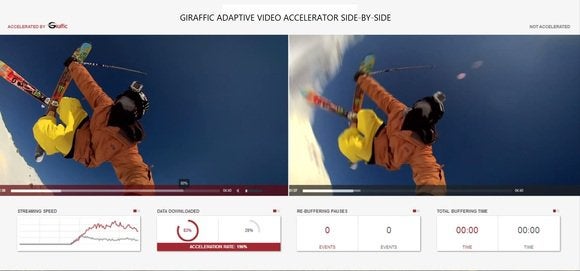 Another advantage of AVA-equipped components like the newest Samsung gear: AVA software keeps a real-time eye on network performance, adjusting its file requests to optimize content delivery. In tech-speak, AVA improves streaming experience by analyzing throughput and maximizing TCP bandwidth utilization, intelligently managing and monitoring downloads on the device from almost any standard HTTP-based content source, and by monitoring and shaping playback.
Again, this results in a better viewing experience at the receiving end—and far fewer delays and dropouts.
Giraffic's AVA technology can be used by both device makers and OTT producers to improve streaming performance. It is compatible with all major operating systems, and all HTTP-based streaming protocols including HLS, MPEG-DASH and Smooth Streaming.
The addition of AVA technology probably isn't enough reason, on its own, to upgrade your TV. But if you do a lot of streaming, you're probably sick of Netflix and your ISP pointing fingers at each other over whose job it is to deliver those streams in the best quality. So it's nice to know that Samsung and Giraffic are working together to provide consumers with better performance using whatever network resources are available.