If you've ever grumbled to yourself at the end of a movie, "Well, that story didn't go the way it should have," then you'll want to know about Nonlinear Film Technology, or NFT. Pioneered by the filmmaking team of Milton Matthew Horowitz, Ryan Forte, and Todd Smyth, NFT marries smartphone apps with multiple movie versions and addressable movie theater servers—it's a little like Choose Your Own Adventure for films.
It works like this: Say the film you're watching has come to a crossroads, where the hero can either kill the bad guy or not. An NFT version will pop a message onto the screen, asking the audience to vote on what should happen next.
The audience responds by casting votes using their smartphones' NFT app. The votes are sent to the movie theater's server, which tallies them, determines which plot option should happen next, and then displays it on the theater's screen. The result is a movie experience that can change from audience to audience, and which finally provides smartphones with a legitimate reason to be in movie theaters.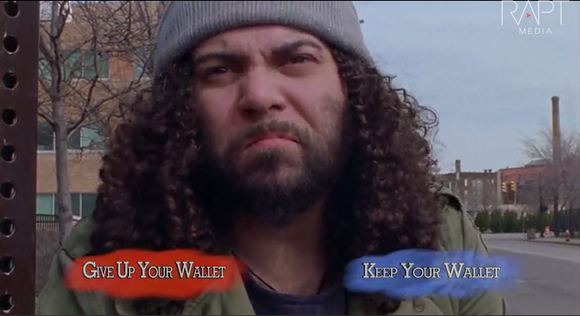 "This newer technology is targeted at a younger, more tech-savvy audience," Horowitz told TechHive. His goal is to convince this crowd to reduce their at-home movie viewing and head back to the theaters, for a group experience that cannot be found anywhere else. By letting movie audiences indirectly interact with each other by voting together in real time, Horowitz and his partners hope to infuse movie-going with the kind of excitement that patrons of live theater share during intermission.
But that's not all: Basically, this trio wants to reinvent and revive the movie theater industry—all three partners are already involved in movie-making—giving audiences new reasons to buy tickets. A bonus: Producing multiple versions of films would generate more work for everyone in the movie industry; including themselves.

Nonlinear Films has already made considerable progress in making this idea a reality. The company has already created the NFT app, "we've fully developed the technology, and we have a 10 minute demo on our website showing NFT in action," Horowitz said.
Still, bringing an idea this ambitious to market takes money. That's why Horowitz, Forte, and Smyth have launched a Kickstarter campaign to raise $100,000, although a week into the fundraising they're only 5 percent of the way there.
For those of you who have ever raged at a director's choices, crowdfunding NFT offers a chance to put things right. Granted, it still won't change the ending of The Empire Strikes Back (I didn't clue in that the movie was ending until the closing theme music swelled, and I realized that I would have to wait three years to learn what happened to Han Solo). But if it ever sees the light of day—or the darkness of a cineplex, rather—NFT will be a step in the right direction.