The best thing about the Revolv smart home hub is that you don't have to stick with one brand for all your connected home gadgets. The hub integrates multiple wireless protocols, and a single app lets you control everything, nearly 100 supported devices and counting.
Revolv adds new devices periodically, but the company just took a huge step in releasing an Android app—so now it doesn't matter what brand your phone is either.
New apps and a cozy Nest
The Android app is free in the Google Play store, and the iOS version of Revolv just got a big update too. They both feature a fresh interface that simplifies setting up new devices, and grouping them together to program scenes.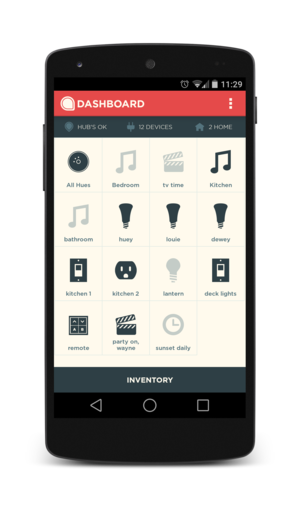 To use the apps, you do need Revolv's $299 hub, which is also available in various bundles. The hub connects to your home Wi-Fi network, and translates commands from the smartphone apps into the appropriate wireless signals for whatever device you're controlling. Revolv already supports tons of popular brands like Philips Hue lights; smart locks from Yale, Kwikset, and Schlage; your whole Sonos speaker system; and tons of sensors and switches from Leviton, GE, and Insteon.
On Thursday Revolv also announced official support for the Nest Learning Thermostat. Now, the Nest is already pretty smart on its own, and easy to control from your phone. But using it with a Revolv hub lets you use Revolv's GeoSense automation. You could set up an action that uses GeoSense to turn your Nest thermostat down as soon as you leave the house, since the hub can tell that your smartphone left with you.
New support for multiple phones lets the Revolv system keep track of your whole family, so you can relax knowing that if the last person to leave doesn't turn the heat down, the Revolv hub will. "Intelligent occupancy" can even ping you if all your home's authorized users are away, but your Revolv-connected sensors still detect someone at your house.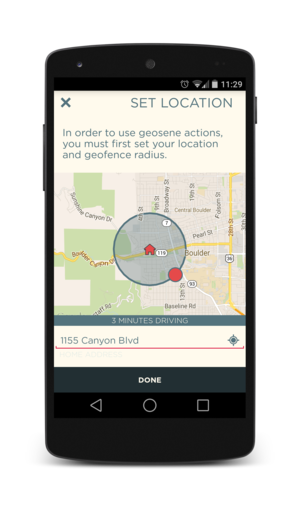 GeoSense also lets you set up a radius around your house in order to automate actions, like turning the porch light on when you get close. Revolv's combination of GeoSense and Nest support brings the Nest closer to Honeywell's Lyric thermostat, which also uses geolocation to adjust your heat down when you leave the house and back up when you're on the way home.
But $279 Lyric does this on its own, and the $249 Nest needs the $299 Revolv hub to do the same thing. On its own, the Nest uses a motion sensor to tell when you're away, along with learning your general patterns over time. Still, the Revolv hub adds a lot of value for people who want to dabble in multiple connected home products from different brands—which we think is the smartest way to build a smart home.