At a Glance
Expert's Rating
Pros
Human detection and facial recognition
Motion tracking locks onto and follows moving objects
Can stream video to Amazon Alexa and Google Assistant smart displays
Cons
Sound detection works inconsistently
Cloud subscription required to unlock key features
Connects to 2.4GHz networks only
Our Verdict
Blurams Dome Pro's strong AI features and low price makes it a great option for anyone interested in a smart security camera.
Best Prices Today: Blurams Dome Pro Smart Pan and Tilt Camera
The Blurams Dome Pro (model AC30) pan-and-tilt indoor camera upends the notion that a security camera's price is proportionate to the number of features packed into it. This security camera comes with a raft of advanced, AI-driven features, including motion and sound detection, human and facial recognition, and motion tracking, yet it costs less than $50. More importantly, those AI features work uncommonly well, a testament no doubt to Blurams' background as an international provider of intelligent imaging technologies.
The AC30 has a functional, if slightly generic, design that allows it to be used as a tabletop camera or mounted on a wall or ceiling. The setup process is pretty typical for a smart device—you add the camera to its companion app and follow the prompts to connect to your Wi-Fi. Voice prompts confirm the success of each step. As part of the onboarding, the app also asks if you want to turn on notifications and how frequently you want to receive them (the default is every 10 minutes). Even with those extra steps, I had the camera online in about a minute.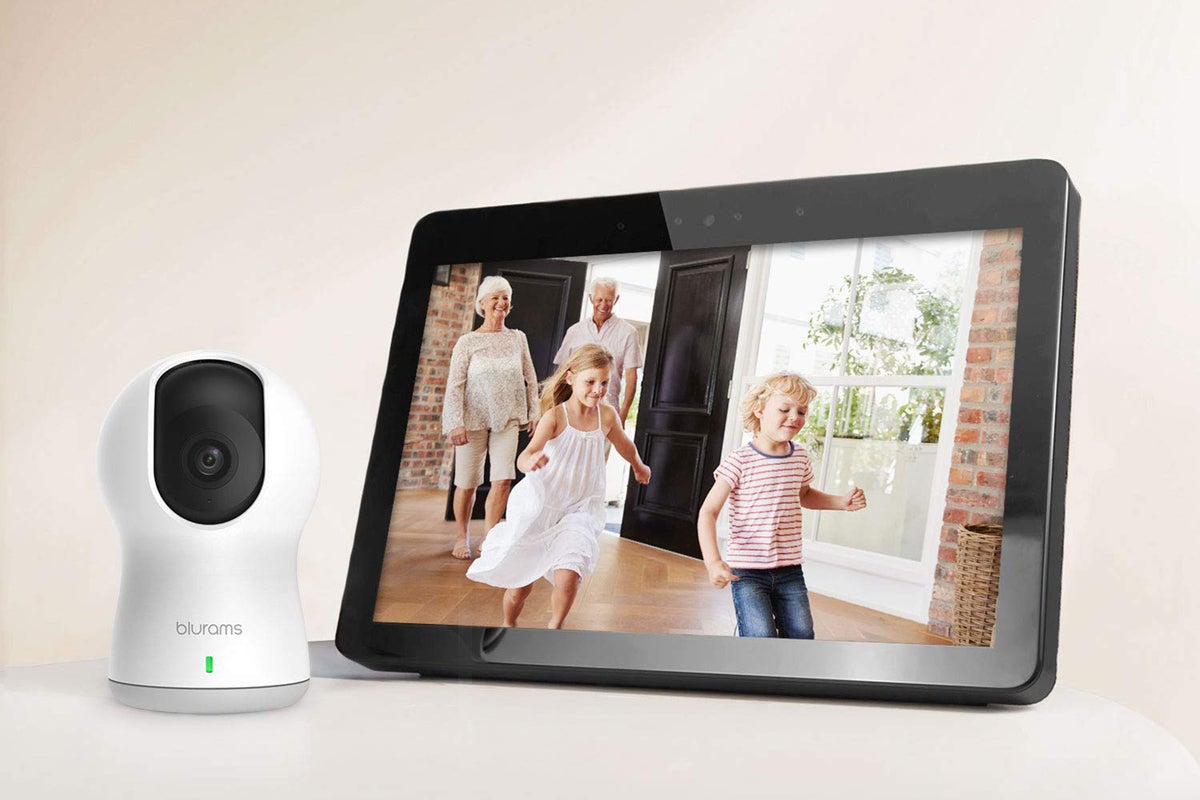 The camera defaults to its 1080p max resolution, and you probably won't want to toggle down to standard-definition unless your broadband connection's can't supply the required bandwidth. The Full HD image is tack sharp with accurate colors and no discernible distortion (there is a dewarping setting you can turn on and off in the settings). The live view pane is set against a black background, creating a letterbox effect that makes video pop even more.
While the 122-degree field of view should be able to capture plenty of the environment from a fixed position, you can also pan the camera 355 degrees horizontally and 105 degrees vertically for a nearly full 360 degrees of coverage. This pan-and-tilt function is controlled from a directional pad in the app; you can rotate the camera continuously with a joystick or make more incremental movements with four buttons. There's also an option take a panoramic photo of the room. Whichever method you use, the camera moves smoothly and with little noise from the motor.
Most users will rely on motion-detection notifications rather than live-view check-ins to monitor their homes. And Blurams' algorithms worked pretty well in my testing. It recognized the difference between people and pets, and in the former case alerted me with rich notifications that included a photo of the detected person's face and the option to trigger the camera's siren and ward them off, or activate the microphone and ask what they were doing there. Facial recognition also allows you to organize a database of "familiars," so you can be notified when loved ones return home.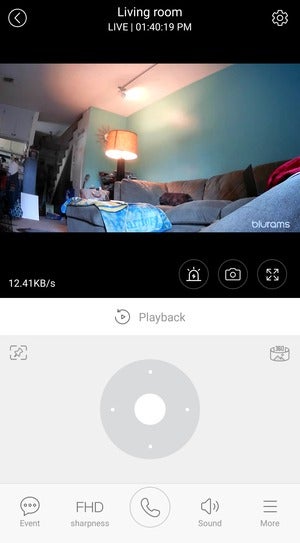 The camera offers a couple of useful features for augmenting motion detection. You can create Activity Zones by masking in areas of the camera's field of view that you want to monitor. The camera will alert you to activity in these zones and not bother you about any outside them.
Motion tracking, when activated, will lock the camera on to an object when it detects movement and follow it. That assures you don't lose sight of an intruder or miss part of a crime, giving you more evidence to supply police. When I used it, it diligently shadowed my movements through my living room to my kitchen and back.
Sound detection was much less reliable than its motion counterpart. You can adjust the sensitivity from low to high, which purportedly should be able to pickup everything from normal conversation to an engine roar. But the accuracy of these settings didn't bear out in real-world use. Most of the time, the camera ignored noises altogether, regardless of the sound detection settings.
Even thought the AC30 is designed for indoor use, it includes night vision for better viewing after dark. Eight 850nm IR LEDs provide up to about 23 feet of illumination and can be set to turn on automatically in low light. The overnight videos I took using the feature were well lit with strong contrast and provided good visibility of the environment.
The Blurams app
The AC30's companion app is attractive and intuitive to navigate. When you launch the app, you'll see a recent still shot from the AC30's live view, along with controls for sharing camera access with family members, opening camera preferences, and turning on/off a privacy feature that shields the AC30's lens. A second toolbar runs along the bottom, from which you can access your library of event-recorded video clips.
Tapping the still shot opens the AC30's live view. This is where the bulk of the camera's controls are displayed, too—everything from the microphone trigger to the aforementioned pan-and-tilt controls to a playback feature that lets you scrub through a timeline of live stream video.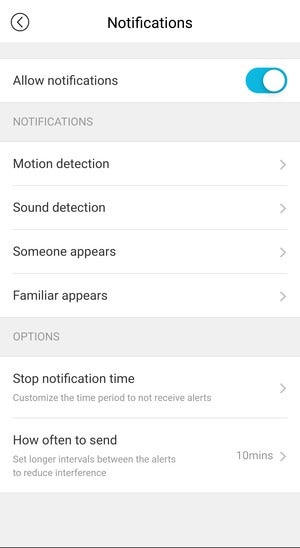 A wealth of customization options is available in the Preferences tab. Here you can manage settings for motion and sound detection, set intervals between alerts, and choose your storage methods.
Storage
The AC30 supports both local and cloud storage, but as with many cameras, a cloud subscription is the key to unlocking many of the AC30's best features. Blurams Cloud subscriptions are available in three tiers: Standard includes seven-day video history, 24/7 continuous recording, the ability to create and share clips, one-hour clips storage and lock-screen notifications for $5 a month or $49 annually. Premium bumps the video history to 30 days and the clip storage to five hours for $15 a month or $150 a year. Elite adds to that Facial Detection and Face Recognition for $18 a month or $179 per year.
Verdict
The Blurams Dome Pro would be a great camera at three times its price, so it's easy to give it a hearty recommendation. Hopefully, the inconsistencies I experienced with the sound detection will be ironed out in the future, but the rest of its features are strong enough to make it reliable option for a nanny cam, security surveillance, or both.
Best Prices Today: Blurams Dome Pro Smart Pan and Tilt Camera