At a Glance
Expert's Rating
Pros
Multiple colors from a single smart bulb—what a concept!
Endless flexibility with LIFX's design app
Cons
Relatively dim
Available only with a candelabra base
Our Verdict
Putting multiple colors on a bulb simultaneously is a game changer.
Best Prices Today: LIFX Candle Color
Make no mistake: The LIFX Candle Color revolves around a gimmick. But what an amazing gimmick it is! It's not just color tunable, it's tunable to multiple colors—simultaneously. That's a clever trick I've never actually seen in the real world.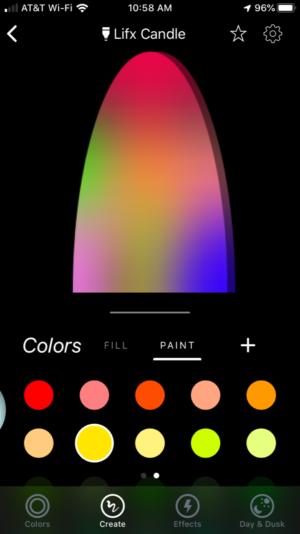 To clarify, while most color tunable bulbs can cycle through colors one after another, you can set the Candle Color to emit independent colors from different parts of the bulb all at once.
As the user, you use the LIFX app to essentially paint the bulb with whatever you colors you want, wherever you want them. You can even have parts of the bulb turned off altogether. The effect is striking and unique; there's simply nothing else like it on the market (yet).
When you're designing your bulb color, there's no real limit to how many colors you can use, though the painting system is hardly a precision tool. Think of it more as a watercolor canvas, with various colors smudged together into a mélange where they fade together.
Realistically I was able to squeeze about eight colors onto the bulb at once, though this made for a rather garish appearance. Two to four colors (which is common in LIFX's various preset themes) is plenty to both set a mood and make a statement. For those who like to tinker with their smart lights, the flexibility of the Candle Color is simply unequalled.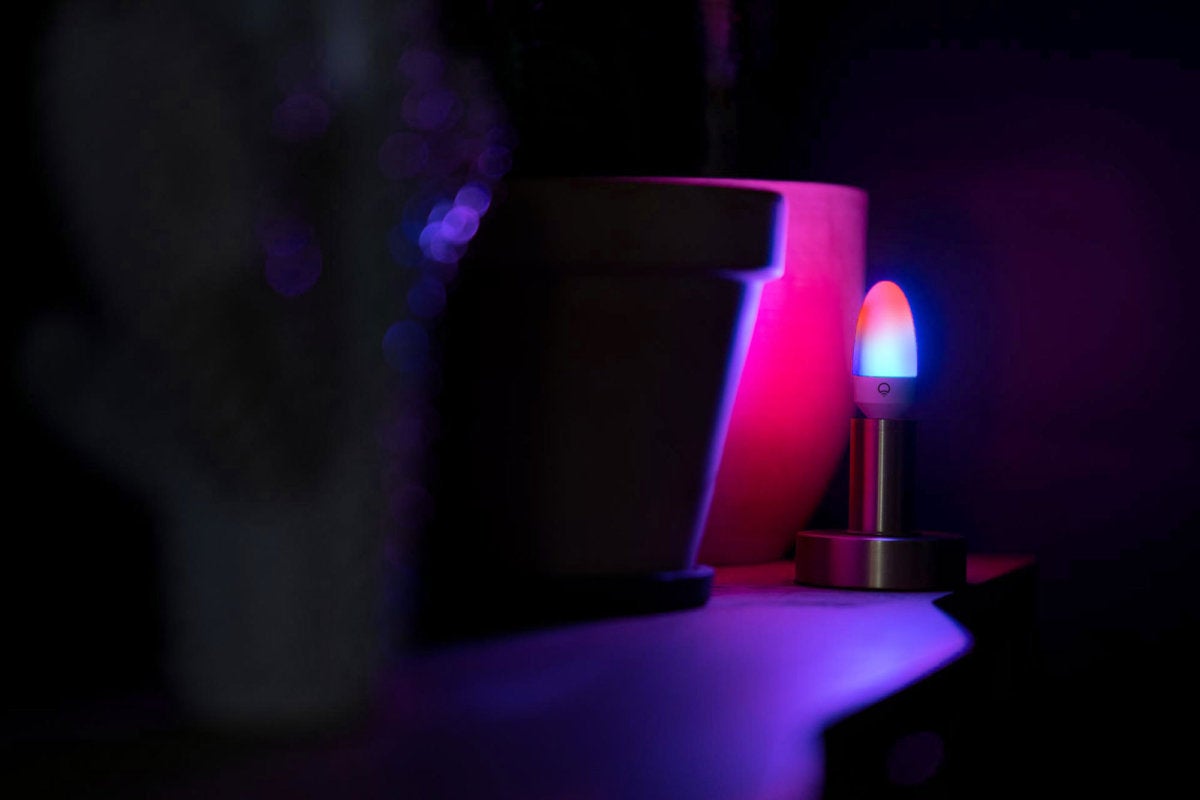 The Candle Color is, curiously, designed with an E12 candelabra socket, so you'll need an E26 socket adapter (not included) if you want to use it in a standard fixture. The bulb draws less than 5 watts, but luminosity is not specified. (It's not much; this is purely an accent light.)
The bulb connects directly to your Wi-Fi network, so you don't need a hub or abridge. You'll set it up using LIFX's mobile app, which now supports HomeKit. I had no trouble installing and configuring the bulb, adding it to a room/scene, and configuring automations. After years of refinement, the LIFX management app is now streamlined and quite sophisticated; it's intuitive to use but also has plenty of capabilities for power users who want complete control over their environment.
Of course, you'll have to pay for this. At $45, the Candle Color is significantly more expensive than most standard color bulbs, and $10 more than LIFX's own Mini Color bulb, a much brighter unit. That said, none of those bulbs can pull off the impressive trick that Candle Color can. Since this probably isn't a bulb you'll purchase by the dozen, but rather one or two at a time, the bump in price likely isn't an overwhelming concern to temper my otherwise wholehearted recommendation.
Best Prices Today: LIFX Candle Color