At a Glance
Expert's Rating
Pros
Extends motion detection range for any or all outdoor Ring devices
Can trigger any or all outdoor Ring devices (turn on lights, record video, etc.)
Very easy to install
Cons
Can't trigger indoor lights
Could be cheaper
Our Verdict
Folks with outdoor Ring smart home devices will find the Ring Motion Sensor useful, but not essential.
Ring says its outdoor motion sensor "lets you monitor for motion in areas where you don't need a light, doorbell, or camera…." That seems like a silly justification at first blush. If you need to monitor for motion in a location outside your home, wouldn't you at least want a light there to illuminate what's moving? But after I thought about how I've deployed other outdoor Ring products, I found the perfect use case.
Mentioned in this article
Ring Floodlight Cam
Price When Reviewed:
$249.00
I have a Ring Floodlight Cam and a Ring Wired Floodlight mounted on either side of the front of my garage, but years before I installed those devices, I put a Netatmo Smart Outdoor Camera floodlight on my back porch. I really like Netatmo's device. It has a more attractive industrial design than the utilitarian Ring lights, which I appreciate because we entertain on the patio. We don't congregate around the garage, so utilitarian is fine for that location. When I exit through the patio door at night and go around to the garage, however, the Ring Wired Floodlight doesn't fire up until I come around the corner—too late to help me avoid tripping over things on my path that I can't see in the dark.
So, I mounted the Ring Motion Sensor on the wall outside my patio door. Now as soon as I swing the patio door open, the Netatmo lights up my exterior patio and both Ring floodlights light up so I can more safely see where I'm going. From a security angle, if someone is prowling around my back patio, Netatmo will capture them on video, and if they run toward the garage, the Ring Floodlight Cam will also capture them on video. The obvious downside of my setup is needing to use two different apps to review captured video.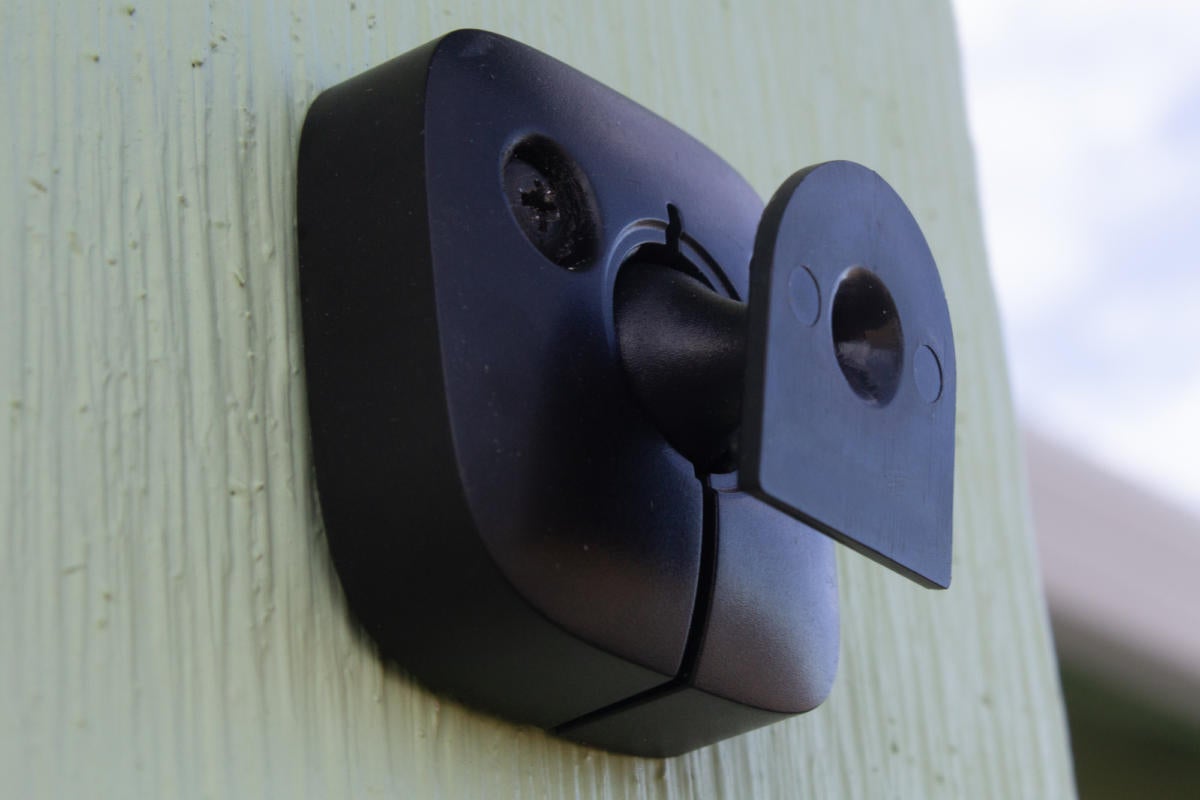 The squarish Ring motion sensor measures 2.83 x 2.40 x 2.32 inches and friction-mounts to a base that you attach to an exterior wall. Ring provides screws, anchors (for installing in masonry), and the handy double-ended screwdriver it bundles with nearly all its products. The motion sensor has a 120-degree field of view and detects motion up to about 15 feet. You can pivot the sensor left/right and up/down on its base to aim it in the direction in which it will be most effective. The Motion Sensor requires three AAA batteries (not included), which Ring says should last about one year, while an icon in the Ring app shows you how much battery life remains.
If you don't have other Ring devices…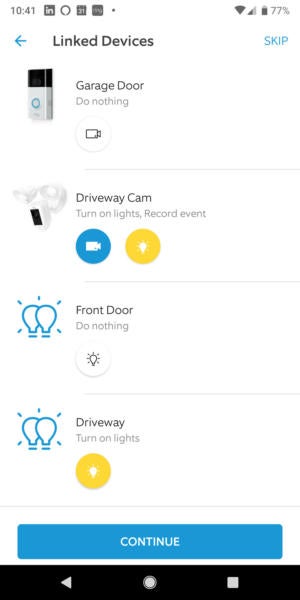 Buying the Ring Motion Sensor, however, makes sense only for folks who've deployed other Ring devices outside their home; particularly, Ring Smart Lighting products that also require the Ring Bridge. That's because the Ring Motion Sensor is useless without the Bridge, and the Bridge costs $50—twice as much as the motion sensor. Spending $75 just to get a motion-event history on your smartphone just doesn't make a lot of sense.
Most Ring Smart Lighting devices operate on battery power, so they communicate with each other over a proprietary low-frequency wireless network. When the Motion Sensor detects motion, you can program it to trigger other Ring Lighting devices to turn on, and you can configure it to trigger Ring devices with cameras—including Ring Video Doorbells—to record video.
The key advantage to having a discrete motion sensor trigger another device that has a motion sensor of its own is that the triggered action happens sooner. This is particularly valuable for devices with cameras—they can already be recording when an intruder walks into their field of view.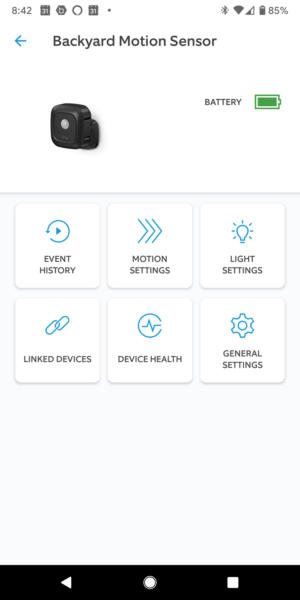 The Ring Bridge operates on AC power and forms a bridge between this network and your Wi-Fi network. This enables you to receive alerts from the various Ring Lighting devices on your smartphone, and you can use the Ring app to send commands back to those devices via the Bridge to control them.
The Bridge is limited to supporting 50 Ring Smart Lighting devices, and you can't deploy more than one, but most homes will never approach that limit. Also, other Ring products—video doorbells, floodlight cameras, and spotlights—connect directly to your Wi-Fi network and don't count against that limit.
Should you buy a Ring Motion Sensor?
I was about to criticize the Ring Motion Sensor for being expensive, but then I remembered that Signify charges twice as much for its Philips Hue Motion Sensor. Unlike Ring's product, however, the Hue sensor can also trigger lights to turn on inside your home. That makes for an even better burglar deterrent, because it will make the intruder think someone is home. Most burglars don't want that kind of confrontation. Ring does support IFTTT, so I suppose you could come up with a workaround, but….
To put a couple more ticks in the Ring ecosystem's column, on the other hand, Signify doesn't offer any security cameras, and it expects you to electrically hardwire most of its products. Battery-powered products are so much easier to deploy.
The bottom line is if you've committed to Ring's outdoor lighting and cameras, the Ring Motion Sensor is a very useful accessory, but not an essential one.