At a Glance
Expert's Rating
Pros
It would be easy to strangle an intruder with its lengthy cable
Cons
Serious problems connecting to my Wi-Fi network
Laughably immature hardware and mobile app
Major issues abound, including the plug randomly turning itself on
Our Verdict
It's difficult to imagine a less desirable smart plug.
Best Prices Today: iRealm Smart Plug 2.0
Since first reviewing the product last November, I've had Lutron's Caséta Wireless Dimmer on my bedside table, which I use to control my reading lamp. The tiny Pico remote makes it easy to control the light without having to crawl out of bed, and it's never given me a minute of trouble in close to a year.
On its website, smart home upstart iRealm positions itself directly against similar products from Lutron and Wemo with a handy checklist showcasing the many ways in which its competing Smart Plug is superior. It's a brazen but ultimately Quixotic exercise.
I take no joy in telling you that the iRealm Smart Plug is one of the worst smart home products I've tested to date—and possibly the single worst tech product I've reviewed in my career. The people behind iRealm seem genuine and earnest, and I don't want to offend, but my duty is to you the reader and potential buyer. And as a potential buyer, you should categorically run to any alternative. Allow me to tell you why.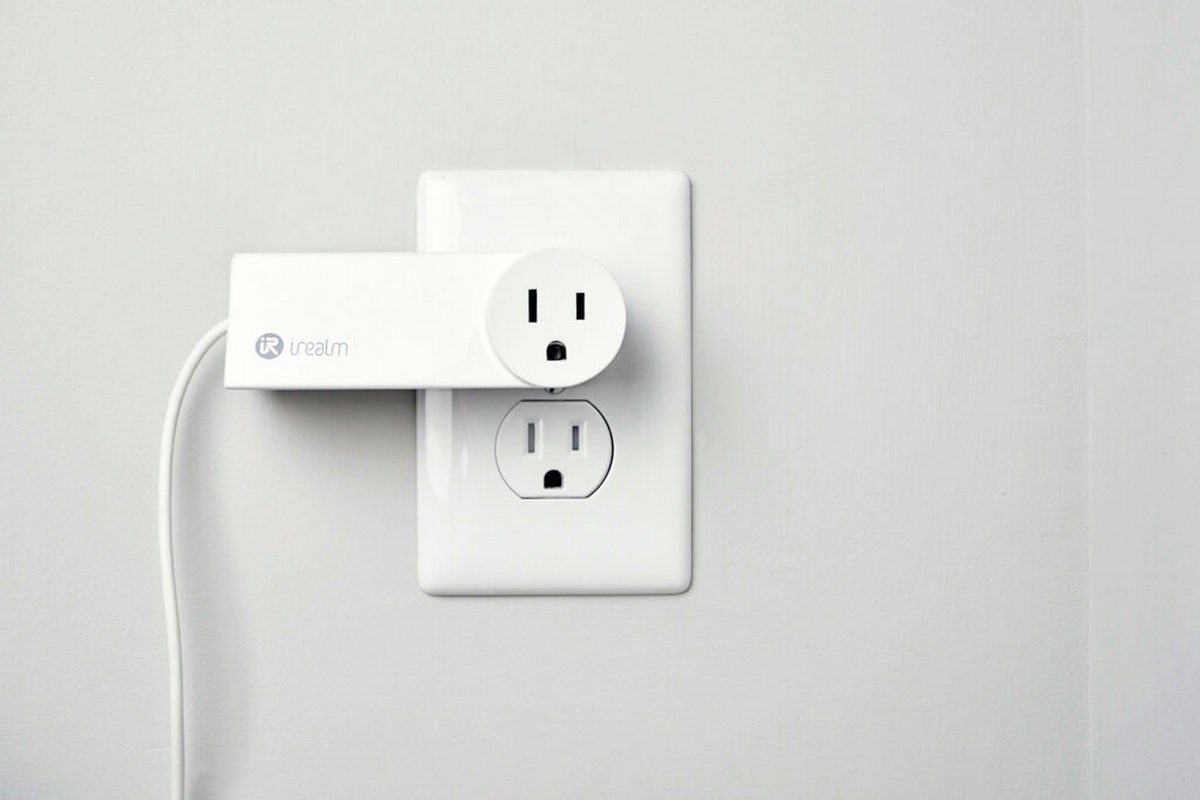 Let's start with the hardware. Rather than featuring a wireless remote, like the Caséta product mentioned above, the iRealm control unit is wired to the outlet via a cable of roughly 6 feet in length, which allows the two components to be separated from one another, ostensibly allowing for piecemeal upgrades later. The outlet portion of the kit is large but reasonably attractive, jutting out to one side of the socket but, in a rare minor plus, keeping the second outlet free and unblocked. At the other end of the cable you'll find the iRealm controller, and if it wasn't covered in icons it would look rather stylish, too.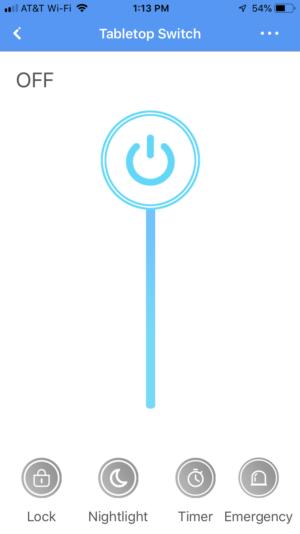 The controller is a small touchpad that lets you turn the plug on or off with a tap, or you can use the dimmer features by sliding your finger up and down on the illuminated left side of the pad.
Though tapping to turn the outlet on and off is easy enough, dimming is quite tricky. First, it's not that intuitive. There are eight dimming levels on the unit, and you swipe up or down over the lights to move up or down a single level.
If you want to dynamically brighten or dim, you swipe and hold –at least in theory. In my testing, getting dimming to work at all often required multiple attempts just to get the brightness to move up or down a single tick, and the swipe-and-hold function was even more difficult to properly execute. On the Caséta, I just click the dimmer button a couple of times to lower the light level. With iRealm, doing just about anything was a frustrating exercise of trial and error that never improved after days of testing.
As bad as the hardware is, iRealm is at its worst when it comes to its half-baked mobile app. After creating an account, you put the iRealm product into pairing mode by pushing a button on the control unit with a pen or paperclip. The app then searches for the iRealm and pairs it to your Wi-Fi network—again, in theory. This simply never worked on my home network; troubleshooting with iRealm drew suspicion that the problem was my Xfinity mesh network, which—as many modern routers to—uses the same SSID for both its 2.4- and 5GHz bands.
Most Wi-Fi products have no trouble with this (even if they only support 2.4GHz, which is common), but iRealm balked every time. As a workaround, iRealm sent me two 2.4GHz-only wireless hotspot devices to bridge to my home network. But again, after days of troubleshooting, these still didn't fix the issue. Only after I used one of the hotspots to bridge to my home network via an ethernet cable was I finally able to connect to it. This alone is a complete dealbreaker.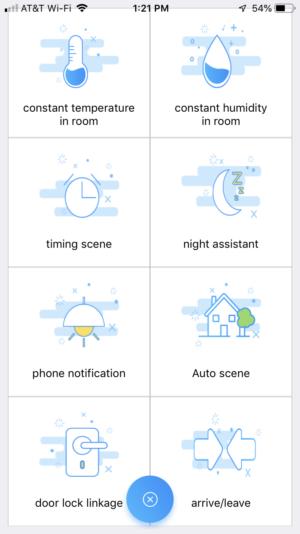 A large part of the problem likely has to do with the seemingly unfinished nature of the iRealm app, which is clearly a rough and shoddy port of something developed in China. How rough? There are still Chinese-language error messages within the app, and the translations are often fraught with misspellings and odd word choices, including "Sure" instead of "OK" or "Save."
U.S. phone numbers don't work during registration; you must use an email address instead. Obvious features—such as being able to confirm that you entered the correct Wi-Fi password—are just missing.
The app itself is also buggy in regular use. The main thrust of the app is obviously to let you turn the plug on or off, or to set the dimmer level. But the problem is it takes the app a few seconds to update every time you make a change, so if you turn the lights on, and then change the brightness immediately after, the app often won't be able to keep up, leading to either an incorrect status within the app or the plug hardware ending up in the wrong state.
Other features, including a scheduling system, work well enough if you can get past the iffy interface and bad translations. Still others, like a "Magic" feature that appears to be an advanced automation system, don't work at all. Click the Magic button and you'll see a grid of exciting things to do such as "door lock linkage," except that none of these are functional. The entire page is just a static image, a screenshot façade of things that might someday be built, I suppose.
Bizarrely, my complaints are not even finished. Should I talk about how the switch turns itself on randomly a few times each day, even when all timers and the nightlight mode are disabled? Or how even iRealm's website gives you a "Your connection is not private" security warning? Or perhaps you've gotten the drift by this point.
iRealm was seeking to raise funds for the wide release of this product on Kickstarter, but that campaign has since been cancelled. Nevertheless, the company told me the final product was ready for a full review and that retail production of the product had already begun. Please, please, please, dear reader: Save your money.
Best Prices Today: iRealm Smart Plug 2.0