At a Glance
Expert's Rating
Pros
Excellent cleaning and attractive design
Use of camera navigation and mapping keeps the price tag low
Dustbin designed to prevent secondary pollution
Cons
App needs debugging and updating
Hardware module required to designate a no-go zone
Not currently compatible with Google Assistant (you can control it with Alexa)
Our Verdict
The iLife A9 robot vacuum is an excellent cleaner with an attractive design. You get all that plus excellent navigation and mapping for under $300.
iLife impressed me with its Shinebot W400 mopping robot I reviewed recently. It dared to deviate from the samey offerings in its category and was a better product for it. The iLife A9 robot vacuum does the same, albeit to a less extent.
It starts with the A9's design. Breaking from the monochromatic scheme used by most robot vacuums, the A9 mixes things up with gunmetal gray trim around its circumference, and a silver aluminum power switch and accent circle on its black top. iLife refers to it as a "classic vinyl record exterior," and it does indeed resemble an LP. Its dock eschews convention, too, pairing a white inlay with a black outer shell.
The A9's real innovation though is its new 600ml "cellular dustbin." Without getting too into the engineering particulars, the dustbin essentially uses a pair of filtering methods and centrifugal force to separate small and larger particles the vacuum sucks up into separate parts of the dustbin, ensuring that it only expels clean filtered air and avoids secondary pollution.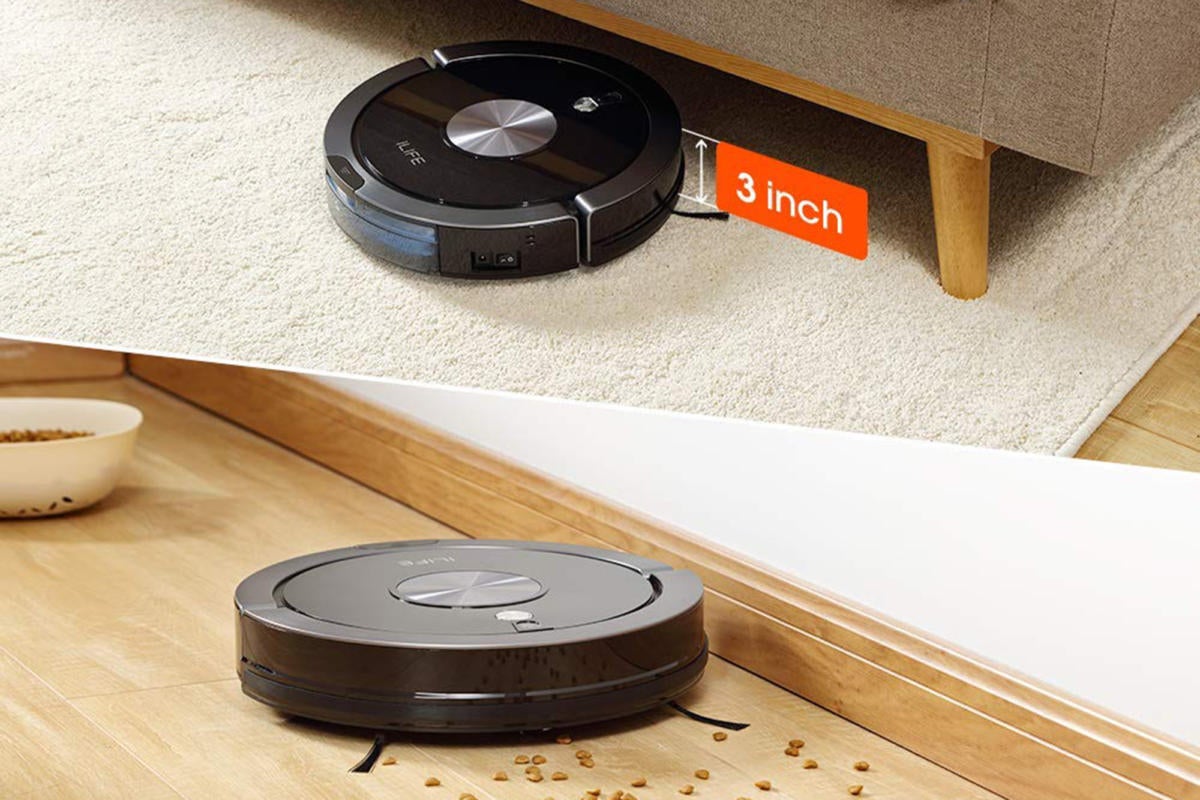 The dirt itself is swept up by a pair of spinning side brushes and a threaded rubber rolling brush. (A bristle rolling brush is also included and can be swapped in if you're only vacuuming carpet.) The A9 uses a total of 22 sensors, plus ceiling vision-based simultaneous localization and mapping (CV-SLAM) to navigate rooms. CV-SLAM points a camera upward toward the ceiling, so as to reduce interactions with moving obstacles directly in front of the robot. Cameras are less expensive than the lasers that some other robot vacuums use, but some say that lasers are more accurate when it comes to mapping rooms.
Setup and performance
Mentioned in this article
iLife Shinebot W400
Price When Reviewed:
$219.99
Even the A9's setup is a little different from other robot vacuums. You can charge its battery whether its power switch is in the on or off position, but best practice is to set the vacuum on its dock's charging pins, flip the power switch to "on," and then press the Home button on the vacuum's remote control to begin automatic charging. The LED on the A9's start/pause button will pulse until the vacuum is fully charged, and then the light will switch off. If you switch off the power switch prior to charging, any cleaning schedule you've created will be deleted.
When the robot vacuum's battery runs low during a cleaning, it will return to the dock to recharge and then resume the job. The user manual also outlines a manual charging method wherein you plug the electrical adapter directly into the A9, bypassing the dock. The manual, however, offers no explanation of when or why this option might be preferable.
The A9 supports four cleaning modes, all of which are activated from the remote. In Auto mode, the robot plots a path through the room and cleans in a zigzag pattern. During these jobs, it will automatically detect areas it has missed and go back over them. In Spot mode, it will clean an area of concentrated dirt in a spiral pattern. In Edge mode, the A9 navigates until it recognizes a wall, then cleans along its edges. Max mode increases the vacuum's suction until you deactivate it and can be used whenever you need extra power in any of the other modes.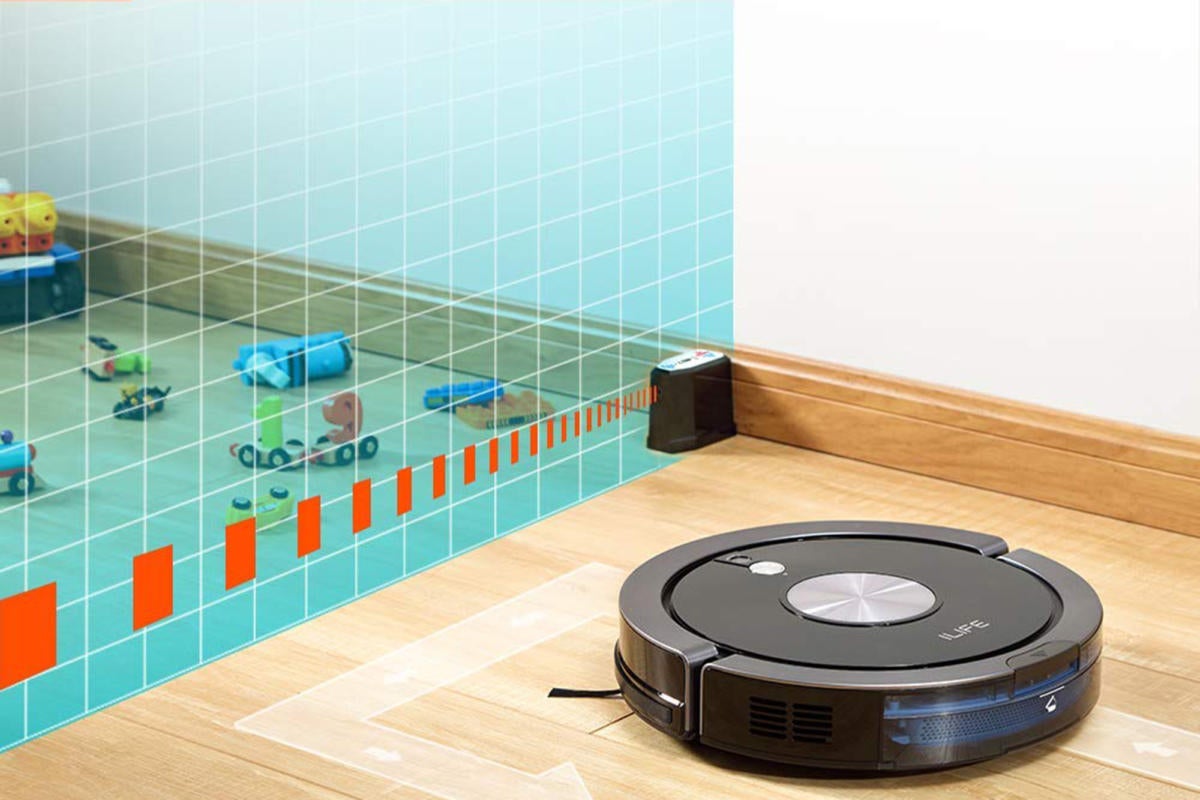 I used the A9 for daily cleanings for a week or so. Thanks to its well-stocked navigation features, it moved with the precision of a marching military unit. Contact with furniture and other obstacles was minimal, and when it did occur, it was more of a gentle tap than a collision. It had a tougher time avoiding a cluster of electrical cords and device chargers draped across one part of the floor, so I took advantage the Electrowall supplied with the vacuum. This small black box runs on a pair of AA batteries and creates an invisible barrier that the A9 won't cross. It worked perfectly, although you can only deploy it to one location at a time.
The vacuum also had no problem with the varied terrain in my home's lower level: low-pile carpet, hardwood, and tile. It even managed to traverse over a throw rug I laid out without being slowed but its raised edges. Getting under cabinets and couches was easy work as well, due to the A9's 3-inch height.
More importantly, it did a fantastic job of getting all the dust, pet hair, and food crumbs off my floor. And I rarely had to empty the bin more than once during cleaning.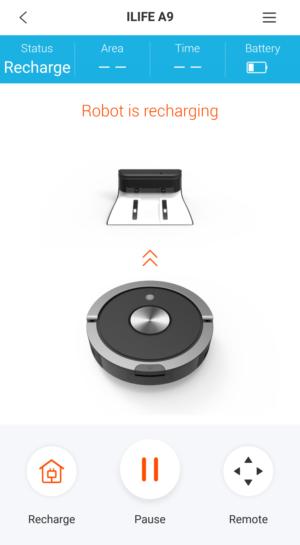 During cleanings, the A9's voice assistant keeps you apprised with status updates ("Low power. Please charge now.") and alerts you to problems ("Left brush stuck. Please clear now.").
App control
While you can get by just fine operating the A9 with its companion remote, the iLife app adds another level of control. On top of the basic controls included on the physical remote, the app displays the current cleaning/charging status, surface area cleaned, cleaning duration, battery level, and a floor plan map. It also provides detailed cleaning history and tracks the consumption level of the brushes and filter.
Because of this, I found the app preferable to the remote. However, it tended to be buggy, crashing intermittently and sometimes displaying incorrect status—saying the vacuum was charging when it was cleaning and vice versa. These things can, and likely will, be ironed out in future updates.The manufacturer also reached out just as I was filing this review to my editor to inform us that the "A9 is not compatible with iOS 13 or Andorid 10. We are working on updates and will release new versions of the iLife app soon." Our contact reached out to us on October 11 to let us know the iOS 13 version of the app is now available.
Verdict
I liked nearly everything about the iLife A9. It looks nice, it didn't require me to babysit while it worked, and it did a great job cleaning my floors and carpet. You can't ask for much more from a robot vacuum except maybe an accommodating price, and at less than $300 the A9 can be said to have that as well.
Updated October 16, 2019 to report the correct size of the dustbin and add information about its battery-charging process.