At a Glance
Expert's Rating
Pros
Can store video clips on microSD card
No cloud storage subscription requried
Easy to set up and operate
Cons
Lacks advanced features like person and facial detection
Our Verdict
The EufyCam E is a capable indoor/outdoor camera that should appeal to anyone who wants to avoid mandatory cloud subscription costs.
Best Prices Today: Eufy Security EufyCam E
Eufy is more known for housekeeping than home security. Nonetheless, the brand behind the RoboVac line of robot vacuums is making a bid to ensure your house is as safe as it is clean with its EufyCam E indoor/outdoor security camera.
Given how crowded the security camera category has become, it's surprising that Eufy didn't make more of an effort to set its camera apart, particularly when it comes to looks. Indeed, it's shocking how closely the EufyCam E resembles the Arlo Pro 2. From its pod shape and its glossy black-and-white finish to its modular design, every aspect of the EufyCam E looks like a carbon copy of the Arlo. Remove the respective company logos, and a casual observer would be hard-pressed to distinguish the two cameras. Also like the Arlo Pro 2, the EufyCam E is powered by a rechargeable battery and requires a companion base station to bridge it to your router. You get many of the same capabilities as with the Arlo Pro 2, including 1080p resolution, night vision, and motion detection.
Mentioned in this article
Arlo Pro 2 (two-pack)
Price When Reviewed:
$479.99
Where EufyCam E does set itself apart from its closest competitor is in total cost. Arlo's flagship camera is built around a cloud-based system that requires a pricey subscription to enable long-term video storage (a free option gives maximum of 7 days rolling storage). The EufyCam E, on the other hand, includes a local storage option. Given a 16GB microSD card—which is provided with the camera—Eufy estimates you could store up to a year's worth of 15-second video clips for a single camera. That is likely plenty for most users, but if you'd rather store your video in the cloud, you can take advantage of two subscription options. A Basic plan gives you 30 days of storage for one camera for $3 a month or $30 per year. The Premier plan provides the same video history up to 10 cameras for $10 a month or $100 per year.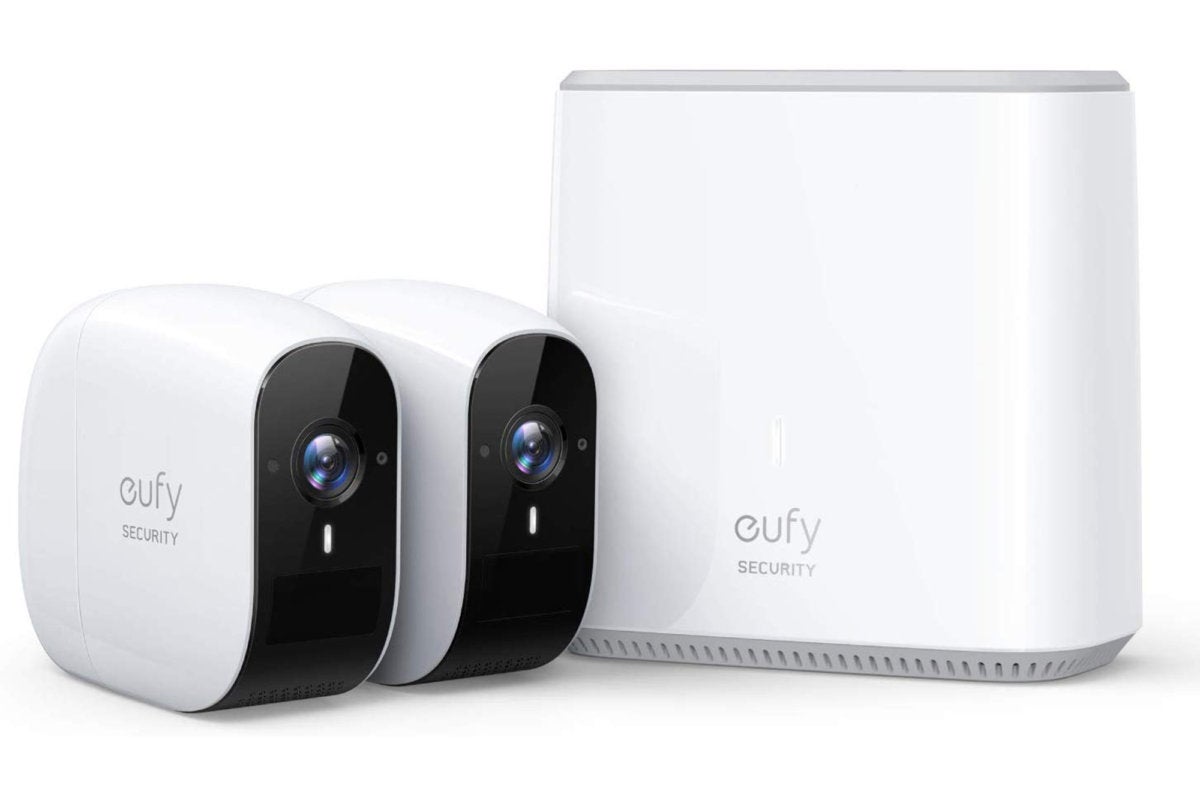 Setup and performance
The EufyCam E setup is a two-step process, first connecting the base station via ethernet to your router, then syncing the camera to the base station. The Eufy Security companion app shepherds you through the process using a series of voice prompts from the base station and on-screen guides.
Attaching the camera's ball-style mount to an exterior wall is fairly straightforward. First, you have to drill a pair of holes and screw the base of the mount to the wall. Then you attach the ball bracket to the base and fasten the camera to the ball bracket. Eufy supplies all the hardware besides the drill.
Mounting cameras outdoors always brings a risk of damage from the elements or vandals, but Eufy has accounted for both of these. As far weather resistance goes, the camera has an IP65 rating, which means it's impervious to dust ingress and jets of water. And if someone tries to tamper with the Eufy, the base station includes an onboard siren that goes off if the camera is moved. It's loud enough to be heard outside and can be toggled on and off in the app settings.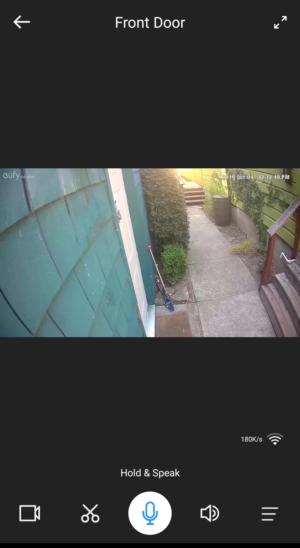 I mounted the camera above my front door and its 140-degree field of view was wide enough to monitor my doorstep and the surrounding area. The image quality was excellent, with sharp detail and accurate colors. Night vision provided plenty of illumination in the dark, producing clear video with strong contrast. When you need to get a closer look at a person or object—which can be critical in evidence of a crime—you can zoom in by pinching the image.
Motion detection worked well in my tests and I received alerts promptly. The Eufy Security app offers several ways to minimize the incidence of too-frequent or false alerts. During the installation process, you're asked to select a camera working mode. An optimal battery life option limits video clip length to 20 seconds and automatically adjusts the detection time period, which helps to reduce the chances that the camera will detect the same event multiple times. Optimal surveillance mode stretches video clip length up to 60 seconds and records each event as much as possible. Finally, a custom recording mode lets you set the parameters, though doing so will drain the batter faster and result in more alerts.
Once the camera is installed and running, you can further tweak motion detection by adjusting the sensitivity and creating activity zones. You can change the sensitivity by moving a simple slider from low too high, while designating activity zones involves adding one or more bounding boxes to the camera image. The camera will push a motion detection alert and record video whenever someone enters one of these zones, and record activity outsides these zones without alerting you.
The Eufy Security app makes it easy to operate the camera with a quartet of preconfigured security modes. In the default Home mode, the camera will detect motion, record video, and push alerts to your phone. You can toggle to Away mode when you leave the house, and the camera will do all of the above plus sound an alarm to ward off any intruders it detects. Schedule mode allows you to automatically activate Away mode during preset times, while Disarmed mode turns motion detection off completely.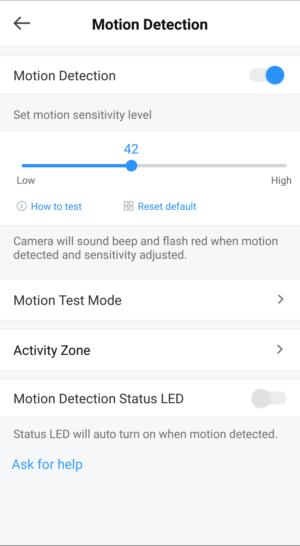 You can also manually control individual functions like night vision, video recording, and the system's alarm from a scrolling toolbar under the live stream pane. Video clips are easily accessed from either the live feed screen or the device screen and are displayed by day in reverse chronological order.
As far as smart home integration goes, both Amazon Alexa and Google Assistant let you can control the camera with voice commands. Alexa also lets you view the live feed on Amazon devices like the Echo Show, while Google Assistant lets you stream the feed via Chromecast.
Verdict
The EufyCam E works well enough and has enough of the right features to earn a spot on your security camera shopping list. Its onboard storage, in particular, should be compelling to anyone who wants to avoid the added cost of a cloud subscription. It's still not a cheap camera, mind you; the EufyCamE one-camera kitRemove non-product link, which includes the base station, runs $230, with two- and three-camera kits rising steadily in price from there. But given that the only additional cost once you take the camera home is for the occasional microSD card replacement (unless you opt for cloud storage), it's tough not to recommend it.
Best Prices Today: Eufy Security EufyCam E