At a Glance
Expert's Rating
Pros
Easy setup
Hue Bridge is optional (though we recommend it)
Transfering bulbs to the Bridge is quick and easy
Alexa, Google Assistant, and (with the Bridge) Apple HomeKit support
Cons
Must be in the same room to control the bulb via Bluetooth
Limited set of controls supported with Bluetooth
You're limited to deploying 10 bulbs without the Bridge
Our Verdict
Arriving in the second wave of Bluetooth-enabled smart bulbs from Signify, the new Philips Hue White E12 candle bulb is an easy way to jump into the Hue ecosystem.
Best Prices Today: Philips Hue White E12 candle bulb (2-pack)
Arriving in the second wave of Bluetooth-enabled smart bulbs from Signify, the new Philips Hue White E12 candle bulb makes for an easy and inexpensive way to jump into the robust Hue smart lighting ecosystem.
Boasting both Bluetooth and Zigbee radios, this attractive, easy-to-install bulb can be controlled with your iPhone or Android phone, or via Alexa or Google Assistant voice commands, all without shelling out $60 for a Hue Bridge. And if you ever want to expand the bulb's functionality beyond the limitations of Bluetooth (such as the fact that Bluetooth bulb control requires being in the same room, and that you're limited to deploying 10 Hue bulbs in all), transferring the bulb to the bridge is a snap.
Competition
Priced at $33 for a two-pack, the Philips Hue White E12 is a fixed-white (it has a color temperatre of a warm 2700K) candle bulb and joins the existing tunable White AmbianceRemove non-product link ($24) and White and Color AmbianceRemove non-product link models ($50). None of the latest Hue bulbs requires the Hue Bridge, but you might decide to add one down the road anyway, just because it offers so many advantages. I'll cover those in a moment.
The Philips Hue White E12 candle bulb faces plenty of similarly priced, no-hub-required competition, including Feit Electric's $11.59 Bluetooth-enabled white candelabra bulbRemove non-product link and LOHAS LED's $34 Wi-Fi white cable bulb two-packRemove non-product link. Ikea offers a Zigbee-enabled TRÅDFRI E12 white candelabra bulbRemove non-product link for $7.59, but you'll need a $35 gatewayRemove non-product link to take full control of it, or (at the very least) a "steering device," such as the $4 TRÅDFRI wireless dimmerRemove non-product link. At about $16.50 a bulb, the Philips Hue White E12 candle bulb makes for a competitively priced option.
When calculating the value of a Philips Hue bulb, it's also important to take into account the entire Hue ecosystem, which includes a dizzying variety of bulbs, lamps, fixtures, light strips, and outdoor lights, not to mention support from Amazon Alexa, Google Assistant, and Apple HomeKit (although a Hue Bridge is required for HomeKit support). Investing in a smart bulb means buying into a smart lighting platform, and for now, the Hue ecosystem sits at the top of the heap.
Bluetooth installation
Getting the Hue White E12 candle bulb up and running via Bluetooth is a simple process. Once you've screwed the bulb into a compatible socket and powered it up, you can discover it using the Hue Bluetooth app for iOS and Android. During my initial setup process, the Hue Bluetooth app found the bulb almost instantly.
Mentioned in this article
Philips Hue White BR30 (Bluetooth + Zigbee)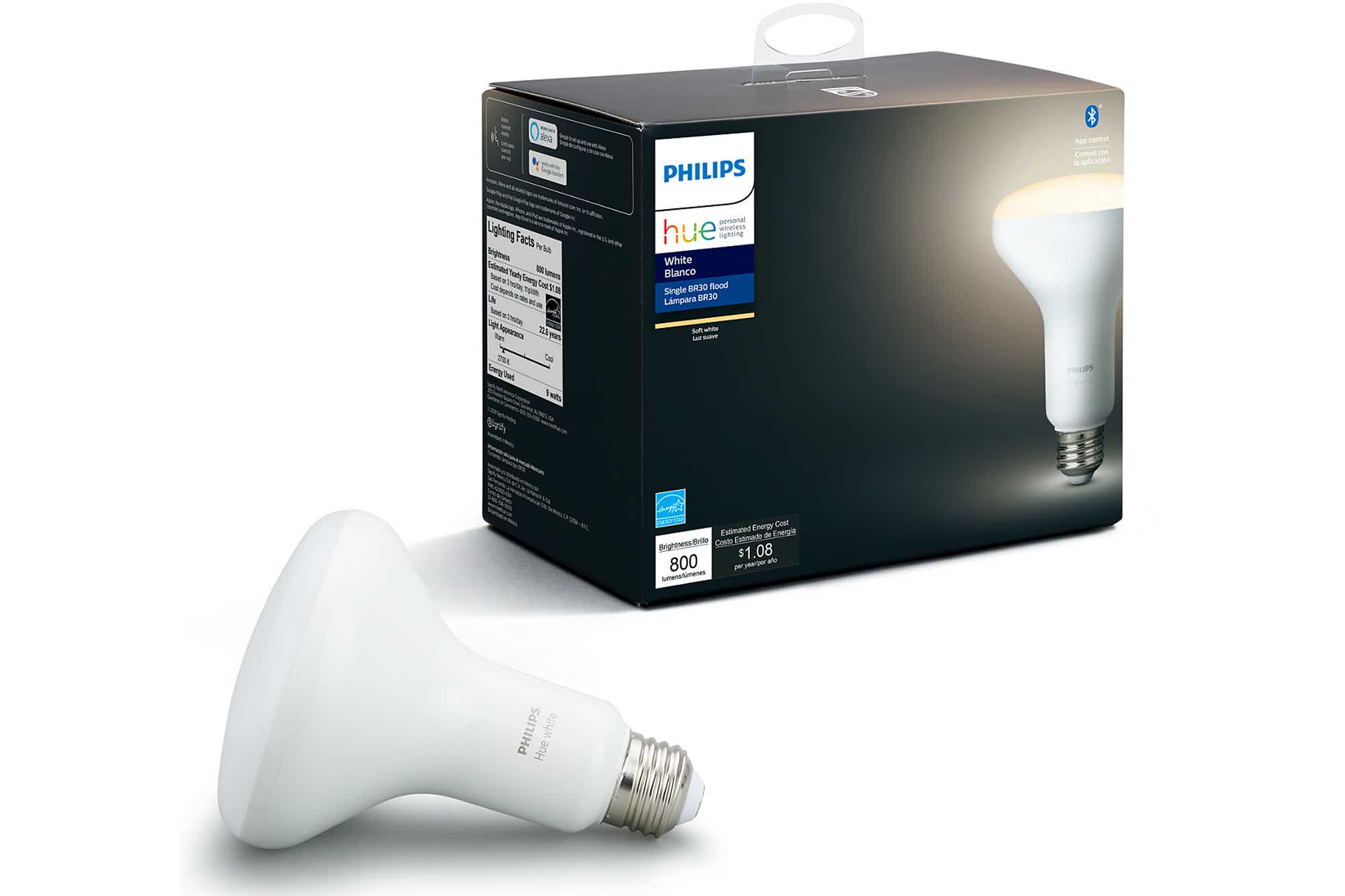 Price When Reviewed:
$19.99
Connecting the candle bulb to newer Amazon Echo devices is a snap as long as your Philips Hue account email is the same as on your Amazon account. If that's the case, your supported Echo device (including the 3rd-generation Echo Dot, the 2nd-generation Echo Show, and the 1st- or 2nd-generation Echo PlusRemove non-product link) should connect to the bulb automatically within a minute of turning the bulb on.
If your Amazon account email isn't the same one that's associated with your Philips Hue account (mine isn't), you can still use the Hue Bluetooth app to put the bulb into discoverable mode and manually add it as a device with the Alexa app. The same goes for the Google Home app.
Once the bulb is connected via Bluetooth, you can use the Hue Bluetooth app to turn the light on and off, change its brightness, and—that's about it. Indeed, you'll have to settle for a variety of compromises for the convenience of no-hub Bluetooth pairing, including the necessity of being in the same room with the light you want to control, only being able to control 10 lights at once (rather than 50 with the Hue Bridge), no timers, no daily or geofencing-based routines (although you can set up those types of routines with a little help from Alexa), and no way to add the bulb to a room of lights that can all be controlled at the same time.
Upgrading to a Hue Bridge
If you end up deciding to make the jump to a bridge, the transition is easy. All you have to do is tap the "Add Hue Bridge" option in the Hue Bluetooth app, tap "I have a Hue Bridge," and press the top button on your Hue Bridge. The app will then transfer control of the Hue candle bulb to the bridge, along with any of the other Bluetooth-enabled Hue lights you happen to have in your home.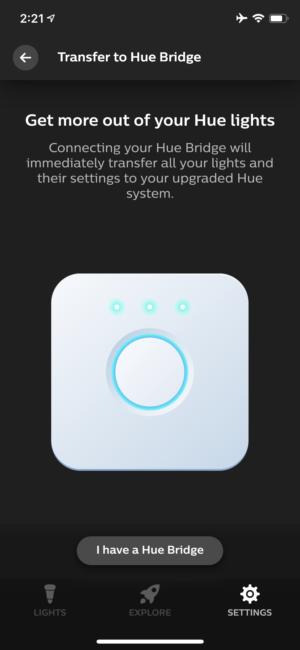 With the Hue candle bulb (or any of your other Bluetooth-enabled Hue bulbs) connected to the Hue Bridge, you can take advantage of the full arsenal of Hue controls.
For starters, you'll no longer need to be in the same room with the Hue candle bulb to control it; indeed, you can take charge of it from anywhere you have internet access once you've enabled "Out of home" control. You'll be able to create rooms for your lights; connect them to sensors;, create home, away, wake-up and bedtime routines; set times; and more. The bridge also supports Apple's HomeKit platform, meaning you'll be able to command your Hue candle bulb with Siri.
Bottom line
We've long been fans of Signify's portfolio of Philips Hue smart bulbs, and the Bluetooth-enabled Philips Hue White E12 candle bulb marks another solid entry in the Hue line. With its inexpensive price tag and easy installation, this Hue Candle bulb can be up and shining in no time, and if you want more control than the Hue Bluetooth app affords, there's a simple upgrade path to the (now optional) Hue Bridge. Once we factor in the expansive Hue ecosystem of which this bulb is a member, recommending the Hue White E12 candle bulb is an easy call.
Best Prices Today: Philips Hue White E12 candle bulb (2-pack)