TiVo's been making a lot of noise in the press lately as it prepares to roll out new products. These include a new DVR called the TiVo Edge, arriving imminently; a $50 Android TV streaming stick, coming next year; and an in-development streaming service called TiVo+.
Sadly, TiVo also knocked down whatever anticipation it had been building up by confirming last week that it will stuff pre-roll video ads into users' recordings. The ads will roll out to all TiVo Roamio and Bolt DVRs running the latest TiVo Experience 4 software within the next 90 days, and will presumably be part of TiVo's forthcoming Edge DVR as well. While these ads will be skippable by pressing the "Skip" button on a TiVo remote, users are still rightfully recognizing them as an unwelcome new intrusion, flooding TiVo's message boards and Twitter feed with angry comments for days.
Instead of just piling on, though, I'd like to provide some options and alternatives for users and dig a little deeper into TiVo's possible motivations for degrading its core DVR experience.
How TiVo's pre-roll ads work
TiVo says that all recordings from most standard channels will be eligible for pre-roll ads, but they won't appear for recordings from premium channels such as HBO. Ted Malone, the head of TiVo's consumer business, also noted in the TiVo forums that resuming a previously-watched recording won't bring up an ad, and in some cases, TiVo won't show an ad if it doesn't have a buyer for that particular ad slot.
As for being able to skip through the ads, there's good news and bad news: Just like any other commercial, you can hit the remote's Skip, D, or Channel Up buttons to bypass the pre-roll ads. TiVo, however, says you won't be able to bypass them automatically using the auto-skip recipe from IFTTT.
Possible workarounds
As for what customers can do about it, TiVo says there's no direct way to opt out of pre-roll ads. Malone wrote on the TiVo forums, however, that you might be able to turn them off with a call to customer service. It sounds like longtime customers, or those who are paying for lifetime service might have the most success with this strategy.
"I believe there are a number of criteria that go into determining whether a customer is eligible for this (tenure, service plan, etc.)," Malone wrote. "I don't think it's as easy as just calling us up and asking to be opted out."
If all else fails, rolling back the TiVo software on a Roamio or Bolt DVR to the previous version, called TiVo Experience 3, should keep the ads away. TiVo has no plans to bring pre-roll ads to this older software, and no plans to prohibit downgrades from TiVo Experience 4 in the future. The main downsides are that you'll lose all your existing recordings by rolling back, and you'll miss out on newer features such as personalized recommendations and voice control.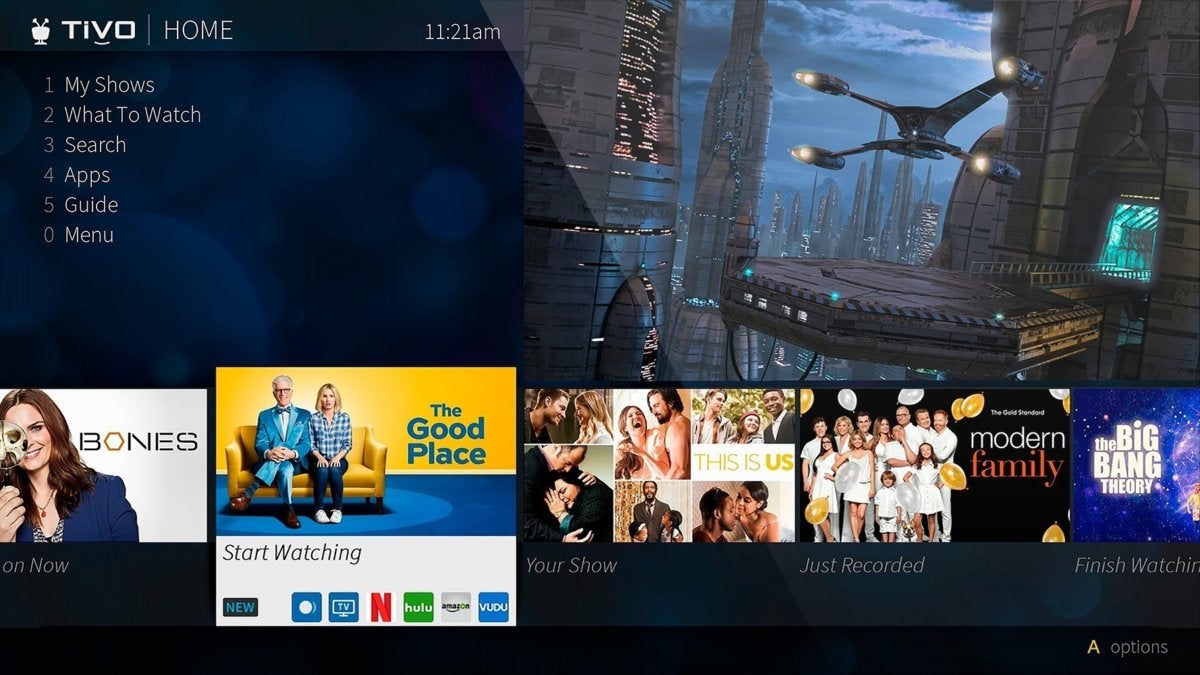 According to TiVo forum users, you can downgrade by going to Menu > Help > Reset to Defaults > Repeat Guided Setup, then press Select. Now, press Thumbs Down twice, Rewind Twice, then Select (not Enter). You should see a message saying the rollback has begun.
TiVo alternatives
If this whole ordeal makes you want to give up TiVo entirely, you'll find lots of other options for DVR these days, especially if you've already cut the cable TV cord and are using a DVR with an antenna. Here are some suggestions:
The Tablo Quad is a networked DVR that captures over-the-air channels from an antenna, then streams the video to other devices such as Roku players, Fire TV devices, Apple TV, and more. It's fairly easy to set up and has lots of features (including automatic ad skipping), but unlike TiVo it won't deliver broadcasts at full quality. It doesn't even support 60 frames per second video on interlaced (480i or 1080i) channels. The hardware costs $200, plus the price of an internal or external hard drive, and a lifetime subscription costs another $150.
Amazon's Fire TV Recast is similar to the Tablo, but it doesn't have the same frame-rate issues and it integrates nicely with Amazon's Alexa assistant, so you can launch live channels or DVR recordings by voice. On the downside, it doesn't support automatic ad skipping (though this feature is reportedly in development), and it requires a Fire TV streaming player to watch on your television. The Recast hardware starts at $230 with no subscription fees.
Channels DVR comes closer to matching the polish and performance of TiVo, with support for both ad-skipping and full broadcast quality, but it's not as easy to set up. You need an HDHomeRun networked tuner (starting at $100); a PC, NAS box, or Nvidia Shield TV to run the recording engine; and either an Apple TV, Amazon Fire TV, or Android TV device (including the Shield) to watch on. Once you've put the hardware together, the DVR service costs $8 per month or $80 per year.
Plex DVR involves the same setup as Channels, but it works with more devices (including Roku players) and it has a lower subscription fee ($5 per month, $40 per year, or $120 for life). On the downside, Plex's broader media server and streaming applications can be a distraction if you're only interested in DVR.
For even more recommendations, read our full over-the-air DVR comparison guide.
As for cable subscribers, the options are thinner. You can throw a CableCARD into an HDHomeRun Prime and use it with Channels, Plex, or HDHomeRun's own DVR service, but some cable providers and channels use encryption to prevent recording. Channels DVR has a workaround that involves recording channels' TV Everywhere streams, but this has its own limitations. If you're planning to give up TiVo but still need to record cable channels, a live TV streaming service such as YouTube TV or PlayStation Vue might be a better option.
Why is TiVo doing this?
Over in the TiVo forums, Ted Malone, the head of TiVo's consumer business, has been defending the move in response to customer complaints:
"TiVo's consumer business model has not evolved much in the 20+ years we've been selling [DVRs]," Malone wrote. "[M]echanisms like targeted advertising, content delivery and premium services are all going to be needed in order for us to help bring down the out-of-pocket costs for consumers over time."
There's probably some truth to that statement. TiVo's latest earnings report shows that hardware revenue fell by nearly 50 percent year over year last quarter, from $3.3 million to $1.7 million, while software and services revenue from TiVo products (which cover DVR subscriptions, among other things) fell by two perent to $19.2 million. If not for TiVo's patent-licensing business—which the company is now trying to split apart from its products business—the company would be in a freefall as cable TV declines and alternative viewing options proliferate.
Malone seems to be implying that pre-roll ads can help TiVo compete by subsidizing new hardware and services. Still, TiVo hasn't actually committed to any price reductions in exchange for the new ads; so at the moment, they're not modernizing anything except the company's revenue streams.
Also unmentioned by Malone is that TiVo is losing interest in selling DVR hardware to consumers. TiVo's "Platform Solutions," which involve providing DVR products to cable companies that don't want to build their own, are now a much bigger part of TiVo's products business, accounting for 77% of revenue last quarter. Incidentally, those companies will be able to implement the same pre-roll ads that TiVo is now foisting upon consumers.
That doesn't mean TiVo is abandoning consumer hardware overnight, but its earnings report makes clear that the company is transitioning away from that business in favor of expanding the platform and monetizing it through ads. Instead of catering to a dwindling audience of traditional DVR users, TiVo is hoping to extract more revenue from them for as long as they'll stick around. It's a strategy that comes straight from the pay-TV industry playbook.
Sign up for Jared's Cord Cutter Weekly newsletter to get this column and other cord-cutting news, insights, and deals delivered to your inbox.