At a Glance
Expert's Rating
Pros
Person-detection alerts
Execellent video quality
Can be integrated into Hive's broader smart home platform
Cons
Requires access to electrical oulet
Requires other Hive products to derive the maximum benefit
Our Verdict
The Hive View Outdoor is a worthwhile purchase for Hive ecosystem users. But others should shop around before making a decision as there are a variety of outdoor cameras available that might meet your needs.
Best Prices Today: Hive View Outdoor
More than a year after introducing the Hive View indoor security camera, U.K.-based smart home developer Hive has added its first outdoor model, logically called the Hive View Outdoor. That gives Hive users reason to cheer, but other security camera shoppers might have difficulty seeing how this camera is any different from a sea of similarly solid performers.
Like the View, the new outdoor camera was designed by Swiss industrial designer Yves Béhar. It has the same square, white outer casing with a glossy black face. There's a built-in speaker on one side for two-way audio, and a micro-USB socket for the power supply on he back. Above this is a circular indentation where the camera's magnetic mount attaches. The most significant difference from the indoor camera's design is that this outdoor model is weatherproof, with an IP66 ingress rating, meaning it's completely protected from dust and that it can withstand high-pressure water jets from up to 12.5mm nozzle. The camera can operate in temperatures ranging from -4 to 113 degrees Farenheit.
Mentioned in this article
Hive View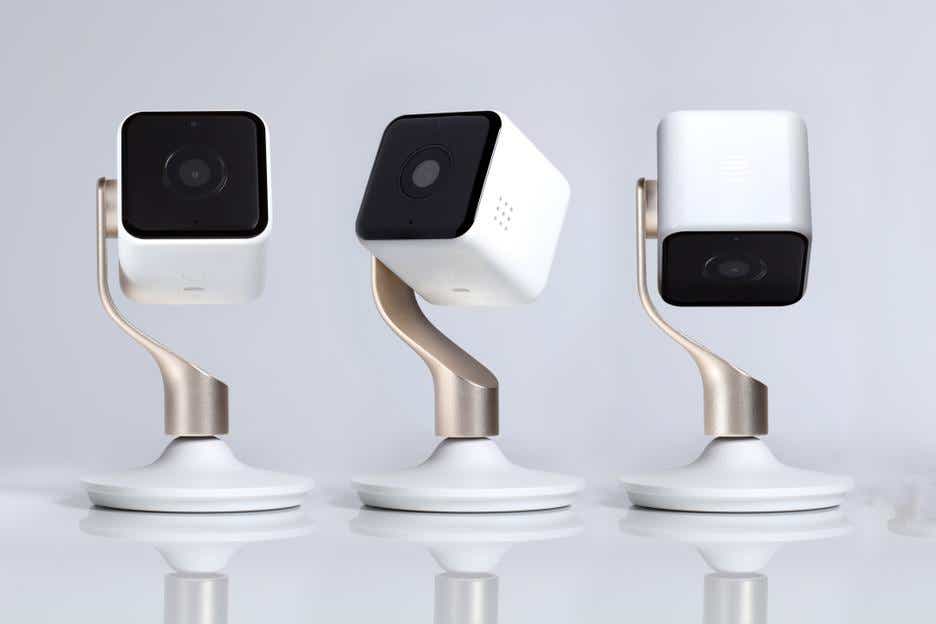 Price When Reviewed:
$199.99
The camera inside the Outdoor's enclosure appears to be the same one used in the indoor model. It has a 130-degree wide-angle lens and streams video in up to 1080p resolution. It also includes an 8x digital zoom, night vision up to 16 feet, and sound and motion detection, including person detection.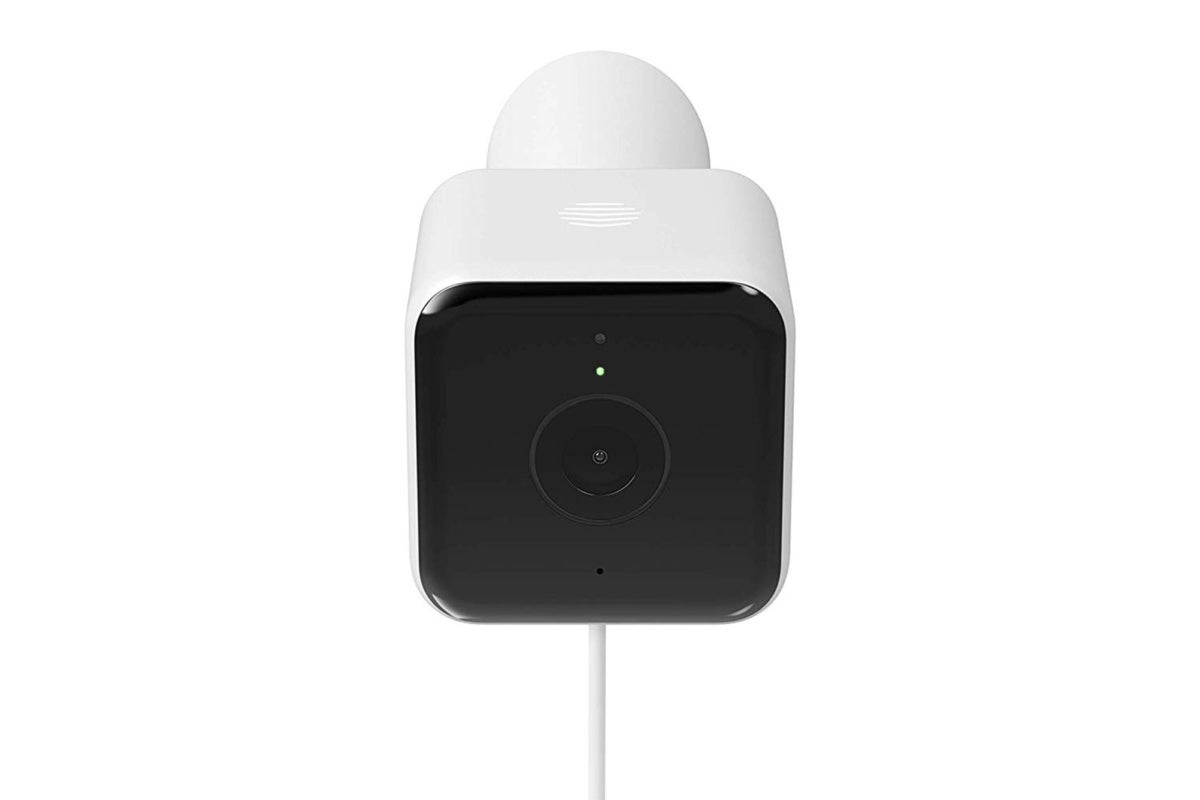 Hive offers the same video storage options here as it does with the Hive View. You get a rolling 24-hour video history with purchase of the camera, which frankly is probably plenty for most users. If you want more, you can subscribe to the Hive Video Playback service to get 30 days of storage. Pricing is based on the number of cameras you're using. The one-camera plan costs $4 per month or $39 per year if paid annually; two cameras cost $6 per month or $59 per year; and you can storage for up to five cameras for $10 per month or $99 per year. New users get the first month free.
Setup and installation
Mentioned in this article
Hive Welcome Home Pack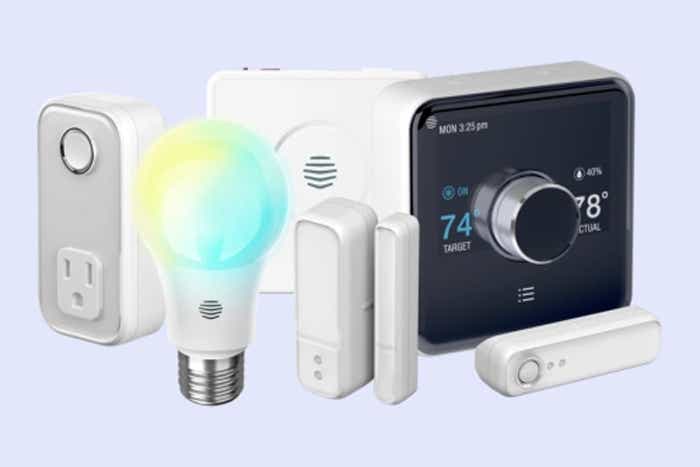 Price When Reviewed:
$349.99
The camera works with the same Hive companion app that controls the Hive Hub and ecosystem of smart lights, door and window sensors, and smart plugs. But you can also use it independently with just the camera, and the setup is very straightforward. Just select the camera from a list of Hive devices and follow a few app-guided steps to connect to the camera via Bluetooth, and then to your Wi-Fi network.
Installing the camera itself is a bit more involved. Hive supplies most of the necessary hardware to mount the camera to an exterior wall, including screws, nails, drywall anchors, grommets, cable clips, and a small screwdriver. But you'll still need to bring a No. 2 Phillips screwdriver and, most crucially, a drill. The camera must be plugged into an AC outlet for power; so unless you're lucky enough to have a conveniently located outdoor electrical outlet, that means you'll need to drill a hole through a wall and thread the 25-foot power cable through it to an outlet inside your home. This requires careful planning before you even you pick up a tool. Hive provides detailed step-by-step instructions within the app, but if it's more than you want to take on, you can outsource the job to one of Hive's professional installers for a fee.
App and performance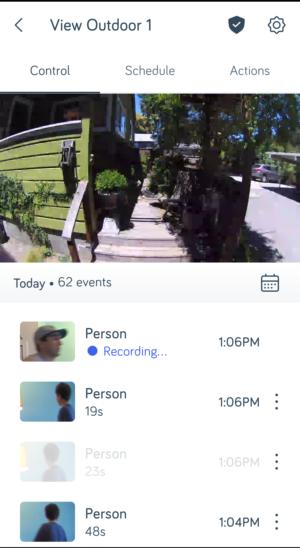 One the camera is installed, it's extremely easy to operate using the Hive app. The home screen is divided into three tabs: Control, Schedule, and Actions. The Control tab is where you monitor the camera's live feed and access event-triggered video clips. The Schedule tab offers four preset time blocks for which you can turn monitoring on or off on a daily basis. On the Actions tab, you'll find several if-this-then-that style recipes for interactions between the camera and other Hive products—for example, turning on a Hive smart light when the camera detects someone moving in the dark.
The camera's sound and motion detection are armed by default, but you can turn them off or adjust their sensitivity to low, medium, or high in the app settings. Motion detection also offers a People setting that will only alert you to biped activity, and I found it essential given the abundance of car and critter motion outside my home. When a person is detected, the notification includes a thumbnail displaying a close-up headshot, so you can often identify the individual before you even watch the video. As the app cautions, however, person detection range is limited to 40 feet during the day, and just 15 feet at night. If you want to monitor a greater range, you're better off leaving the detection setting to "all motion," knowing you'll have to endure some false alarms.
One of my knocks on the Hive View was the lack of activity zones, a fairly common feature for reducing false alerts. I was happy to see the feature here (it has since been added to the Hive View, as well). You can add up to four zones for the camera to monitor by drawing bounding boxes around them, and they're great for filtering out activity in areas you don't care about or that would generate false alerts (shrub and tree branches, for instance).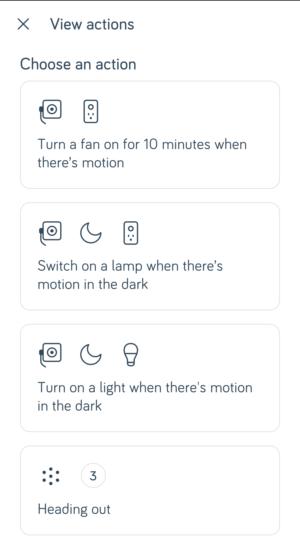 The camera delivers crystal clear video with vibrant, accurate colors in daytime mode, and good contrast when night vision is active. You can zoom in and pan and tilt the live image using finger gestures, though you get progressively fuzzier results. The speaker audio is adequate for carrying on clear conversation and identifying ambient sounds.
Bottom Line
With its solid performance and easy app control, there's a lot to like about the Hive View Outdoor. But as with the indoor Hive View, there's nothing in particular to love. It's a logical choice if you're already invested in the Hive ecosystem. If you're not, it could still be a compelling option, but there is enough variety in features and price in the outdoor camera market that you owe it to yourself to shop around first.
Best Prices Today: Hive View Outdoor