The Fourth of July marks the anniversary of the signing of the Declaration of Independence, and hence the birth of America. That initially meant freedom from tyranny and the opportunity to govern ourselves, but it also came to mean everything from hot dogs and fireworks and summer days to the actual American Dream itself—the ability to better ourselves, become whatever we want, and perhaps make the world a better place for those that come after us. This selection of movies celebrates all aspects of America, from an appreciation of all that it is, to our freedom to criticize its flaws in the hopes of improving. Happy Fourth!
All the President's Men
★★★★★
Netflix
One could argue that this is a very un-patriotic movie, in that two journalists work to take down the President of the United States. Or, one could argue that it's a very patriotic movie, wherein two journalists use powers given to them by the Founding Fathers to maintain justice and a sense of right. All the President's Men (1976) begins when Washington Post reporters Bob Woodward (Robert Redford) and Carl Bernstein (Dustin Hoffman) are assigned to cover a break-in at the Watergate building, the headquarters for the Democratic National Committee, which led all the way up to the resignation of President Richard Nixon in August of 1974.
Written by William Goldman and directed by Alan J. Pakula, this is one of the great journalism movies, depicting the many hours spent on the phone, taking notes, speaking to sources, tracking down leads, and finding that ever-elusive second source to confirm a fact. The great cinematography by Gordon Willis frames the characters in emotionally resonant spaces, such as the newspaper offices, divided by huge columns, as well as the infamous parking garage where the meetings with "Deep Throat" took place. Jason Robards is superb, and won an Oscar, as Post editor Ben Bradlee.
The Big Red One
★★★★★
Rental—Amazon Prime, YouTube, Vudu, Google Play, iTunes, etc.—from $2.99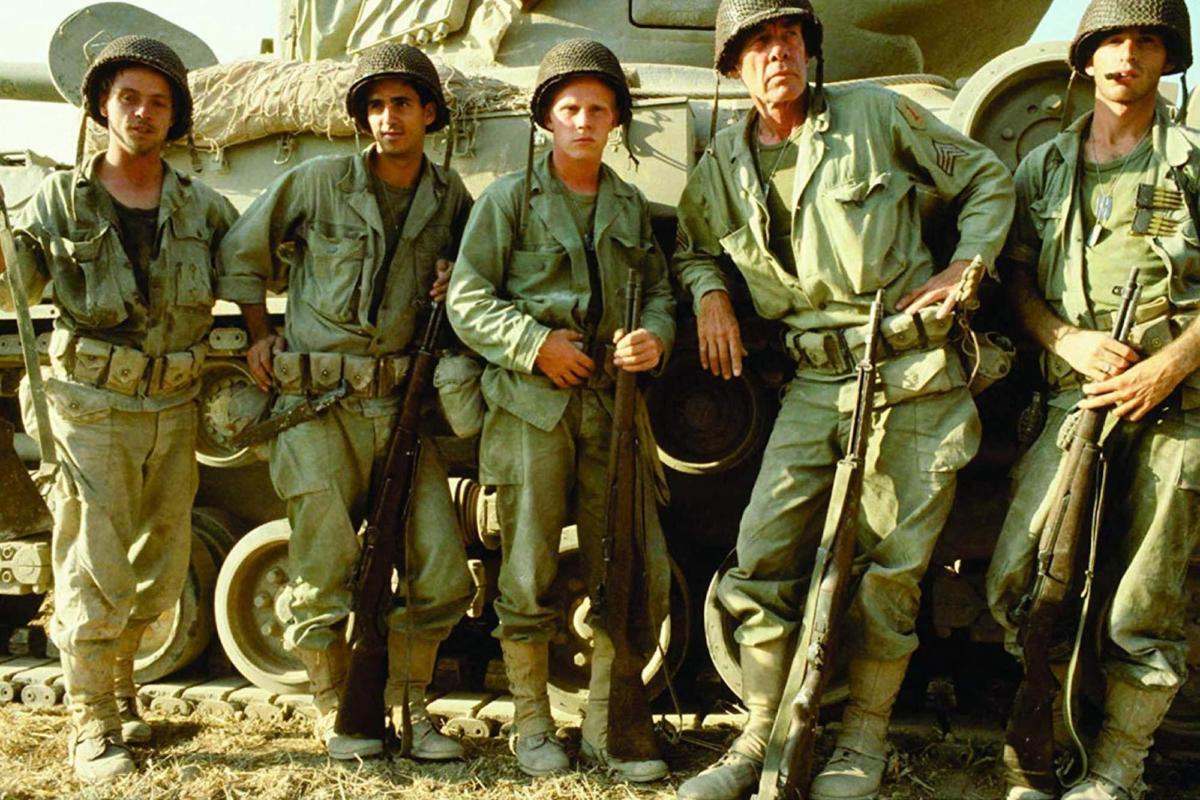 The great newspaperman and soldier-turned-filmmaker Samuel Fuller (1912-1997) waited years to be able to make this superb movie about his experiences during WWII. Lee Marvin has one of his greatest roles as the grizzled veteran, leading a platoon of greenhorns through strange and devastating adventures, told in various, disconnected little stories. Fuller doesn't bother to explain or apologize or deliver any sermons; he just tells the stories as is, showing both the beauty and sadness of war.
Mark Hamill (in The Empire Strikes Back the same year) plays one of the young privates, accompanied by Bobby Di Cicco, Kelly Ward, and Robert Carradine as a writer, presumably based on Fuller himself. Sadly, the studio chopped up Fuller's final cut and released a 113-minute version, and despite a masterful 163-minute restoration that came out in 2004, the digital version available today on all platforms is still the shorter, 113-minute one. Regardless, the shortened version is still very much worth seeing, highlighting an American original at his best.
Borat: Cultural Learnings of America for Make Benefit Glorious Nation of Kazakhstan
★★★★☆
Hulu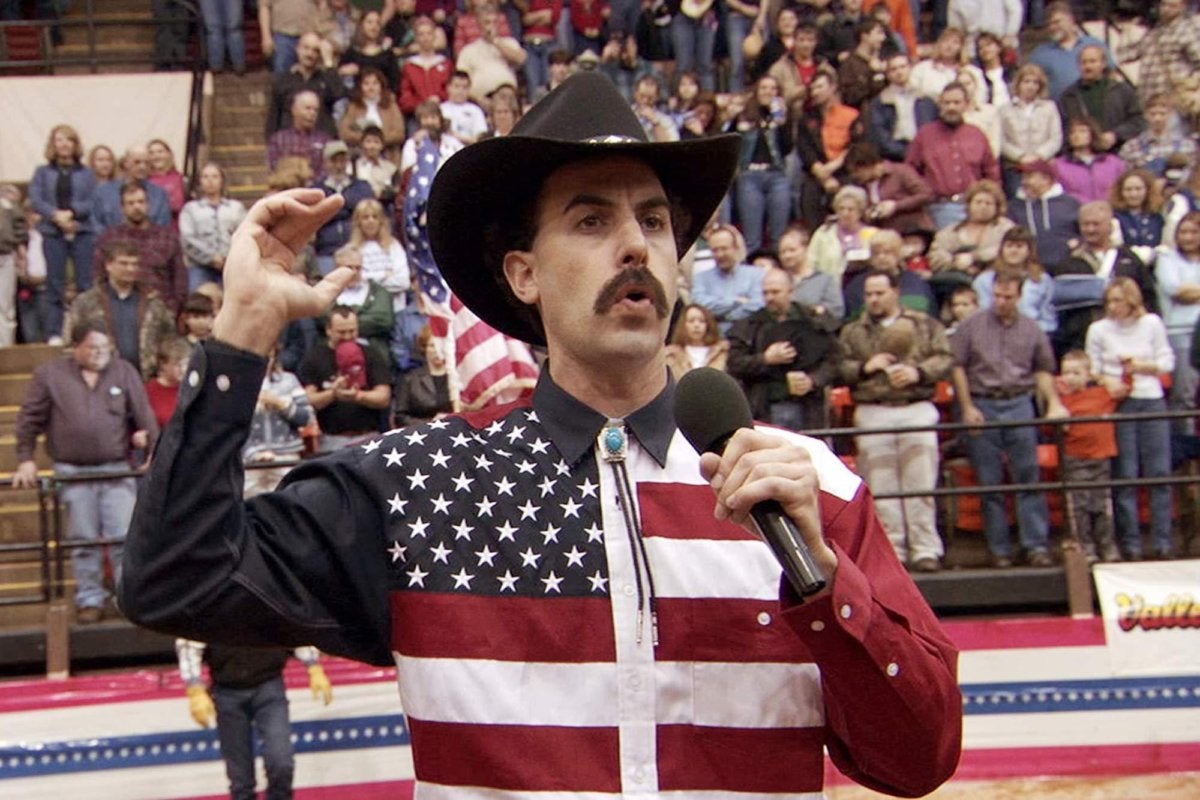 Highly irreverent but still screamingly funny, Sacha Baron Cohen's Borat—subtitled Cultural Learnings of America for Make Benefit Glorious Nation of Kazakhstan — (2006) celebrates everything both great and embarrassing about America. With cheerful cluelessness, Kazakhstanian TV personality Borat comes to the United States to make a documentary about the Greatest Country in the World. Instead, he sees an episode of Baywatch, falls in love with Pamela Anderson, and begins a cross-country road trip to find her.
Along the way, he interviews many folks and manages to offend just about everyone, crossing a line into racial, sexual, religious, and cultural taboos. Yet, his shock value also somehow sheds light on his own absurd behavior, and, presumably, the behavior of anyone else that discriminates against anyone and anything different than themselves; it's a blunt approach, but highly effective, and seriously hilarious. A highlight that we can never un-see is a naked fight and chase through a hotel lobby between Borat and his producer producer Azamat Bagatov (Ken Davitian).
Cape Fear
★★★★☆
Rental—Amazon Prime, YouTube, Vudu, Google Play, iTunes, etc.—from $3.99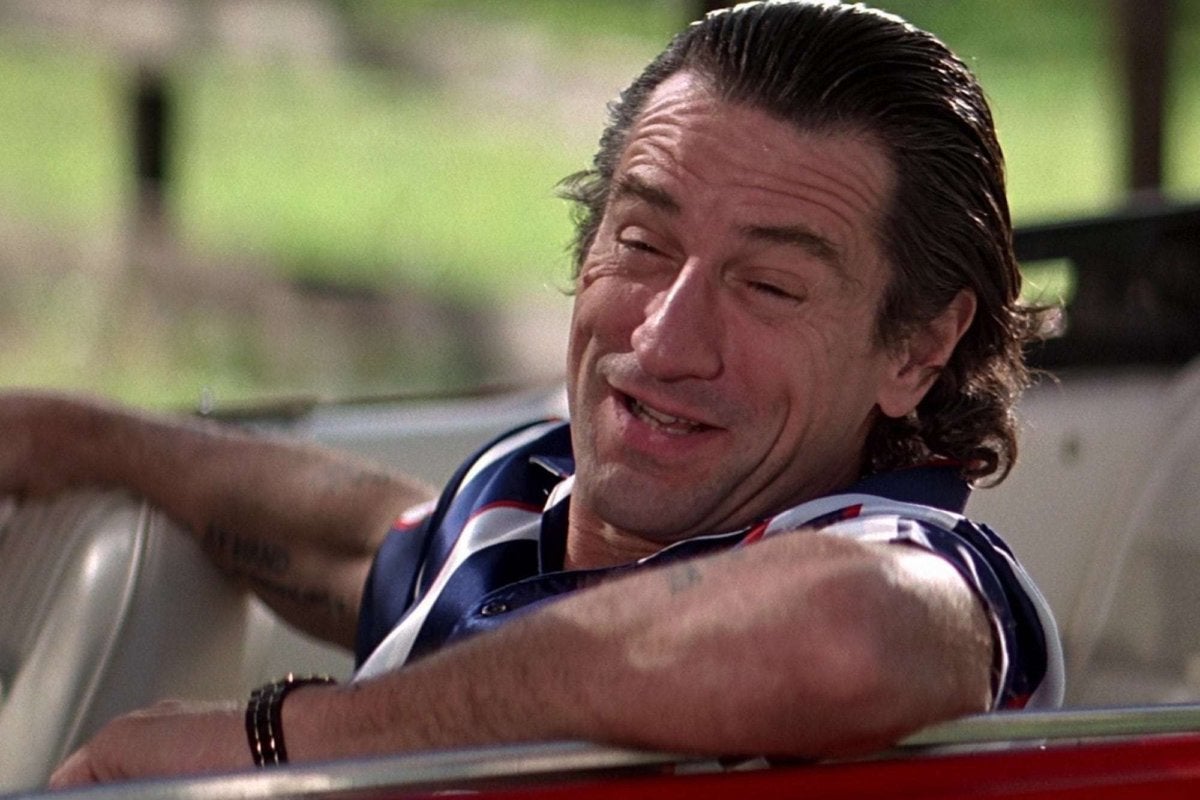 One of Martin Scorsese's only attempts at pure genre filmmaking, Cape Fear (1991), is all about style, the visual and aural creation of suspense, and very little to do with reality. You just have to sit back and go with its edgy insanity. Remaking the 1962 film, Scorsese cast the original stars, Gregory Peck and Robert Mitchum, in small roles and had composer Elmer Bernstein re-create the famous, sinister score by Bernard Herrmann.
Nick Nolte plays Sam Bowden, a lawyer who may not have done his best to defend the intimidating Max Cady (Robert De Niro) against a rape and brutality charge some 13 years earlier. Now the cunning, heavily tattooed Cady is out, and has vowed revenge on Sam and his family. Even though the movie was dismissed as a "mere" suspense film with no real weight, De Niro received an Oscar nomination for Best Actor, and Juliette Lewis earned one as well for her astoundingly potent supporting performance as the teen daughter. A scene takes place on the Fourth of July, complete with fireworks!
Captain America: The First Avenger
★★★★☆
Rental—Amazon Prime, YouTube, Vudu, Google Play, iTunes, etc.—from $2.99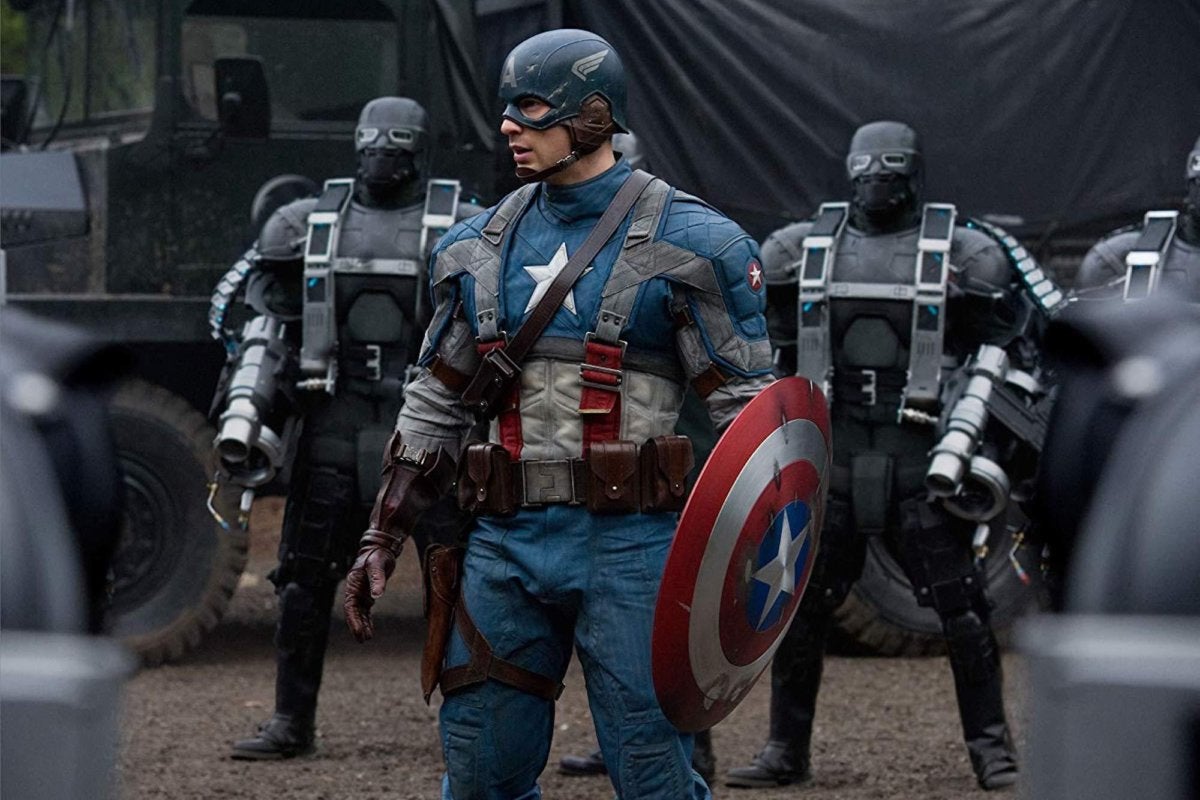 It's tough to go wrong with everyone's favorite star-spangled superhero. Played by Chris Evans, he has now appeared in seven films, but this origin story set during WWII is the most appropriate for holiday viewing. Scrawny Steve Rogers wants nothing more than to serve his country, but he's too frail and is rejected. A scientist (Stanley Tucci) offers to perform a "super-soldier" experiment on him, and he's given new muscles and super-speed. He starts by becoming a kind of troop-supporting entertainer, until he learns that his best pal Bucky (Sebastian Stan) has gone missing and uses his powers to find him, and, eventually, to stop the Red Skull (Hugo Weaving).
Director Joe Johnston was previously a visual effects man, winning an Oscar for Raiders of the Lost Ark; that movie's design and energy seem to have been a huge inspiration on Captain America: The First Avenger (2011). Everything looks great and the action is clean and slick. Hayley Atwell plays Cap's love interest Peggy Carter, and Tommy Lee Jones brings the movie some salty crunchiness as Colonel Chester Phillips.
Coming to America
★★★★☆
Sling, Rental—Amazon Prime, YouTube, Vudu, Google Play, iTunes, etc.—from $2.99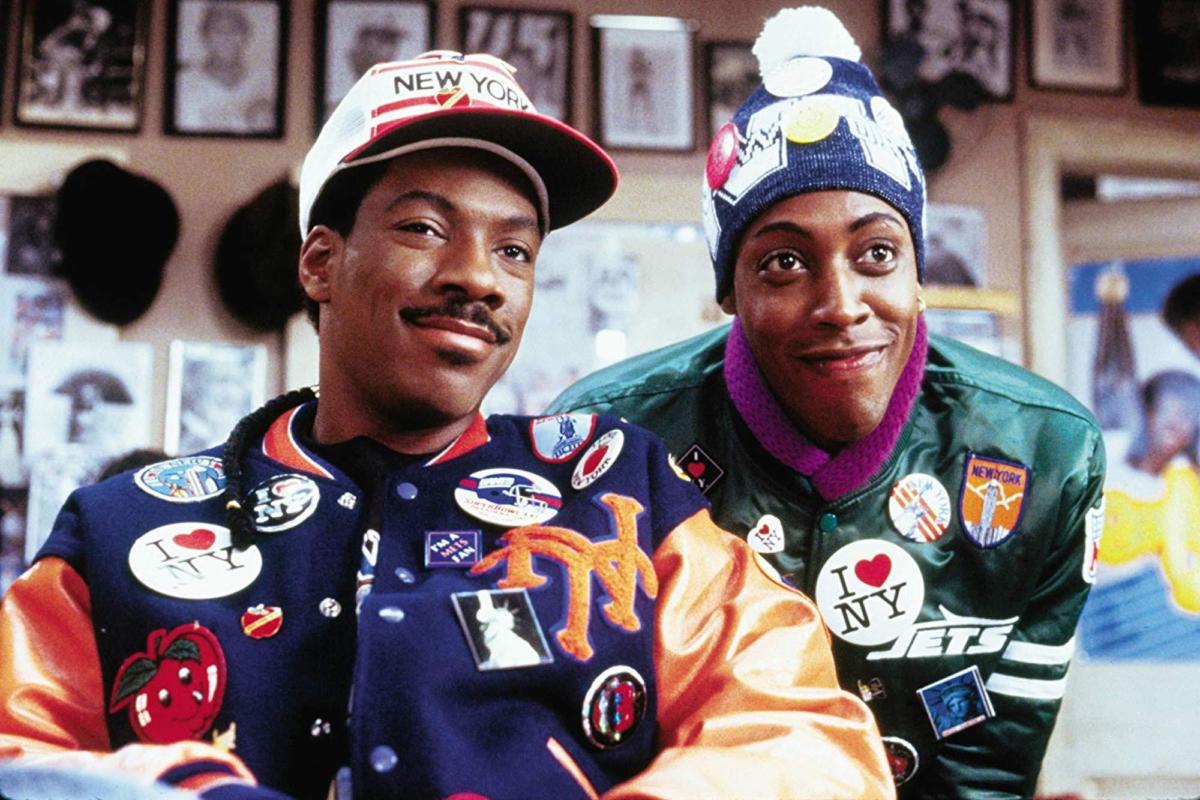 This Eddie Murphy comedy was released just before the Fourth of July in 1988, and celebrates its own take on the American Dream. In Coming to America (1988), Murphy plays the wealthy Prince Akeem, of the fictitious African nation of Zamunda. When he learns of his impending arranged marriage, he escapes to America. There, accompanied by his friend and manservant Semmi (Arsenio Hall), he pretends to be poor in hopes of finding a bride that will love him for who he is. (Although love interest Shari Headley does get to fall in love and become instantly rich!)
Murphy and Hall both play several characters in heavy makeup, notably in the famous barbershop sequence. Director John Landis was at the height of his powers here, bestowing his unique comic timing—weird little pauses, wide establishing shots, etc.—on the material and making it unique, and Murphy's rapid-fire quips keep the comic energy up. (Look fast for a reference to the pair's earlier hit Trading Places.) James Earl Jones co-stars as Akeem's father, the king, and Samuel L. Jackson is a hold-up man. It was one of the year's biggest hits, and received two Oscar nominations, for Costume Design and Makeup.
Dazed and Confused
★★★★★
Rental—Amazon Prime, YouTube, Vudu, Google Play, iTunes, etc.—from $3.99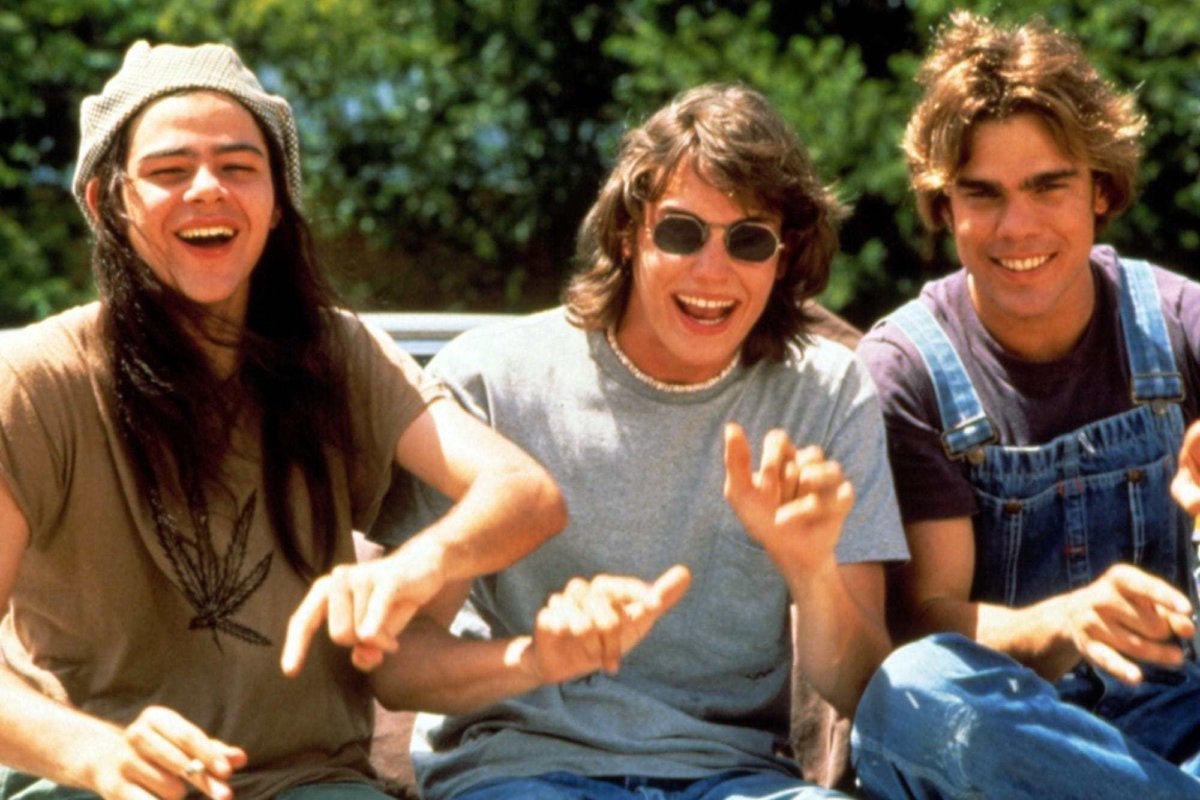 Not strictly a July Fourth movie, Richard Linklater's slow-ride Dazed and Confused (1993) is, rather, an essential rite of passage through that significant 24 hours that marks the last day of school and the first day of summer. With hazy, shambling pace and tone, the movie takes place in 1976 and follows an array of teens who find themselves facing an uncertain future in a small town.
Some take out their frustrations by hazing the young freshmen who are on their way in (and may still have a chance in the world), while others smoke copious amounts of pot. All the while, a stack of arena-rock tunes spins on the soundtrack. Matthew McConaughey is memorable as the sleazy older guy who still hangs around. ("That's what I love about these high school girls, man. I get older, they stay the same age.") Rory Cochrane plays a happy-go-lucky pot-smoker, Adam Goldberg plays an uptight intellectual and the target of bullies, while Milla Jovovich has an almost wordless role as an ethereal stoner chick.
Jaws
★★★★★
Rental—Amazon Prime, YouTube, Vudu, Google Play, iTunes, etc.—from $3.99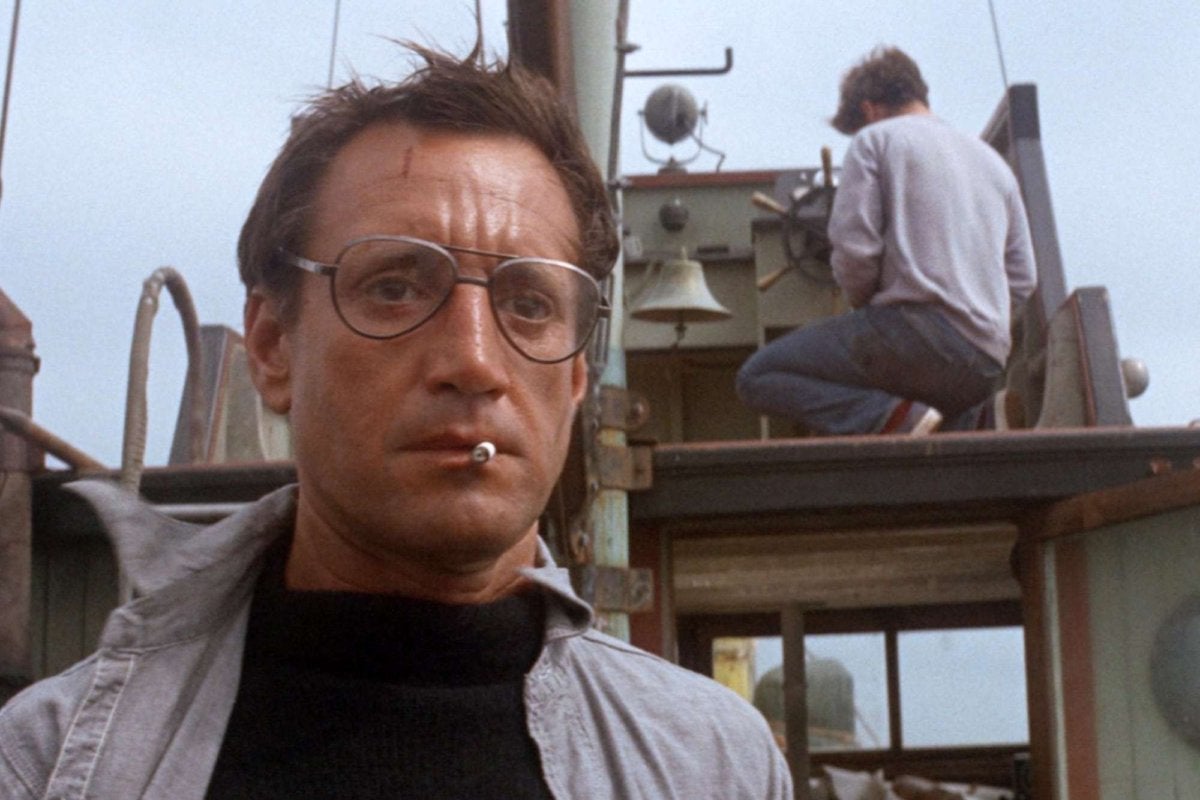 "You yell 'Barracuda,' everybody says, 'Huh? What?' You yell 'Shark,' we've got a panic on our hands on the Fourth of July." The movie credited for starting the summer blockbuster phenomenon actually takes place during the summer. In Jaws (1975), Roy Scheider plays Police Chief Martin Brody, who wants to close the beaches at Amity Island to protect people from a killer shark, but the mayor (Murray Hamilton) thinks only of how much money will be lost without tourists. Eventually Brody joins shark expert Matt Hooper (Richard Dreyfuss) and captain Quint (Robert Shaw) in an effort to hunt and kill the beast.
Director Steven Spielberg was only 26 at the time, and already showed all the earmarks of a master filmmaker; his level of technical skill as well as inventiveness and sense of emotional impact were extraordinarily sharp. The sneaky use of John Williams' score was another of the movie's brilliant achievements. People were afraid to go to the beaches that summer, but they flocked to the movies, making this the highest grossing film of all time, until Star Wars came along two years later. They could definitely afford a bigger boat.
Milk
★★★★☆
Netflix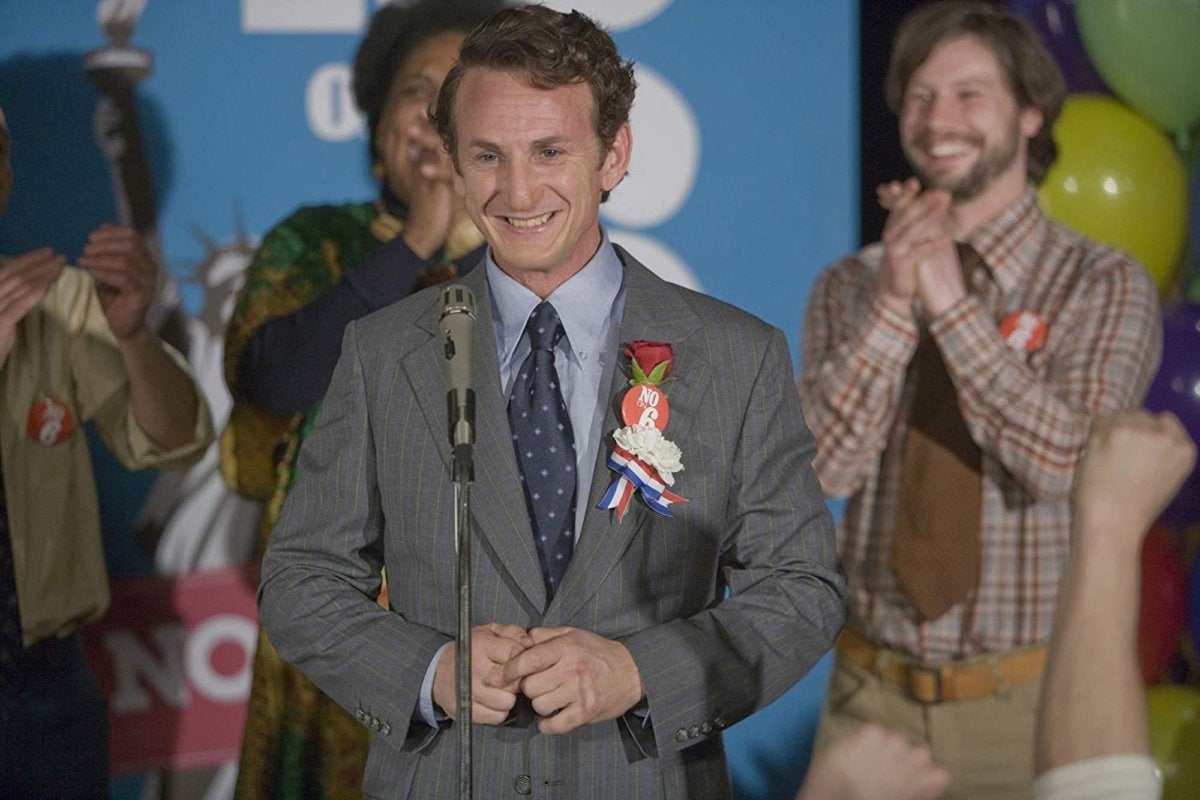 Sometimes American heroes fight different types of battles. In Gus Van Sant's Milk (2008), Sean Penn physically and spiritually embodies San Francisco Supervisor Harvey Milk, who turns to activism and politics when he finds that the locals are not very welcoming to a gay-owned business in the Castro District. He wins a seat in City Hall along with the confused, underconfident Dan White (Josh Brolin), who would eventually, at the end of his rope on November 27, 1978, stroll into the building and shoot and kill both Milk and Mayor George Moscone (Victor Garber).
Van Sant unerringly captures the details of the period, including clips of the nasty, hateful Anita Bryant, and razor-focuses on the weird relationship between Milk and White as they struggle to comprehend one another. The movie leaves off with the sense that Milk could have gone on to accomplish even greater things, but also with the knowledge that his legacy continues to inspire. James Franco, Emile Hirsch, Diego Luna, and Alison Pill co-star. Penn won an Oscar for his performance, as did writer Dustin Lance Black for his screenplay.
The Right Stuff
★★★★★
Rental—Amazon Prime, YouTube, Vudu, Google Play, iTunes, etc.—from $3.99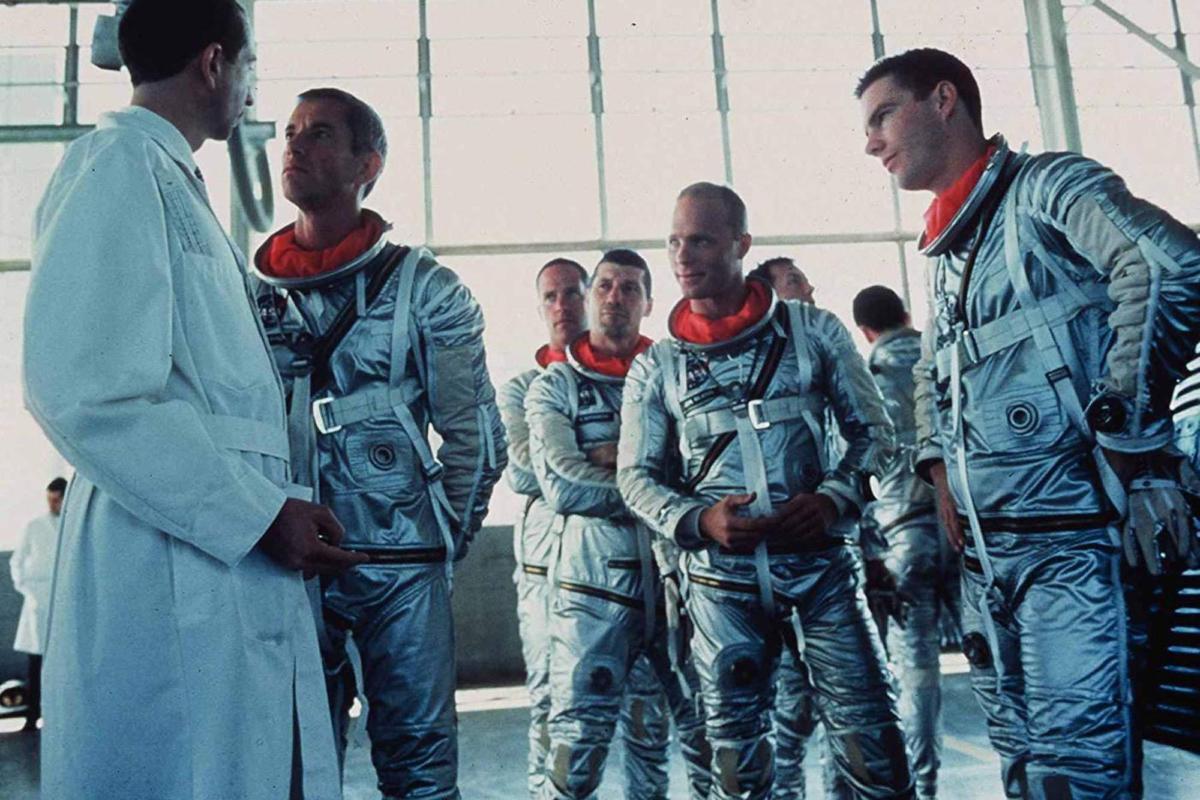 Philip Kaufman's The Right Stuff (1983) could be called one of the last great American movies of the 1970s, but coming just a bit too late. In the year of Return of the Jedi, viewers admired its technical artistry—it received four Oscars for Editing, Sound, Sound Effects Editing, and Music Score—but it was an expensive flop. Based on Tom Wolfe's book, it traces the history of various scientific breakthroughs, and man conquering the laws of nature.
It begins as Chuck Yeager (Sam Shepard) breaks the sound barrier, and continues on to the first manned space mission, which included John Glenn (Ed Harris) and Alan Shepard (Scott Glenn); that's a lot of Glenns and Shepards. The likable cast also includes Dennis Quaid, Fred Ward, Barbara Hershey, Kim Stanley, Veronica Cartwright, and Lance Henriksen. Kaufman's direction is vivacious and moving, coaxing viewers through a compulsively watchable 190 minutes, through his use of humor and warm camaraderie. Though these guys are heroes, they all possess a certain kind of appealing scrappiness, a disregard for anything proper. In this way, Kaufman makes a movie that is, magically, both patriotic and subversive.
The Sandlot
★★★★☆
Rental—Amazon Prime, YouTube, Vudu, Google Play, iTunes, etc.—from $3.99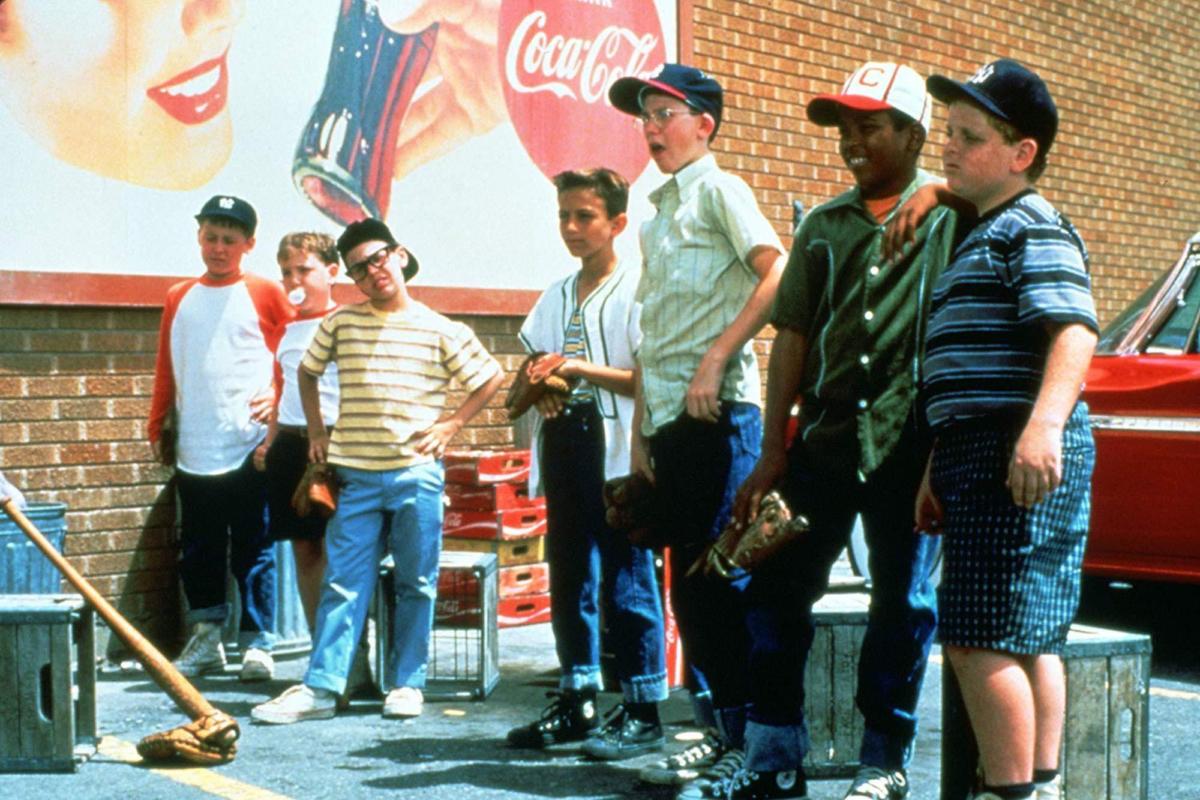 This largely family-friendly movie has one of the best, most chest-thumping, moist-eyed Fourth of July scenes ever filmed. The Sandlot (1993) tells the story of the summer of 1962, when smart kid Scotty Smalls (Tom Guiry) moves to town, has no friends, and has no idea how to play baseball. The skilled, older "Benny" (Mike Vitar) lets him join their sandlot team anyway; these nine kids simply play ball, all day, without ever keeping score. But if anything gets hit over the fence, it's gone forever, thanks to a mean, monster-sized junkyard dog.
Of course, Scotty manages to hit his stepfather's autographed Babe Ruth ball into dog territory. Director David M. Evans includes plenty of mood-setting scenes that don't necessarily advance the plot, but bring home the feel of summer, friendship, and a good game. The Independence Day scene comes when the neighborhood holds a block party full of food and fun, but the kids dash off to their sandlot ballfield, using the holiday fireworks as nighttime illumination for some extra innings. Karen Allen, Denis Leary, and James Earl Jones play grownups, and young Marley Shelton plays the teen dream pool lifeguard Wendy Peffercorn.
Young Mr. Lincoln
★★★★★
Rental—Amazon Prime, YouTube, Vudu, Google Play, iTunes, etc.—from $3.99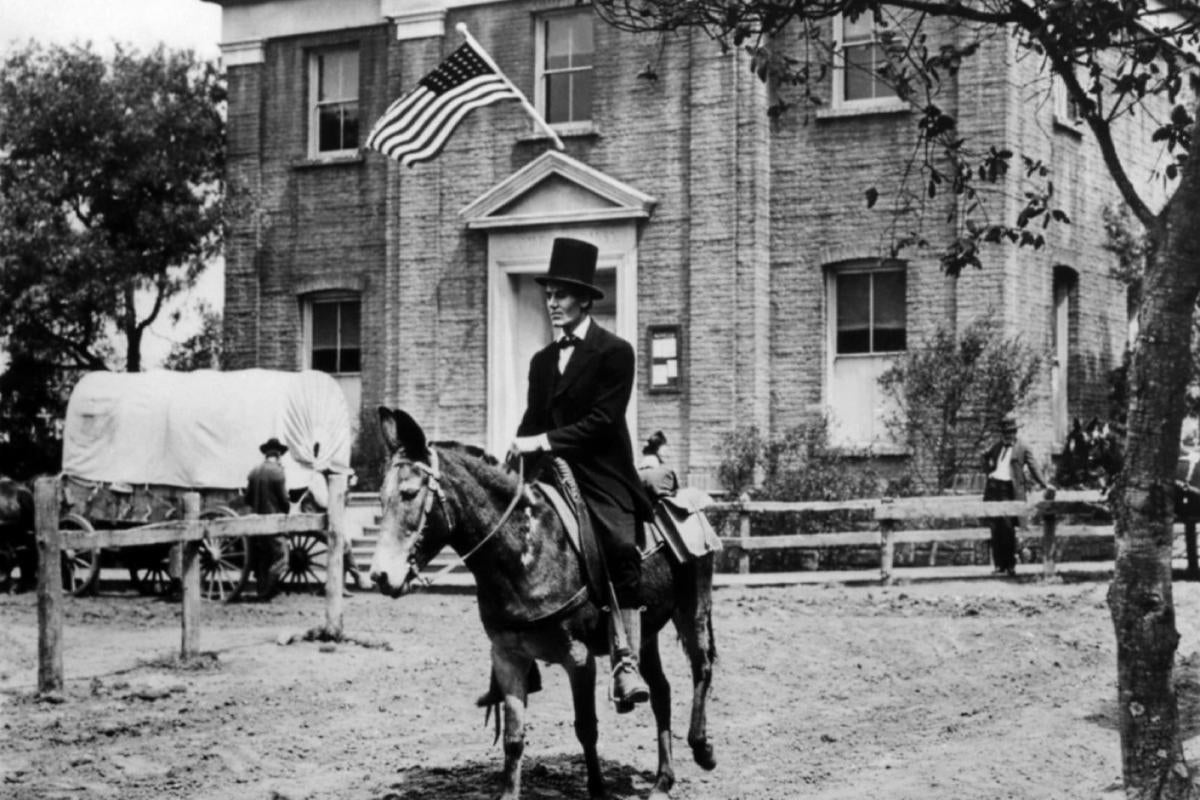 For my money, Young Mr. Lincoln (1939) is the best July Fourth movie ever made. There was no more American filmmaker than John Ford, and his complete filmic output (with a few Irish exceptions) coalesce into a great American epic poem. His portrait of Abe Lincoln (Henry Fonda) as a young, idealistic lawyer in Illinois is full of life, beauty, warmth, schmaltz, romance, humor, and suspense. At the Fourth of July celebrations, Lincoln enjoys a pie contest (ever the diplomat, he can't decide which pie he likes better and keeps on sampling) and a tug-o-war match.
But there is also a murder, and two brothers are accused; each claims responsibility, fearing that the other will go to prison. With effortless calm and unfailing reason, Lincoln gets in on the case and tries to crack the seemingly uncrackable mystery. Meanwhile, he also meets Mary Todd (Marjorie Weaver) and stumbles upon some of the things that would become his trademarks later in life. At the time, Ford's two other 1939 releases, Stagecoach and Drums Along the Mohawk, overshadowed this one, but it can now be seen as a masterpiece.