At a Glance
Expert's Rating
Pros
Three cleaning modes
Intelligent navigation
Small size is ideal for apartments
Cons
Can only clean up to 250 square feet at a time
Maps and virtual barriers are deleted after each cleaning
Our Verdict
The Braava Jet 240 is ideal for maintenance cleaning of small spaces like bathrooms and kitchens.
Best Prices Today
iRobot is renowned for its line of Roomba robot vacuums, but those aren't the only floor cleaners it has under the stairs. The company also has a line of mopping robots dedicated to keeping your hard floors spotless. The smallest and most affordable of these is the Braava Jet 240, a multi-mode robotic mop that's ideally suited for small spaces.
iRobot Braava Jet 240 design
If you've only ever used a robot vacuum, the diminutive Braava Jet might shock you. The boxy bot measures 6.7 x 7 x 3.3 inches and weighs just under three pounds. The size is perfect for apartments and condominiums where often the only hard floors are in small spaces like bathrooms, kitchens, and entryways.
The Jet's only control is a Clean button on its top that's used to start and stop mopping and to set virtual barriers. There's a fold-down handle to make toting the Jet from room to room easier, and beneath it are the cap for the water tank and a switch that ejects the robot's used mopping pads.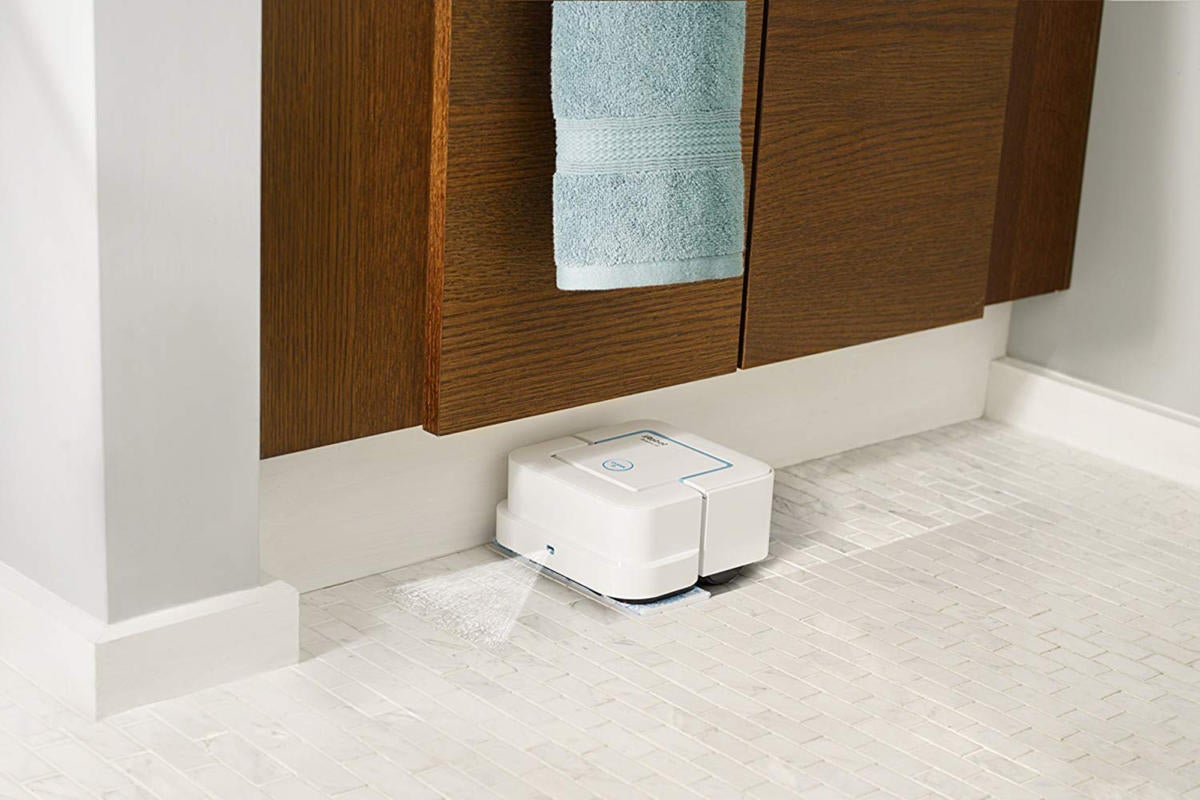 The front and back of the Jet are home to its spray nozzle and battery slot respectively. Underneath, are a slot for the mopping pad, front and rear cliff sensors, a pad reader, and a pair of wheels.
How the Braava Jet 240 cleans
The Jet has three cleaning modes:
Wet mopping: According to iRobot, this mode is closest to how you'd mop the floor by hand. The Jet does a triple pass over the floor, scrubbing in a back-and-forth and side-to-side motion over a short distance before moving on to the next patch. This mode uses the most water and battery life and can clean up to 200 square feet.
Damp sweeping: Making a double pass over your floor, the Jet uses less water and moves in a straight back-and-forth pattern. This gentler mode can clean up to 250 square feet.
Dry sweeping:The Jet makes a single pass in a straight, forward line without using any water. In this mode, it can also clean up to 250 square feet.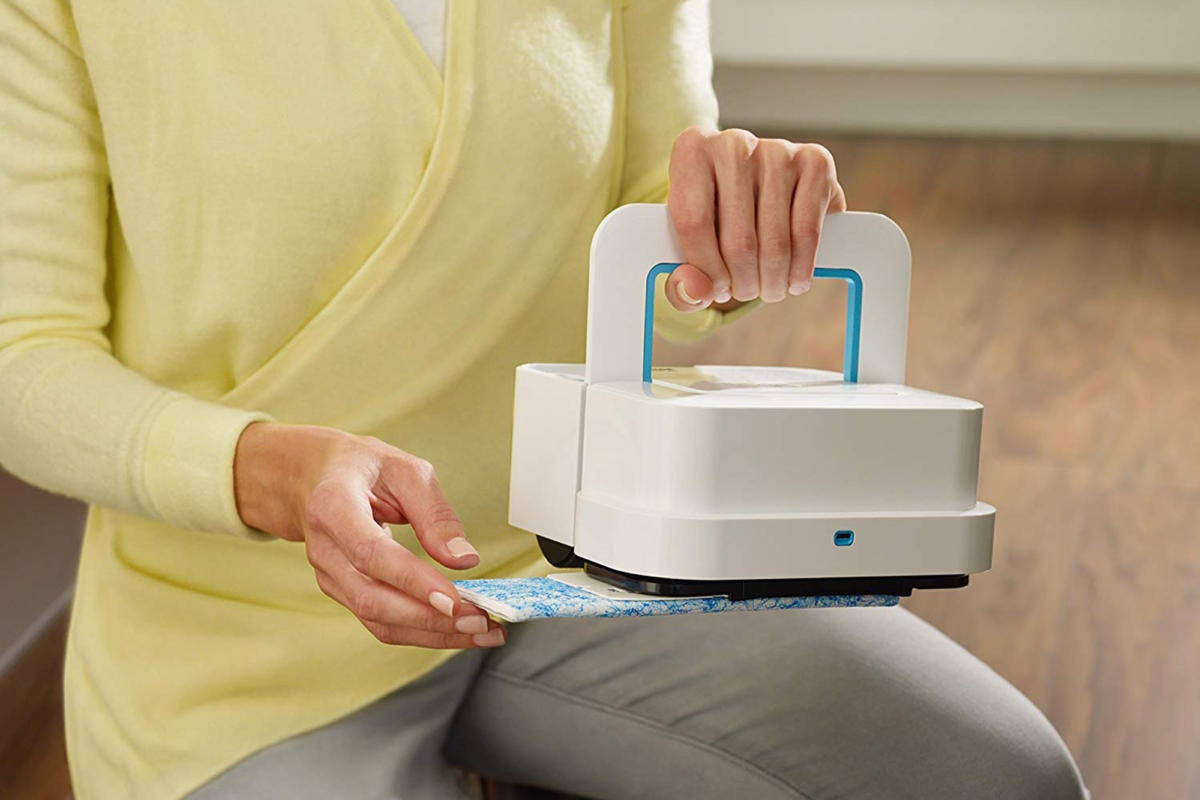 The Jet uses color-coded disposable mop pads for each mode—blue for wet, orange for damp, white for dry—and detects via its pad reader what type of job to do. Two of each are included free with the robot, and more can be purchased for $8 for a box of 10. Machine-washable reusable pads are also available. You can get a two-pack of these wet-mopping pads for $20 or a variety three-pack for $30.
The Jet navigates intelligently, moving in one direction until it encounters a wall, and maneuvering around obstacles to get back to its original path. It will only spray water on floors it detects to be clear and never on walls or furniture. You can also create a "virtual wall" to keep it out of certain areas or rooms.
Setup and usage
Unlike robot vacuums, the Jet doesn't use a charging dock. Instead, you must insert a detachable battery into its supplied wall charger and plug it into an outlet. Mine came partially charged, but it can take up to two hours to get fully juiced.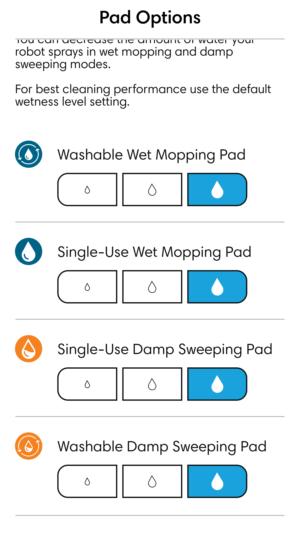 Once you put the battery in its slot at the back of the Jet, you just flip the robot over and slip the appropriate mop pad into its track. If you're using either the wet or damp mode, you'll also need to fill the tank with warm water. Finally, place the Jet on the floor about a foot away from any walls and press the Clean button.
I first had the Jet do a wet mop of the hardwood floor in my entryway, which gets a daily dose of tracked-in dirt from my kids. Because part of this floor abuts my living-room carpet, I first had to set up a virtual wall. To do this, you face the back of the Jet parallel to where you want the barrier. You then hold down the Clean button until blue lines on either side of it illuminate and the Jet emits a telltale beep.
With the virtual wall set, I placed the Jet in the left corner of the entryway facing the front door and started the job. It sprayed a jet of water a few inches in front of it, moved forward slightly to one side, then backed up and moved forward again to the other side. It repeated this pattern all the way up the floor until it reached the door, then reversed direction and continued. About 15 minutes later, it returned to its starting spot and shut off, its job complete. Best of all, it respected the virtual wall and stayed off the living-room carpet.
The floor looked noticeably cleaner, but without the film of moisture mopping robot vacuums commonly leave behind. More telling was the considerable amount of grime on the bottom of the mop pad. Luckily, I never had to get my hands near it as I just held the Jet over the trash can and released the pad.
Next, I had the Jet do a dry sweep of the kitchen. It moved in the prescribed pattern and about 25 minutes later the white mop pad was considerably grayer.
After discarding that pad, I carried the Jet to the upstairs bathroom and used wet-mop mode again on its linoleum floor. I wanted to see how it would navigate obstacles like the bathtub, cabinets, and toilet. Its small size was a real advantage here, as it easily maneuvered in and out of the tight spaces between these without getting stuck. When it was done, the floor looked as good as I can remember.
The iRobot app
Though you can certainly use the Braava Jet 240 on its own, pairing it with the iRobot app—the same one used with Roomba robot vacuums—provides some advantages. Most obviously, you can start and stop mopping jobs without having to be in the same room with the Jet. But the app lets you control the amount of water the Jet sprays in wet mopping and damp sweeping modes as well. It also provides some tutorials and a direct link to the cleaning-smart pad page of the iRobot store.
Bottom line
The Braava Jet 240 is an inexpensive and effective way to give your hard floors more attention than they currently get, particularly for apartment dwellers. It's not nearly powerful enough for stubborn grime, though, so you'll still need to pull out your stick mop for those more demanding jobs. But you'll likely find you need to do so less and less if you use the Jet for regular maintenance mopping.
Best Prices Today
Note: When you purchase something after clicking links in our articles, we may earn a small commission. Read our affiliate link policy for more details.
Michael Ansaldo is veteran consumer and small-business technology journalist. He contributes regularly to TechHive and PCWorld.