At a Glance
Expert's Rating
Pros
Good price for a mix of local and cable channels
Includes the live PBS and public access channels that over-the-top TV services lack
Supports universal search on Roku and Apple TV, along with Apple's TV app
Cons
No DVR without expensive rental hardware
Missing some popular cable channels, and it doesn't allow more than 10 of them
Apps suffer from middling video quality, out-of-home restrictions, and locked content
Our Verdict
Spectrum TV Choice is pretty much exactly the kind of streaming service you'd expect a cable company to offer.
Best Prices Today: Spectrum TV Choice
Now that its cable TV business is in steady decline, Spectrum is giving the people what they want with a la carte TV service—sort of.
The service is called Spectrum TV Choice, and it provides live, local channels plus your pick of 10 cable channels for less than $30 per month. It doesn't involve any long-term contracts, and it doesn't even require a cable box. You can use a Roku, Apple TV, Samsung Smart TV, or Xbox One to watch on any television in the house over Wi-Fi.
We're still talking about the cable guy, though, so some restrictions and annoyances apply: Adding DVR raises the cost considerably, you're limited in what you can watch outside the house, Spectrum's apps often feel like they're upselling you on more-expensive TV packages, and you might even have trouble getting the service if you're still paying Spectrum for a standard TV package. You also can't get TV Choice at all without Spectrum internet service—so it's not available nationwide.
Spectrum TV Choice: Price and packaging
The advertised cost of Spectrum TV Choice is $22 per month, but the actual price is $25 per month plus tax when you factor in Spectrum's "Broadcast TV fee." Spectrum also plans to raise that fee by $2 per month in March, and a Spectrum rep previously told me that the service becomes $5 per month pricier after two years.
As for what you get, all plans include the following:
Major broadcast networks (ABC, CBS, Fox, NBC, and CW)
Your choice of 10 cable channels from a list of around 77
Public access and educational channels such as PBS and C-SPAN
Spectrum's News 1 channel
Shopping channels, including QVC and HSN
Music Choice channels
Digital subnetworks, such as MeTV and Bounce, depending on your location.
An option to add HBO, Showtime, The Movie Channel, Starz, and Starz Encore for $7.50 apiece, or altogether for $15 per month.
For the 10 cable channels, TV Choice offers major national sports channels such as ESPN and FS1, all three major cable news networks, and popular entertainment channels such as AMC and HGTV. You can view the full list on Spectrum's website, or view the chart below, which is based on Cincinnati markets:

Spectrum's a la carte lineup isn't going to work for everyone. You can't get regional sports networks with Spectrum TV Choice, nor can you add certain league-specific channels such as NBA TV. Some entertainment channels, such as Nick Jr. and DIY, aren't available either. In total, Spectrum TV Choice offers less than a third of the channels tracked in our live TV streaming guide, and there's no way to select more than 10 cable channels without upgrading to a larger TV bundle.
If you're not already getting TV service from Spectrum, signing up for TV Choice is simple: Just log into Spectrum's website, select Add TV, and then select Spectrum TV Choice from the list of plans. You'll proceed through a menu where you can pick your 10 channels and select optional premium networks. Folks who have cable TV from Spectrum already may have trouble switching to TV Choice, though I've heard of instances where existing customers have been able to switch.
Cancelling Spectrum TV Choice is more complicated, because you can't do it online. Instead, you'll have to call customer service, firmly request to cancel, and and hope to avoid a lengthy trip to the customer-retention department.
Goodbye, cable box
While the Spectrum TV Choice service alone might be cheaper than a cable bundle, additional savings comes from not having to rent a cable box. Instead, you can download the Spectrum app on Roku, Apple TV (fourth-generation or higher), Xbox One, Samsumg Smart TV, iOS, Amazon Fire tablets, or Android to watch live or on-demand video. You can also watch on a computer through Spectum's website (though it still requires Adobe Flash for some reason). If you're at home, the apps will even identify you as a Spectrum customer through your internet connection, so you don't have to deal with logging in.
With Spectrum's apps, you can browse through a grid-based channel guide, peruse a menu of on-demand video, add shows to your watchlist, select favorite live channels for quick access, and search for specific programs.
Both the Roku and Apple TV apps also support universal search, so you can look up shows with those devices' voice remotes, and the app integrates with Apple's TV app, which acts as a universal guide on Apple TV. Overall, I found that Roku provided the best Spectrum experience, mainly because it lets you bring up a handy mini-guide by tapping left on the remote, versus two clunky upward swipes for the full guide on Apple TV.
Spectrum's apps work well on a basic level, but they do have a few annoyances and limitations:
Video quality was limited to 30 frames per second on every channel I tested, meaning you won't get smooth motion for live sports, news, and talk shows. Oddly enough, some channels did support 60 frames per second when I tried Spectrum TV Choice last year, but they no longer do.
Your ability to use Spectrum's service outside the home is also limited. Many live channels don't work on mobile devices, and the app doesn't work at all on TV devices.
Worst of all, Spectrum's on-demand menus continue to list content from channels you don't pay for, as signified with a key icon. You'll need to do a lot of scrolling just to find things that you're allowed to watch, and the whole exercise feels like an upsell to a proper cable package.
The good news is that you can use Spectrum TV Choice to log into individual network apps, such as ESPN and Fox Now. These apps don't have the same viewing restrictions, and some of them even support 60-frames-per-second video. Still, using a bunch of disparate apps is less convenient than having everything in one place.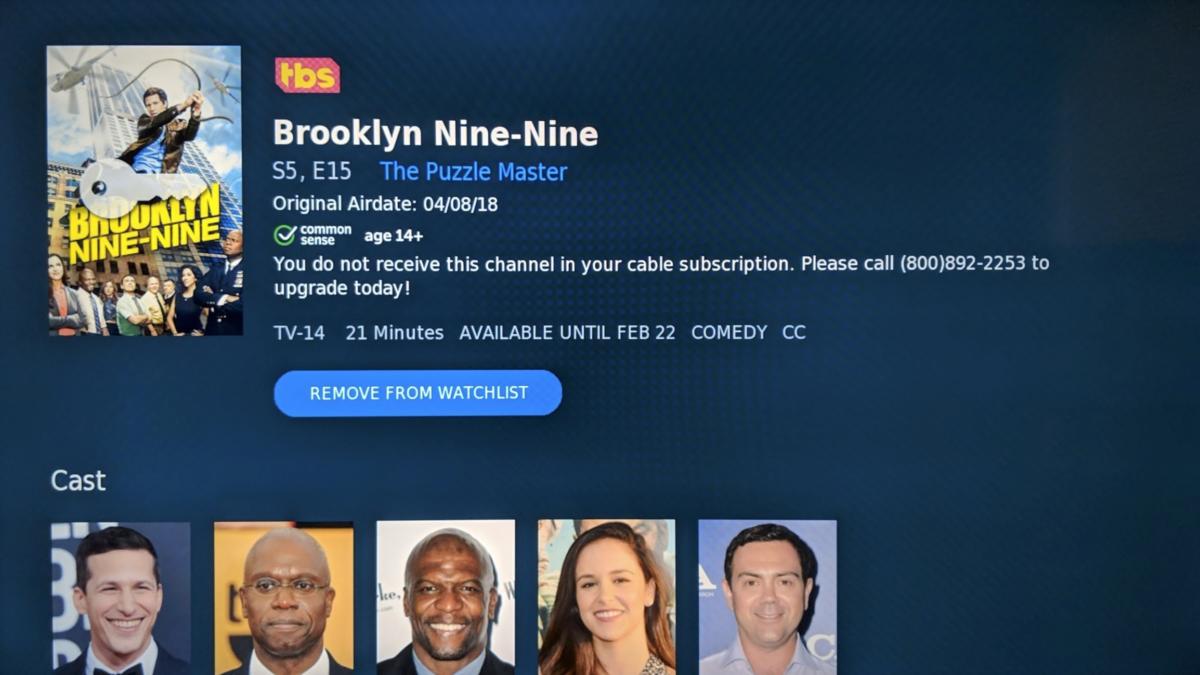 The high price of DVR
Spectrum TV Choice's biggest drawback is its lack of DVR service for streaming devices. You can rent a DVR box instead of using Spectrum's apps, but just a single box will set you back an extra $20.50 per month. For multi-room DVR, the cost climbs to $35 with two boxes, and $7.50 for each additional box after that. Spectrum's hardware alone could cost you more than the actual TV service.
In lieu of DVR, Spectrum provides an on-demand video catalog, but the selection you'll get for any given program is a crapshoot. The NBC show This is Us, for instance, offers every episode on demand, but The Good Place (also on NBC) only covers the current season. And when you launch these programs, you'll often get a message saying you're not allowed to fast forward through commercials. Not having a DVR means you don't have any recourse for disappearing shows or rules against ad-skipping.
Interestingly, Spectrum does allow you to lease a CableCARD, so you can use Spectrum TV Choice with a TiVo DVR or an HDHomeRun Prime. You'd have to pay up front for hardware and subscribe to DVR service from those vendors—TiVo charges $15 per month, and HDHomeRun costs $35 per year—but it could still save you money in the long run. Fair warning, though: I haven't tested this myself, and Spectrum's encryption could cause trouble for some HDHomeRun setups in certain markets.
Doing the math
It might not feel quite like cord-cutting, but Spectrum TV Choice can save you some money. These days, the only live TV streaming services that start at less than $40 per month are Sling TV ($25 per month), Philo ($16 per month), and AT&T Watch ($15 per month). None of those include a full suite of local channels, and only Sling TV offers any sports channels. Even if you spent more on a bigger streaming bundle like YouTube TV, you wouldn't get live PBS or other public access channels.
Just be aware that the experience is inferior to other live TV services that aren't tied to a cable provider. There's no DVR for streaming devices, watching outside the home is a hassle, video quality is subpar, and the apps constantly remind you of all the channels you're missing. Spectrum TV Choice is an interesting package and a potentially solid value, but in every other way, it feels exactly like the kind of streaming service a cable company would offer.
Best Prices Today: Spectrum TV Choice