The Nvidia Shield TV, a $200 Android-based streaming box with excessive processing power, appeals to a scattershot of audiences. It's the ideal streamer for PC gamers who also want to play those games in their living room, for media hoarders who want to build a cheap a Plex server, for cord-cutters in search of over-the-air DVR solutions, for Kodi enthusiasts with that media center's morally dubious plug-ins, for 4K HDR TV owners who have an aversion to Roku, or for people who just want as much computing power as they can get.
Update, January 28, 2019: This review has been updated in its entirety to reflect the Nvidia Shield TV's place in the current media-streaming landscape. While we still consider it to be the best media streamer for hardcore cord-cutters, the competition has made considerable advancements, especially in the area of HDR support. As a result, our bottom-line opinion of the Nvidia Shield TV has dropped from 4 stars to 3.5. You'll find our current opinion of this product here.
In other words, the Nvidia Shield TV is an unbeatable streaming device for nerds with money to spend on their nerdy hobbies. It's about time something like that existed.
The more things change
The new Nvidia Shield TV's hardware isn't much different than the first-generation version from 2015. It has the same Tegra X1 processor, 16GB of storage, 3GB of RAM, dual USB 3.0 ports, gigabit ethernet, and an 802.11ac Wi-Fi adapter housed in a smaller enclosure.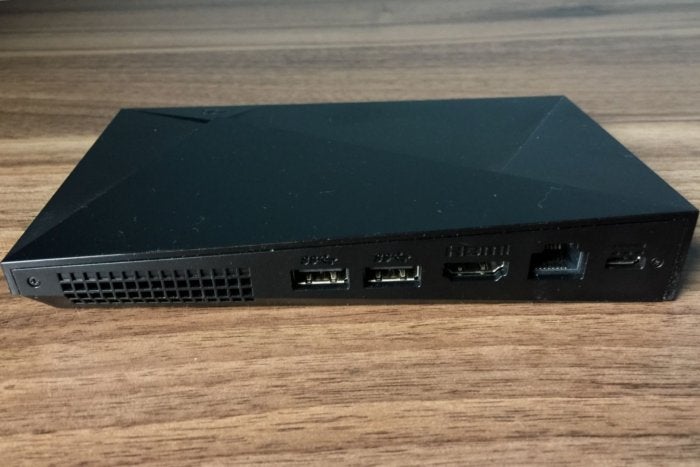 Those similarities aren't a bad thing. The Shield TV's X1 processor still tears through apps that can induce long load times and choppiness on other devices—it offers the speediest PlayStation Vue experience you'll find outside of Sony's own PS4 console, for instance—and it never skips a beat when you're switching between apps. It's also one of a handful of streaming boxes with 4K HDR video support, alongside the Roku Premiere+, Roku Ultra, Xiaomi Mi Box, and the original Nvidia Shield TV.
The biggest changes to the second-generation Shield TV are external. The bundled game controller has longer battery life—up to 60 hours, according to Nvidia—and is more comfortable to hold, despite an odd design that resembles low-polygon video game architecture. Physical buttons replace the old capacitive touch ones for search, home, and back, and there's a new dedicated play/pause button as well. The original controller's volume rocker, which never worked reliably, has been replaced by a touch-sensitive slider bar between the joysticks. The new controller also has an IR blaster, so you can adjust volume directly on your television or receiver, and it retains the original's headphone jack for private listening. Combined with HDMI-CEC support, this controller could replace your TV remote.
Nvidia is also bundling a traditional remote control now, with a directional pad, a volume slider with IR support, and buttons for home, back, and voice search. The message here is that you needn't be a gamer to enjoy what the Shield TV has to offer.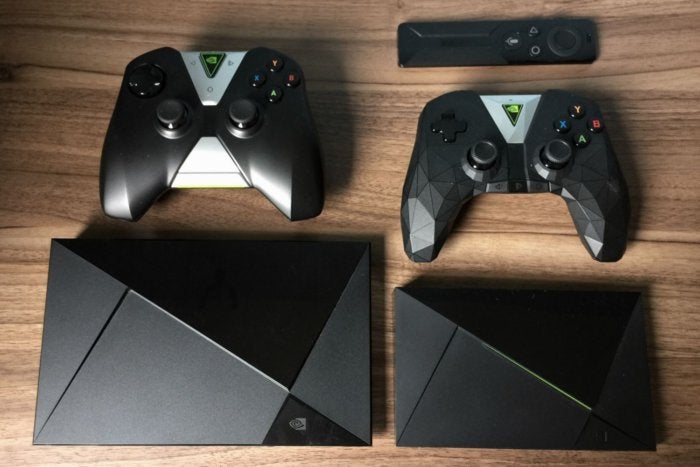 There's just one trade-off with the box itself: Though it's much smaller than the original, it no longer includes a MicroSD card slot. If you want more storage without relying on USB drives, you can opt for the Shield Pro ($300), which has a 500 GB hybrid drive built in while retaining the original's larger size and MicroSD slot.
Software overhaul
What the Nvidia Shield TV lacks in hardware improvements, it makes up for with software that eliminates many of the original Shield's frustrations.
On the home screen, Nvidia has removed its own row of apps on the home screen, and bumped up the general apps row so it sits directly underneath the Recommendations bar. Netflix now lives inside the apps section where it belongs, while Nvidia's cloud gaming service GeForce Now and PC-to-TV gaming application GameStream are intermingled with the general gaming row. In one stroke, the home screen is now more convenient for gamers, and less intimidating to non-gamers. (We'll have more to say about Shield's gaming capabilities in a future article.)

Nvidia has also managed to bring Amazon Video onto the Shield despite a rocky relationship between Amazon and Google. The app isn't perfect—Amazon content doesn't appear in system-wide search or in Android TV's Recommendations bar—but its mere existence makes the Shield a viable streaming option for Prime subscribers. And with Amazon's trove of 4K and 4K HDR video, the Shield is on even footing with Roku's Ultra HD library.
The Shield is still hamstrung by the Android TV platform, but to a lesser extent than a couple years ago. App selection has vastly improved since 2015, though it's still behind the other major streaming platforms. The Recommendations bar at the top of the home screen remains an inefficient way to browse content from across apps—Roku, Amazon, and Apple are all doing a better job on this front—and it's unutilized by some major services like Netflix. Google's search results, while powerful, can also seem overwhelming, with rows of app-specific content thumbnails to sift through.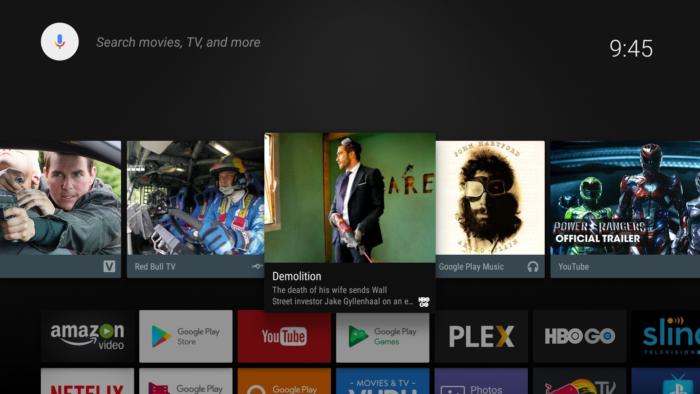 Still, Android TV's situation is starting to look up. An improved YouTube app is on the way, bringing Android TV's version into parity with other streaming devices like Roku, and Google plans to bring its powerful Assistant voice controls to the platform in the coming months. On Shield, this will allow for hands-free voice commands through the game controller, so you can start playing Netflix and YouTube videos, control video playback, turn on some music, and control smart home devices without reaching for the remote. (We'll update this review once Assistant becomes available.)
Original Shield owners shouldn't fret, by the way; Nvidia says all these changes are coming to the first-generation box soon, and the revamped game controller is already available as a $60 standalone purchase.
Nerdier endeavors
Why should you buy the Nvidia Shield TV when you can get a Roku, Amazon Fire TV, or Apple TV for considerably less? The reality is most people shouldn't. Yet for a certain type of power user, the Nvidia Shield TV has a coolness factor that its competitors lack.
The Shield's Plex integration, for instance, is unparalleled. The box can act as a Plex media server, not only for local and USB storage, but for mounted network hard drives, so you don't have to buy a pricier PC or keep it powered on around the clock. You can also connect an HDHomeRun networked tuner to your router, and if you have a Plex Pass subscription, Shield can record over-the-air broadcasts for playback on your TV and other devices.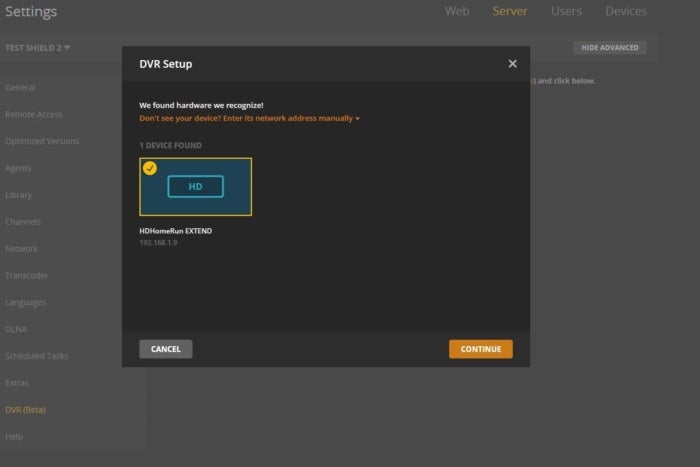 Speaking of broadcast TV, the Shield will be first in line to support Tablo's Droid DVR app and USB tuner later this year, potentially turning the streaming box into a low-cost DVR for cord-cutters. The Shield also supports the popular media center software Kodi without the arcane sideloading methods that Apple TV and Amazon Fire TV insist on.
In the future, the Shield will even work as a SmartThings hub, letting you create scenes and automation routines with Wi-Fi and Bluetooth smart home devices, and with ZigBee and Z-Wave devices through a USB dongle. (Again, we haven't been able to test this functionality ourselves yet.)
On top of all that, there's some allure in having a blazing fast streaming box with a do-it-all remote, built-in Chromecast support, and the option to play some high-quality games without a more expensive console. Maybe Nvidia could increase the Shield's mainstream appeal with a $150 remote-only model, or maybe the arrival of hands-free Google Assistant will change the equation. But for now, the Shield's greatest strength is that it doesn't cater to the lowest common denominator.
Original At a Glance:
Overall score: 4 stars
Pros:
Unrivaled speed for demanding apps, such as PlayStation Vue
Streamlined software and bundled remote control
Plex server and Kodi support; over-the-air DVR
Cons:
Android TV is still behind on TV guide features and app support
Far pricier than other streamers, but less powerful than game consoles

Google Assistant and SmartThings capabilities aren't available yet