Sennheiser headphones and mics are held in high esteem by consumers and audio pros alike, but the company is a babe in the woods when it comes building loudspeakers for the home theater. Based on what we heard at CES of its AMBEO soundbar—an all-in-one 5.1.4 design with no fewer than 13 drivers—Sennheiser will have no problem capturing a slice of the market at the high end.
The AMBEO soundbar aims to "set a new reference in sound quality" for this category, said Maximilian Voight, the Hanover, Germany-based product manager at Sennheiser and our host for a demonstration at the Las Vegas Convention Center. "It delivers the spatial 'as if there' experience of a 5.1.4 system and powerful bass, without the need for additional speakers or even an external subwoofer. AMBEO covers the full spectrum from 30 Hertz to 20 K, +/- 3db."
After just ten minutes of snippet listening, one of my audition colleagues declared "It's the best soundbar I've heard at the show. Can I buy one now?" Actually, he'll have to wait until May and pay a significant $2,499 to acquire one.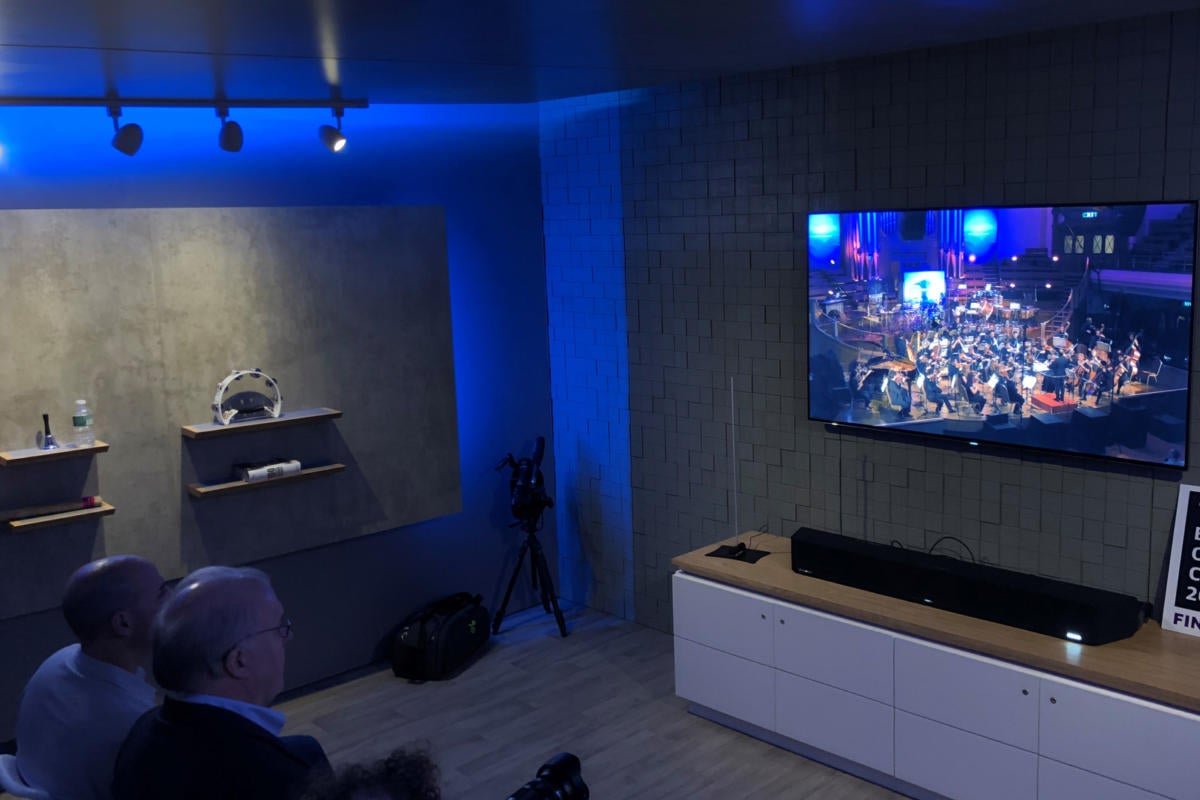 While my immediate impression was likewise quite favorable, the cynic in me wondered if the rabid enthusiast might be a plant. How many of the skidillion soundbars unveiled at the show could he have possibly heard?
Mentioned in this article
Roku TV Wireless Speakers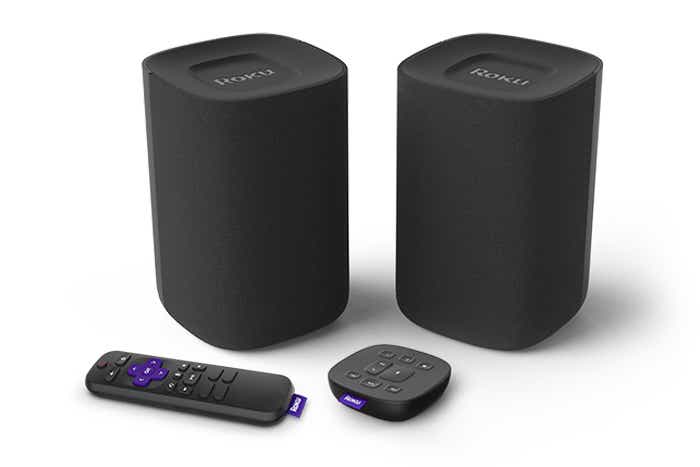 Price When Reviewed:
$199.99
I also couldn't help but notice how carefully this dedicated listening room had been set up to achieve optimum performance, with floating ceiling and sidewall panels, and special acoustic treatments on the same. It was hardly your typical CES audition space—high-end audio gear is typically demoed in curtained and carpeted suites at the Venetian. Most telling: While an obnoxiously loud video game soundtrack was blaring from an adjacent booth just outside our listening room door, the quiet inside the Sennheiser show space was akin to that in a sealed anechoic chamber.
Still, the seriousness of Sennheiser's aspirations was also obvious from the git-go in the construct of this bulked-up (yet wall-mountable) speaker, from its lacquered and brushed-aluminum enclosure to Sennheiser's major splurge on high-performance drivers: Six forward-positioned, 4-inch long-throw woofers; three front-firing, 1-inch alloy fabric dome tweeters; two side-firing tweeters; and two upward-firing, 3.5-inch full-range speakers, collectively driven by 500 watts of Class D amplification.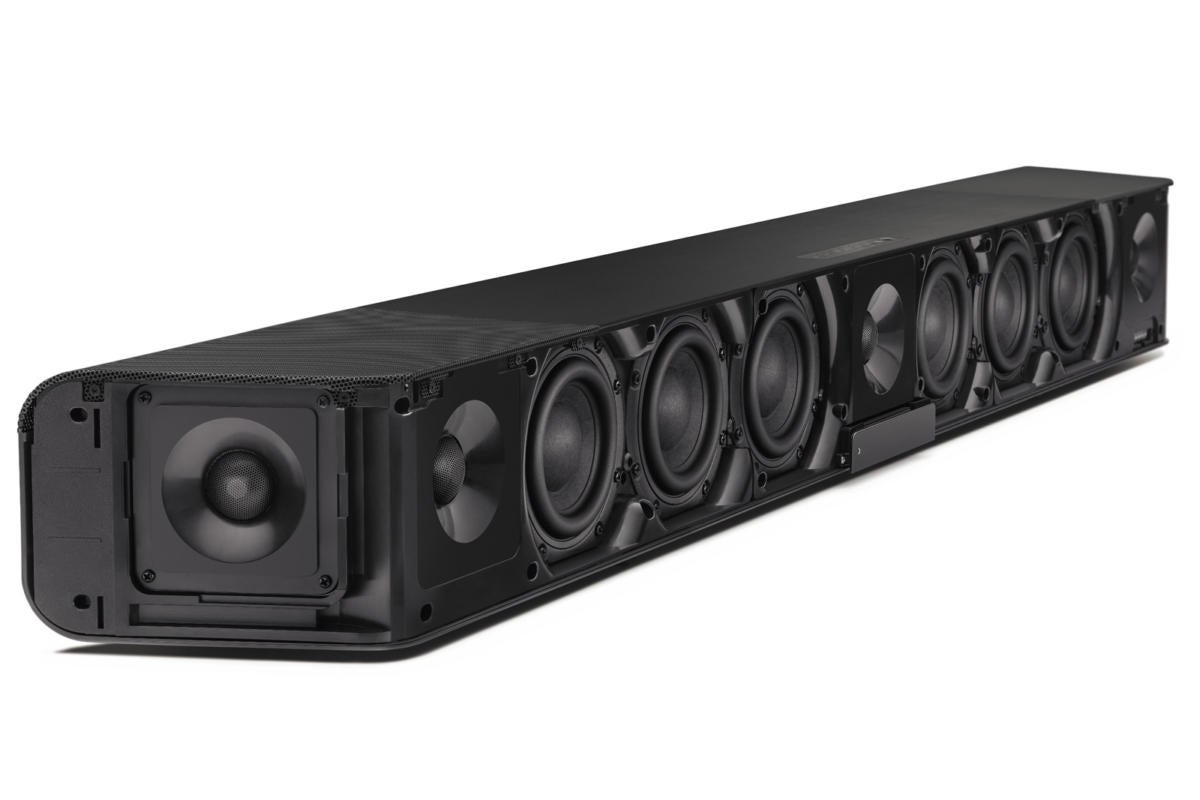 The Sennheiser audio heritage is most obvious in the included external microphone, a wand-styled thing of beauty mounted on a stand that's "used just for room calibration and then put aside," Voight sighed. Unlike other room-calibration headsets and mics that listeners must position at varied room locations for multichannel sound system balancing, this one is so accurate "you just place it in one location and let it do its thing." For maximum sound-throwing thrills, this beam-forming speaker rig should be situated in a room with side walls no farther than five meters (16.4 feet) to the left and right of the soundbar, and with a forward throw from bar to back wall of five to ten meters (32.8 feet) max.
Also telling is Sennheiser's developmental collaboration with Fraunhofer IIS, the well-known German research institution. Fraunhofer holds many important audio patents, including one for the multichannel immersive audio codec MPEG-H Audio that is also at the heart of Sony's 360 Reality Audio project. The AMBEO soundbar is likewise compatible with the Dolby Atmos and DTS:X object-based multi-channel formats, Voight said as he played the popular Dolby Atmos "rain forest" clip, along with snippets of performances by classical music ensembles.
Using Fraunhofer's Upmix Technology virtualization technology, the AMBEO soundbar can upconvert stereo and 5.1 content to immersive 3D. Users tune the characteristics according to content type. Presets include neutral, movie, sports, news, and music. When Voight demonstrated the last of those, the music exhibited modest field expansion but excellent instrumental detailing on a fragment of The Eagles track "Hotel California." The effect was even more enjoyable when applied to a concert clip from Imogen Heap (a British talent finally earning Stateside recognition as composer for the Broadway hit Harry Potter and the Cursed Child.)

I didn't sense that the processing just piled on echo to move the sound outwards, nor did it alter tonal characteristics to make individual instruments pop. There's more intelligent steering and deception going on here. And Voight hinted that it could be tweaked even more so in the future, via firmware updates to the soundbar and enhancements to its Sennheiser Smart Control companion app, delivered over Wi-Fi.
Ready to serve a variety of masters, connectivity options include built-in Google Chromecast, Bluetooth, and the latest iteration of HDMI with eARC (enhanced audio return channel, which provides more bandwidth than first-generation ARC). Users will also find three standard HDMI ports, one optical input, and one analog stereo RCA Aux input.
You won't be able to talk to this soundbar, but Sennheiser is making a good case to just shut up and listen. I'm looking forward to doing that in a more real-world space.