At a Glance
Expert's Rating
Pros
Proof that clarity and warmth can comfortably coexist in a modest sized soundbar
Well-done dialog-boost circuitry for late-night listening (and for those with compromised hearing)
Slim dimensions, upscale materials, and a minimalist design help this soundbar blend into almost any room decor
Cons
You'll need to spend some time tweaking the overwrought factory-default EQ settings to get the best sound
Enabling voice enhancement should be doable with the press of a button on the remote and not be limited to a setting in the app
Expensive compared to most of the value brands
Our Verdict
The slim line Bose Soundbar 500 sounds as good as it looks, but only after you spend some time tweaking its tone controls.
Bose ought to consider co-opting the popular marketing slogan "Have it your way" for its Soundbar 500, a $499 (street price) offering in the brand's new smart speaker line.
Slim in proportions, but living large in performance, it's ready to serve a variety of needs and aspirations with trendy Alexa voice activation, music streaming from both the cloud and via Bluetooth, and a flexible sonic nature adjustable with a big kitbag of equalization tools and add-on accessories. This is a speaker designed to please everyone from music-lovin' kids and movie mavens to hard-of-hearing elders.
But first, a cautionary note. Like those TV manufacturers who crank up the brightness and contrast of their screens at the factory to achieve blinding illumination on showroom floors, Bose goes for the gusto with the Soundbar 500. In casual in-store comparisons, this new soundbar produced more high-frequency sonic sizzle than did Alexa voice-activated rivals from Sonos and Polk.
At home (right out of the box and without making any adjustment) I was struck again—and sometimes put off—by how bright my review unit sounded. I was particularly disturbed by all the harmonic hash selectively laid on speaking characters in a movie or TV show by soundtrack-sweetening engineers. This hyper-reactive speaker exaggerates such tweaking, and sensitive ears will find it wearing.
Ahh, that's better
Fortunately, I was able to tame the beast using the soundbar's companion Bose Music app, which is available for Android and iOS devices. In my primary test kitchen set-up I took the treble down two notches ( -20) and turned up the bass (+10) in the app. This worked wonders! It leveled out 90 percent of the scratchy artifice, while retaining just enough presence for character development and scenic ambiance.
I could still hear the goodness in the micro-detailing—the reverberant concert hall acoustics, background street noise, and harmonic overtones of acoustic instruments poshing-up tech-savvy productions on Netflix and Amazon Prime Video productions such as Springsteen on Broadway, The Marvelous Mrs. Maisel, and Matt Groening's twisted medieval cartoon series Disenchantment. These sonic cues were only modestly evident on the vintage Philips Ambilight HDTV hanging on my kitchen wall, and they were pretty much a no-show on the family-room Panasonic, a high-end plasma with truly bleh back-firing speakers.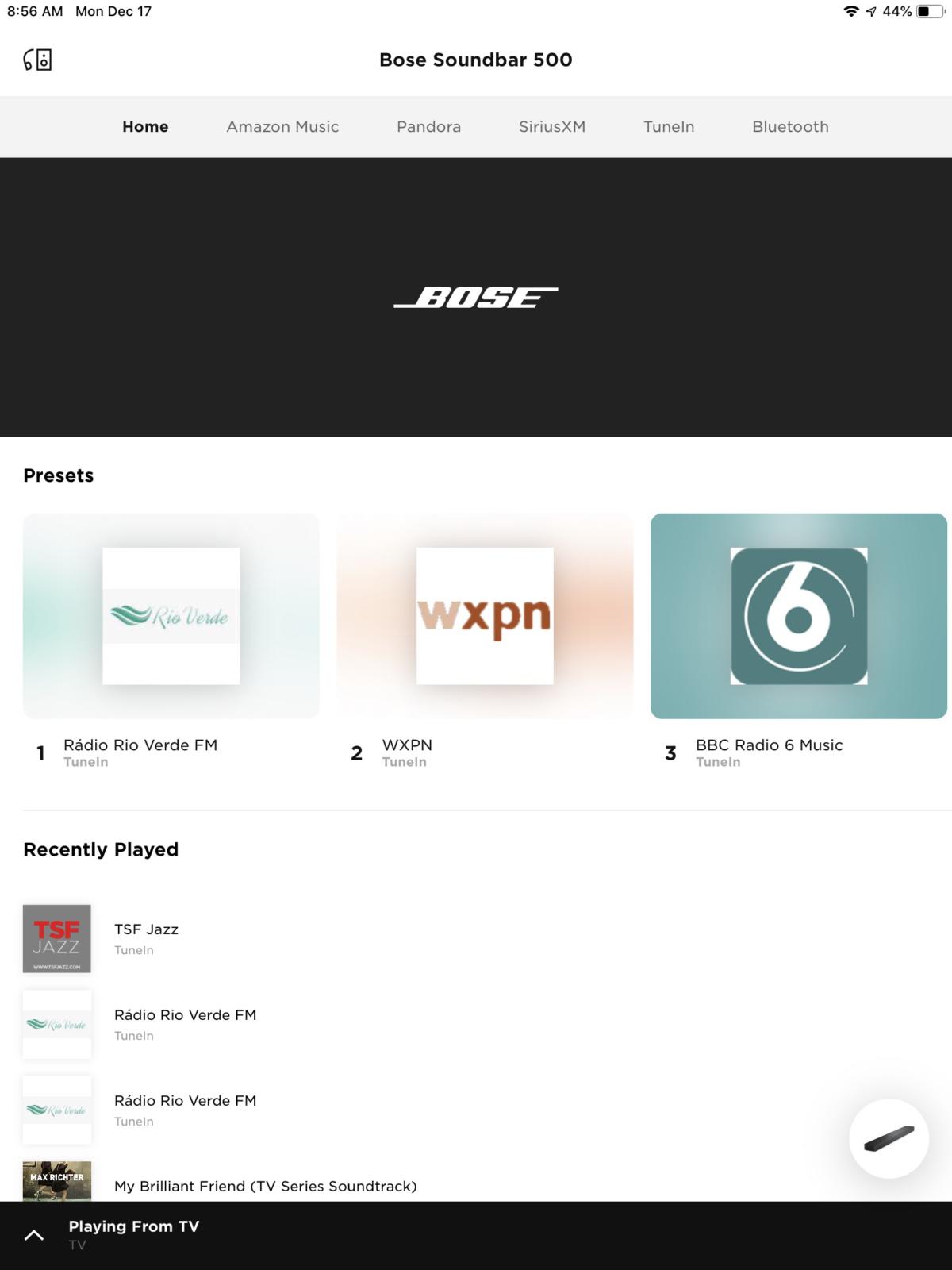 Playing around with the placement of the Soundbar 500 also helped optimize performance. With its especially svelte proportions (31.5 inches wide, 4 inches deep, and 1.75-inches high) this sleek thing begs for wall mounting beneath a flat panel TV, ideally at or near ear level. The innards likewise seem optimized to that end, with a rear-firing port and a configuration of three front-firing and two side-firing drivers (each 34.5 mm x 88 mm) working the Bose direct/reflecting sound strategy also deployed in the sister Bose Home Speaker 500 we recently reviewed here (and liked a lot.) Bose's Soundbar Wall Bracket (an additional $40 from sources such as Amazon) lends the speaker a very stylish "floating" look, with just enough clearance (0.75 inches) to maximize port-on-plasterboard bass resonance and cable management.
Tonal re-balancing was trickier and a tad less satisfying when I plopped the soundbar down on a conventional (20 -inch high) TV table in front of the free-standing 55-inch Panasonic. I wound up lowering the treble an extra notch to -30, elevating the bass to +20, and upping the separate center channel volume control to +10, which pushed speech and musical vocals forward.
A room-correction toolkit
Further sensitivity training was undertaken to good effect with Bose's room measurement and re-equalization tool kit ADAPTiQ, a digital sound sampling and processing system that has you wear a special headband microphone that plugs into the back of the soundbar. You then move around the room to favored sitting/listening spots as the soundbar emits space-age tell-all tones. This process noticeably improved the sense of stereo separation by throwing more content out the end speakers in carefully timed fashion.
For those moments where on-screen folks seem to be mumbling in a foreign language, the Soundbar 500 also offers a switchable Voice Assistant mode that amplifies frequency response in the 8- to 16kHz range according to an AudioSource real-time spectrum analyzer. Ironically, one of the Netflix currents I enjoyed the most was Produced by George Martin, wherein the fabled Fifth Beatle (now sadly gone) describes his despair at losing his hearing in the 12kHz range when he entered his 50s. A common syndrome, he explained: "You [still] hear the vowels, but have to guess at the consonants." Reason enough to invest in a Soundbar 500 if you're similarly indisposed. This thing does a better job of voice enhancement than other soundbars I've tested—from Yamaha and ZVOX—that are overtly marketed as aids for the hard-of-hearing.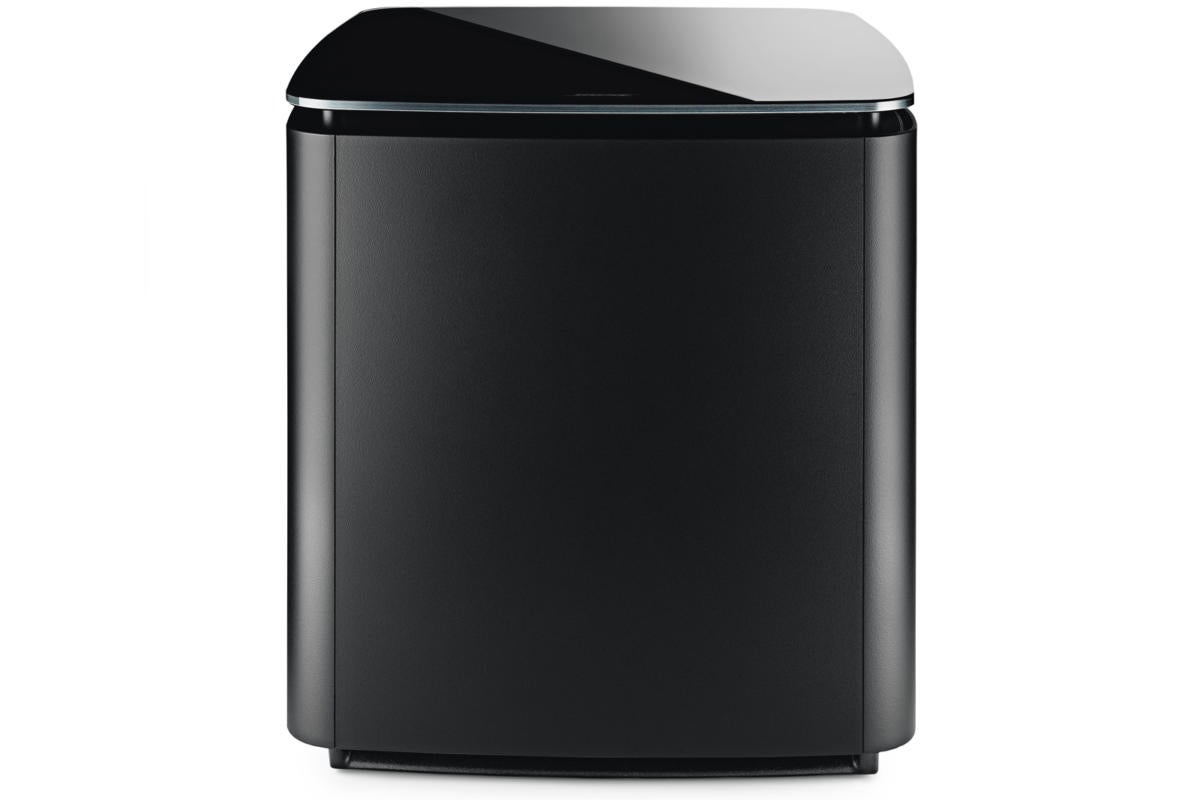 Another way to switch and tune things up is by adding a wirelessly Bose Bass Module 500, a cute little (10-inch cube) that works its subwoofer charms near a wall or corner. Once paired through the Bose Music app, a significant amount of low-frequency action is shifted over from the soundbar. Its cost ($399 at Amazon) is justifiable if your thing is watching lushly scored or slam-bang movies and big-bottomed music. But switch off the sub and the Soundbar 500 still proves a full-bodied entertainer, with palpable bass and a surprising sense of stereo separation. Wireless Surround speakers are also available ($299 at Amazon), to create a Dolby-decoding home theater system.
Connectivity issues
Hooking up this thing to network in multi-room fashion with sister products and your app-controlling smartphone is easy work, if all are within signal range of your core Wi-Fi-beaming router. (There's also a larger Soundbar 700 and Bass Module 700 in the new Bose smart speaker line).
But if you've deploying a bridged second router to extend your Wi-Fi network's reach, as I have, you might experience that a back room-situated Soundbar 500 drops off the network or can't always be controlled with the app. Bose is studying the issue, a tech-support rep told me. For a work-around in my iffy location, I made a hardwired ethernet connection using a powerline ethernet adapter kit.
Getting the soundbar to handshake over HDMI with my six-year-old Panasonic TV has also proven a some-time thing. Another Bose tech-support agent shared that "the [HDMI] ARC audio return channel isn't perfectly standardized from brand to brand; we're resolving this compatibility issue in updates." Here, my work-around was to make an optical audio cable connection between the TV and the Soundbar. The digital sound quality is just as pristine, as is the audio/video sync—but without ARC, you can't power up (or down) an entire A/V system with a single button push.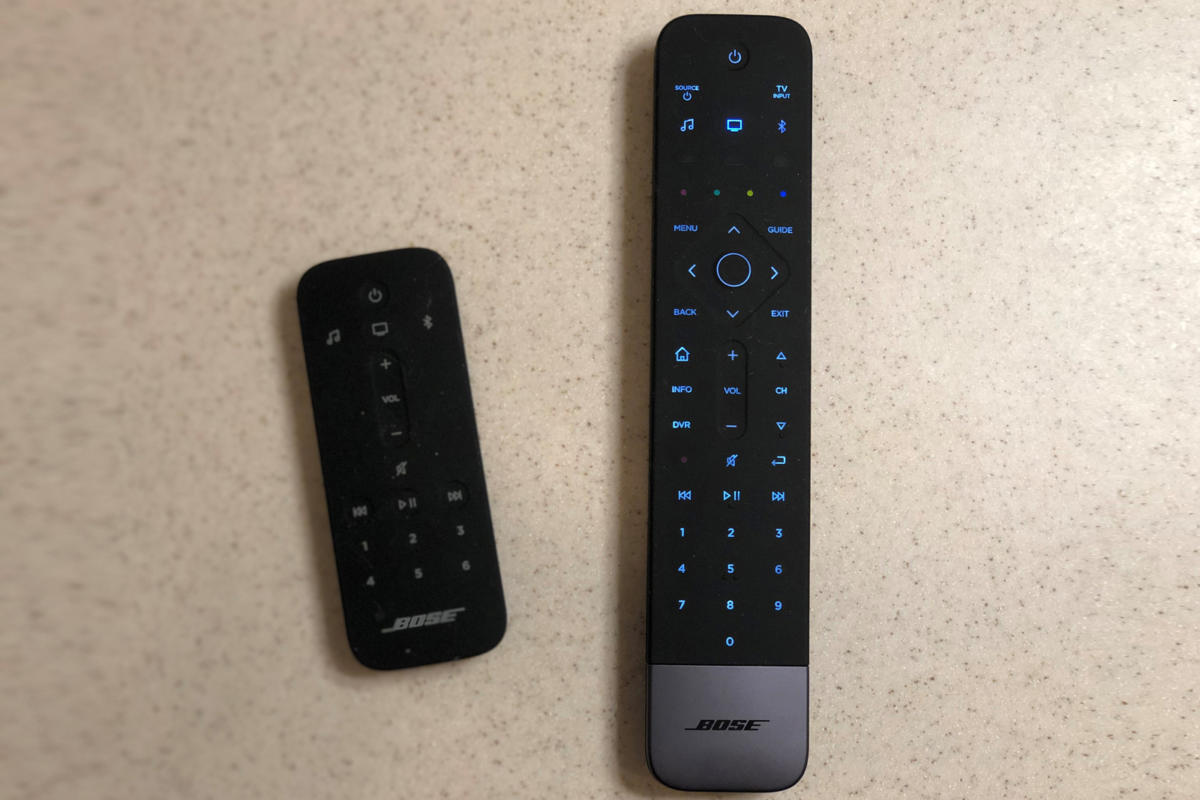 While the engineering team is working improvements, maybe they could get this soundbar to audibly "ding" when awakened with an "Alexa" voice command? A slim wisp of a light bar on the top left front edge blinks when you utter the wake word, but the indicator is hard to see when viewed off axis.
It also annoys me some that you can't audibly call up one of the six channel/playlist/album presets on the Soundbar 500. Instead you can ask Alexa to summon a specific station, artist, song, or album by name: say, "play Real Jazz on SiriusXM" or "play the latest album by Coldplay."
Alternatively, you can press a dedicated channel preset button on the well-designed standard-issue remote (a larger, fancier Universal Remote is a $50 option), or you can tap the virtual buttons on the Bose Music app screen. The only user control on the Soundbar 500 itself is a thermal swipe or tap zone that turns the microphone off and on.
The Soundbar 500 sends nothing to a connected TV when it's pulling content from streaming sources such as Amazon Music, Spotify, Pandora, Deezer, SiriusXM or Tune-In. Channel, artist, track title, and cover art does show up on the smartphone app.
The bottom line
Coming from a company that's built its rep on plug-and-play simplicity, the Soundbar 500 might catch some users and even retailers off guard, giving them the wrong out-of-box impression. As we discovered, this thing needs a bit of fussing with to sound its best. Our rating of the unit (and emotional state of well-being) soared after making a few simple adjustments to tone levels and speaker placement. Bose should consider changing this speaker's default settings, or at least adding a "recommended adjustments" chart to its user guide.