At a Glance
Expert's Rating
Pros
1.5-amp USB charging ports and 110-volt AC receptacles and on each side
Articulating split backrest and armrests
Sturdy stainless steel bottom frame
Cons
Upholstered in bonded leather (the lowest grade of that material)
USB ports not capable of fast charging
No cupholders
Our Verdict
This affordably priced couch's innovative power features and articulated arms and backrest are great features, even if its modern design and budget leather upholstery won't be to everyone's taste.
Best Prices Today: Gjemeni Couch
USB charging ports are showing up in all sorts of places, from your car's dashboard to AC outlets in every room in your home. Gjemeni puts them—along with 110-volt AC receptacles—in the most useful places of all: Furniture.
Gjemeni (which has since changed its name to Coddle) shipped us its articulating couch to check out, but the company also offers a matching chair and an ottoman that can be paired with either piece. The $999 couch is outfitted with two USB charging ports and one 110-volt grounded AC outlet on each side of its backrest. The chair is priced at $599 and the ottoman, which doesn't have charging features, costs $299. You'll need to plug a single cord into a grounded outlet on an adjacent wall to power everything. The articulated elements, in case you were wondering, are strictly mechanical and rely on your muscle power.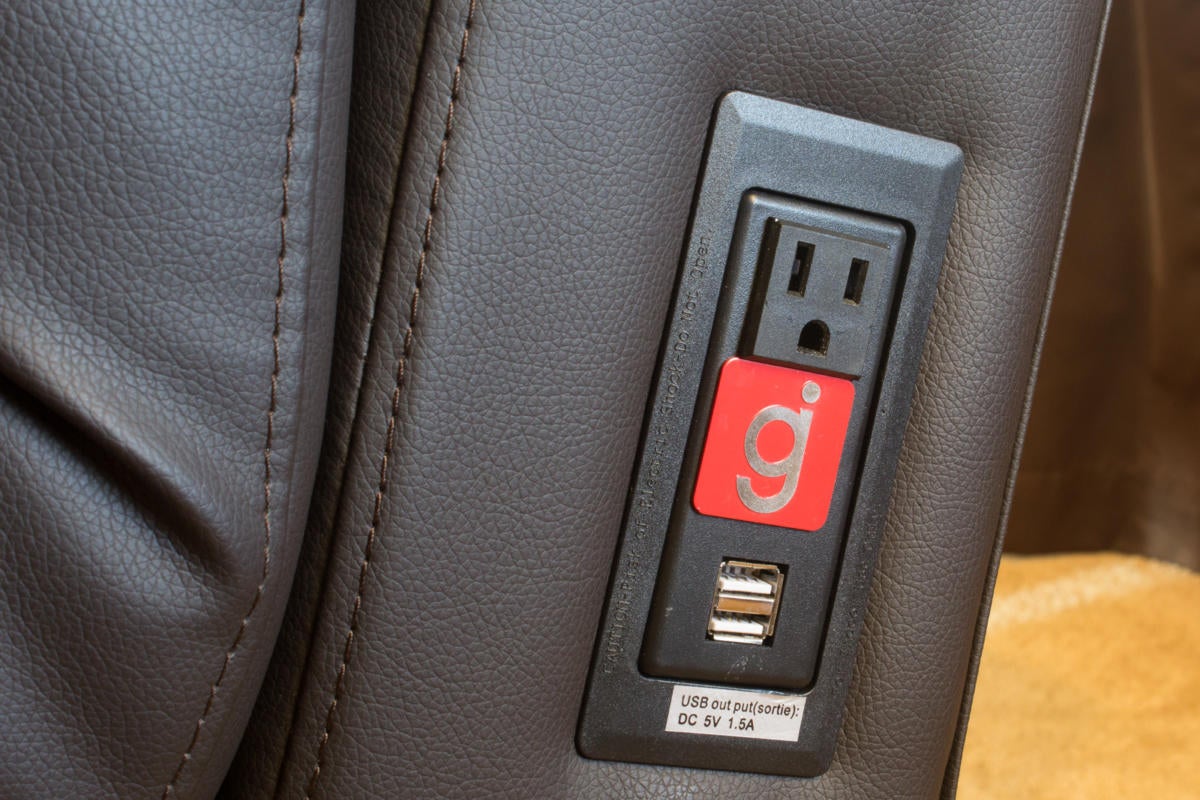 The 110-volt outlets are just the ticket for charging larger devices, such as laptops. They don't offer any protection from power surges, but you could easily plug the couch's single power cord into a power strip that does (you'll find our top picks in that category here). The USB ports are rated to deliver 1.5 amps of power; as such, they're not capable of fast-charging devices that support that feature. The Ampere app on my Pixel 2 XL reported that it was drawing a steady 1,010 milliamps from one of the ports. If the charging rate isn't fast enough for you, you can always plug a USB AC adapter into the regular outlet.
Delivery options
Gjemeni ships the couch in a box (a box inside another box, actually), so there is a bit of assembly required when it arrives. Shipping to your front door is included in the price, but if you're intimidated by the prospect of wrestling the 188-pound package through your door and to its ultimate destination in your living room or home theater, you can pay an additional $99 to have the delivery person do that and perform the final assembly, too.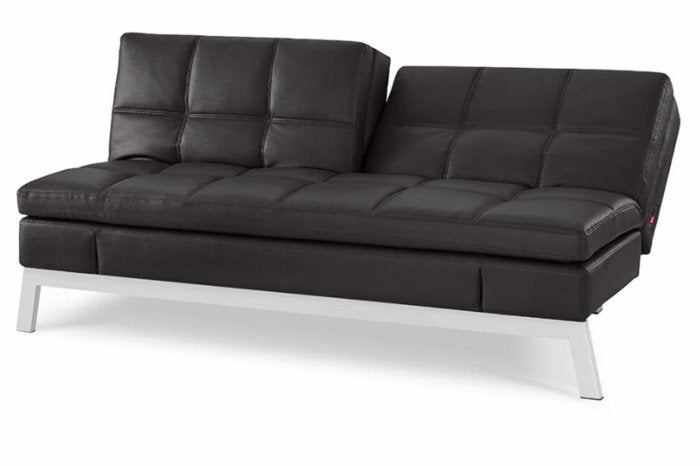 I knew I would be home alone when the couch arrived, so I opted to have it brought into my home theater, but I wanted to experience the final setup steps for myself. The delivery person complimented Gjemeni's shipment packaging, saying that most of the other furniture he delivers ends up being returned to the shipper due to damage in transit.
I waited for my wife to return home, so she could help me with the unboxing and setup. This consists of cutting the exterior box away to reveal the second box containing the couch itself. Opening this one reveals synthetic foam packing material, a box with the couch's legs, and an installation diagram on the box's lid.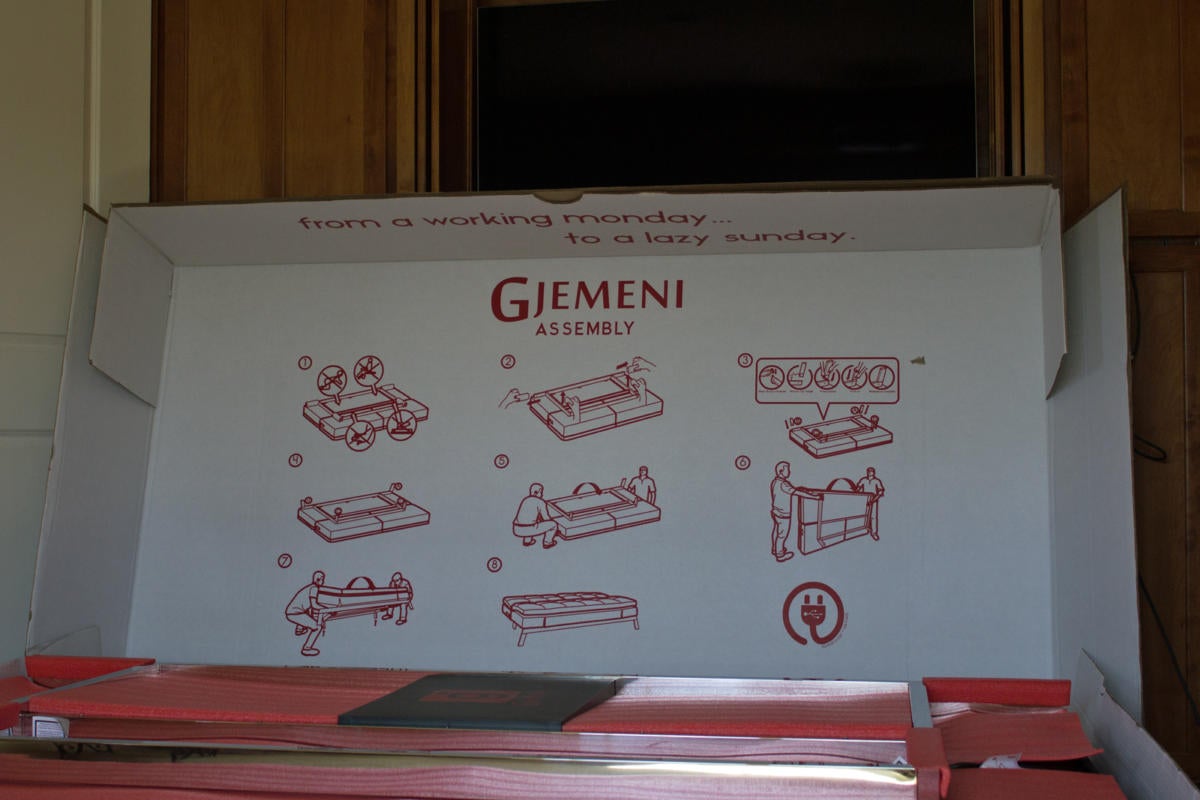 The couch is packed flat and bottom-side up, so you'll need a helper to lift it up and out of the box, as it weighs 137.5 pounds. Before you do that, however, you'll want to install the couch's legs. This is a simple matter of pushing a button in on each of its four legs and sliding them into the appropriate sockets. Everything is labeled as to where it should go, and the assembly process couldn't be easier. Gjemeni even provides a metal-reinforced leather thumb protector, so your skin won't get pinched when you push the button in.
A convertible couch
The couch's backrest is split down the middle, so you can recline each side independently of the other. A ratchet mechanism allows you to set the backrest in three positions: Slightly upright, slightly reclined, or fully flat. I found the reclined position to be most comfortable while watching TV, but I needed a pillow to support my back to keep my head in the right position to see the screen. The left and right sides of the seat are also articulated. These have four positions, so you can use them as either armrests or pillows.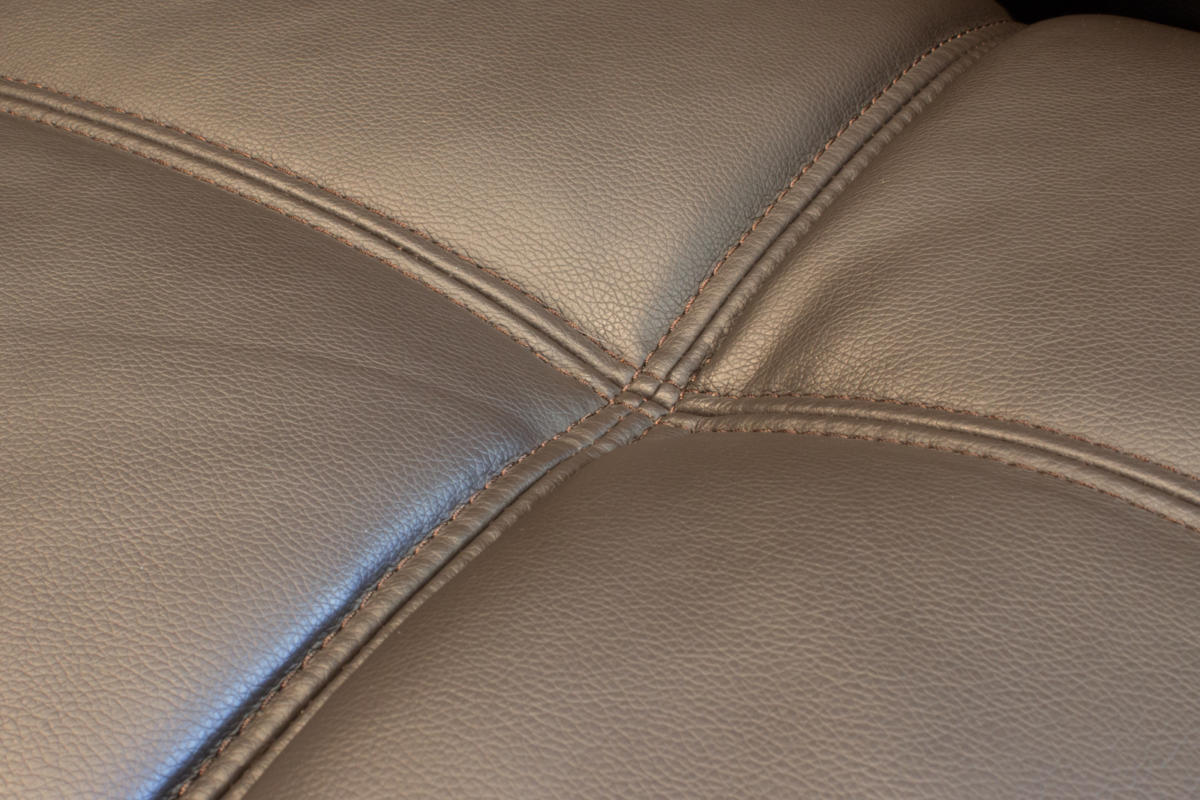 The couch is available in your choice of black, red, white, or java leather, or you can choose a dark gray microfiber. I opted for the java (a dark brown) leather. Gjemeni uses bonded leather, which is the least expensive form of that material. It consists of the leftovers of the animal hide after full grain, top grain, and split leather have been extracted. These remnants are bonded together on top of a polyurethane or latex sheet. All that said, I found the couch's appearance and texture pleasant enough. This isn't fine furniture, but the choice of material is reflected in the couch's price tag—covering it in higher-grade leather would significantly increase its price tag.
The cushions are made from memory foam, which endows it with firm and resilient support. The couch's base frame is fabricated from polished stainless steel and is slightly wider in front that it is in the back. This led to stubbed toes the first few times I approached it from behind because my brain assumed its legs were symmetrical. I got over it.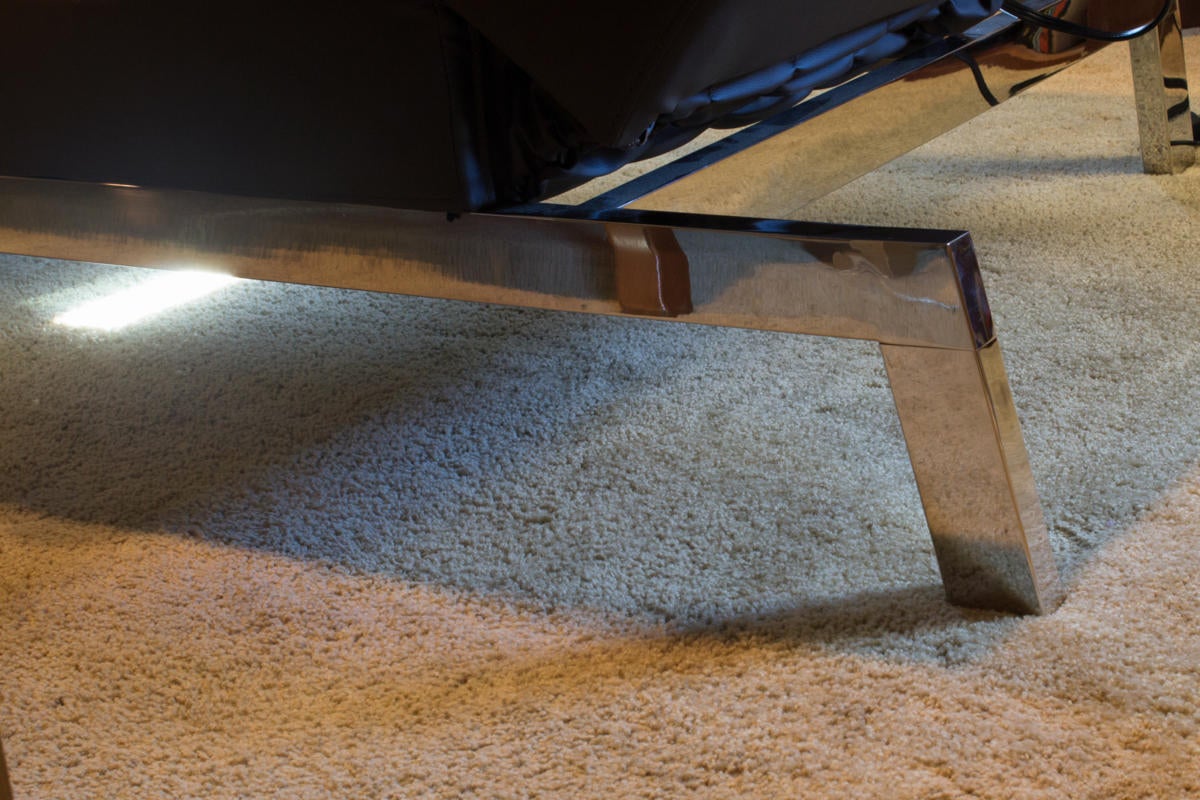 Is it worthy?
Gjemeni's couch is superbly designed and its USB charging ports and AC outlets are supremely convenient for tech-addicted households. The articulating split backrest and arms provide welcome versatility, especially when you have overnight guests. While it's not covered in the highest quality material, it's more attractive than the typical sofa bed and it's well priced at $999, including delivery. I like it and recommend that the manufacturer add a higher-priced configuration with higher-quality upholstery.
Update, January 27, 2019: Coddle, in addition to changing its name from Gjemeni, now offers its USB furniture upholstered in microfiber, instead of just leather. There's also now an option for making the sofa even more like a bed: The $395 Couch Topper is a 3.0-inch reversible foam mattress in zippered cover that fits on top of the couch. The microfiber cover can be removed for washing. We have not evaluated the Couch Topper, but here's a picture of it: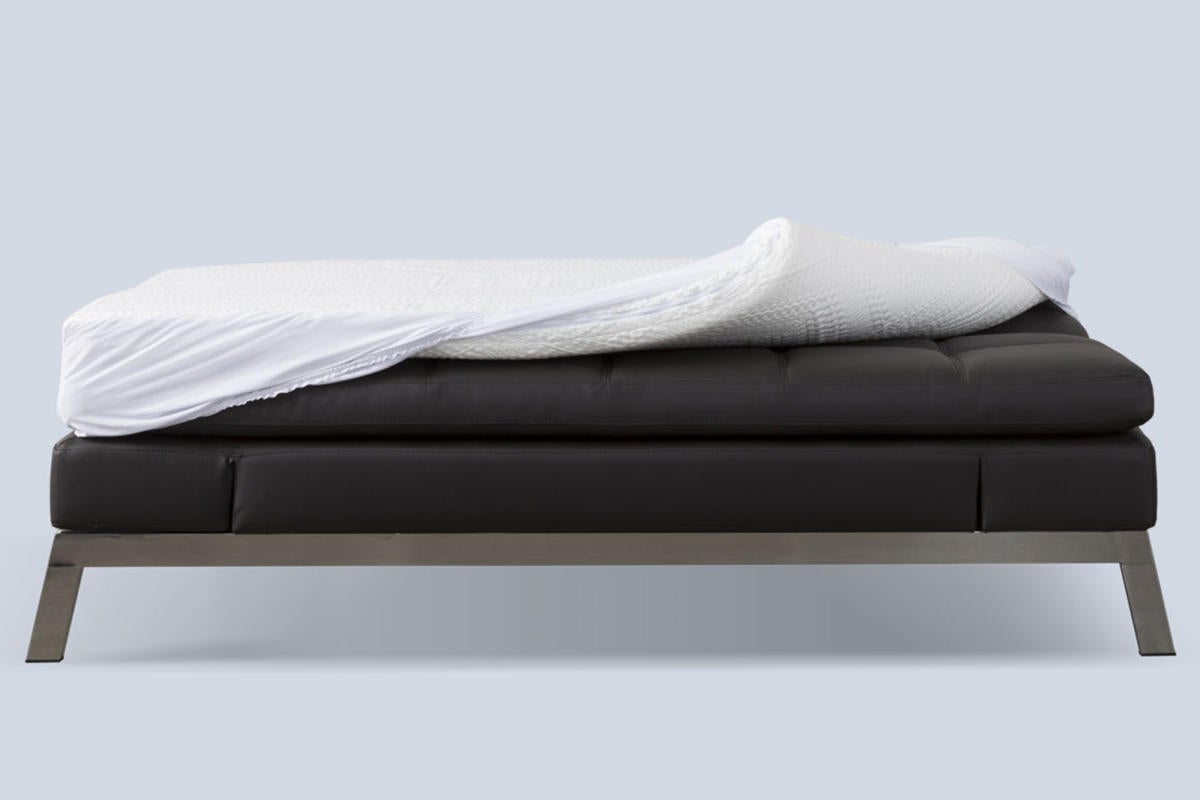 Best Prices Today: Gjemeni Couch