At a Glance
Expert's Rating
Pros
4G connectivity lets you connect anywhere you get T-Mobile cellular service
PIR motion detection minimizes false alerts
Simple setup
Cons
Might not work where 4G signal is weak
No Wi-Fi option
Our Verdict
The Reolink Go is a great security camera option for locations where Wi-Fi connectivity isn't available, but it requires access to T-Mobile's cellular network.
Wi-Fi cameras have made home surveillance easy, but what if you want to connect in some remote locale where Wi-Fi doesn't reach? That's where the Reolink Go comes in: This is a wireless security camera that uses 4G LTE connectivity rather than Wi-Fi. You can set it up pretty much anywhere you can receive cellular service—provided you're within range of T-Mobile's LTE network, that is—even if you're otherwise off the grid.
Design
The Go is a bullet-style camera with Reolink's typically durable construction. It is IP65 certified to be ingress protected against dust and projected jets of water, and it has an operating temperature of 14 to 131 degrees Fahrenheit (-10 to 55 degrees Celsius). A rubber sheath is included to further defend it against the elements.
The camera's 110-degree wide-angle lens is slightly narrower than that of the Argus 2, Reolink's Wi-Fi-enabled outdoor camera, but matches its 1080p resolution. Night vision (up to 33 feet), motion detection, and two-way audio are all supported.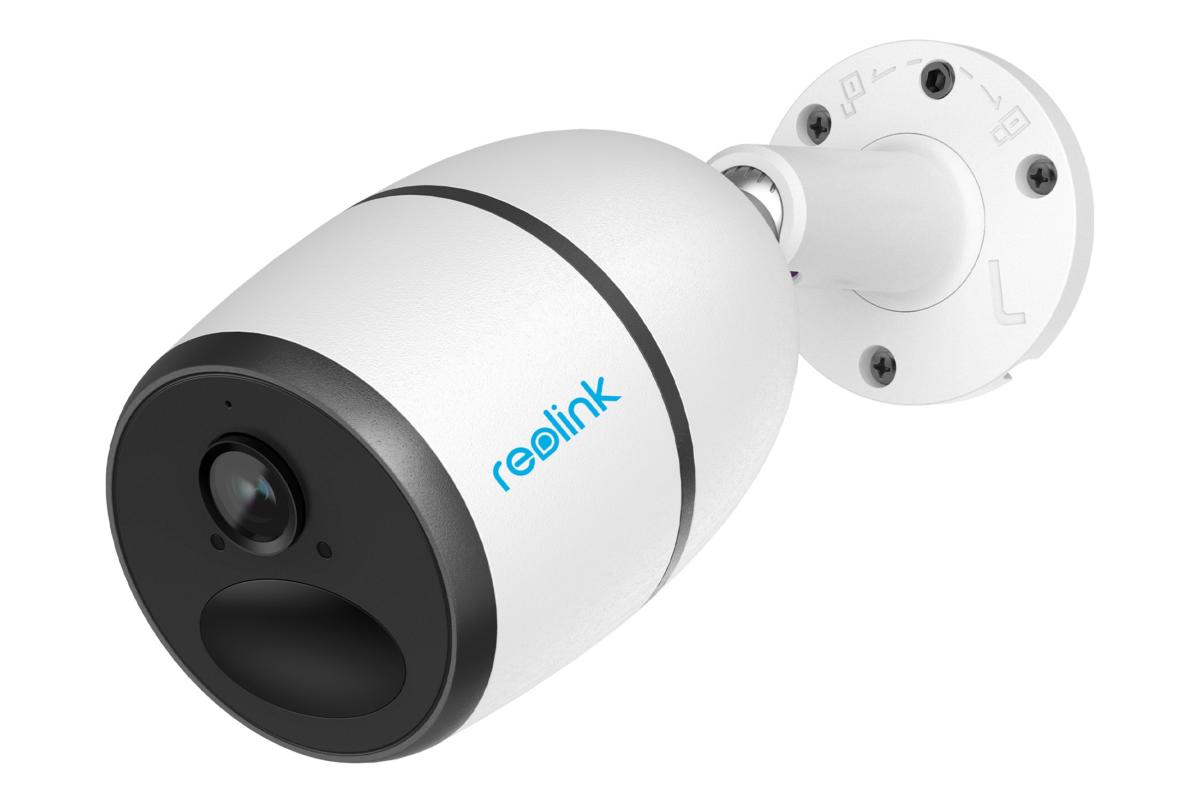 A 7800mAh rechargeable battery powers the Go. You can charge it from AC power or connect the Go to Reolink's solar panel, sold separately, to provide a continuous trickle charge. Given the Go is meant to be used in the great wide open, the solar panel is highly recommended and costs just $29.99 at Amazon.
The Go is compatible with 3G W-CDMA and 4G LTE networks from T-Mobile in the U.S., as well as carriers in several other countries. It also works with a handful of T-Mobile MVNOs (mobile virtual network operators), including Cricket, Freedompop, Mint, Ting, Metro PCS, U.S. Mobile, and Tracphone. You'll need to provide a micro-SIM card from your carrier an d sign up for a data plan.
The Go will record video locally to a microSD card—you'll need to supply a card with up to 64GB of capacity—but you can also get 10GB of offsite backup free by signing up for the beta Reolink Cloud plan. The plan supports up to five cameras and provides a rolling 15-day video history.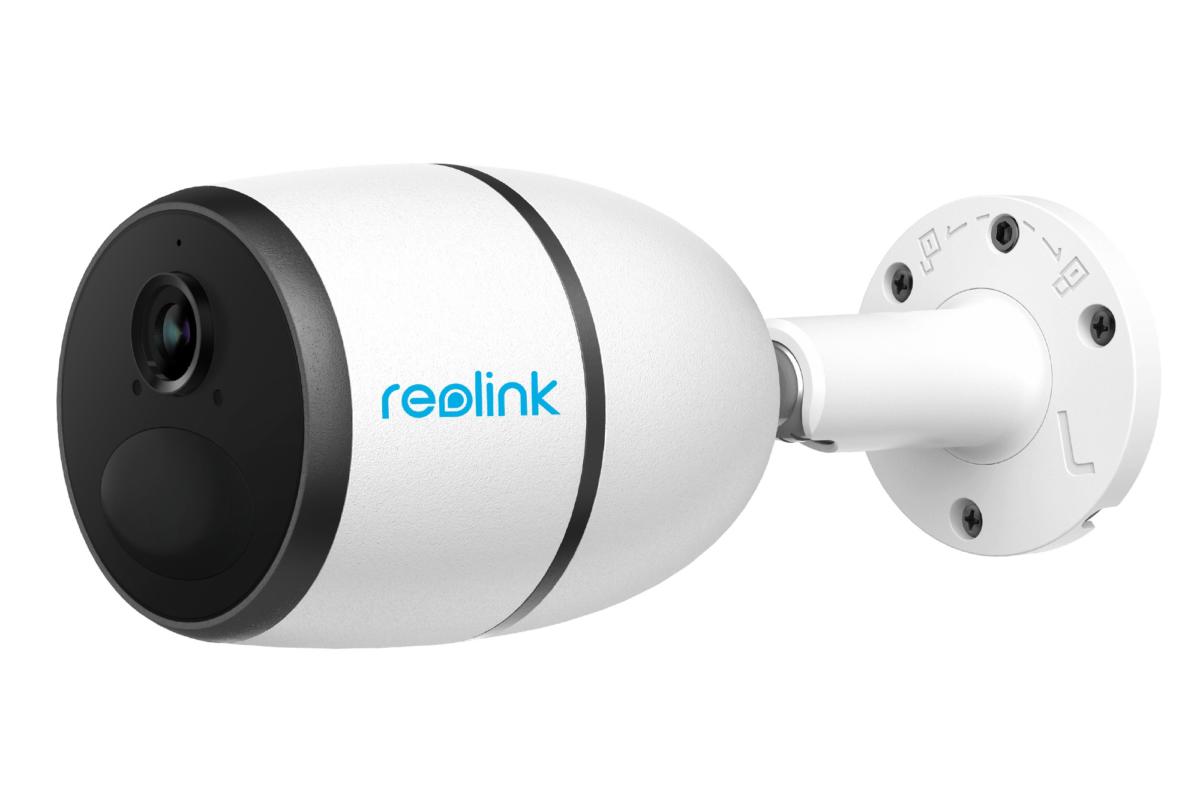 Setup and usage
Thanks to the wireless nature of the Go, setup is exceedingly easy. The back half of the camera twists off to reveal the battery compartment and micro-SIM card slot. Once you insert both and screw the cover back on, a voice prompt lets you know when it's ready to connect. You just add the Go in the Reolink app and follow the guide.
You can mount the Go to an exterior wall of your home, a fence, or even a tree with the supplied wall mount and screws. The camera screws easily to the metal mount, and the mount provides about 90 degrees of tilt for adjusting the camera's viewing angle.
The Go's image quality was sharp with rich color and was more than adequate for security purposes in my tests. A close look at objects with the 6X digital zoom showed little degradation in the image. Night vision, which illuminates up to 33 feet (10 meters), provided enough light to see down my driveway and into the street beyond.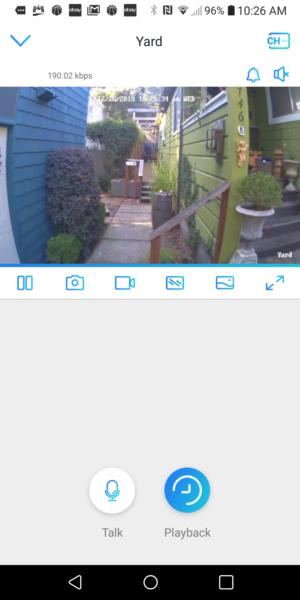 The camera uses passive infrared (PIR) motion detection, which detects body heat. That means it won't be fooled by leaves rustling or tree branches bobbing in the wind, a major benefit when you're using the camera in the wild, though theoretically it could be triggered by any critters that wander nearby. During my usage, it was consistently accurate and the alerts were prompt.
As we've seen with other Reolink cameras, the companion app is easy to use and offers a fair amount of customization. You can adjust the PIR sensitivity to low, medium, or, high—limiting the detection distances to 4, 6, or 10 meters respectively—or turn it off completely. You can also choose to receive alerts via email, push notification, or both. Other custom options are available for night vision, display settings, and more.
Reolink says the Go's battery will deliver 500 minutes of live viewing or two months in standby mode on a single charge. We didn't have opportunity to test those claims, but the reality is that battery life depends on a host of variables, including the settings you choose, usage, and even the temperature. Fortunately, the Reolink app provides real-time battery life data, so you won't be caught unaware when the Go is running low on juice.
Reolink Go vs Arlo Go
Mentioned in this article
Arlo Go
Price When Reviewed:
$429.99
So how does the Reolink Go stack up against the Arlo Go, another LTE-enabled camera that's its closest competitor? Quite well, actually. In terms of security performance there's virtually no difference, and both support local storage as well as cloud backup for video recording.
There are some differences in the details, though. The most obvious is that Reolink's camera boasts 1080p resolution and the Arlo Go tops out at 720p. As video quality at any given moment depends on a host of factors, not the least of which is connection strength, that shouldn't be your sole decision criteria. The fact that they work on different LTE networks will make a difference: The Arlo Go supports Verizon and AT&T (there's a different SKU for each), but not T-Mobile.
Beyond that, the differences probably come down more to personal needs. The Arlo Go includes sound detection and supports IFTTT. The Reolink Go doesn't. Still, that, and the fact that the Arlo Go supports more cloud offerings than Relolink's beta cloud plan currently does, leads me to give the Arlo Go slightly higher marks.
Bottom line
The Reolink Go is another impressive security camera from a company that's been pretty consistent in churning them out. The 4G connectivity is a great option for those living in a remote location or who needs to deploy the camera far from their home Wi-Fi network. As with any camera, the results you get will ultimately be only as good as your connection, so check T-Mobile's coverage with your smartphone at whatever location you want to install this before you buy. If there's a good signal, we recommend the Reolink Go without hesitation.