At a Glance
Expert's Rating
Pros
Zigbee smart home hub onboard
Large, vibrant, higher-resolution display
Vastly improved user interface
Cons
No Z-Wave support
Not the best smart speaker for music
Our Verdict
The second-generation Amazon Echo Show might use the same processor as the first, but virtually everything else is new and improved.
Smart displays are finally going mainstream in 2019, and two of the most enticing models are among the biggest, and they're also from two of the biggest companies on the planet: Amazon and Google.
In one corner, we have the Amazon Echo Show, a 10-inch smart display that's powered by Alexa and equipped with a trim design, stereo speakers, a Zigbee hub for controlling smart home devices, and thousands of Alexa-enabled skills.
In the other corner is the Google Nest Hub Max, yet another 10-inch smart display with onboard Google Assistant, along with stereo speakers (that sounds familiar), a slim and trim design (ditto), a built-in Nest security camera, and Google's vast pool of searchable knowledge.
So, let's cut to the chase: Which of these $230 smart displays (which will surely see steep discounts during the holiday season) should you pick? Well, it's complicated.
The Google Nest Home Max is a great smart display, complete with a gorgeous screen, a built-in Nest security camera, and Chromecast support. But as we've established in a previous article, it's hard to beat Echo when it comes to the size of its ecosystem and broad smart home support. If you're a Google Assistant fan or you're simply committed to Google services, you'll love the Nest Hub Max. But if you want a smart display that can take charge of the widest array of smart devices, you'll probably be better off with the Echo Show.
Either way, these are two great smart displays, and picking just one is a tough call.
Category: Design
Mentioned in this article
Amazon Echo Show (2nd Generation)
Price When Reviewed:
$229.99
The original Amazon Echo Show was somewhat boxy and ungainly, with its stereo speakers in front and a seven-inch display perched on top. For the second-gen Echo Show, Amazon wisely shunted the speakers to the side and moved the new 10-inch display front and center. While the new Echo Show is slightly bigger than its predecessor, it's also a tad shorter, and it manages to look slim and trim thanks to its svelte, fabric-covered sides and back.
The first and (so far) only Google Nest Hub Max, meanwhile, also has an all-screen design, with a fabric-covered, oval-shaped base that holds up the screen, making it appear as if it's suspended in mid-air. Viewed from the side, the Nest Hub Max has a clean, slim and trim look, and it's easy to fit on a cluttered kitchen counter.
Winner: Tie
Category: Sound
Both the Amazon Echo Show and the Google Nest Hub Max come with stereo speakers, with the Echo Show equipped with a pair of 2.2-inch drivers while the Nest Hub Max has two 18mm tweeters and a powered 75mm woofer. The audio quality of both devices is generally considered quite good as far as smart speakers go, with the second-gen Echo Show's sound winning plaudits for its marked improvement over the original version. Neither display packs in the kind of sound that would rival a higher-end speaker, such as the pricey Sonos One, but they're more than adequate for listening to tunes in the kitchen.
Winner: Tie
Category: Smart home control and support
Mentioned in this article
Google Nest Hub Max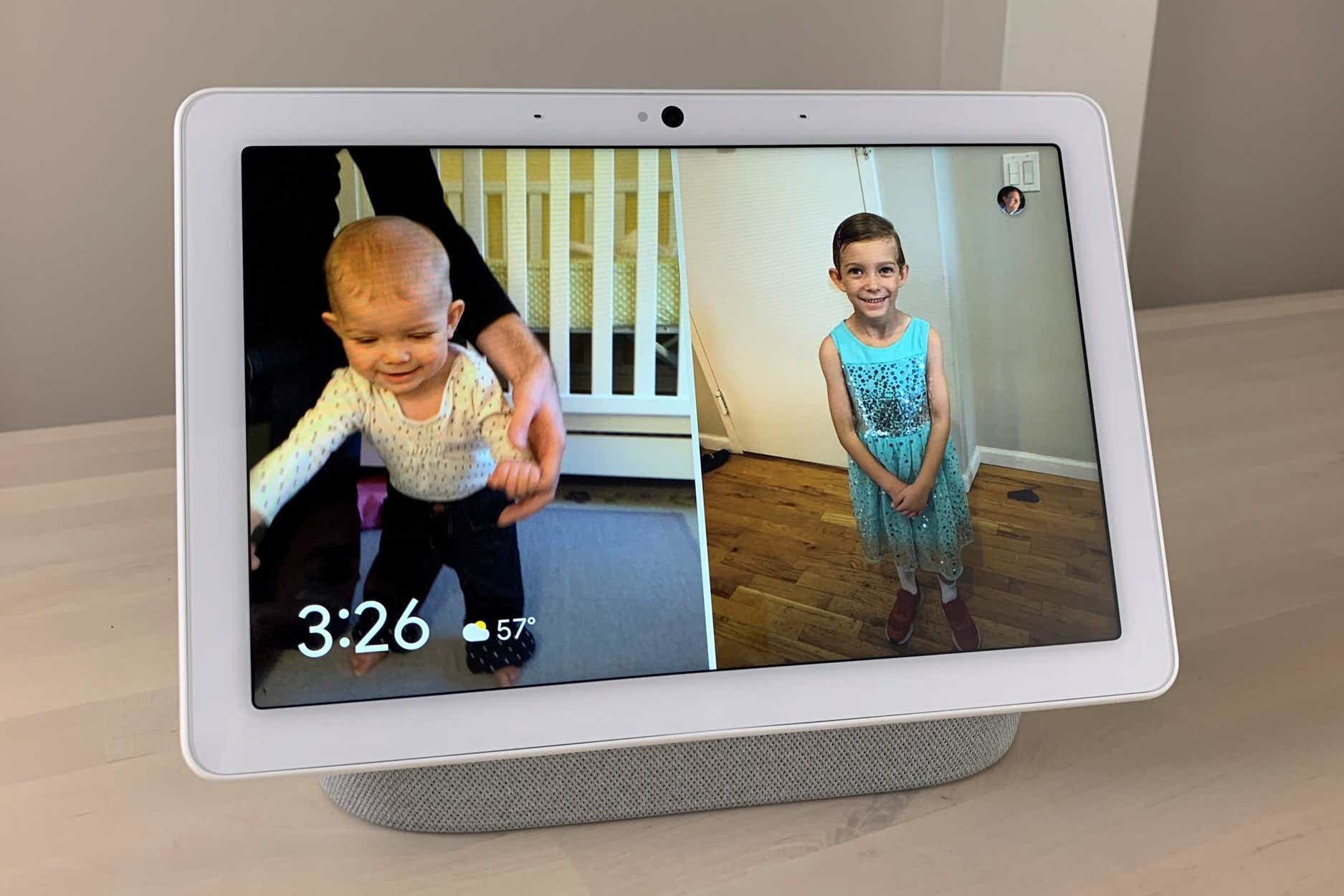 Price When Reviewed:
$229
We've said it before and we'll say it again: For now, Alexa is tops when it comes to smart home integration, with Amazon recently crowing that more than 85,000 smart gadgets support the ubiquitous digital assistant. Google is doing its best to catch up, but Google Assistant's smart home support currently tops out at just 30,000 devices. Both the Echo Show and Nest Hub Max offer polished swipe-down overlays that act as control panels for your supported smart devices, but the Echo Show still gets an edge thanks to its own built-in Zigbee hub.
Winner: Echo Show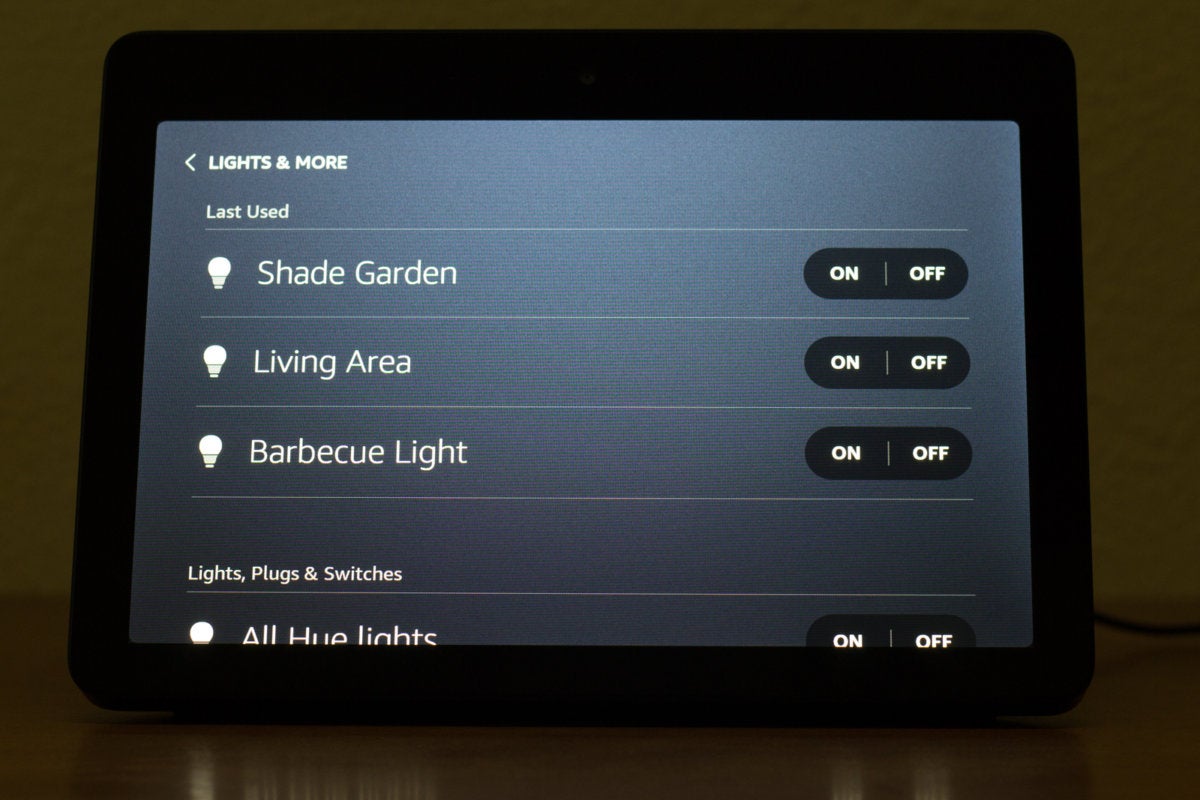 Category: Video streaming
Among Alexa's more than 80,000 skills is her ability to play movies and TV shows from a variety of major streaming video services, such as Hulu (which has its live TV service), CNBC, Daily Motion, Vimeo, and of course, Amazon Prime Video. Missing from the list, however, is YouTube and YouTube TV, which are available on the Google Nest Hub Max. Google's 10-inch digital display also boasts Sling TV support and built-in Chromecast, which allows it to stream video from many (although not all) video apps with Chromecast support, including the new Disney+ streaming service. So yes, I've watched Star Wars: Return of the Jedi (well, part of it, anyway) on the Nest Hub Max in my kitchen.
Winner: Nest Hub Max
Category: Built-in security features
Like other speakers and displays in Amazon's Echo line, the Echo Show comes with a free Alexa Guard feature that listens for such suspicious sounds like breaking glass and smoke alarms, and will soon gain the ability to also warn you if it hears "sounds of activity" (such as footsteps or running water) while you're away.
Meanwhile, the Google Nest Hub Max's built-in camera doubles as a Nest security camera that can send you a notification if it spots someone it doesn't recognize, and starting in 2020, it will gain Alexa Aware-type features if you sign up for the Nest Aware subscription service (which will soon cost $6 a month).
Winner: Tie
Category: Display
The displays of both the Amazon Echo and Google Nest Hub Max look pretty similar on paper. They're both 10 inches (measured diagonally), they both boast HD resolution (not 1080p, mind you, but 1200 x 800 still falls under the broad "HD" category), and both displays dim automatically when you turn your lights out.
The Google Nest Hub Max has a slight edge, however, with its Ambient EQ technology, which scans the ambient light and does its best to match the light and colors in the room. If you want your Nest Hub Max to double as a digital photo frame, Ambient EQ makes your snapshots look like prints rather than glowing digital images. That's a good thing, if you ask me.
Winner: Nest Hub Max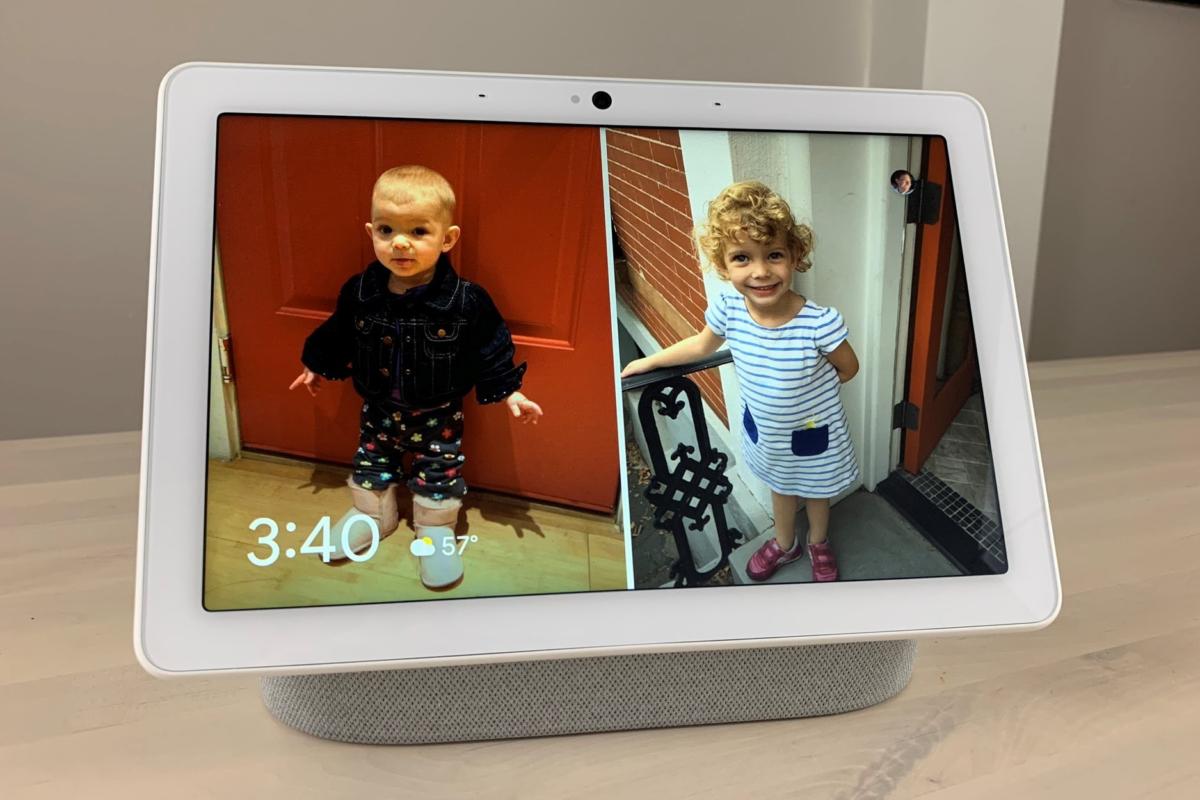 Category: Calling and communication
Both the Amazon Echo Show and Google Nest Hub Max excel at video chat, with the Echo Show supporting Skype video calls while the Nest Hub Max leans on the Google Duo video calling service. Also, both smart displays let you make announcements (like "Dinner time!") to all your other Echo or Google Home/Nest smart devices. That said, the Echo Show (and other Echo devices) have an added "Drop-in" feature that lets you listen in on another room with an Echo speaker or display. Creepy? Well, yes, but then again the drop-in feature comes in handy for dealing with seven-year-olds who are holed up in their rooms.
Winner: Echo Show
Bottom line
I hoped I could close this article out with a neat and clean recommendation of one device over the other. But as you've read, the 10-inch versions of the Amazon Echo Show and Google Nest Hub Max are equally great most counts.
That said, Amazon has the edge when it comes to the size of its overall ecosystem, particularly in terms of smart home devices. Google's smart display, meanwhile, has the advantage in terms of Google's own ecosystem—including Google search, Gmail, YouTube, and Chromecast. You won't be unhappy with either device, but consider your choice carefully, as you won't want to turn back once you've taken a step down one path or the other.