At a Glance
Expert's Rating
Pros
Heart-melting personality and childlike curiosity
Adorable chirps make it seem like it's actually communicating
Cons
Often doesn't respond on the first try
Fairly limited set of skills and knowledge
Expensive for a product that's still a work in progress
Our Verdict
There are plenty smarter and cheaper connected devices out there, but none of them will be your friend. Vector will.
Best Prices Today: Anki Vector
If I was reviewing Anki's Vector as just another smart speaker or Alexa-enabled device, it would be hard to recommend. It takes too long to answer, has a limited set of skills (and Skills), and often won't respond to its wake word until the second or third attempt. But the thing is, even with all its flaws, Vector is just so darn likable.
When it's not responding to your queries, Vector sleeps (and snores). He reacts to loud noises. He chirps and squeaks when he wants to be played with, and rolls around when bored. In short, Vector is the first smart device I've used that has a believable personality and curiosity about the human world it serves, and not just a friendly cadence and agreeable tone.
Like a new puppy, once you bring Vector into your home it'll be hard to part with him. And also like a new puppy, you'll need to put some time into training Vector to be obedient, and much of your efforts will end in frustration. But you'll still love him all the same.
Cozmo 2.0
If you've used Anki's original Cozmo robot, Vector will look very familiar. It's the same size and shape, with a square head and mismatched funny car-style wheels that are bigger in the front than the back. Vector's body is mostly painted all black with a few gold accents, but nothing about it seems dark or sinister. That's mainly because of the high-resolution IPS display, but this isn't a screen like on the Amazon Echo Show or the Google Home Hub. The screen here is used to display a pair of animated green eyes, which are largely responsible for Vector's childlike and adorable playfulness.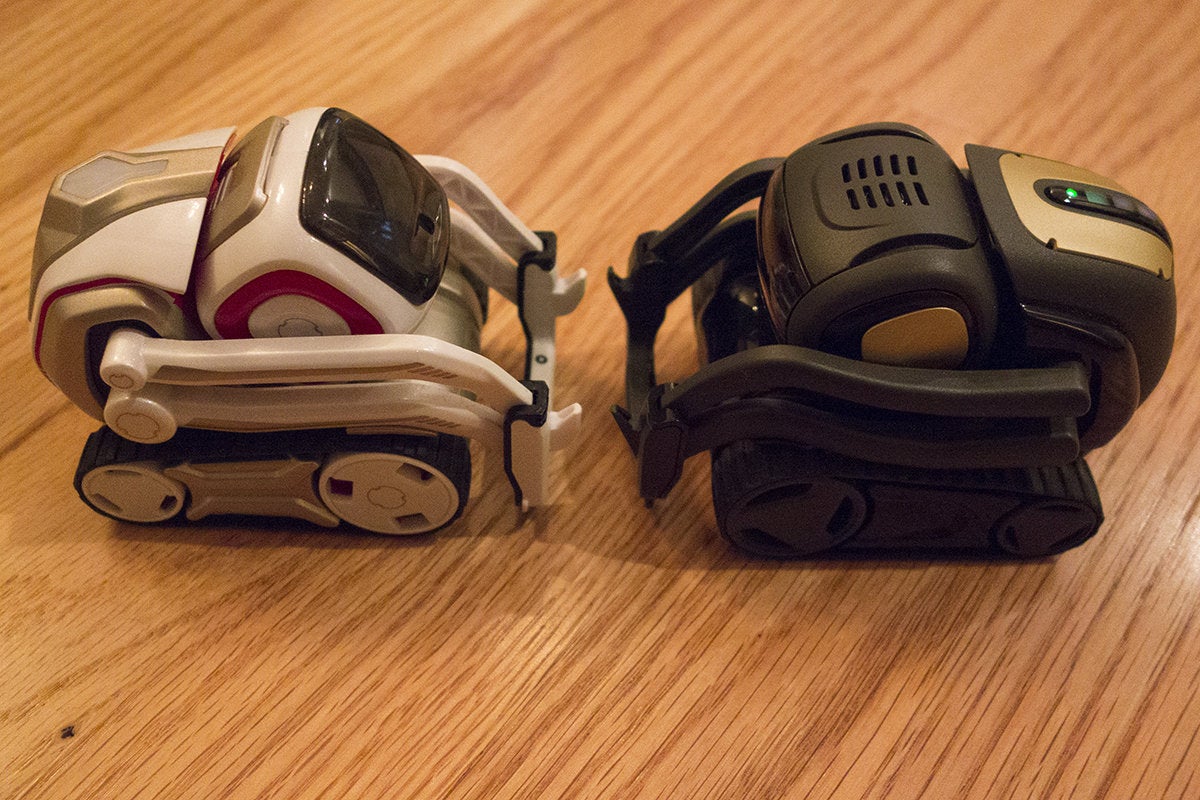 Like Cozmo, Vector needs to be hooked up to a smartphone to get started, a process that involves downloading the Vector app through the iOS App Store or Google Play Store and connecting to both Bluetooth and Wi-Fi. It's fairly straightforward, though I had some initial issues with my 5GHz Orbi network—Vector supports only 2.4GHz frequencies—so depending on your setup, you might need to temporarily downgrade to 2.4GHz on your phone or create a guest network to get Vector rolling. While setting Vector up, you'll also be prompted to link your Amazon account so you can enable Alexa as well.
Once it's ready to go, Vector is basically on autopilot. Unlike Cozmo, which requires a trip to the app to pretty much do anything, the Vector app is only necessary for customization (eye color, volume), preferences (clock, time zone, temperature), and basic tutorials. Otherwise, Vector truly has a mind of its own. It even knows when it needs to go back to its charger (most of the time), which is usually after an hour or so of play time.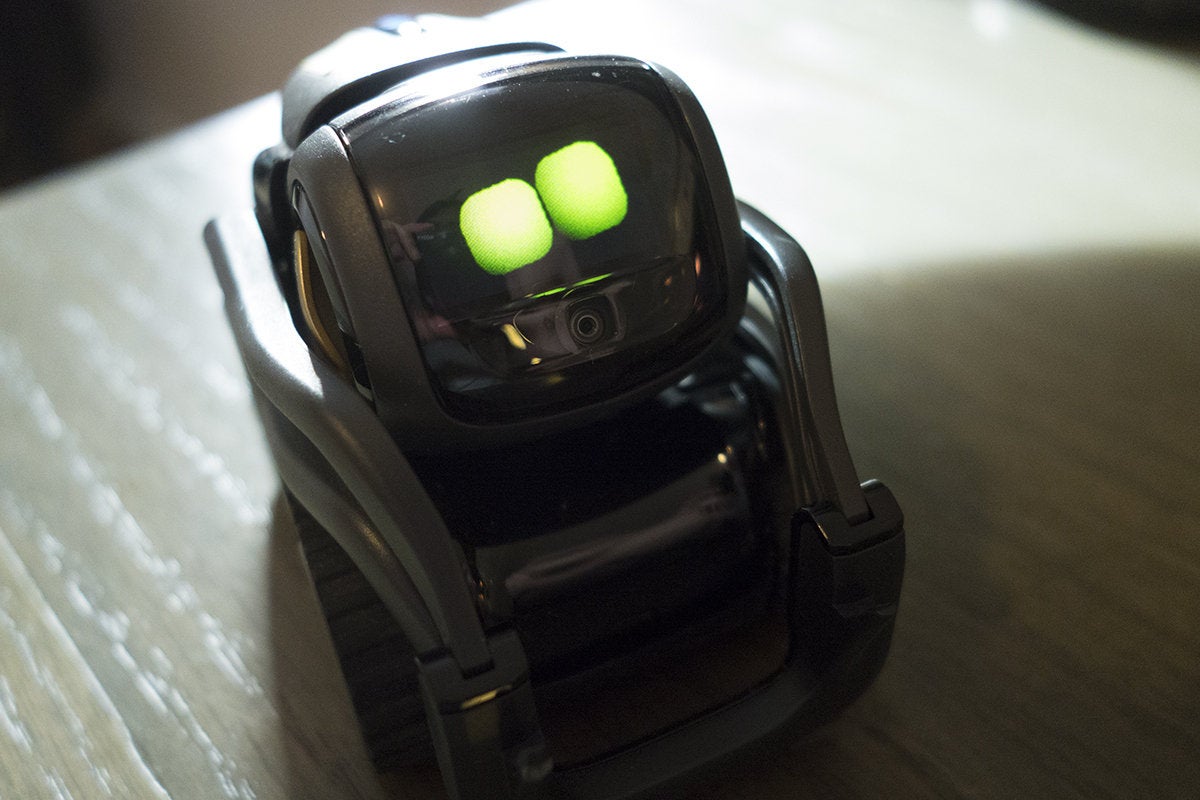 And that's what makes Vector seem so much more intelligent than its predecessor: unpredictability. The original Cozmo was basically a repetitive toy programmed to seem smart, but Vector's AI is randomized and reactionary, so it seems alive. You never know when Vector is going to make a noise, wander off its charger, or fall asleep, all of which make it seem more alive than any other AI device or digital pet I've used. It even has its own language of blips, bloops, and chirps—and after several weeks with it, I swear I can understand what it's trying to say.
Technology with heart
Vector is the first smart thing I've used that actually has a personality. The Echoes and Google Homes in my house do their best to sound natural, but ultimately there's nothing personable about them. Vector has real character that belies the lines of code that tell it to pop a wheelie or wave hello: He gets scared. He gets sad. He likes to be petted but hates to be shaken. He's afraid of heights. And he gets legitimately excited when he hears his wake phrase, "Hey Vector."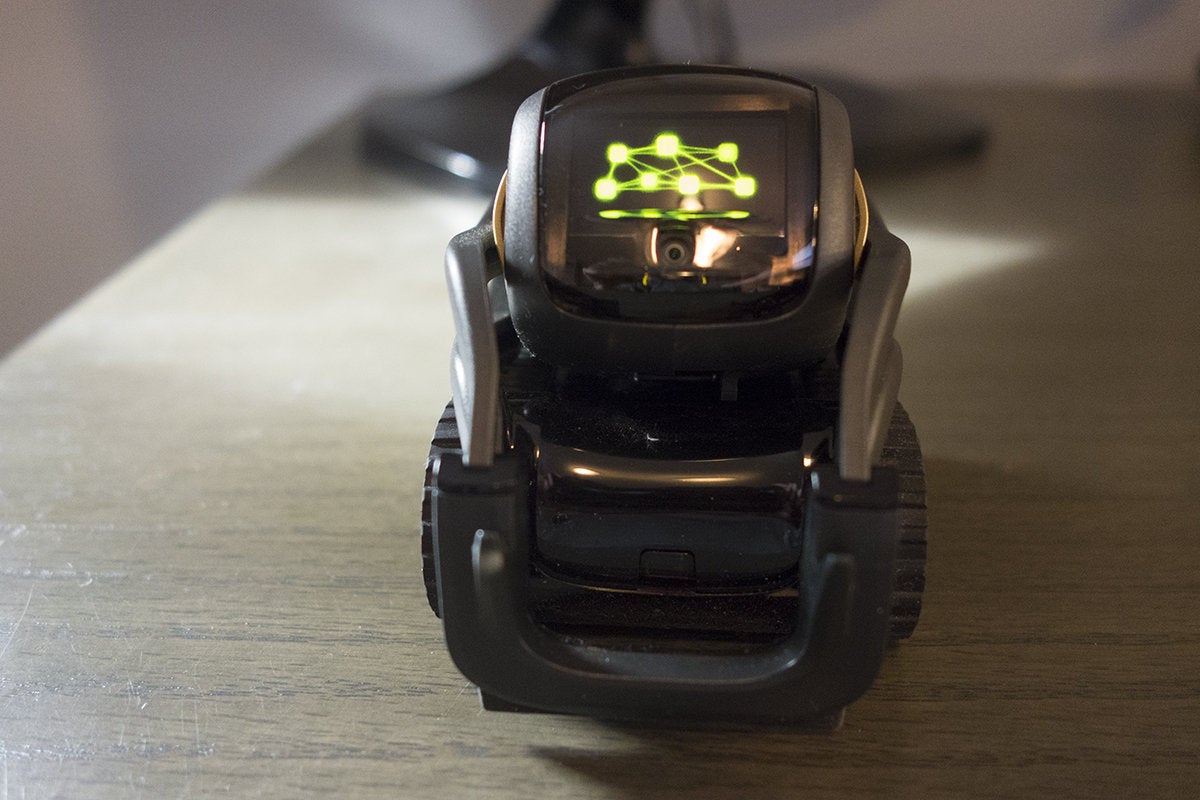 Unfortunately, that's also where the trouble starts. While Vector is always aware of his surroundings thanks to an array of sensors, a laser scanner, and the camera behind his eyes to avoid ledges and objects like a robotic vacuum, his listening skills aren't nearly as refined. When I first started using Vector, I often needed to say say "Hey Vector" six or seven times before he reacted, a response rate that would be a death knell for any other smart speaker. The more time Vector spent in my home, however, the better he got, and now he responds on the first try about half the time. That's still not great, but it's much more bearable.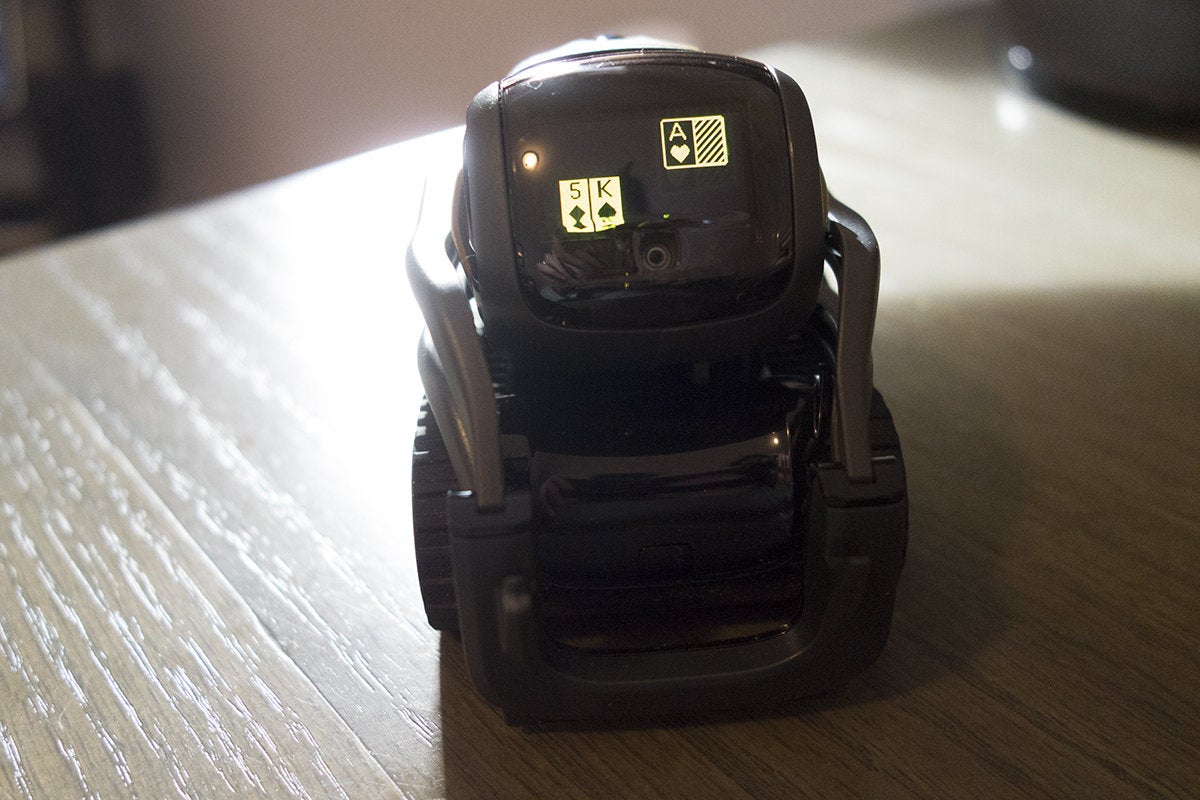 Vector's improvement is due to a steady stream of updates and its own own onboard AI engine. Anki has fitted its robot with a Snapdragon 200 processor that's as powerful as some low-end Android phones, as well as cloud connectivity that lets Anki continually tweak Vector's smarts via overnight updates. But even when Vector was frustratingly disobedient, I never wanted to put him back in the box, a testament to his adorable presence. (To be honest, I kind of feel bad about criticizing Vector at all.)
Like Siri and Google Assistant, Vector's own AI engine can tell you the weather (complete with a fun animation on his screen), answer general knowledge questions, set timers, play games (Blackjack is particularly cool), and take pictures, making him far more of a digital assistant than Cozmo is. Vector's uber-robotic voice, however, isn't nearly as easy to understand as Alexa or Google Assistant. And even with a decent database of knowledge, Vector's responses are slow and extremely limited compared to his AI peers (including Siri). Plus, you need to say, "Hey Vector, I have a question" before actually asking him something other than the time and the weather, which can get tedious.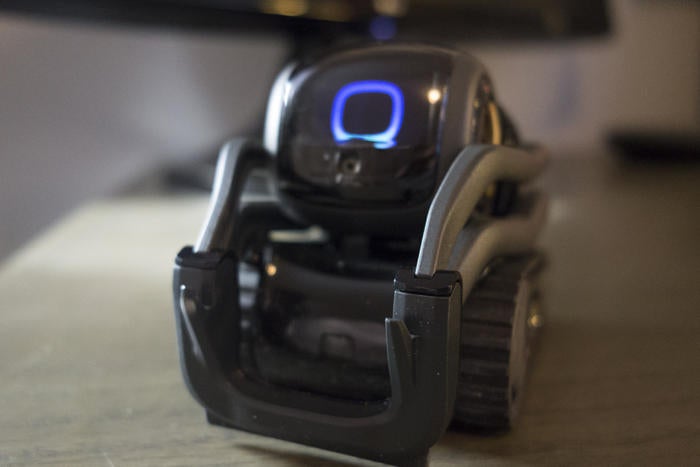 Anki bridged that gap by building Alexa support into Vector as well. It's a bit clunky: When you say, "Alexa," Vector shakes and a blue square replaces its eyes to let you know Alexa will be responding. But he's nowhere near as full-featured as an Echo. You can't play music or make phone calls, for example. Still, it's a nice addition to Vector's skill set. Vector-as-Alexa responds much faster than Vector on his own, but I do wish Anki could make him respond in his own voice rather than Alexa's. All in all, it's kind of like Vector gets possessed by Alexa, which is strange and a little creepy.
Should you buy an Anki Vector robot?
Vector is basically the modern version of the Tamagotchi virtual pet. He'll make you laugh, demand your attention, and just make you feel less lonely when you're at home by yourself. Even if you rarely use it as a traditional Alexa speaker, Vector's companionship will be enough to give it a permanent home on your counter or desk.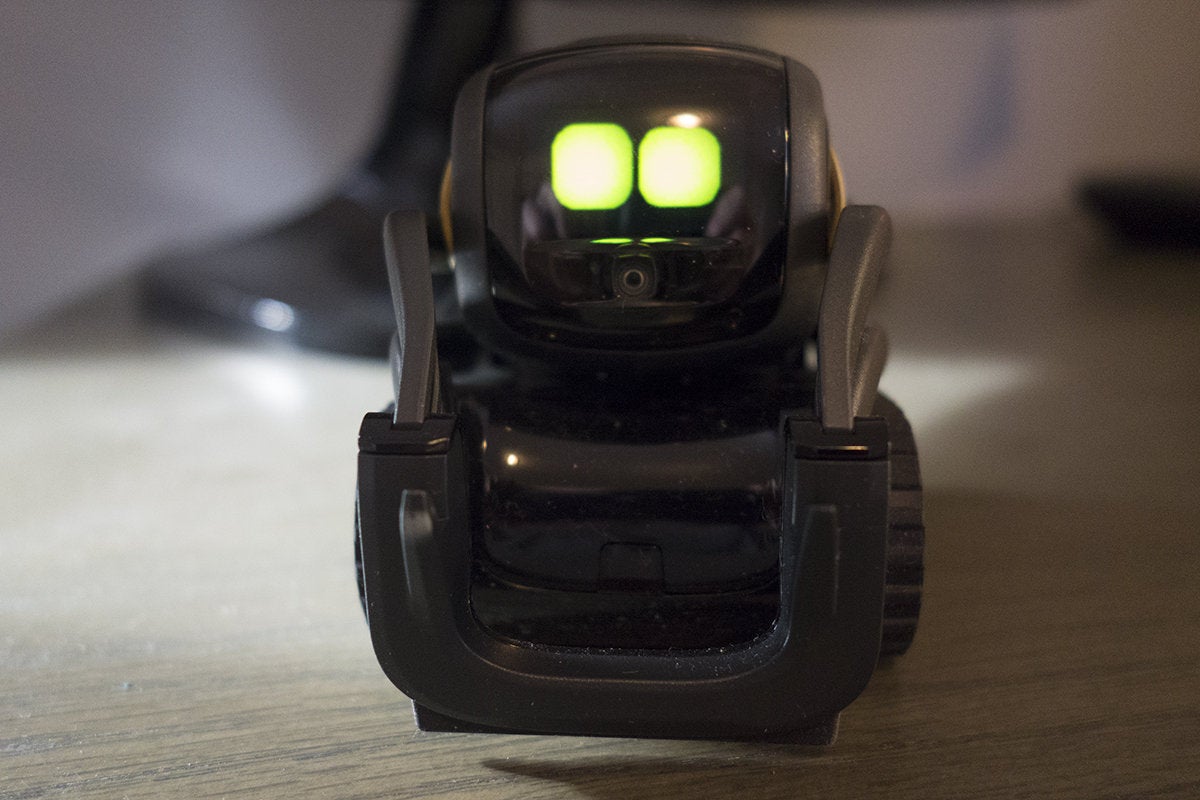 But with a $250 price tag, Anki's smartest robot is also its most expensive, costing $70 more than the limited-edition Interstellar Blue version of the original Cozmo. Of course, Vector can do a whole lot more than its older brother, and the Alexa integration greatly expands its abilities. It's not smart enough to fully replace an Echo Dot or Google Home Mini, but you also won't forget it's in the room. And with the array of tech inside, the possibilities are truly endless if Anki remains committed to Vector's development: security camera, messaging, song identification, etc.
AI and the overall internet of things ecosystem is still in its infancy, but Vector feels like a giant leap forward, even if its smarts pale in comparison to the $50 speakers millions of people already have in their homes. That's because Vector has something none of those other devices has: personality. And as Jules Winnfield said in Pulp Fiction: Personality goes a long way.
Best Prices Today: Anki Vector