Cutting cable TV is certainly a forward-thinking move, but controlling your streaming TV device by voice is even more futuristic. Using voice commands can be a lot faster than fiddling with a remote, and with smart speakers such as the Amazon Echo and Google Home, you don't even need to use your hands.
Still, not all streaming devices are on the same level when it comes to voice control. Roku, Amazon Fire TV, Chromecast, Apple TV, and Android TV devices all work with different (and, in some cases, multiple) voice assistants, each with their own strengths, weaknesses, and blind spots. In the interest of sorting it all out, here's a rundown of everything you can and can't do, sorted by streaming platform:
Roku
Not every Roku player has voice controls built into its remote, but for those that do, you can hit the microphone button to control playback, launch apps, search for things to watch, and launch music from Pandora, iHeartRadio, or TuneIn. (If you're feeling left out, voice controls are also available through Roku's iOS and Android apps.)
Roku's biggest limitation is its inability to launch specific TV shows, movies, or live channels with voice alone. So even after you've used voice commands open Netflix, you'll still need to click around to keep watching Bojack Horseman. You also can't use the voice remote to search within specific streaming services.
Mentioned in this article
Roku TV Wireless Speakers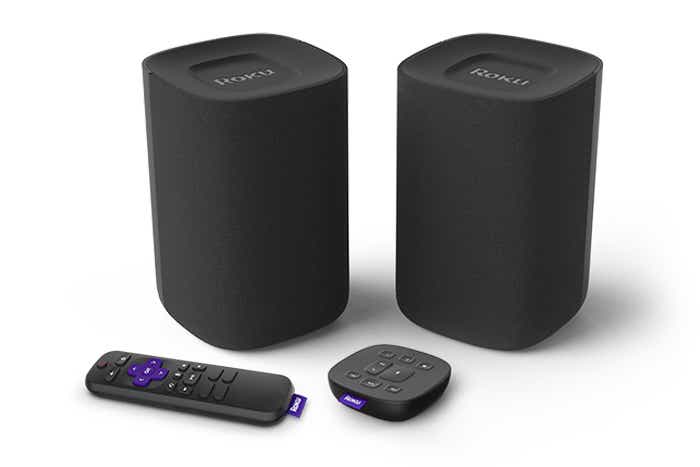 Price When Reviewed:
$199.99
Roku doesn't yet offer its own smart speakers, either, though Google Home speakers do offer a limited set of hands-free controls. You can launch apps (with the notable exception of Neftlix) and control video playback, and with Roku TVs you can control volume and power as well. To set this up, follow Roku's instructions. Adding a pair of Roku TV Wireless Speakers bring voice control to Roku TVs, but they're compatible only with Roku TVs and not Roku set-top boxes or anything else.
Fire TV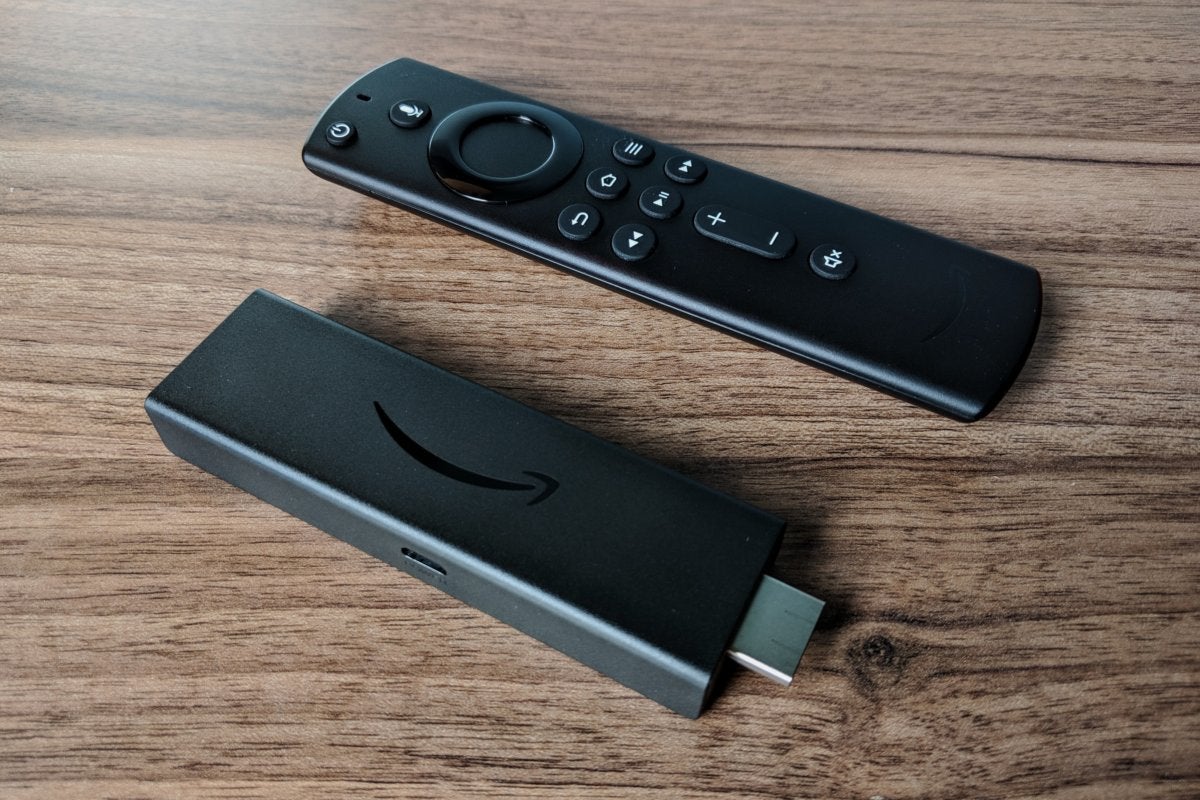 Amazon's Fire TV voice controls are among the most robust of any streaming platform. With either an Amazon Echo smart speaker or nearly all Fire TV remotes, you can ask Alexa to control video playback, search for things to watch, and open apps. The Fire TV Cube and Fire TV Stick 4K can control TV volume and power as well. Best of all, Alexa can launch TV shows, movies, and live channels directly, so you can start watching something with just a single voice command. That's all on top of the normal Alexa stuff you can do, such as shopping for products on Amazon, asking about sports scores or the weather, and controlling Alexa-compatible smart home devices.
Mentioned in this article
Amazon Fire TV Stick 4K
Price When Reviewed:
49.99
Just one caveat: Alexa can only launch videos directly if the app you're using supports it. Amazon doesn't publish a full list of Alexa-compatible video apps, but some examples include Netflix, Hulu, PlayStation Vue, Sony Crackle, Showtime, Starz Play, NBC, CBS, Fox Now, and (of course) Amazon Prime Video. You can also use voice control with Amazon's Fire TV Recast DVR for over-the-air channels.
To set up an Echo speaker with Fire TV, follow Amazon's instructions, but be aware that each speaker can only control one Fire TV device.
Apple TV
Apple TV offers a decent array of voice controls through the Siri Remote, including search, playback control, launching apps, and tuning to certain live channels. And while you can't quite launch movies or TV shows with just a voice command, Apple TV will take you to a program page where you can begin playback with just a click. Siri can even load videos from YouTube, play songs through Apple Music, and play podcasts through the Podcasts app. Some non-TV functions, such as asking about the weather and controlling HomeKit smart home devices, are supported as well.
Mentioned in this article
Apple TV 4K
Price When Reviewed:
32GB $179 | 64GB $199
Apple TV also has one neat voice trick that I've yet to see on other platforms: While entering passwords, you can hold the microphone button and dictate individual letters, numbers, and characters. That tends to be much faster than scrolling around the on-screen keyboard.
Unfortunately, none of these voice controls extend to Apple's HomePod unless you've set it up as an Apple TV speaker, and even then, you can only use Siri to pause, play, rewind, and fast forward. Don't let that Siri Remote slip between the couch cushions.
Chromecast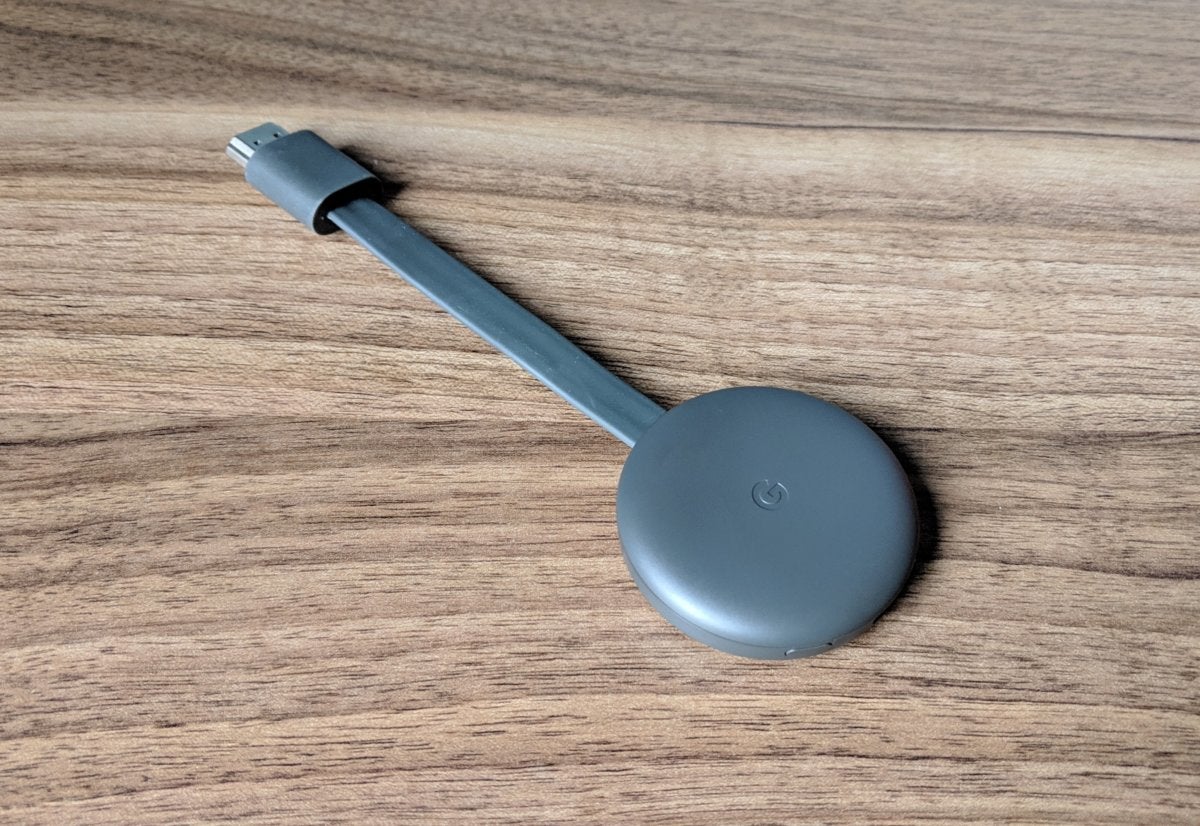 Chromecast, famously, does not come with a traditional remote control, as you're supposed to control the streaming dongle through apps on your phone. If you have a Google Home speaker, however, it can control the Chromecast with just Google Assistant voice commands. You can control video playback, adjust the Chromecast's volume, turn your TV on or off, and launch videos and music.
Sadly, YouTube TV is the only service that supports launching live cable channels by voice, but you can load on-demand video from YouTube, Netflix, CBS All Access, CW, Viki, and HBO Now. Supported music services include Google Play Music, YouTube Music, Spotify, Pandora, TuneIn, iHeartRadio, and Deezer Premium+.
Google's instructions for connecting Assistant to Chromecast will help you get started.
Android TV
Android TV devices that support Google Assistant, such as the Nvidia Shield TV, offer all the same Google Assistant controls as Chromecast, either through a voice remote or Google Home speakers. You can also use the remote to search for content on the television, ask Google questions, and control Google Assistant-compatible smart home devices.
Mentioned in this article
Nvidia Shield TV (2017)
Price When Reviewed:
$199.99
The Shield TV goes a step further with Alexa support, so you can use an Echo speaker to control playback, open apps, set the Shield's volume, turn the Shield on or off, and navigate to either the Home or Settings menus. Just don't bother trying to search or launch videos directly with Alexa.
Still confused by all of this? Here's my attempt to map it all out: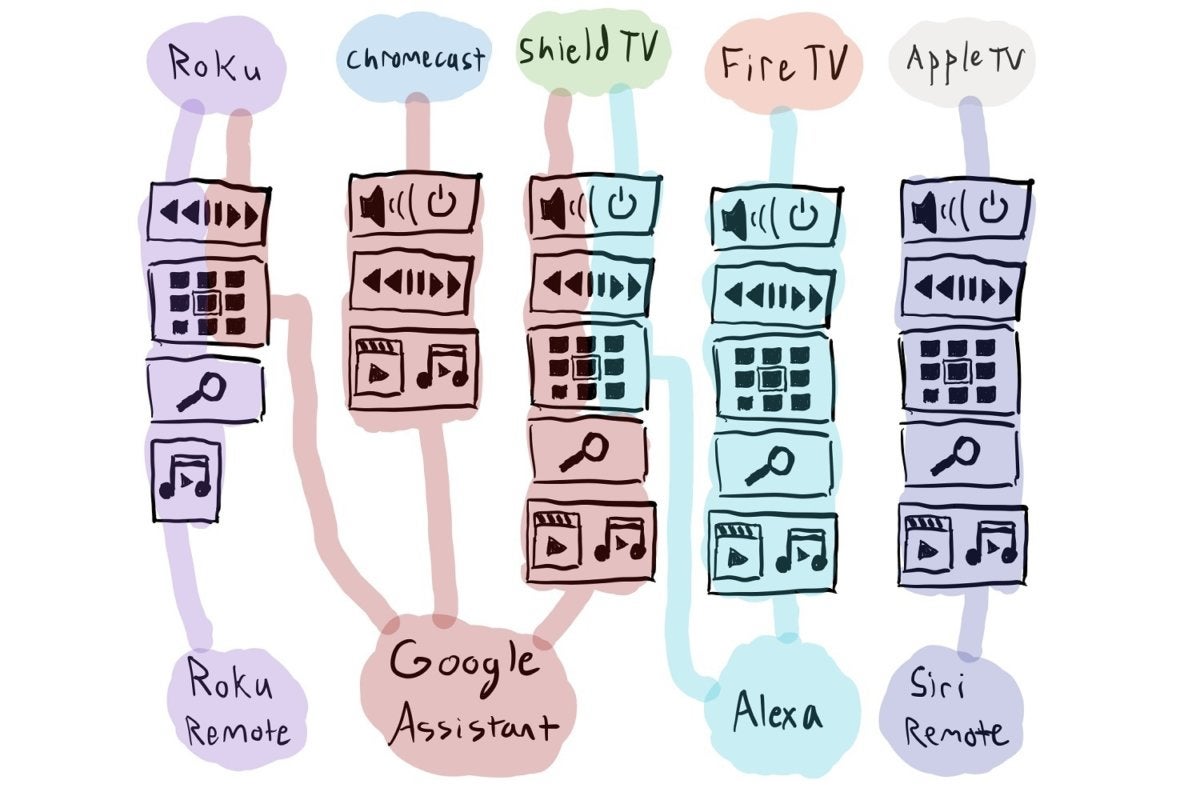 All of these streaming devices are likely to improve their voice controls over time. If you spot something that's been added after publication, or have any questions, just shoot me an email or holler on Twitter.
Sign up for Jared's Cord Cutter Weekly newsletter to get this column and other cord-cutting news, insights, and deals delivered to your inbox.