At a Glance
Expert's Rating
Pros
Excellent cleaning performance
Google Home and Amazon Alexa integration
Easy-to-use app
Cons
No room-mapping capabilities
Our Verdict
With app control, smart-home integration, and a modest price, Eufy's Robovac 30C is a great value.
Best Prices Today: RoboVac 30C
You're not experiencing déjà vu. Eufy's latest RoboVac offering, the RoboVac 30C, looks so familiar because it sports a nearly identical design to the Eufy RoboVac 11 and the Eufy RoboVac 30.
In fact, it's essentially the RoboVac 30 with the addition of Wi-Fi connectivity and Amazon Alexa and Google Assistant compatibility. That puts it at the top of the RoboVac product line, though it still carries a humble price tag of just $300.
Like the RoboVac 30, the 30C uses three brushes—a roller brush for carpeting and two spinning side brushes for wall edges and corners—and it has 1500pa of suction. Two treads and a swivel wheel on the underside enable to traverse multiple types of floor surfaces. A 0.6-liter dustbin slots into the back of the robot vacuum.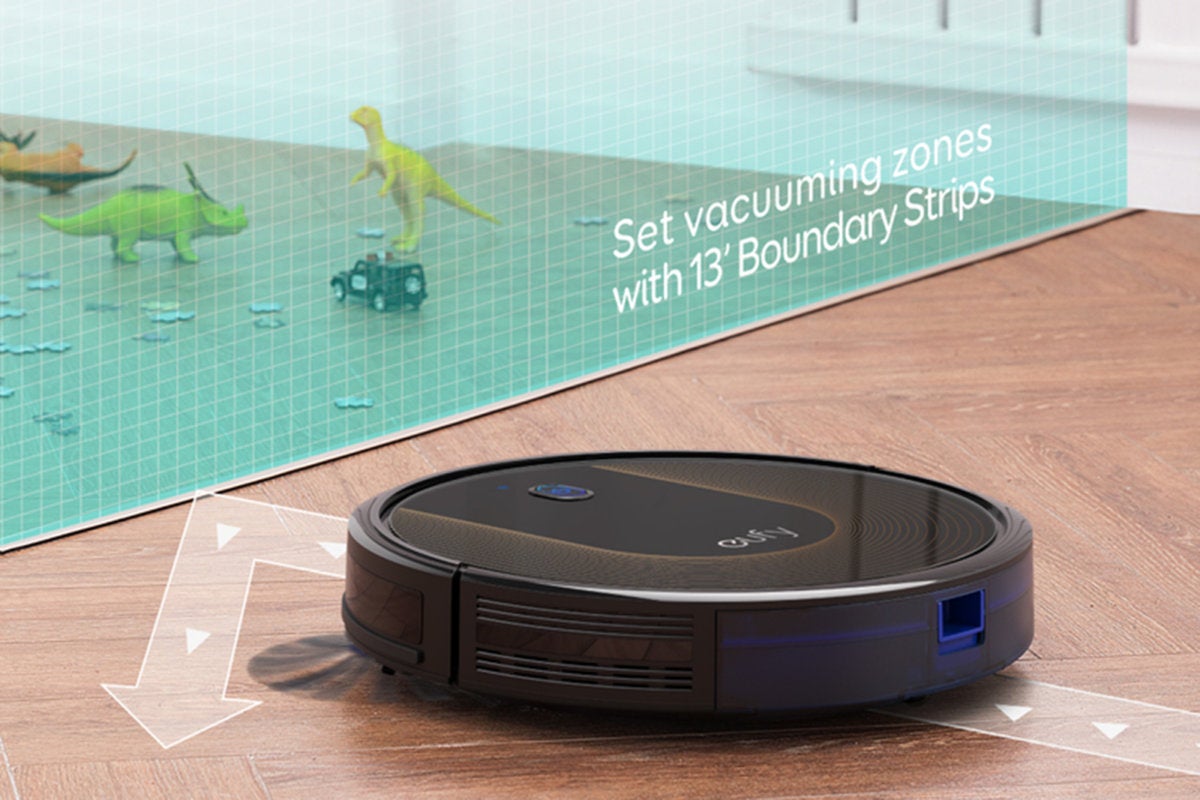 The 30C ships with a roll of magnetic boundary tape you can cut into smaller strips and use to keep the RoboVac out of areas that might pose a hazard. A remote control is also included; this, again, looks identical to the one used with other Eufy RoboVacs, minus the monochrome display, which is now unnecessary as the 30C can be controlled by a smartphone app that displays visual info.
Setup and performance
The 30C works with the EufyHome companion app. Once I downloaded it, all I needed to do was plug in the vacuum's dock, set the 30C on its charging pins, and add it to the app. The app found the vacuum immediately and guided me through the process of connecting it to my Wi-Fi network.
You can select from four cleaning modes using either the physical remote or the app. Single Room if fairly self-explanatory: You put the 30C in room with the door shut and it will give it an intensive vacuuming for 30 minutes. In Edge mode, the vacuum cleans detected walls at reduced speed for 20 minutes. Spot Cleaning mode has the 30C tackle concentrated dirt by cleaning in a spiral pattern for two minutes. In Auto mode, the vacuum automatically chooses he best mode(s) for the job, which makes it best for regular maintenance cleanings.
The 30C navigated about as well as the other RoboVac models I've used, performing touch-and-go maneuvers around obstacles like chair legs with its front bumper sensor. It easily rolled over the edge where my living-room carpet meets my entryway's hardwood flooring, and even it even managed to find its way around a few stray objects my kids left on the floor. It's low height allowed it to smoothly slip in and out from under my couch.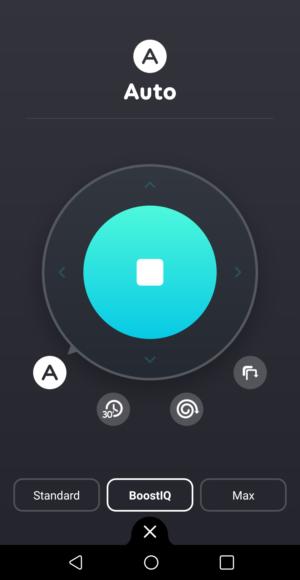 I wasn't surprised by how well the 30C cleaned, as this has been consistent across Eufy's products. Pet hair, dust, and food crumbs are the main debris that ends up on my floors and the 30C left clean path in its wake wherever it went. But the app doesn't notify you when the when the dustbin if full—or push you any kind of alerts, for that matter—so I had to check in periodically to see if it needed emptying.
RoboVac smarts
The EufyHome app basically operates as a Wi-Fi-connected remote control, mirroring the buttons on the physical remote, including start/stop button, direction, suction strength, and a home button to send the 30C back to its dock. The main advantages to using the app—aside from the ability to control the vacuum from anywhere you have a connection to your network—are the Find button, which locates the vacuum if you lose sight of it, and a scheduling feature. This last feature allows you to designate different cleaning times for each day rather than a single time that applies to the whole week. That's flexibility most robot vacuums we've tested don't offer.
To use the 30C with Amazon Alexa or Google Assistant, you must first set it up with those services, and instructions are supplied for each in the user manual. Both give you a basic level of voice control over the 30C, allowing you to tell it to start and stop cleaning, return to its dock, or ask where it is.
Bottom line
Though I liked the RoboVac 30's performance, I didn't feel it offered enough additional features over the similar RoboVac 11s to justify its higher price tag. I have no such reservations about the 30C. The addition of Wi-Fi connectivity, app control, and smart-home integration give you much more for the extra spend, while still keeping it within reach of modest budgets. If you're looking for a little more than a basic budget robot vacuum, the 30C is an excellent option.
Best Prices Today: RoboVac 30C
Note: When you purchase something after clicking links in our articles, we may earn a small commission. Read our affiliate link policy for more details.