At a Glance
Expert's Rating
Pros
Visual plus loud audio alerts available, with ample alert tone choices
MP3 support is an interesting, but ultimately superfluous, feature
Can push alerts to your phone via SAM's app
Cons
Rather homely, antiseptic design
Limited range
Setting up smartphone access can be challenging
Our Verdict
This simplistic gadget alerts you when the mailman comes, but only if your mailbox is close enough to your house.
Update 01-23-19: Since we published this review, the team behind Smart Alert For Mail (SAM) reached out to make the point that its product range will vary depending on the number of obstacles and types of obstacles between the SAM transmitter and receiver. In fact, they now state "typical range is around 150 feet in most installations" in their Amazon listing. Moreover, they pointed out that pairing issues can be resolved by trying a different smart device first, and emphasized that customers can return Smart Alert For Mail if they're not satisfied with the transmitter range. TechHive stands by its review, but nonetheless wanted to relay the product team's message.
The creator of Smart Alert for Mail obviously had a problem that no one else had been able to solve: Knowing when their mail had arrived. Enter Smart Alert for Mail—aka SAM—a gadget with a singular purpose, one which you've already figured out after reading this far.
SAM comes in two pieces, a transmitter that fits in your mailbox and a receiver that sits inside your house. The transmitter attaches via sticky tape and Velcro to the inside of your mailbox (a small antenna wire snakes out through the gap in the door), while the receiver goes anywhere inside your house that's in range of a power outlet (and as close to the transmitter as possible). The transmitter communicates via the unlicensed 433.92MHz frequency band, which gives it 300 feet of range in unobstructed, open air.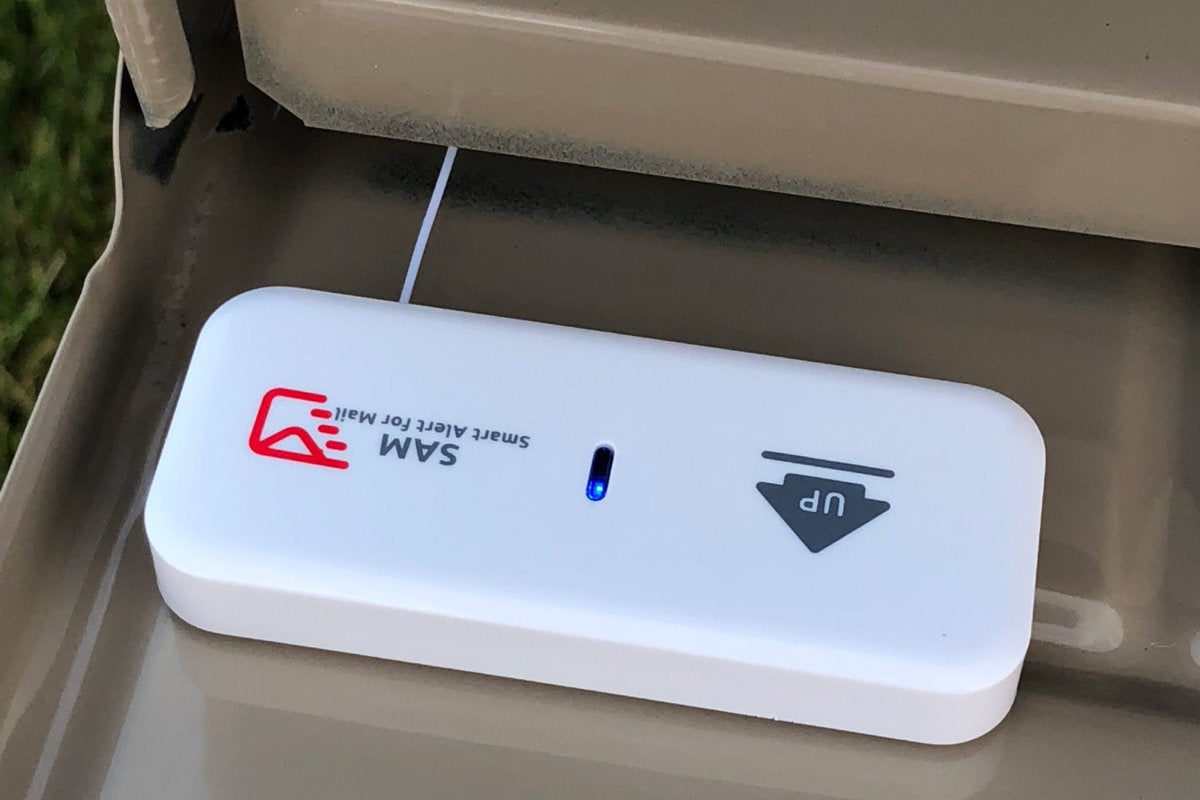 SAM's utility is obviously singular: The transmitter is a simple motion sensor, and when the mailbox is opened, it alerts the receiver. The receiver then emits a chime and turns the large mail icon on the front of the device from green to blue. You can choose from more than a dozen chimes (including The Addams Family theme song) by pressing a button on the side of the receiver. You also set the volume, including mute. If you don't like any of those options, you can use either the USB port or SD card slot on the other side of the receiver to play the song of your choice. This song must be in MP3 format, the thumb drive or SD card must remain attached to the receiver, and you can only load one song, so choose wisely. (Note that SAM will play the entire song, and there's no way to abort it once it starts. You might want to trim the track using Audacity or a similar digital audio editor.)
As a completely optional step, you can connect SAM to your smart phone via Wi-Fi and SAM's basic app. This alerts your phone as well when mail arrives, and it also keeps a log of when your mail was delivered each day, should that information be important to you. Alas, there are no hooks to other smart home gear, so you can't flash your Philips Hue bulbs or have Alexa announce your letter carrier's arrival.
While the basic operation of SAM works as expected, I did experience a few major problems that will prevent me from using it regularly going forward.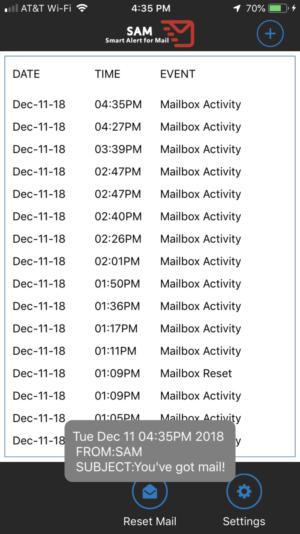 The primary issue is range. While SAM claims 300 feet of range in an outdoor, unobstructed environment, unless you live in a tent in an open field, this isn't realistic, and the company notes that its expected range drops to 120 feet if a single wall is between you and your mailbox. In my environment, which had a single window (but no wall) and some foliage between the transmitter and receiver, I was able to achieve about 150 feet of range. With my mailbox about 220 feet away (as close as I could get the receiver to it), this turned out to be a problem that essentially blocked my ability to realistically use the product at all.
I also encountered serious trouble getting SAM's app to work. The configuration instructions could use some rewriting, but even when followed closely I was never able to get my iPhone to connect to SAM's temporary Wi-Fi network, a step required to connect it to my own wireless router. The system simply kept timing out before I could complete the connection. After nearly an hour of failed attempts, I finally resorted to a workaround: I installed SAM's app on my iPad, configured it there successfully, and then shared the device with my iPhone through a function available in the app. Once this was done, I was able to receive mail alerts on my phone, which are set as push notifications by default.
The range issue is the bigger of the two here, as SAM is a product best suited for people who don't want to (or can't) walk to a distant mailbox several times each day to see if their mail has arrived. If your mailbox is close enough, SAM's utility is limited. For users with mobility impairments or other restrictions that prevent them from checking a mailbox that's nearby, the product could nonetheless merit consideration.