At a Glance
Expert's Rating
Pros
Tons of bass for outdoor thump
Weather resistant, including a membrane touch control panel
Spreads sound nicely without the need for reflective surfaces
Supports True Wireless Stereo for pairing with other speakers
Cons
No EQ controls
Middling sound indoors
Minimal stereo separation (as a single unit)
Our Verdict
The Soundcast VG5 large, loud, and weatherized, and nicely tuned to provide the thump that normal speakers don't provide in open spaces. But there's no EQ, and the bass can be overwhelming indoors. Buy it for the beach, deck, or patio.
Best Prices Today: VG5 outdoor Bluetooth speaker
Soundcast's $500 VG5 is a 17-inch-tall outdoor speaker designed for beach parties and other audio mayhem in large outdoor spaces. Given one of those environments, where the VG5's sound has room to breathe and mix, most listeners will appreciate its sonic qualities. But it's not the speaker you want for smaller spaces or for quiet listening sessions.
Design and specs
I've already mentioned the 17-inch height of the VG5. It's also a hefty 7.75-inches deep and across and weighs in at just under 12 pounds. Those dimensions mean there's plenty of breathing space for the 6-inch down-firing woofer and twin, side-firing 3-inch broad-frequency drivers. The VG5 is stereo, but also supports TWS, aka True Wireless Stereo, so it can act as one half of a wireless speaker pair with another speaker that supports that standard.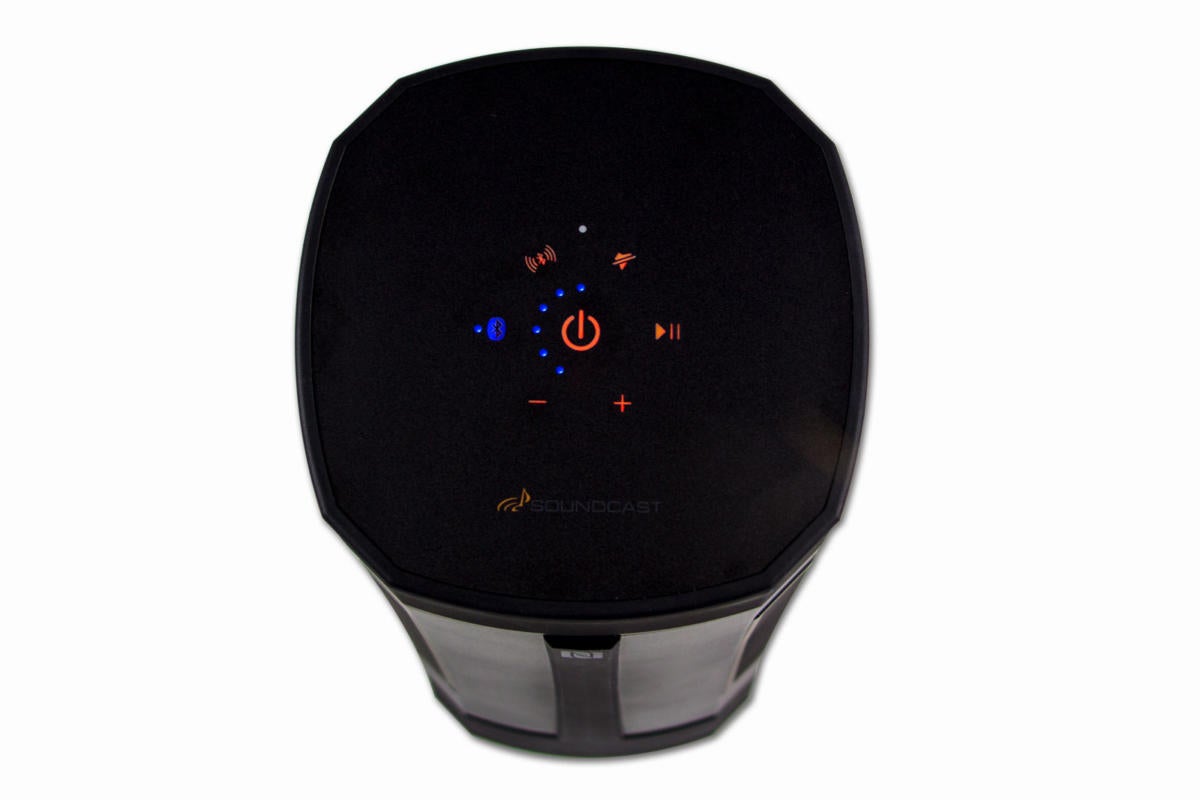 The VG5 is a handsome tower with a convenient recessed handle space that makes it easy to lift or carry. The top is jauntily sloped and home to a backlit capacitive control panel. I'm not big on capacitive touch controls, which don't always respond to my calloused fingers, but they are fine for normal humans and have the distinct advantage of completely sealing out the elements.
The controls provide no haptic feedback, but there are audio and visual clues (lights). In the center of the panel is the power on/off button which is surrounded by a ring of lights that serve as a battery meter. Above those are the TWS indicator, aux input indicator, and mute buttons. To the right is the play/pause button, and to the left the Bluetooth pair and indicator button. Below are the volume down and up controls.
Pulling out a large rubberized captive plug at the bottom of the back of the speaker reveals the aux input, DC input, type-A USB charging port, and the recessed reset button. The bottom can be removed to install and replace the large battery pack.
Sound
I first listened to the VG5 in my small office. Big mistake. For quiet listening and small spaces, this is the not the speaker you want. There's an overwhelming amount of bass, little stereo separation, and underwhelming overall sonic qualities in that type of environment.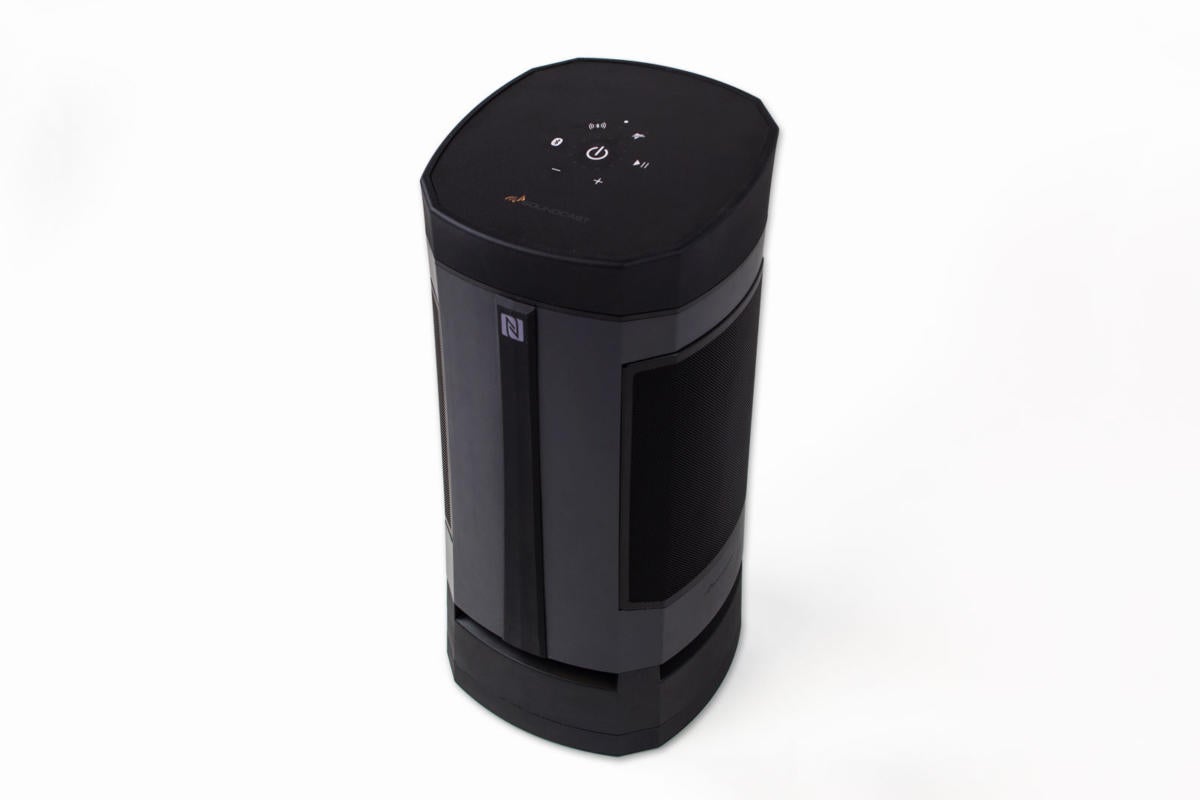 Take this puppy outdoors or put it in a large room, where the emanations of the side-firing full-range speakers have a chance to spread out, and it's a wholly different story. Is it the best speaker I've ever heard? No. But what sounds a tad muddy in a small space gains definition in a large one, and the bass is no longer overwhelming, but nicely bouncy. I think Soundcast missed a bet by not including an EQ, which would allow you to use the VG5 in smaller spaces, too, but it is a quite decent speaker in its intended outdoor role.
Open range speaker
I can easily imagine the VG5 creating smiles while pumping tunes at a pool or beach party, or even at a swankier affair–so long as it's outdoors. But for indoors, unless it's cranked in a room packed wall-to-wall bass-addicted dancers, it's not sonically suited.