At a Glance
Expert's Rating
Pros
Remote pan and tilt
No cloud storage, so no subscription fees
Motion, sound, and temperature alerts
Cons
Underwhelming design
Very narrow viewing angle without resorting to pan and tilt
Our Verdict
The RCA WiFi Camera Security System is an adequate but ordinary performer.
Best Prices Today: RCA WiFi Camera Security System (model HSWIFI1)
RCA has dabbled in outdoor home security with a couple of video doorbells and a floodlight camera. The unimaginatively named WiFi Camera Security System is its first stab at an indoor camera, and its kind of a mixed bag.
While some security camera manufacturers try to make their products less intrusive with small footprints and sleek modern designs, RCA makes no such concessions. The HSWIFI1 uses a chunky cup-style design for both the camera enclosure and its base. The latter has an antenna and a tail-like thermal sensor attached at the back, and the whole unit has a glossy black finish that easily collects fingerprints and smudges when handled.
The camera records event-detected video in 720p, but it has only a 55-degree field of view. That's offset to some extent by its ability to remotely pan 270 degrees and tilt 120 degrees. It also supports two-way talk; night vision; and sound, motion, and temperature alerts.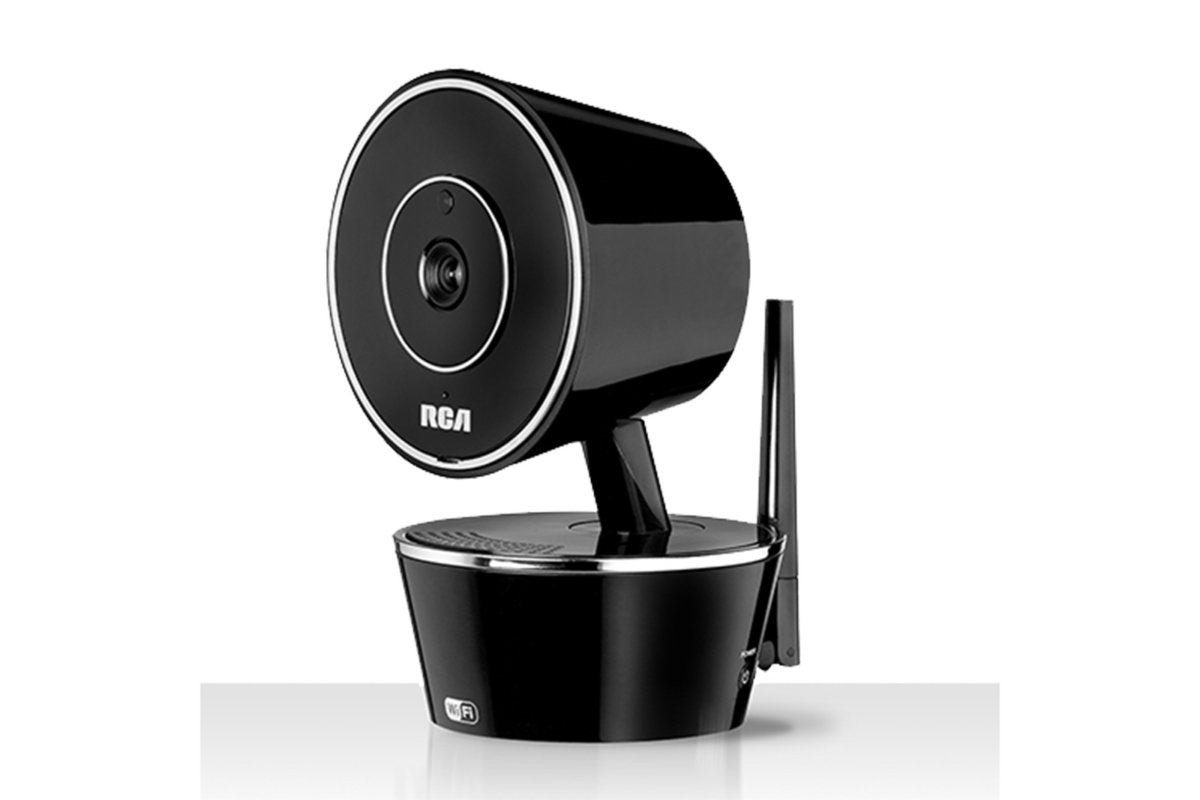 All video is recorded locally to microSD card (not included), so there are no costly cloud subscription fees required.
Setup and performance
The camera pairs with the RCA Wi-Fi Camera app, an important distinction as there are a few different RCA apps in the iOS and Android stores. The app guides you through a simple process of connecting the camera to your network by scanning a couple of QR codes and gets you online in minutes.
The app is no more attractive than the camera, but it provides easy access to all the controls you need. The live-view pane features a temperature indicator in the lower right corner. Left-to-right beneath the pane are a multi-view toggle—the app can support up to four cameras—another for switching between high and standard definition, and a button that takes you to a library of your recorded clips.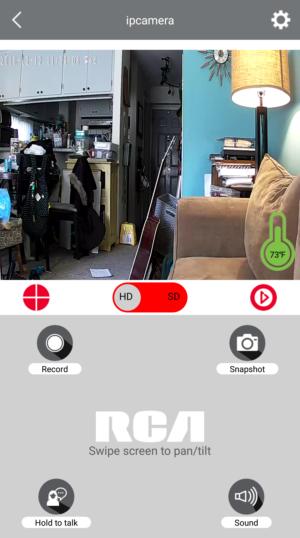 The main camera controls—those for manually recording video, taking a screenshot of the live stream, activating two-way talk, and muting the speaker—are positioned in the four corners of the app's bottom half, rather than in a toolbar, to accommodate a prominent RCA logo in the center. It works, but it's not pretty.
The image was sharp with vivid color, but I could only see about half of my living room no matter where I placed the camera. That meant I relied on the pan-and-tilt feature a lot. Fortunately, it worked very well. You swipe on the live image in the direction you want the camera to move. The camera was responsive without overshooting whatever position I wanted it to move to. It's also virtually silent, only emitting a barely audible buzz when tilting.
The app offers three sensitivity presets for motion detection (Low, Medium, High), and two for sound (Low and High). Both can also be turned off completely. You also have the ability to select a recording time for event-triggered video clips: 20, 60, or 90 seconds.
The camera will also alert you when the indoor temperature rises or falls above defined thresholds. The default values are a high of 100 degrees and a low of 55 degrees, but you can adjust these in one-degree increments or disable the feature altogether.
The push notifications were accurate and timely in testing. You can view a chronology of all your alerts in the app as well, by tapping a mail icon on the home screen.
Bottom line
The RCA WiFi Camera Security System isn't a bad camera but it's not a very inspired one either. The pan-and-tilt and customizable video clip length are highlights, but 720p resolution is disappointing when even the cheapest budget cameras are boasting 1080p. And while the camera and the app function just fine, the design of both feels perfunctory. Budget-minded users looking for simple security will probably be satisfied if they're not too persnickety, but they'll get greater value from such lower-priced cameras as the Wyze Cam v2 and the Xiaomi Mi Home Security Camera .
Best Prices Today: RCA WiFi Camera Security System (model HSWIFI1)