At a Glance
Expert's Rating
Pros
Good reception of weak signals
Antennas can be pointed in two different directions
Easy to assemble
Cons
Large size requires a strong mount
Not designed to receive VHF TV stations
Our Verdict
The Antennas Direct DB8e is a large outdoor antenna for reception of medium to very weak TV signals. In our tests, it was very good pulling in distant stations with minimal interference.
Price When Reviewed
$128.97
Best Prices Today: Antennas Direct DB8e
The Antennas Direct DB8e is a large outdoor antenna for reception of medium to very weak TV signals. In our tests it did a great job of pulling in distant stations with minimal interference.
The unusual shape comes from the antenna type: it's called a bow-tie antenna, because each of the pairs of elements looks like a bow tie. The design is supposed to make the antenna perform well over a broad range of frequencies, and we found that to be the case.
This antenna is intended for reception of UHF TV stations, which are probably the majority of signals in most cities. But in many places, stations can still be found on the VHF-High band and this antenna isn't tuned for that. So before you buy an antenna, read our guide to figuring out which stations you can receive where you live and whether they are UHF or VHF.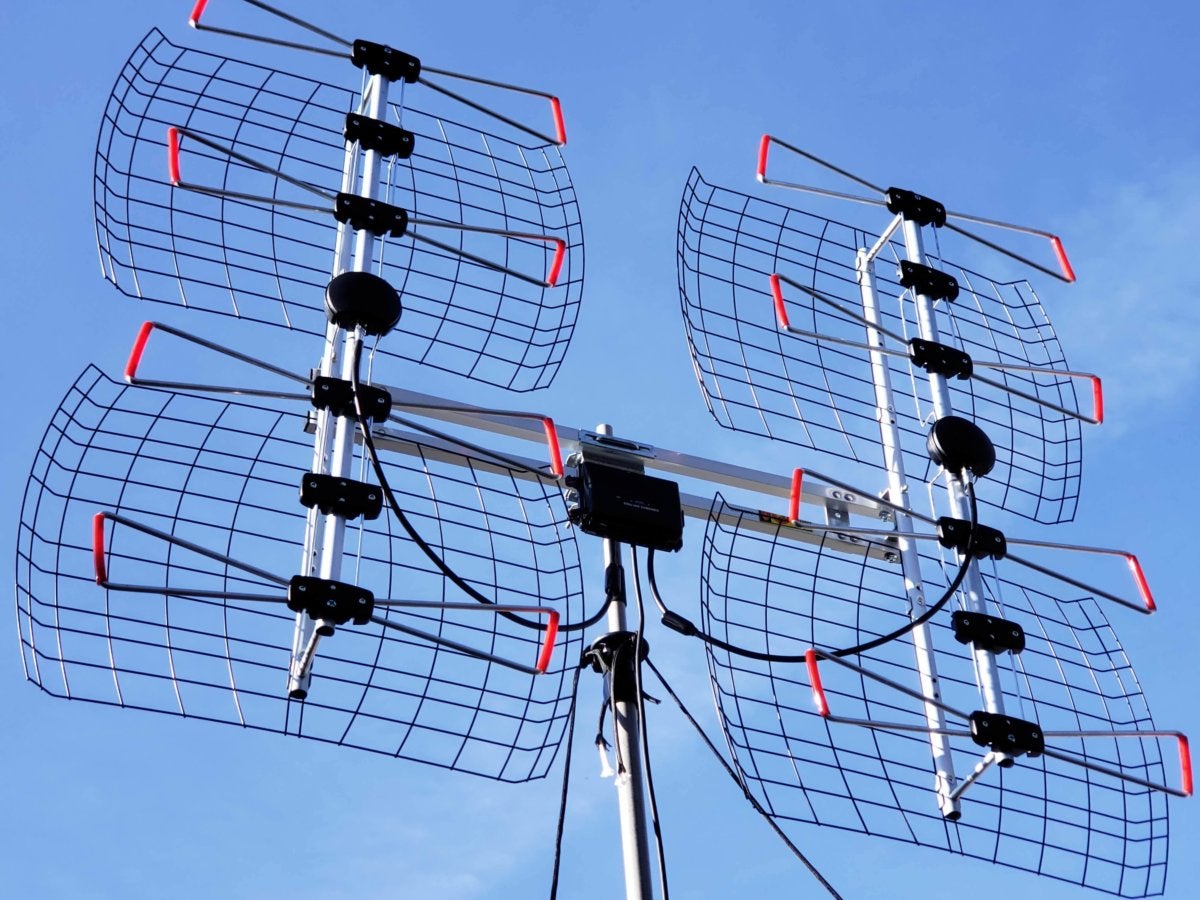 Mentioned in this article
DB4
Price When Reviewed:
$64.54
The DB8e is effectively two Antennas Direct DB4 antennas mounted on a central boom. Cables from the left and right sides come together in a combiner inside a weather proof box mounted in the center of the antennas.
Because of this arrangement, you can set up this antenna in a couple of ways: The first is to align the left and right arrays in the same direction, increasing the total signal received. The second is to point each array in a different direction, to better receive programming from different broadcast towers.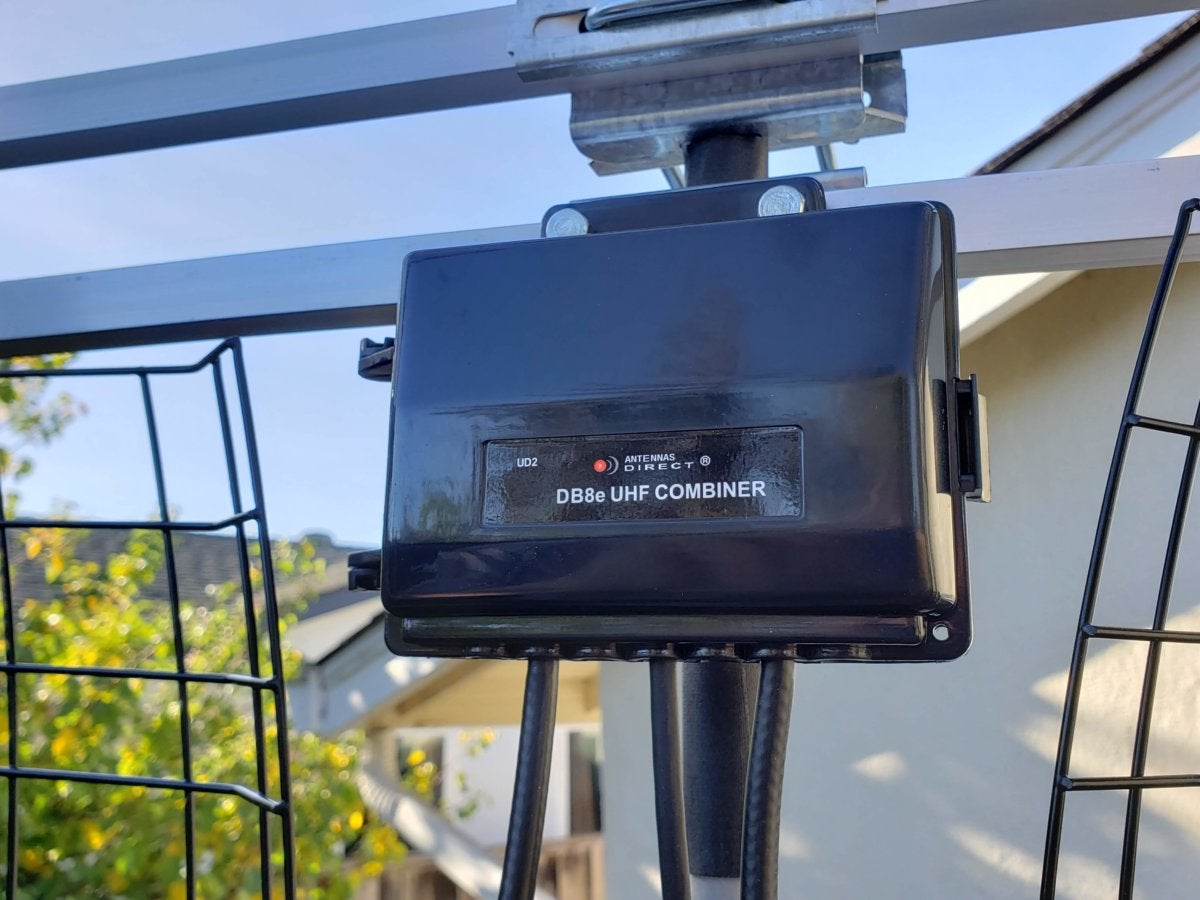 The first method works well if you are dealing with very weak signals, while the second is better if the signals are a bit stronger but 8coming from different directions.
Mentioned in this article
CM-9521HD
Price When Reviewed:
$149
If you want to pull in very weak stations from different directions, you'll need an antenna rotator. The Channel Master CM-9521HDis an excellent choice, but before you buy a rotator, TechHive recommends putting the antenna up on your roof and seeing if it can pull in everything you want to watch.
If you live in an area with medium-strength TV signals, you can probably get away with the slightly smaller and cheaper DB4 if all your programming is coming from the towers that are in the same direction.
Performance
TechHive tests antennas by performing a number of scans to see how many channels are received. Over the course of the scans a pattern emerges and we get to see how well an antenna pulls in the various strong and weak channels on air in the San Francisco and Sacramento areas.
In our tests, the DB8e managed to receive 12 TV channels for a total of 53 stations. An additional 2 TV channels were received, but not at a sufficient level for uninterrupted viewing.
This ranked it one channel above our current second-ranked outdoor antenna, the Antennas Direct 91XG.
Mentioned in this article
CM-7777 Titan 2 Amplifier
Price When Reviewed:
$69.99
We didn't use a signal booster in these tests, but that can help further improve reception. We recommend a mast-mounted model like the Channel Master CM-7777 Titan 2. It mounts onto the antenna mast and is fed with power through the coaxial cable.
During testing, the antenna was aligned so that both the left and right sides were facing the same direction.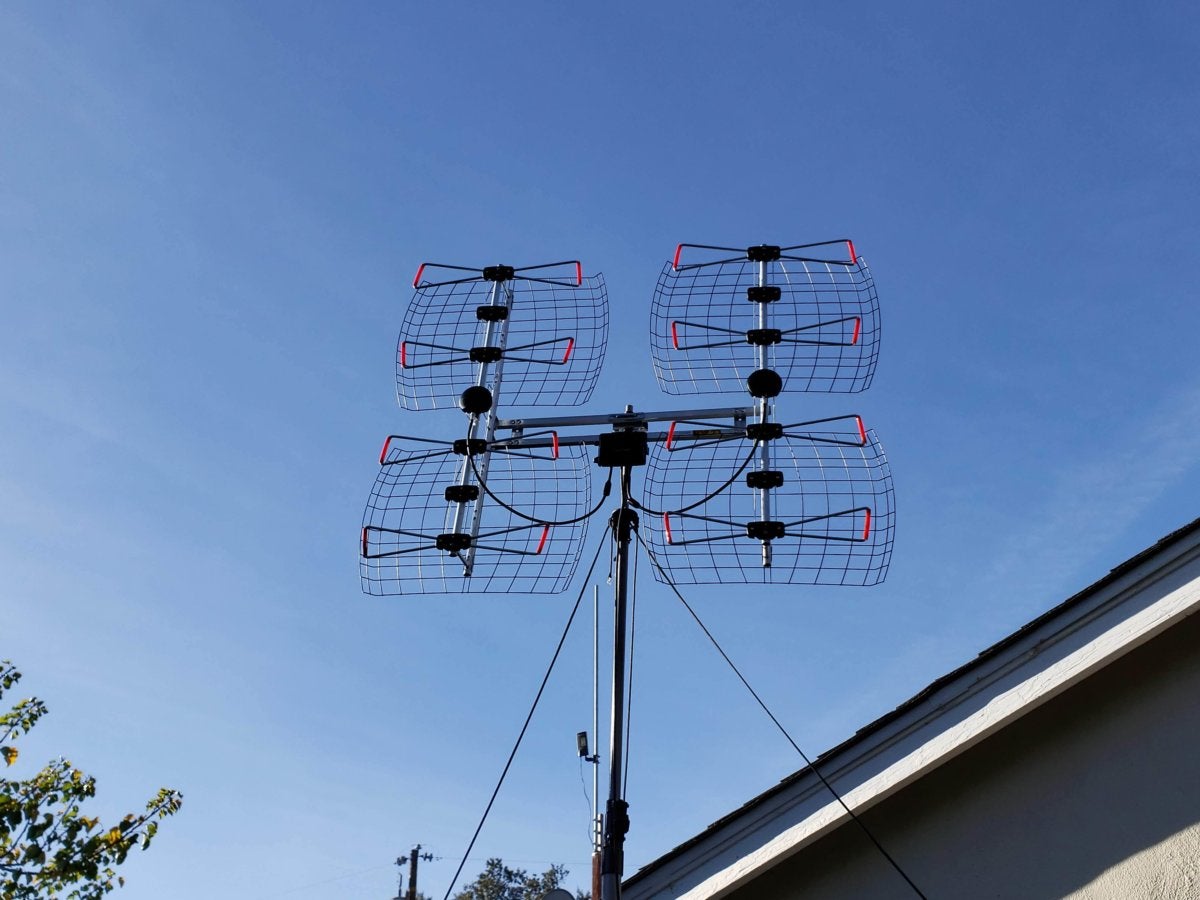 Parts and Installation
The DB8e ships in a large box with the majority of parts already assembled. The two rear reflector arrays and front reception elements need to be screwed together with supplied spacers, and each half needs to be attached to a cross brace.
The antenna combiner connects in the center, and Antennas Direct supplies a couple of short lengths of coaxial cable to accomplish this.
Like all roof-mounted antennas, the DB8e doesn't ship with coax cable to connect to your TV. As every home is different it would be difficult to estimate the correct length. You can find coax cable at your local electronics or hardware store or online.
This is a large and quite heavy antenna, so you'll need a mast that is firmly attached to your roof. A mount is not included in the box. If you have it 10 feet or higher and you live in a windy area then you might want to also consider guy wires to stabilize it.
Be careful with installation: Don't install it anywhere near overhead wires, and consider hiring a qualified antenna installer to do the job for you. You can suffer severe injuries or death if you fall off a roof.
Conclusion
The DB8e performed really well in our tests and should be considered by anyone living in a fringe reception area with weak signals. The ability to direct each of the arrays in different directions will help if you're pulling in signals from different markets, but this will also reduce the signal level.
When it comes to fringe reception, it's important to do your homework. The resources outlined in TechHive's guide to choosing a TV antenna will help you discover which TV stations you can realistically expect to receive and what type of antenna you'll need.
Best Prices Today: Antennas Direct DB8e