At a Glance
Expert's Rating
Pros
Good reception of weak signals
Directional to help avoid interference
Sturdy construction to stand up to the weather
Cons
Roof mounting is more complicated than indoor mounting
Might require a rotator is the broadcast towers you're tuning into are far apart
Designed only to receive UHF stations
Our Verdict
The roof-mount Antennas Direct 91XG does a great job of pulling in weak TV signals.
Best Prices Today: Antennas Direct 91XG
The Antennas Direct 91XG is a large antenna, designed for reception of medium to very weak signals in the UHF broadcast band, a task it performs very well.
The 91XG looks like an old-school antenna and is best mounted on a mast on top of your house, because that's where it will get the best signals. If you're dealing with weak reception, you need an antenna as high as possible and as far from trees and other obstructions as you can get it.
Do your homework before you begin. Trying to receive weak or very weak TV signals is a bit of an art, so read TechHive's guide to determining which TV stations you should realistically expect to receive in your location, and just how strong or weak their respective signals are.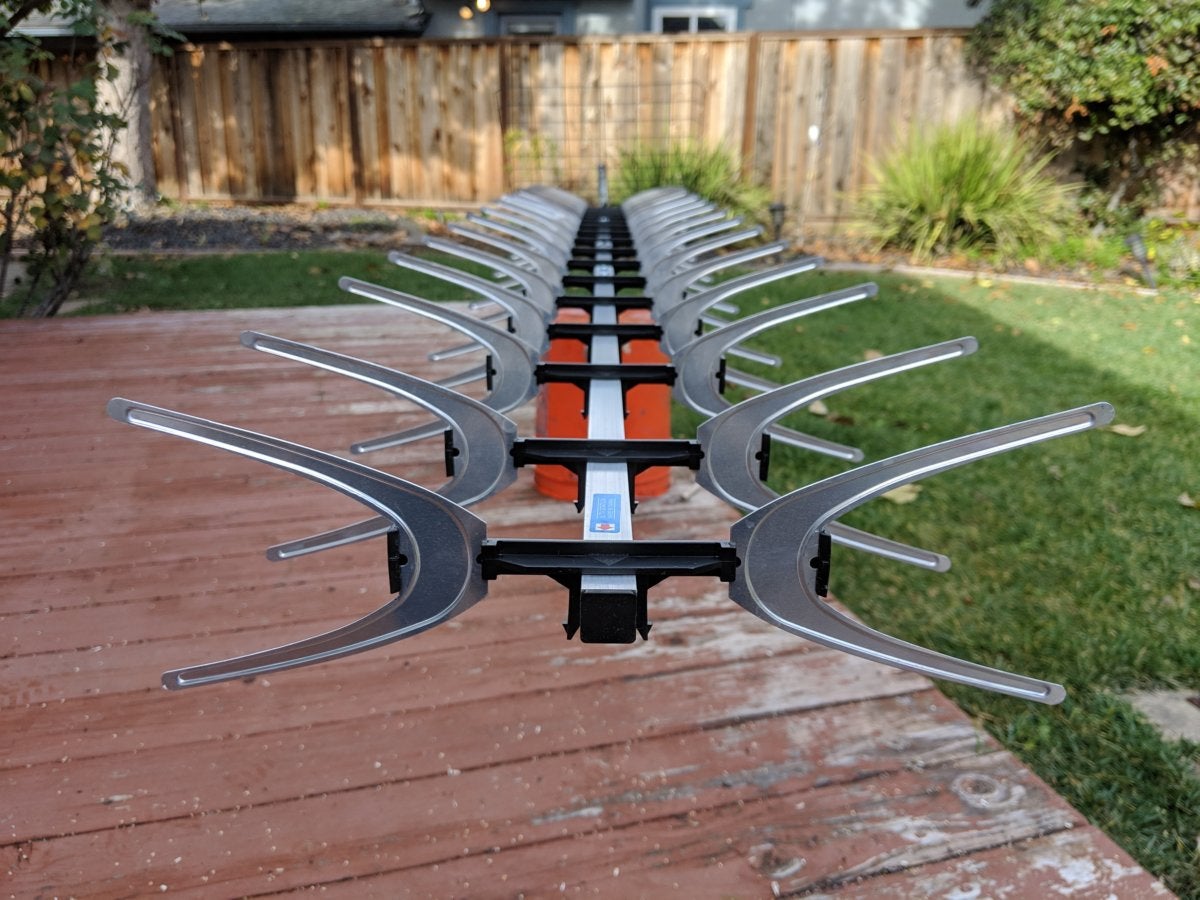 The 91XG a is very directional, so you'll also need to figure out where the broadcast towers whose signals you are attempting to receive are located.
It's important to remember that this antenna is intended for reception of UHF TV stations. These days, that's probably the majority of stations in most cities, but some continue to use VHF frequencies.
If you want to receive VHF stations—and TechHive's TV antenna selection guide will tell you—we recommend you first try the 91XG to see if it also picks them up. If the VHF signals are strong enough, then it might be all you need. If not, you'll need a second antenna for VHF channels.
Performance
TechHive tests antennas by performing a number of scans to see how many channels are received. Over the course of the scans a pattern emerges and we get to see how well an antenna pulls in the various strong and weak channels on air in the San Francisco and Sacramento areas.
In our tests, the 91XG performed very well, successfully receiving 11 digital channels for a total of 55 TV stations. It pulled in two additional channels, but not at levels high enough for a stable picture.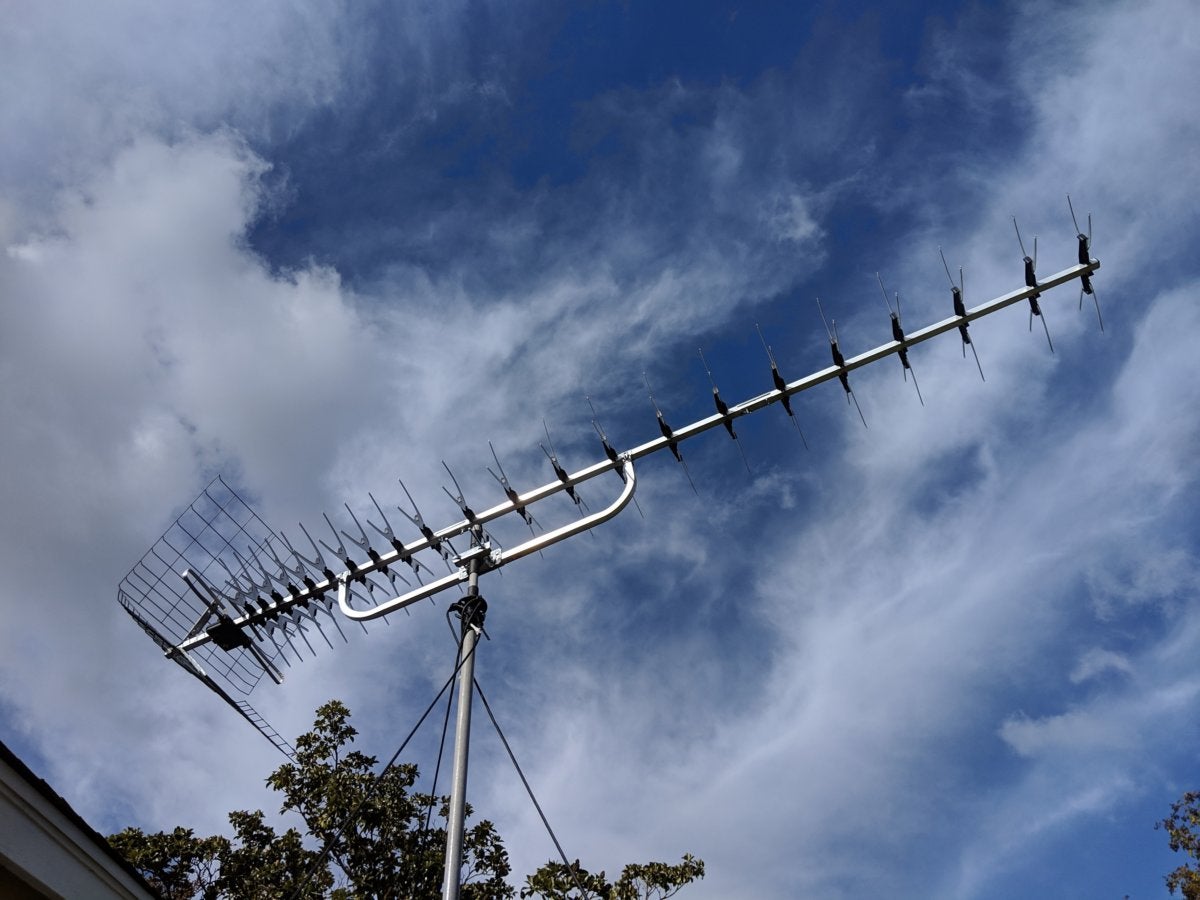 Mentioned in this article
CM-7777 Titan 2 Amplifier
Price When Reviewed:
$69.99
For the 11 channels it did receive well, signal levels were strong across the UHF band. For the other two, a masthead amplifier might have helped. TechHive recommends one of the models from Channel Master, such as the CM-7777 Titan 2. It mounts onto the antenna mast and is fed with power through the coaxial cable.
The multiple elements on the 91XG have the effect of focusing the antenna along the direction of the main beam, which means it's great at rejecting interference that might impact your reception.
Unfortunately, this design also compromises the antenna's ability to receive signals from broadcast towers that are in other directions.
Mentioned in this article
CM-9521HD
Price When Reviewed:
$149
So if you live in an area where the desired towers are more than about 40 degrees apart, you might need to add an antenna rotator to your mast. The Channel Master CM-9521HDis an excellent choice.
Before you buy a rotator, TechHive recommends putting the antenna up on your roof and seeing if it can pull in everything you want to watch.
The antenna did manage to receive one VHF-High station, although it's not designed to work on this band. So, if you have powerful local VHF signals, you might be lucky with this, but it's really intended for UHF reception (broadcast channels 14 to 51).
Parts and Installation
You'll need to put the 91XG together. It's a large antenna, so coming fully assembled would require something much larger than the compact box it ships in. Fortunately, it's an easy job.
The main boom comes in three pieces, and once they are connected, the elements are snapped into place along the length of each piece. Plastic connectors hold these firmly in place. Then just the reflectors are screwed onto the rear of the boom.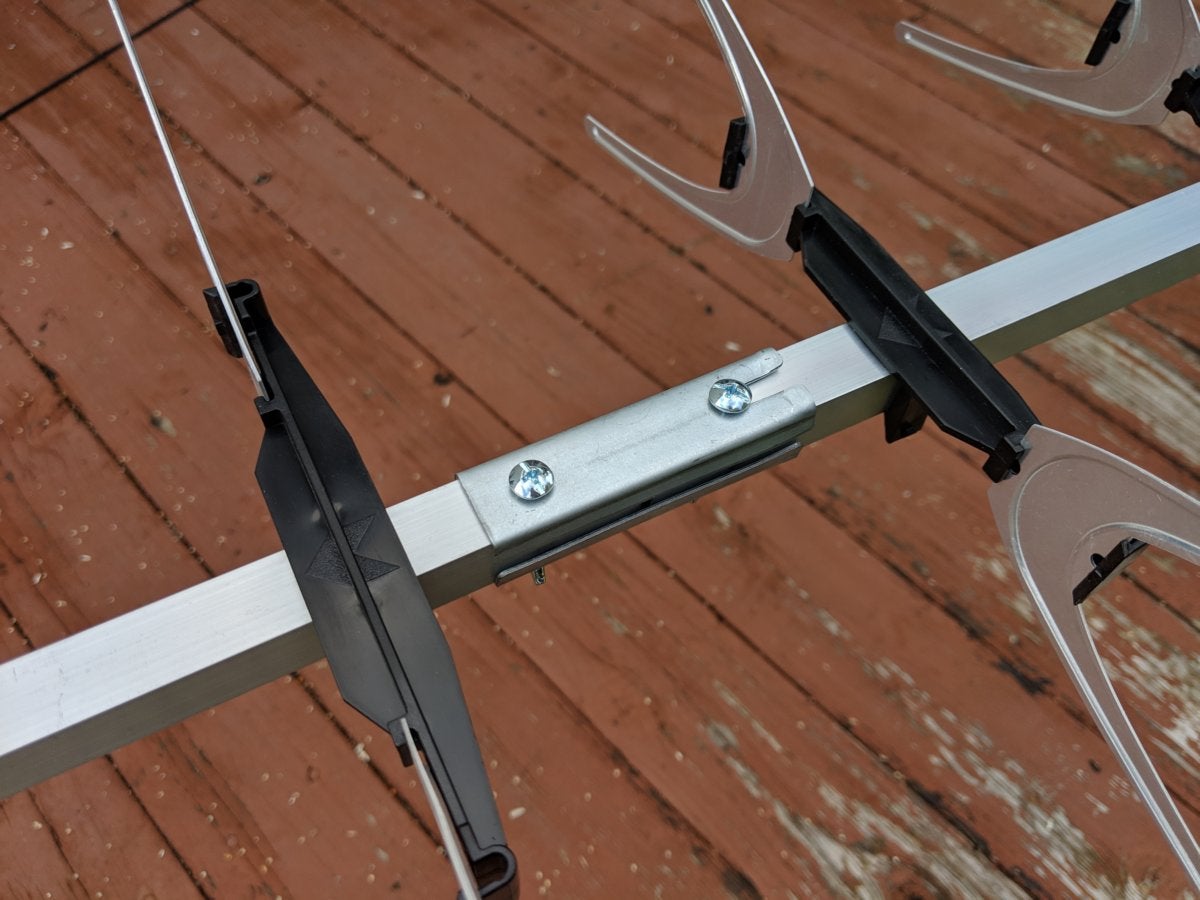 As with other roof-mount antennas, the 91XG doesn't ship with coaxial cable, because it's difficult to estimate the amount needed. You can easily find coax cable at your local electronics or hardware store or you can buy it online. If you have an unused satellite TV installation, you can make use of the existing coax that runs from your roof to your TV.
You should also pick up a weather-proof connector sleeve—a small rubber protector that sits over the coax connector on the antenna and keeps water out.
Conclusion
The 91XG looks old-fashioned, but it's performance is great. If you're trying to receive weak TV signals, nothing beats an outdoor antenna
But be careful with installation. Don't install it anywhere near overhead wires, and consider hiring a qualified antenna installer to do the job for you. You can suffer severe injuries or death if you fall off a roof.