At a Glance
Expert's Rating
Pros
Tight integration with TVs operating Roku OS
Very good audio performance with movies and music
Both the primary and secondary remotes support voice commands
Cons
Compatible only with Roku TVs
No option for adding a subwoofer or surround channels
You might need mounting accessories if your furniture isn't wide enough to place the speakers beyond the edges of your TV's screen
Our Verdict
These wireless speakers deliver great sound and tight integration with Roku TVs, but those are the only TVs they're compatible with.
Best Prices Today: Roku TV Wireless Speakers
Proprietary devices—hardware whose functionality is limited to one manufacturers' product line—aren't unheard of in the consumer electronics market. But the Roku TV Wireless Speakers are the first proprietary loudspeakers I've ever encountered. If you own a Roku TV or a Roku soundbar, they're worth a listen. If you don't, move along, there's nothing to see here.
With few exceptions, the speakers built into modern flat-screen TVs sound terrible, especially in terms of bass response. The typical TV chassis is just too thin to move the amounts of air required to produce robust sound. That explains the explosive growth in soundbars (and sound bases) over the past few years. You would think the near universal presence of HDMI on modern TVs would have eliminated the need for a proprietary speaker, but Roku's design decisions do deliver benefits along with one significant downside: You won't be able to use them with your next TV unless it's also based on the Roku OS.
HDMI? Who needs it?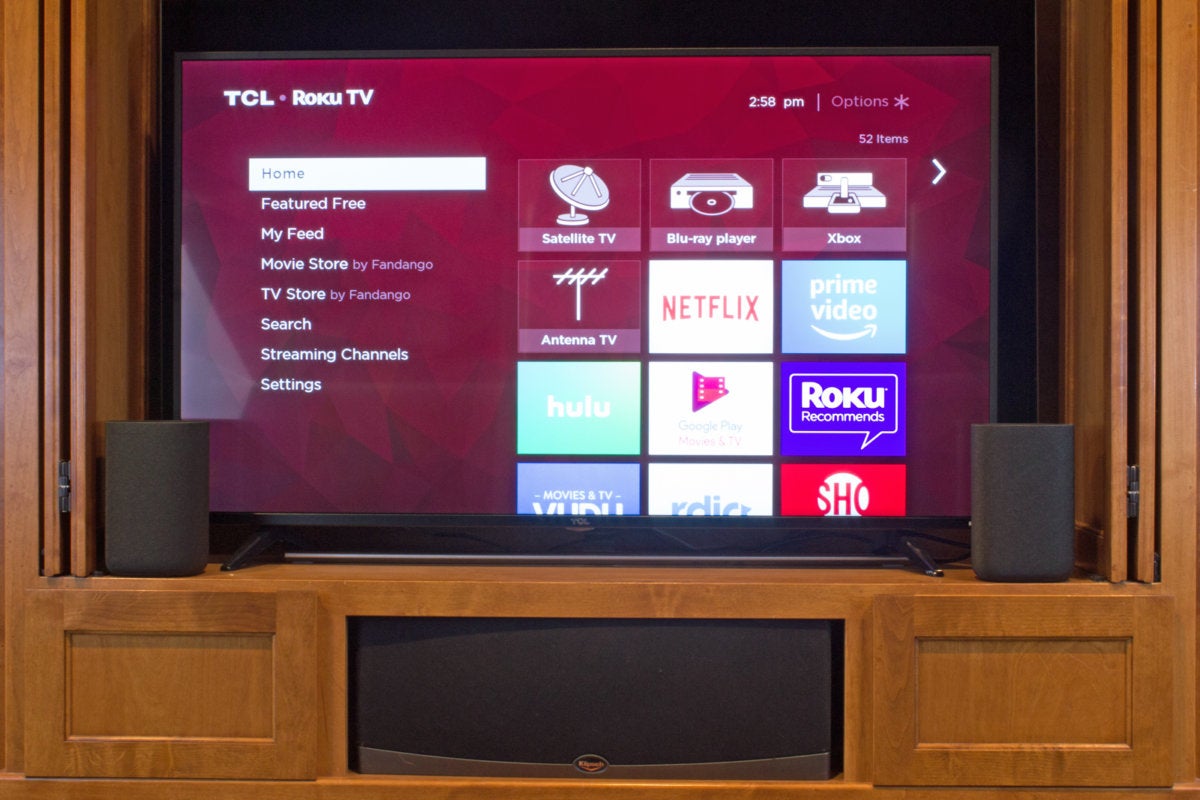 The biggest benefit, of course, is wireless connectivity—wireless as far as connectivity to your Roku TV, that is. You don't need a cable—HDMI or otherwise—to connect the speakers to your Roku TV. There's no wire tethering the left speaker to the right one, either. That's unusual, but each speaker is powered independently, so each one does have a detachable power cable. That could be a problem if you don't have enough electrical outlets in the area your TV is set up, but a multi-outlet surge protector (or a power strip at the very least) will take care of that issue. The speakers connect to your Wi-Fi network via an onboard dual-band 802.11ac adapter, and they support Bluetooth 4.2 for streaming music from your smartphone or tablet. The speakers do not support the aptX codec.
The second most important advantage Roku's speakers deliver is fabulous stereo separation compared to the typical entry-level soundbar. The downside on this front is that you get only stereo. Roku doesn't attempt to fake surround sound, and there is no provision for adding additional speakers—wireless or otherwise—for that purpose (unless—starting in Feburary, 2020—you also have a Roku soundbar and reconfigure the Roku TV Wireless speakers as surround channels). That said, the speakers produce a wide sound stage with a defined center when appropriate. I'll take that over pseudo surround sound every time. Roku declined to answer a question about the possibility of adding a subwoofer down the road, but it can't be done today (here again, that changes with Roku's upcoming update).
Roku TVs can be great values
TCL 6-series 4K UHD LCD Roku TV (55-inch class, model 55R617)
Price When Reviewed:
$799.99
In a briefing ahead of my review, a Roku spokesperson explained that the company decided to build conventional speaker cabinets because it would allow them to use larger drivers. A soundbar cabinet would need to sit in front of the TV (at least when placed on a piece a furniture), so its height would need to be limited so that it wouldn't block the TV's display or its infrared receiver.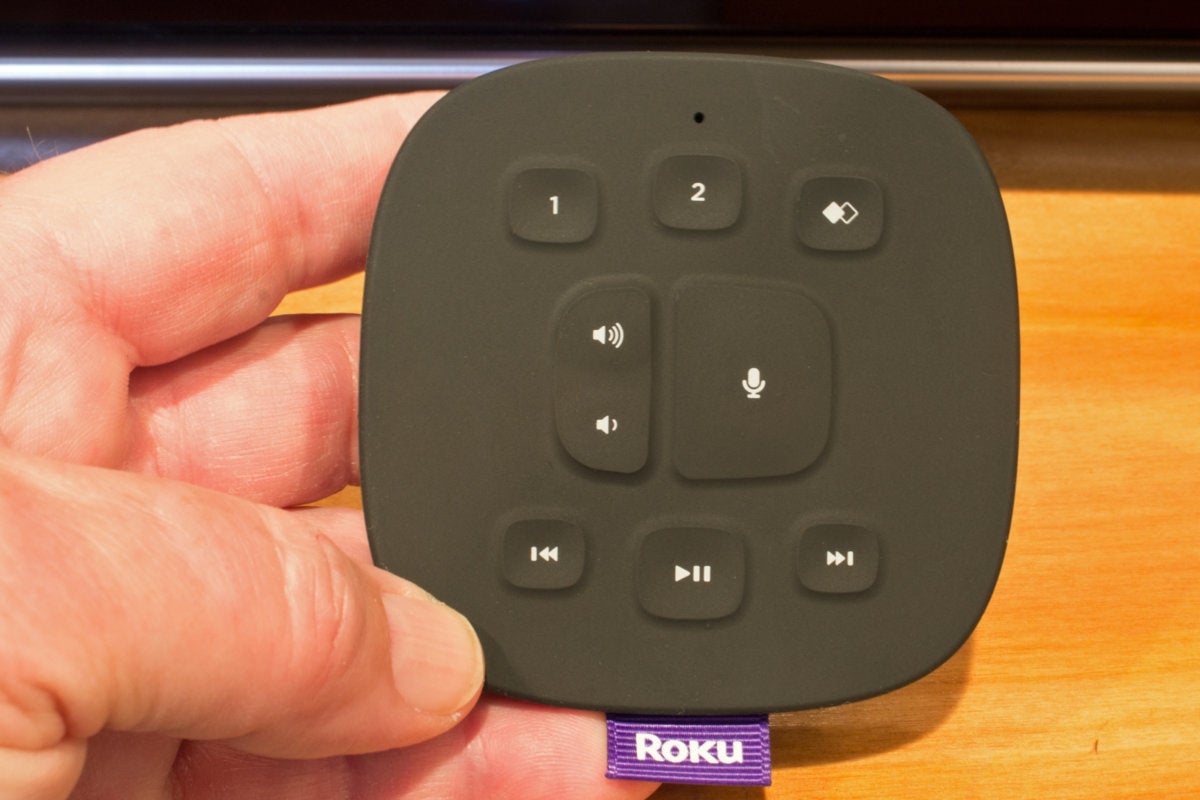 That's sound reasoning, but I found the speakers' form factor to be a challenge in my home theater: My TV is installed in a credenza that's just wide enough to accommodate a 55-inch flat screen. There wasn't enough room to set the speakers, each of which measures 7.7 inches high by 4.9 inches deep and wide, to the left and right of the 49-inch TCL Roku TV I used for my evaluation without the speaker cabinets blocking parts of the display. To avoid the possibility of compromising their sound by boxing them in this way, I set each one on a TV tray outside and beneath the credenza for my listening tests. Each speaker is outfitted with a conventional 1/4-inch threaded mount, so it should be easy to find compatible wall mounts or stands if you encounter the same issue I did.
Roku declined to disclose much information about these speakers beyond what's published on its website, but I was able to obtain a few extra details: Each four-pound cabinet houses one 0.75-inch tweeter and one 3.5-inch woofer, which are driven by a dual-channel Class D amplifier. I can't tell you what materials are used in the construction of the cabinets or drivers, and I can't provide details on the amp's power rating, signal-to-noise ratio, or the speakers' frequency range.
Are two remotes better than one?
Roku provides two remote controls with these speakers, both of which support voice commands. As such, that could be an upgrade to the remote that came with your Roku TV. The primary remote can control both the TV's user interface and the speakers, but the all-new Roku Touch tabletop is more interesting: It's square with rounded corners, and you don't need to pick it up to use it. It's outfitted with a speaker as well as a microphone, which allows the remote to talk back to you.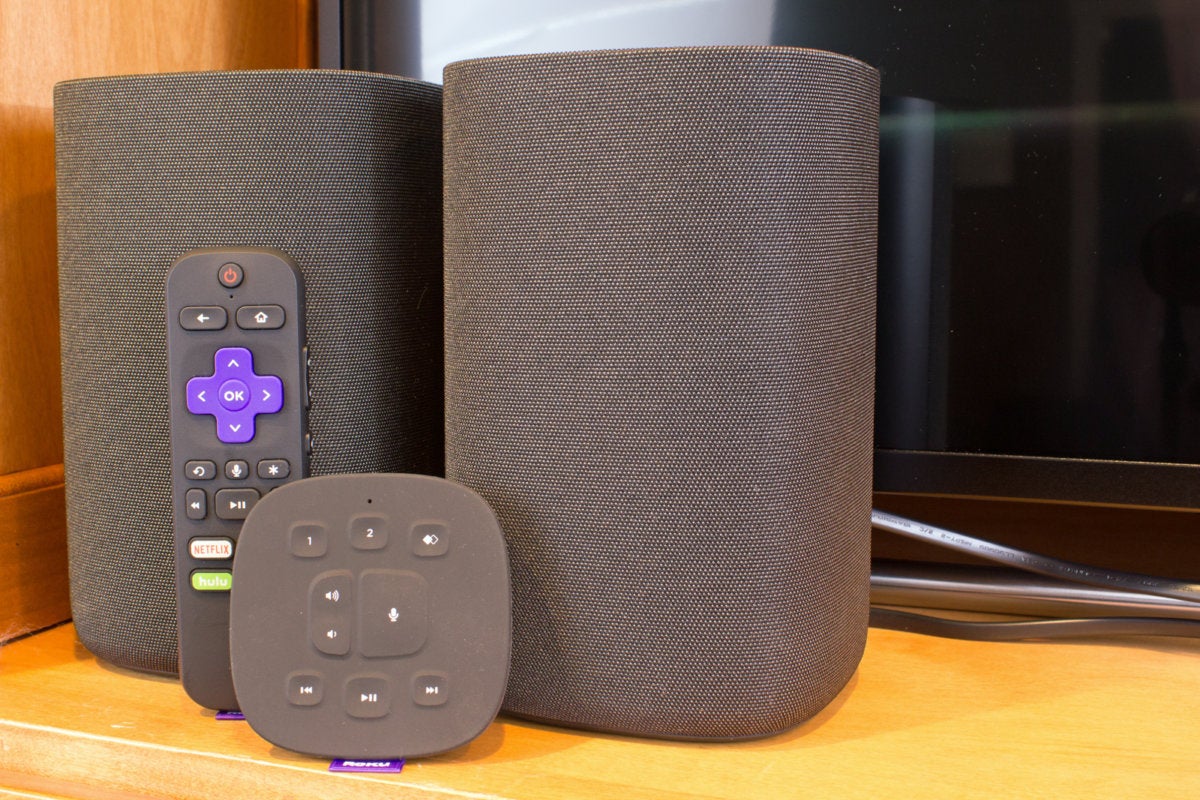 When I held down the mic button and said "Play Eric Clapton," for example, the remote responded "Here is Eric Clapton radio station, from Pandora" and proceeded to play that station from my Pandora account. Do this with the primary remote and you'll get the same verbal confirmation, but from the speakers. You can use voice commands to initiate music streams from iHeartRadio or TuneIn instead of Pandora, if you prefer, but the feature is not available with Spotify today. (The speakers do support Spotify Connect, but you must use the Spotify app with that service.)
Mentioned in this article
Sonos Beam
Price When Reviewed:
$399.00
The Roku Touch is most useful when you're streaming music, especially if you're doing that while you're not in front of the TV: It has buttons for volume control, play/pause, skip back, and skip forward. A mic button triggers the Roku TV OS to listen for your voice commands. Two preset buttons can memorize voice commands (one command for each button), so that pressing the button will repeat that action at a touch of the button. A third button in that row is reserved for future use.
Audio performance and bottom line
It's easy to find speakers that sound better than the ones built into most flat-screen TVs. That said, the Roku TV Wireless Speakers deliver whopping amounts of bang for the buck. They're very impressive for $200 speakers, and that's before considering how tightly they integrate with a Roku TV. Using the same remote you use to control the TV, you can call up two different menus for customizing the speakers' performance.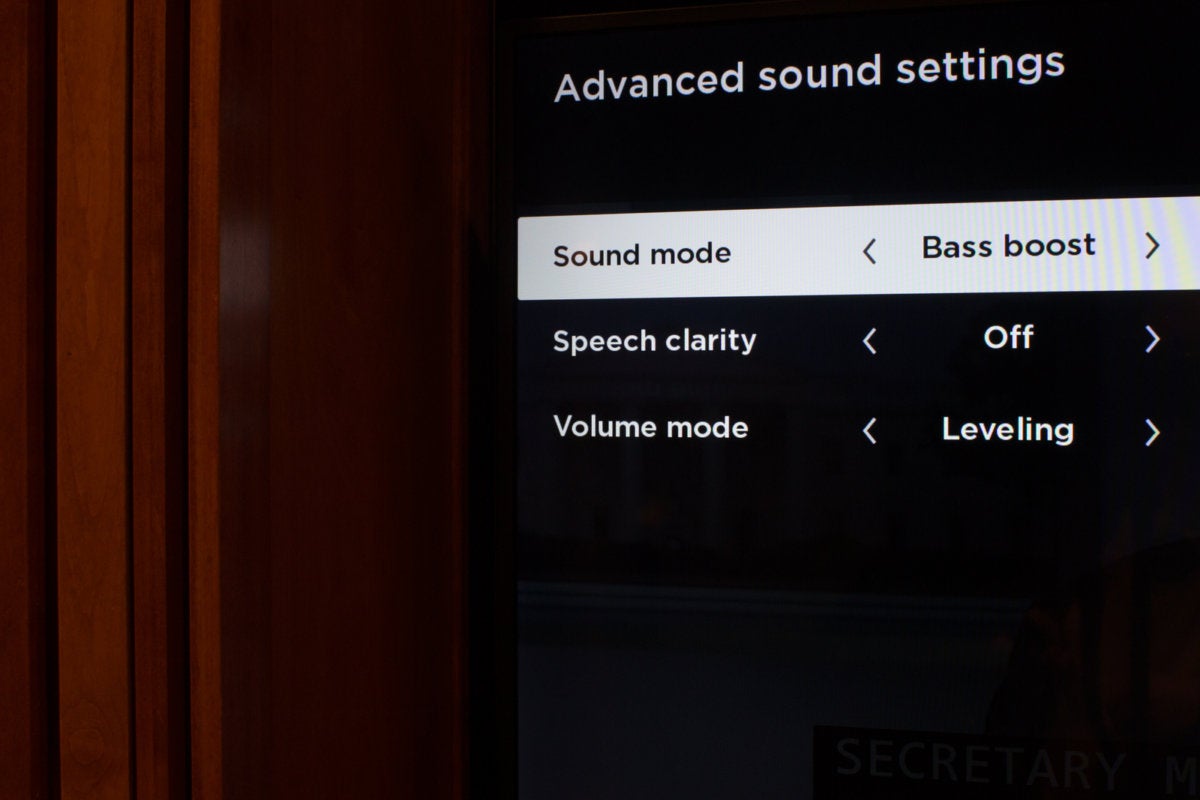 Press the star key on the primary remote to summon the TV's settings menu, select Sound Mode, and you'll be presented with three options: Normal; Bass Boost, which increases low-end frequencies; and Reduce Bass, which de-emphasizes low-end frequencies. Choose Advanced Sound Settings and you can turn on Speech Clarity, which emphasizes the frequency range that human voices occupy (there are three settings here: off, low, and high); enable Night mode for late-night TV watching; and turn on a Leveling feature that automatically lowers the volume in loud scenes and increases it in quiet ones.
I found the speech clarity feature to be slightly grating even at the low setting, but people with compromised hearing are likely to appreciate it. The leveling feature can compensate for loud commercials, but I wouldn't enable it for movies, since it could interfere with the soundtrack. If the director intends for a scene to be quiet, that's the way I want to experience it.
The Roku TV Wireless Speakers deliver very good audio performance with both movies and music. They can get very loud, too, but you won't get the feel-it-in-your-chest bass response that a good subwoofer can deliver. In fact, I found that the Sonos Beam soundbar delivered more low-end oomph than this pair of speakers could muster. The Beam is also a smart speaker that can be integrated into a multi-room audio system, features Roku's speakers don't offer. But the Beam costs twice as much and can't be as tightly integrated with a Roku TV.
If you own a Roku TV or soundbar, these speakers are an easy recommendation. But it bears repeating that they are pretty much useless for any other application.
Best Prices Today: Roku TV Wireless Speakers