At a Glance
Expert's Rating
Pros
Built-in preamp lets you connect to a wide range of equipment, with a bypass switch if you already have a favorite phono preamp
Compatible with 33-, 45-, and 78 rpm records
USB port makes it easy to digitize vinyl using any computer (no driver needed)
DJ- and pro-friendly features
Cons
Hardwired RCA output cables
Direct-drive motor can transfer vibration to the platter
Our Verdict
This easy-to-use and flexible turntable will not only spin up your records, it will digitize them, too.
You need a good turntable to enjoy the warm, intimate sound of vinyl records. But albums and 45s don't make good travel companions, so what's a mobile music lover to do? With Audio-Technica's AT-LP120-USB turntable, you can listen to your records when you're home, and digitize them for playback on your smartphone or portable digital audio player when you're away.
Direct drive design
The AT-LP120-USB is a direct-drive turntable, which means there's a motor beneath its spindle turning its platter. Direct-drive turntables deliver fast start and stop times and excellent torque, and there's no belt to worry about wearing out over the years.
The traditional drawback in a direct-drive design is that vibrations produced by the motor can be transferred to the platter and record. Many audiophiles prefer belt-driven turntables, where the motor is decoupled from the platter to mitigate this problem. Belt-driven turntables, however, aren't always a good choice for novice turntable users unaccustomed to handling records.
Built-in preamp
Most turntables need to be connected to a phono preamplifier that can boost its signal to the level that a regular amplifier can work with. The AT-LP120-USB comes with one built in, rendering it virtually plug-and-play. This means you can connect its line-level output directly to a pair of self-powered speakers, such as Shinola's Bookshelf speakers at the high end, or Edifier's S2000 Pro if you're working with a more modest budget. In fact, you can use the AT-LP120 out of the box with just about any audio gear. If you have an A/V receiver in your entertainment center, you can connect this turntable directly to its input.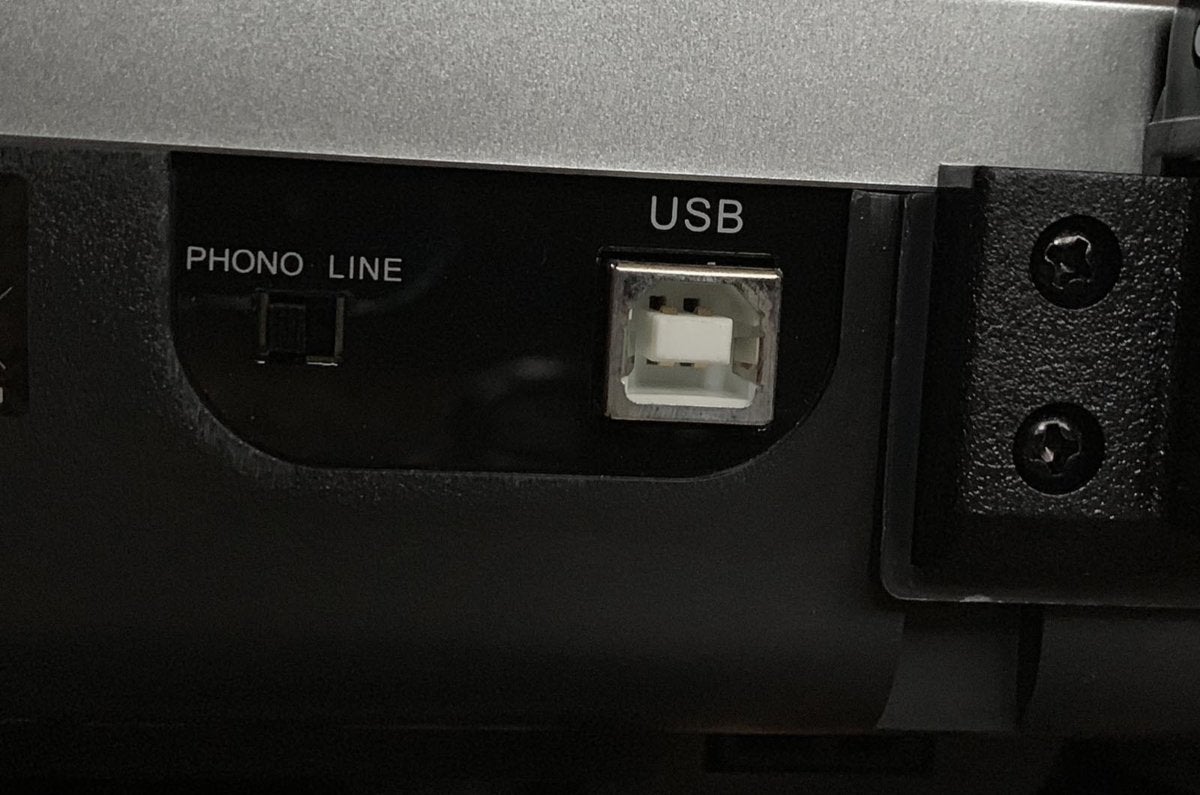 My Anthem AVM 60 multi-channel pre-pro, for instance, lacks a dedicated phono preamp, so I put the Audio-Technica AT-LP120 into line mode, plugged it into one of the AVM 60's analog inputs, and was playing vinyl through my review pair of RBH SVTR Tower Speakers in mere minutes.
If you already have a favorite phono preamp, on the other hand, you can connect this turntable to it, instead. A switch on the AT-LP120-USB's rear has a "line" position that bypasses the internal phono preamp. I connected the Audio-Technica to a Cambridge Audio Duo phono preamp without issue during this review. Such flexibility is incredibly handy.
The RCA output cables are hard-wired to the back of the turntable. Higher-end turntables typically give you RCA jacks, so you can supply your own cables and replace them at any time. In addition to limiting where you can set up the turntable in relation to your amplifier or self-powered speakers, repairs will be tricky should the AT-LP120's cable ever become damaged.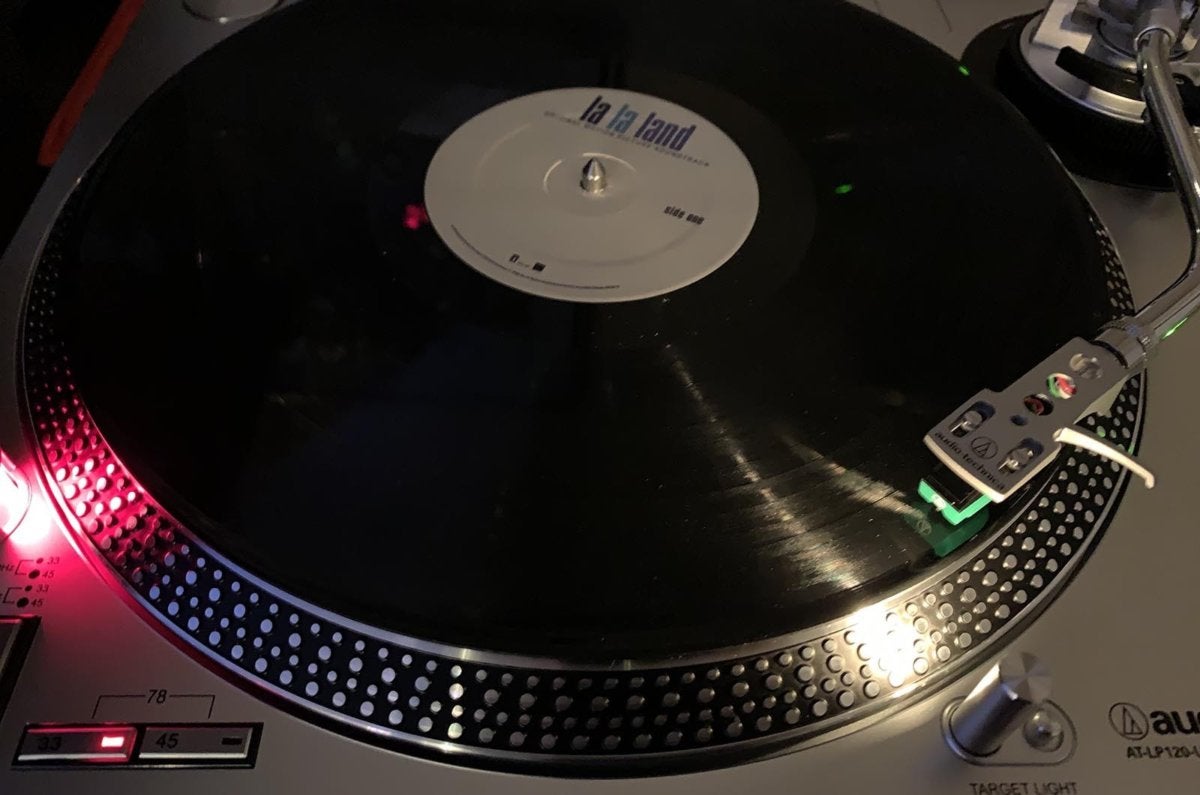 The AT-LP120-USB comes with a heavy, cast-aluminum record platter and a cloth slip mat. Its feet are adjustable for leveling the turntable, which is crucial for achieving the best performance from a turntable.
This turntable can play 33-1/3 and 45 rpm records without needing anything extra. The dots on the outer edge of the platter show how fast the platter is spinning. Illuminated by the red light near the power switch, different rows of dots will appear distinctly depending on how fast the platter is spinning. Take a look at the associated photos that follow for examples.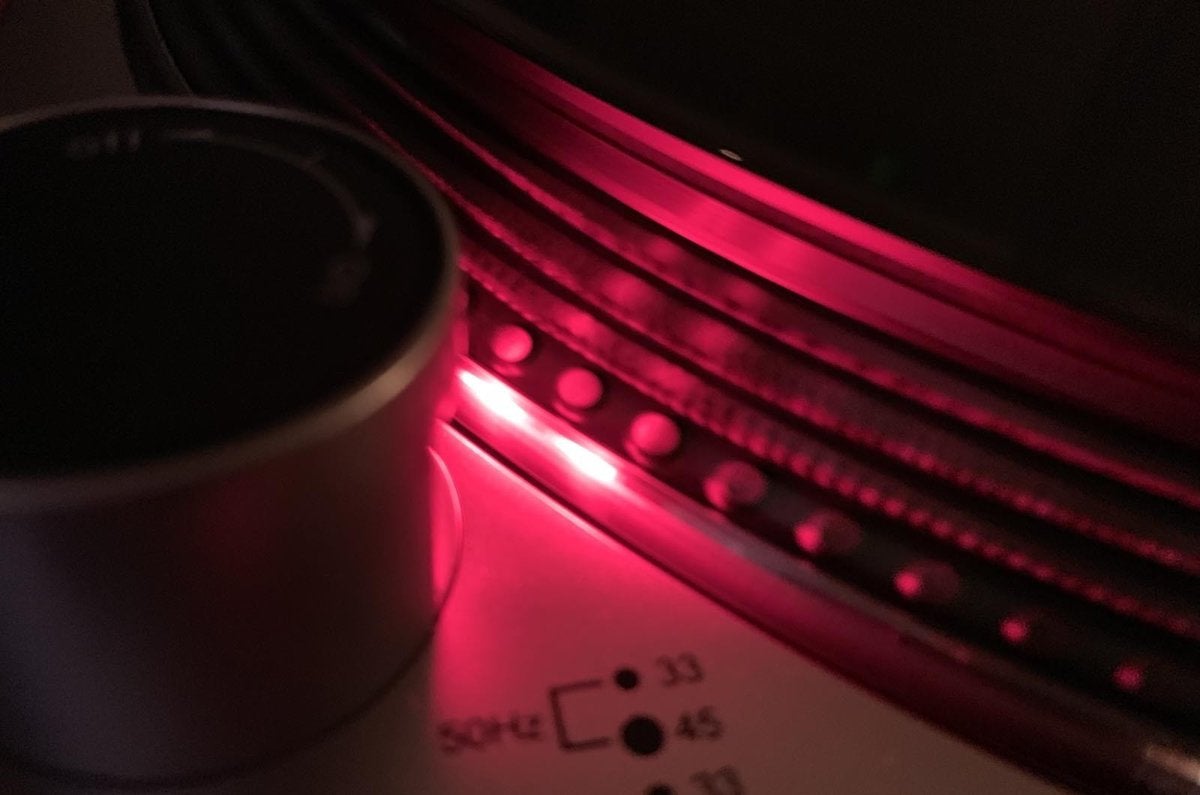 Since 45-rpm records have a larger 1.5-inch hole in the middle, they require an adapter to play on a regular turntable. Audio-Technica provides one that can be stored in a recess at the turntable's upper left corner. I can't tell you how many of these adapters I've misplaced over the years, so this is a welcome design element.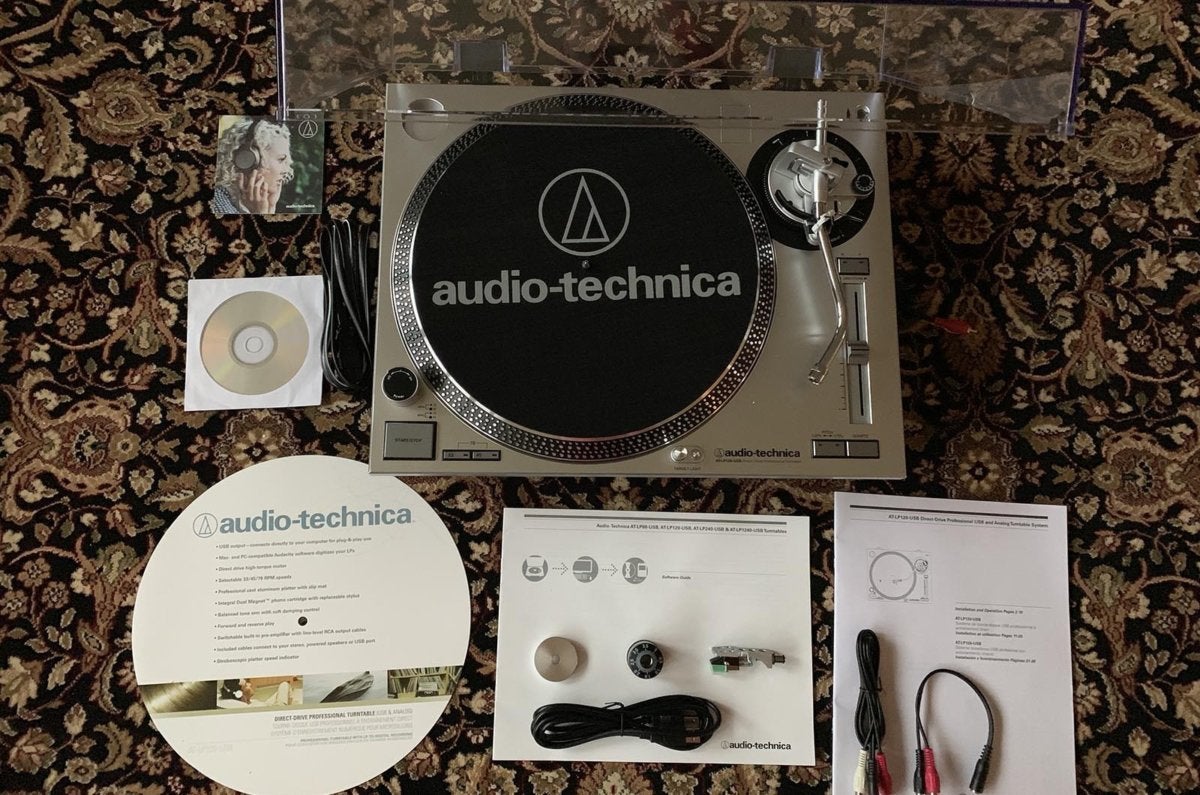 The AT-LP120-USB will also play older 78 rpm records, but you'll need a different cartridge because those records have larger grooves. A stylus with a diameter of 3 mil is required for shellac albums, and a stylus with a diameter of 0.6 mil is needed for vinyl 78s. There are third-party 78 rpm styli for the AT95E cartridge that comes with the AT-LP120-USB. You can contact Audio-Technica directly for a listing of third-party vendors. You select 78 rpm by pressing the turntable's 33 and 45 buttons simultaneously.
Tone arm assembly height can be adjusted to position the tone arm parallel to the record. If you're using taller cartridges, thicker slip mats, or are playing older 78s, you can adjust the tonearm in millimeters using the height lock.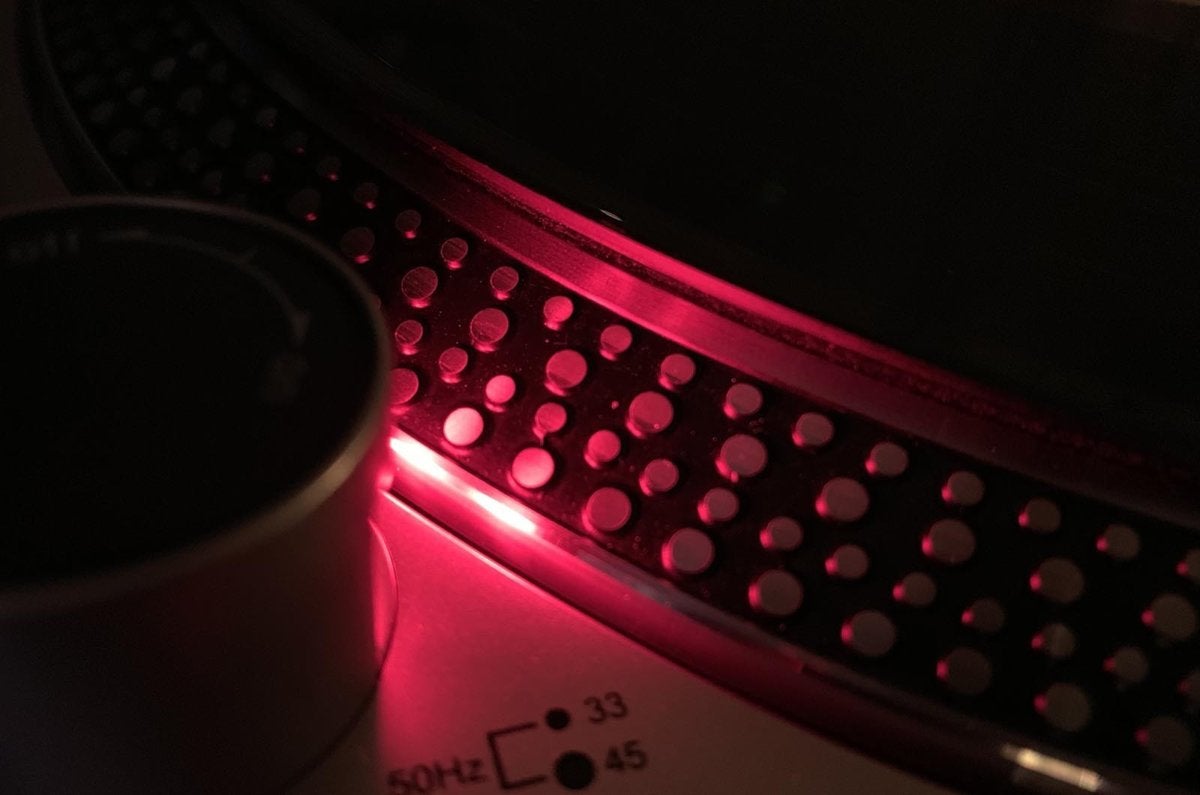 Several DJ and pro-specific features increase the AT-LP120-USB's appeal. The direct-drive motor's high torque gets the platter spinning at full speed quickly. It was significantly faster than my belt-driven U-Turn Audio turntable. A button near the tone arm lets you set the platter direction forwards or backwards. You can also adjust the pitch ranges plus or minus 10 percent, or plus or minus 20 percent using the pitch-adjust slide control. There's also a pop-up stylus target light if you're spinning records in a darkened environment.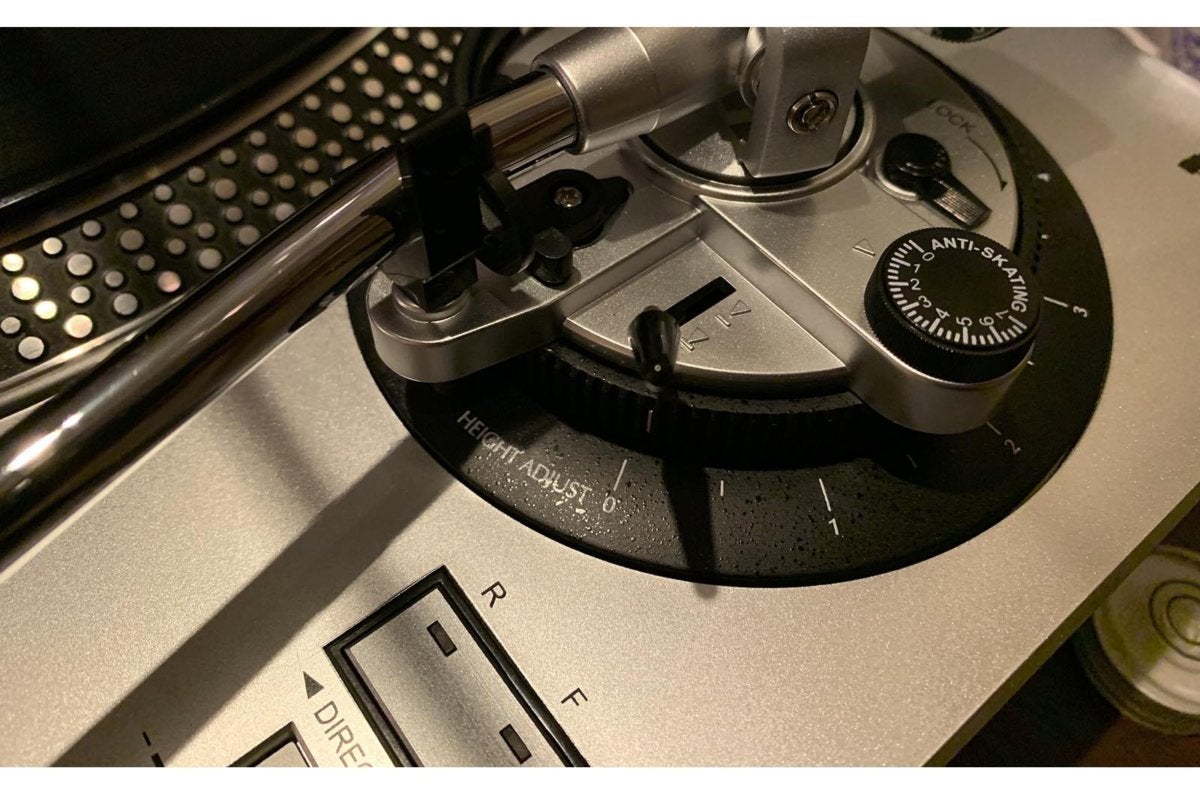 Setup and Listening
Setup was a relative breeze. Audio-Technica's packaging neatly laid out everything I needed to get started. I assembled the platter, slip mat, and dust cover easily. Audio-Technica includes a thick, high-quality dust cover. Take note that the dust cover only opens to about 50- to 60 degrees max. If you try to open it straight up to 90 degrees, you'll snap the hinges.
The headshell secures to the tonearm with a locking ring. As a nod to getting set up quickly, Audio-Technica ships this turntable with its cartridge pre-assembled.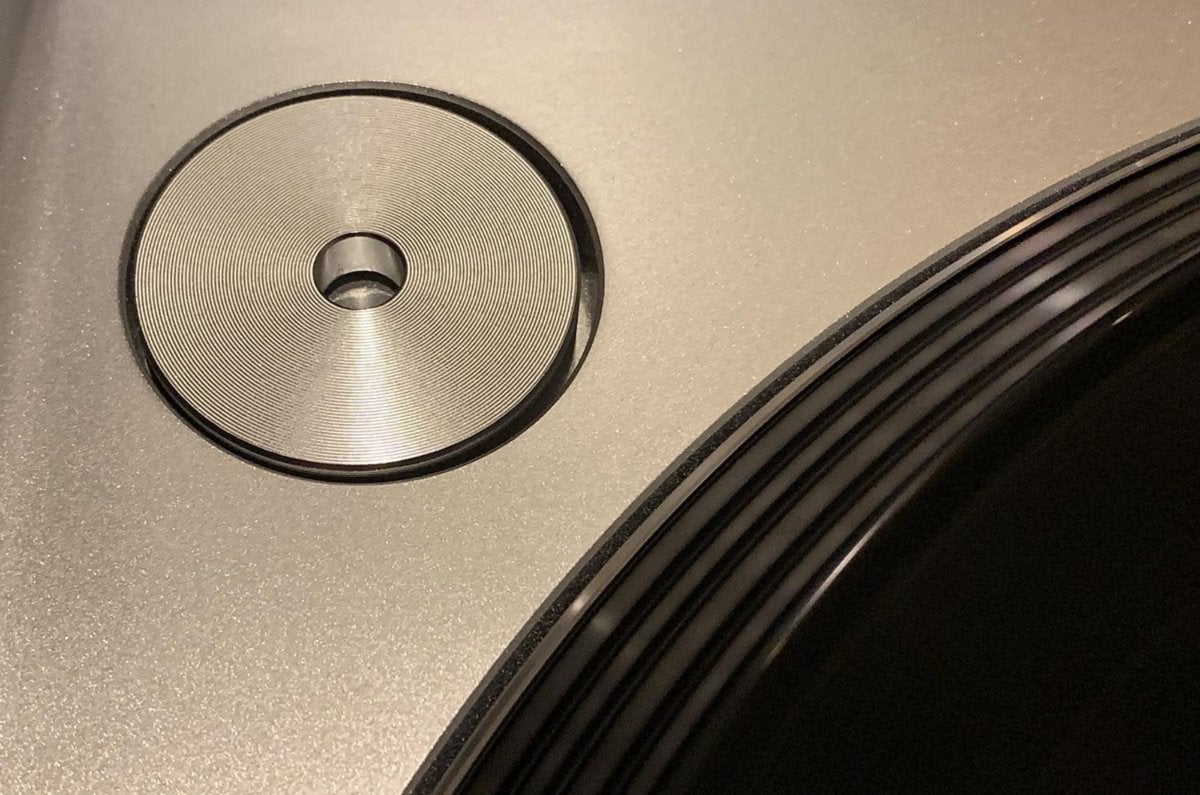 The included user manual explains how to use the counterweight to set the arm balance, tracking force, and anti-skate. Take care to calibrate these items properly to set the downward force and vertical tracking, so the tonearm won't skip.
If you're serious about getting the most from a turntable, I recommend picking up a basic stylus-tracking force gauge.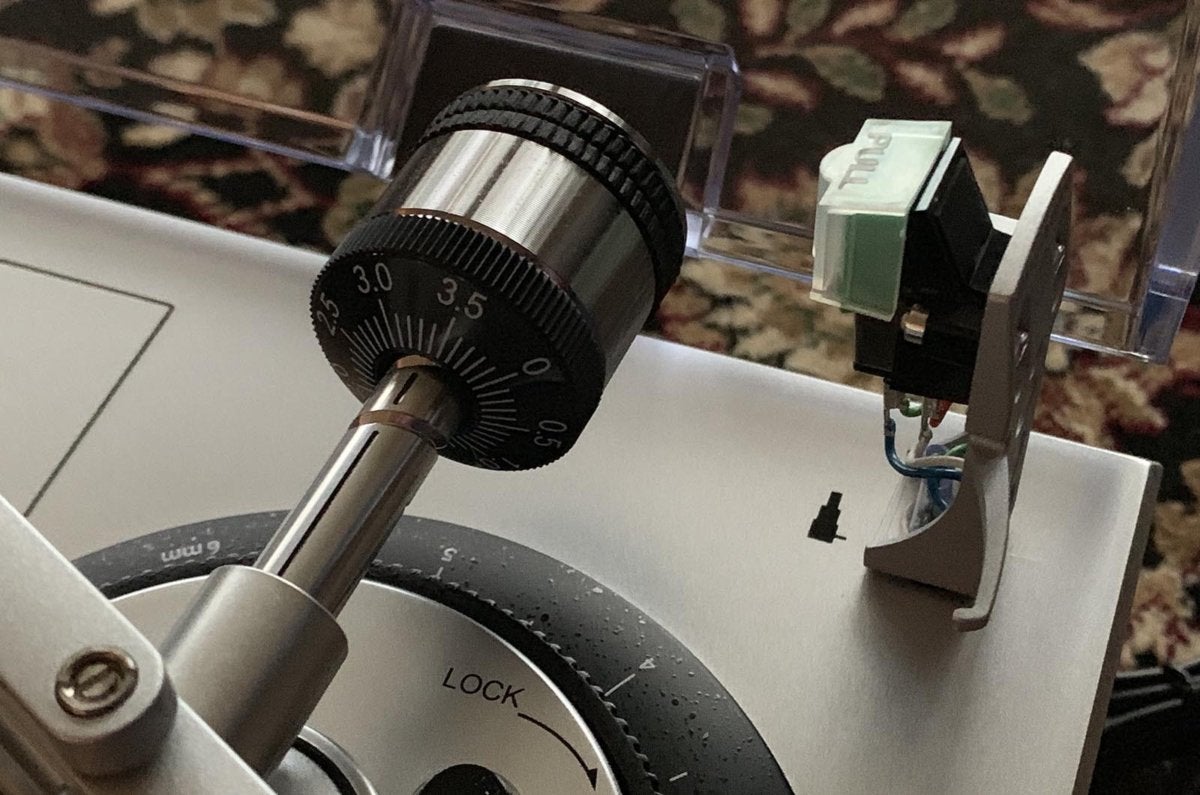 If you want to record music from your vinyl collection, Audio-Technica includes a CD with Audacity software for Mac and Windows. If your computer is one of the many that doesn't have a optical disc drive, you can download the latest version of Audacity from the internet. Mac and Windows computers won't need a software driver to work with this turntable.
There's no reaching to find an on-off switch, the button is prominently located on the top left of the plinth. My review system consisted of an Anthem AVM 60, Cambridge Audio Duo phono preamp, and RBH SVTR Tower Speakers.
Audio-Technica's direct-drive turntable got the platter up to speed in a hurry. The AT-LP120-USB did a fine job on the vinyl edition of The Greatest Showman. There was something quite natural in the overall presentation. Playing La La Land is always fun. The seductive piano notes on "Mia and Sebastian's Theme" kept their intoxicating quality.
All in all, Audio-Technica's AT-LP120-USB delivered good sound across various musical genres, though (unsurprisingly) this budget-priced turntable lacks the refinement you'll experience with more expensive turntables and cartridges.
A solid solution
Audio-Technica's AT-LP120-USB is a solid turntable for the entry-level vinyl enthusiast who wants a good-sounding, flexible, no-hassle player. A built-in phono preamp and USB output sweeten the package. Whether you're looking to spin up some records or digitize them, Audio-Technica's AT-LP120-USB deserves a serious look.