At a Glance
Expert's Rating
Pros
Excellent cleaning performance
Self-emptying dustbin
Can map multiple floor plans
Cons
Clean Base requires more floor space than conventional dock
Expensive
Our Verdict
The iRobot Roomba i7+ ushers in the next phase of automated vacuuming, but it carries a premium price tag.
Best Prices Today: iRobot Roomba i7+
For all robot vacuums do to automate the odious household chore of cleaning floors, they still rely on you to manually empty their dustbins. And unlike their conventional counterparts, this typically must be done after each cleaning—and sometimes before the job is completed. That's more than an inconvenience if you have allergies or asthma. It can release a cloud of dust and debris that triggers an unpleasant respiratory response.
iRobot has landed on the optimum solution with its Roomba i7+: A robot vacuum that empties itself. Among the many upgrades the company made to its popular product is a reimagined dock, dubbed the Clean Base, that doubles as a garbage receptacle. Each time the Roomba i7+ docks with a full dustbin, it triggers the Clean Base to suction all the debris from the vacuum's dustbin. That perk doesn't come cheap, but if you can afford it, you'll find it worth every penny.
Design
The Roomba i7+ doesn't look much different from other Roomba models. It sticks to the same dimensions—a bit over 13 inches wide and 3.6 inches high—and has "clean," "home," and "spot clean" buttons right where you'd expect them on the top panel.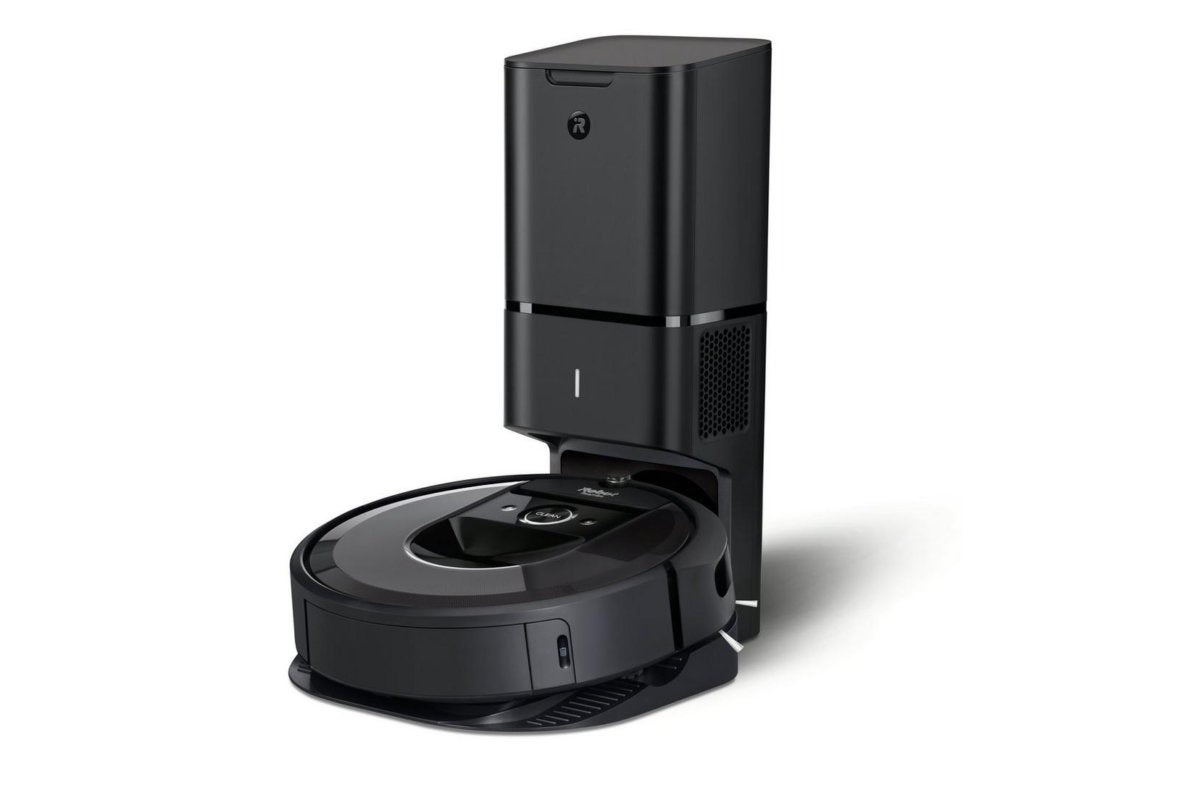 To see how the Roomba i7+ breaks from past Roomba's, you must flip it over. You'll see that each of the two rubber rollers has unique threads and grooves to better pick up a variety of debris from all types of floor surfaces. There's also a vacuum port from which the Clean Base sucks the dustbin's contents when the Roomba i7+ returns to its dock.
iRobot has also improved the robot's navigation. The Roomba i7+ can map up to 10 floor plans, which you can name and save. This allows you to customize and schedule cleanings on a room-by-room basis.
The Clean Base itself looks as if the designers grafted a small trash can on top of a conventional dock. The compartment at the top harbors a disposable bag that can hold up to 30 dustbin's worth of debris. Once it's full, you just lift the compartment's lid, remove the bag, and install a new one. The Roomba i7+ comes with one extra bag, and a three-pack of replacements costs $15.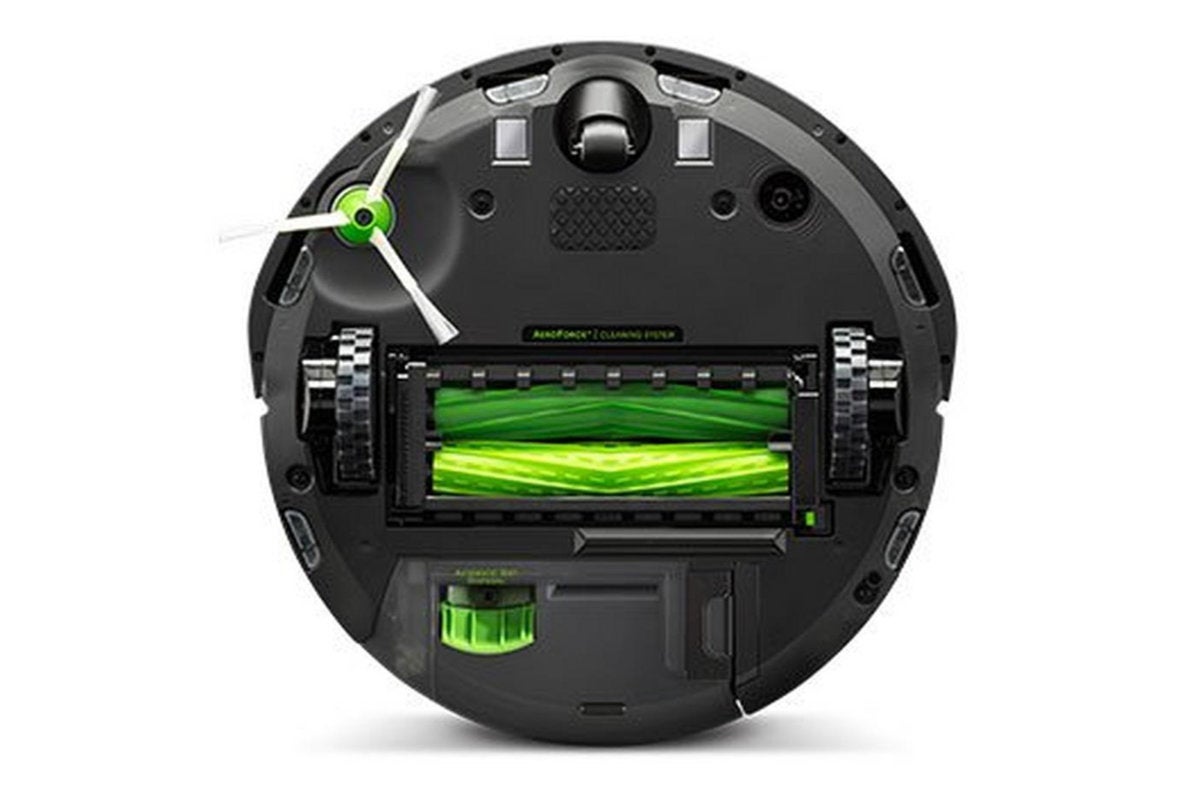 Setup and usage
Despite all its new-fangled tech, the Roomba i7+ is as easy to set up as any other robot vacuum. Plug in the Clean Base dock, set the vacuum on the charging pins, and follow the iRobot Home app's prompts to connect the Roomba i7+ to your Wi-Fi network.
If there's a challenge to the setup process, it's finding an appropriate space for the Clean Base. It's fairly bulky at 12.2 x 15.1 x 19 inches, and iRobot recommends you provide about four feet of clearance in front of it and 1.5 feet of unimpeded space on its right and left sides. If you're using the vacuum's included Virtual Wall Barrier to block areas you don't want the vacuum to enter, you must also keep the Clean Base at least three feet away from that, while making sure the Virtual Wall is facing away from the dirt disposal. That's a tall order when you also consider the Clean Base needs to be flush against a wall and near an electrical outlet.
You can start a cleaning pass by pressing the Clean button on the Roomba i7+ or the one on the app, or by using Google Assistant or Amazon Alexa voice commands. On its first run through a room, the Roomba i7+ navigates with its various sensors as it becomes familiar with the layout. This won't be the most efficient course, and it will include occasionally bumping into walls and table legs. Rest assured that's all normal. Once it's mapped a floor plan, future cleaning paths will be much more methodical. The Roomba i7+ does not display its maps in progress, like many other robot vacuums do, so you'll need to wait until they're complete to see them in the app.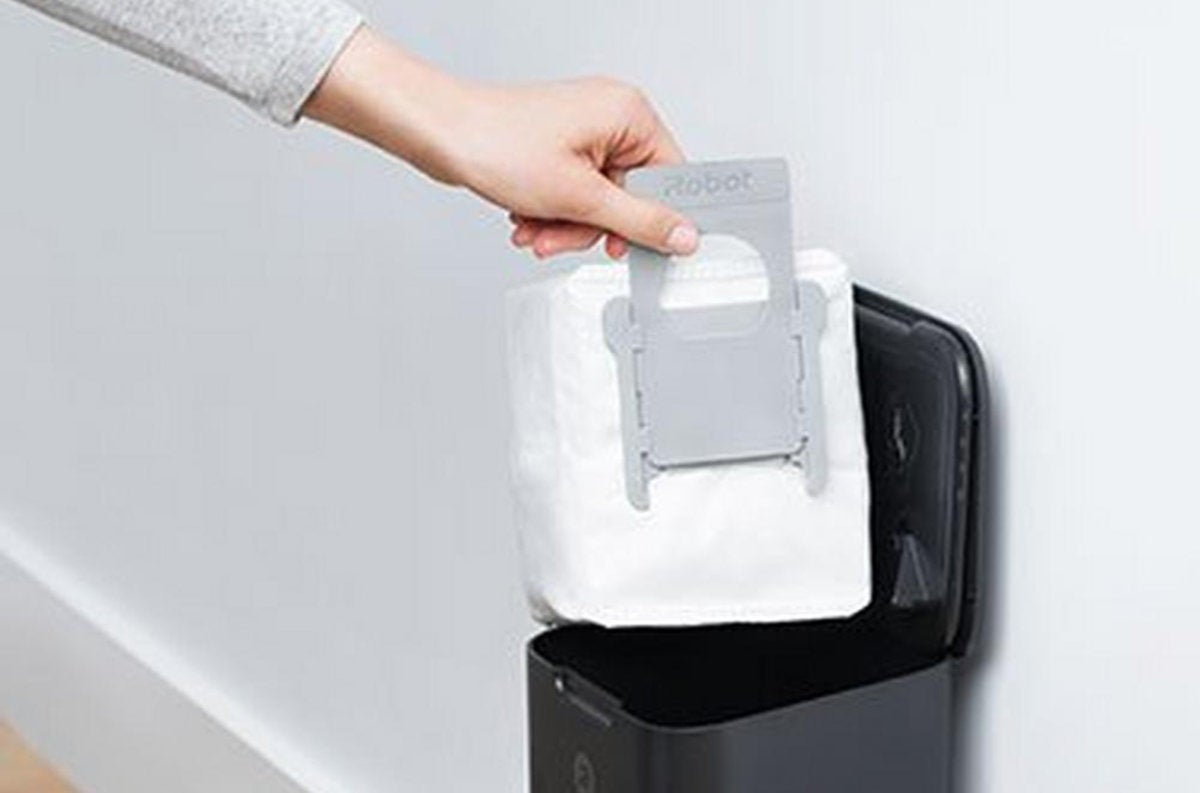 iRobot says it takes 2 to 5 passes to complete a floor plan, but once it does, the convenience is undeniable. The Roomba i7+ will take a stab at dividing the floor into distinct rooms, but you can also customize it by delineating divisions with straight lines on the map and labelling each room. From there you can schedule cleanings or just drop the Roomba i7+ in a room and select its floor plan for spur-of-the-moment cleaning.
The Roomba i7+'s cleaning performance was top shelf, as I've come to expect from Roomba vacuums. Faced with a minefield of food crumbs, tracked-in dirt, and pet hair, it left my home's carpet, hardwood, and linoleum floors spotless. It never stumbled transitioning from one of these surfaces to another, and it was remarkably good at working around obstacles and snares of electrical cords.
The Roomba i7+ keeps you apprised of its cleaning status with voice alerts, so you don't necessarily need to have your phone in hand while it's cleaning. It will also top off its battery automatically. During one cleaning of my living room, the Roomba i7+'s battery got low, so it returned to the dock to recharge and resumed cleaning about 80 minutes later.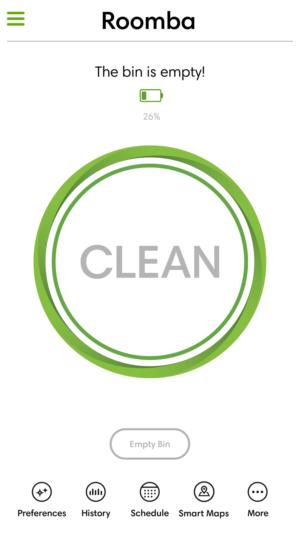 As advertised, the vacuum also returned to the Cleaning Base whenever its dustbin filled up. When it parks itself on the dock, the vacuum port on its bottom lines up with an opening on the dock's dust tray. Then a loud and powerful suction—akin to what you hear from a conventional stick vacuum—kicks on and the dustbin's contents are extracted to the Base's debris bag. It's a magical thing to behold, and the novelty never really wore off during the week or so I spent with the Roomba i7+.
The iRobot Home app makes it simple to manage the Roomba i7+'s activities. The home screen clearly displays the robot vacuum's status, and it provides easy access to scheduling tools and all your floor plans. It also maintains a cleaning history, including total area cleaned, number of cleaning jobs, and detailed reports for each cleaning.
Bottom line
It's hard to overstate how impressive the iRobot Roomba i7+ is. It's the first product to fulfill the robot vacuum's promise to completely automate one of the most-hated household tasks. The implementation isn't perfect—the Clean Base's space requirements are particularly hard to satisfy in apartments and condos—but it effectively eliminates the final pain point of vacuuming. That guaranteed I used it more frequently than any other vacuum of any stripe.
But though the iRobot Roomba i7+ is an alluring option for virtually anyone, its $950 price tag guarantees only the more affluent of us will be able to take advantage of it. If you can afford the luxury, it will be a welcome addition to your home.
Best Prices Today: iRobot Roomba i7+