At a Glance
Expert's Rating
Pros
New design allows for two plugs per receptacle
Supports devices with larger motors (up to 0.75 horsepower)
Supports dual-band Wi-Fi networks (2.4- and 5GHz)
Cons
Leviton's control app is still undercooked
Can't dim a connected lamp
Our Verdict
With its streamlined design and lower price, Leviton's latest smart plug is one of the most compelling on the market.
Best Prices Today: Leviton Decora Smart Wi-Fi plug-in outlet (model DW15P)
Leviton has dozens of smart lighting-control products in various shapes and sizes offering different sets of features, but that isn't stopping the company from pumping out more. The latest is an addition to the company's Wi-Fi-enabled, no-hub-needed, Decora Smart with Wi-Fi Technology product line, the Decora Mini Plug-In Outlet DW15P.
Understanding Leviton's Decora Smart lineup—which spans four different sub-lines (Wi-Fi, HomeKit, Z-Wave, and Bluetooth)—can be tricky, so let's simplify things a bit. The DW15P is fundamentally a smaller version of the DW15A, Leviton's three-prong smart plug that we reviewed in July, with a few key tweaks.
The biggest of these is related to its wireless connectivity. While both the DW15P and the DW15A are designed to run directly on your Wi-Fi network, the new DW15P is equipped with a dual-band Wi-Fi adapter that can connect to less-crowded 5GHz networks instead of just 2.4GHz networks. Leviton claims this is "the very first smart plug-in device from a major manufacturer that supports 5GHz networks."
If that's not the case, it's certainly one of a select few that do. The other major difference is in the outlet's power rating. Neither the DW15P nor DW15A offer dimming features, but they do support devices with motors—motors up to 0.75 horsepower in the case of the DW15P (the DW15A can support a motor with maximum horsepower of 0.5 horses).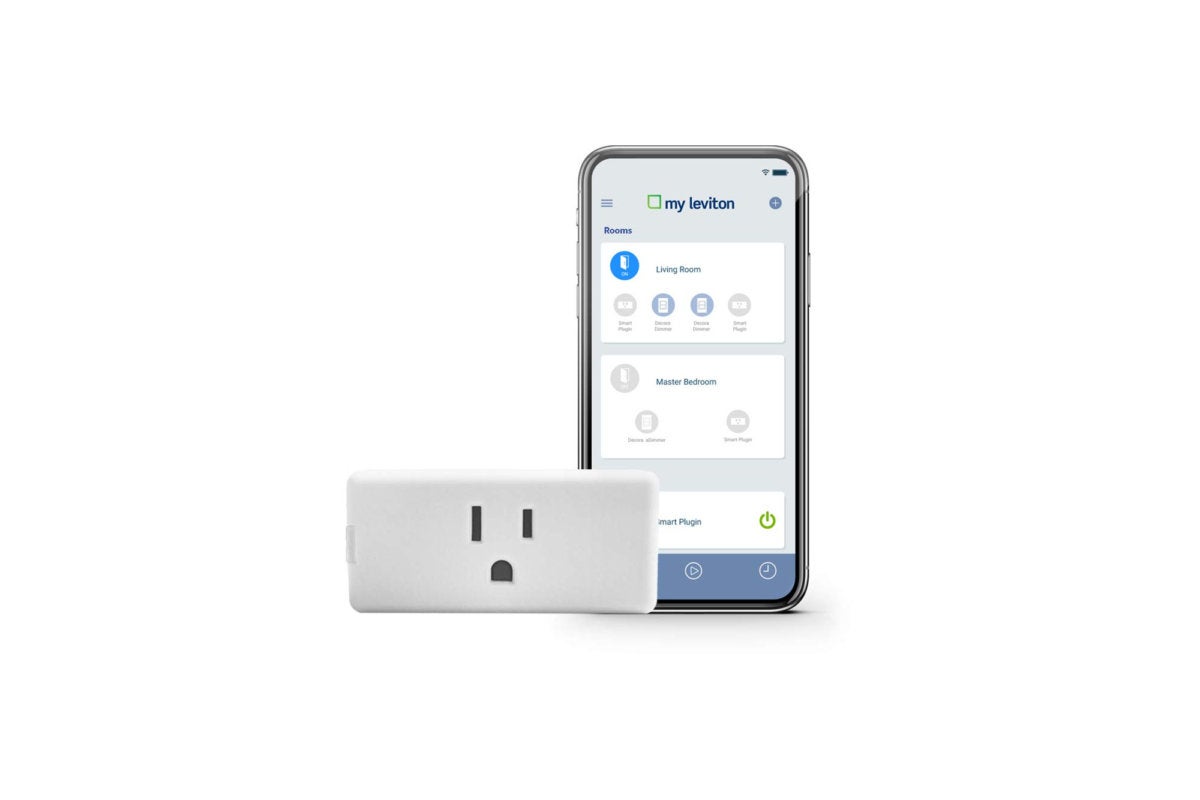 Cosmetically, the DW15P also addresses a primary complaint with the DW15A: its bulky size and design that blocks the lower outlet if you use it in the upper position. By adopting the elongated candy-bar format—rendering it nearly identical to Wemo's design—you can plug two smart switches into the same duplex receptacle. A small green light on one end of the bar doubles as an easy-to-reach on/off switch.
Leviton has cleaned up its user manual to give beginners a leg up on installation, but its app is still not the best in the market. A bit clunky in layout and not entirely intuitive, it's overdue for a refresh (and, perhaps, loosening up some of its overly stringent security protocols). That aside, the system ultimately works just fine once you get familiar with it. Schedules and features, such as turning a light off after a preset time, work as advertised, though the interface for all of this is a bit slow to work with. Support for Amazon Alexa, Google Assistant, Nest, and IFTTT are all still in the mix and haven't changed since the last time around.
While Leviton has improved on its older product from just about every angle, it's also cut the price from $40 to $30, all of which makes it a quite compelling option in this space. If you don't need onboard dimming, it's a key product to consider.
Best Prices Today: Leviton Decora Smart Wi-Fi plug-in outlet (model DW15P)