At a Glance
Expert's Rating
Pros
Perfect companion for Echo and Echo Plus speakers
A lot of bass for not a lot of money
Easy setup
Cons
Sound can be boomy without reducing the bass level
Bass-drum hits can sound thuddy
A few operational hiccups (which could disappear before the speaker ships)
Our Verdict
The Amazon Echo Sub is a welcome addition to the Echo speaker family. The sound is not audiophile-quality, but it's better than I expected from a 6-inch sub, making it well worth the price.
Best Prices Today: Amazon Echo Sub
Amazon's Echo speakers represent the Next Big Thing in whole-home wireless audio: speakers that let you find and play music using only voice commands. And some of them sound quite good, although all of them are somewhat lacking when it comes to deep bass. To solve that problem, Amazon recently unveiled the Echo Sub, a subwoofer designed specifically to mate with the second-generation Echo and Echo Plus speakers, adding much deeper bass to their sonic palette.
Is the Echo Sub worth adding $130 to your budget for smart speakers? Let's find out.
Features
The Echo Sub is quite diminutive as subwoofers go. The cylindrical, molded-plastic enclosure measures a mere 8 inches tall and 8.3 inches in diameter. It feels quite sturdy, though, with a weight of 9.3 pounds. Its small size is made possible in part because of the enclosure's sealed design; ported subwoofers typically require larger enclosures. The tradeoff is that sealed subs generally can't play as loud as comparable ported models at lower frequencies, but I don't see that as a problem for a small system such as this one.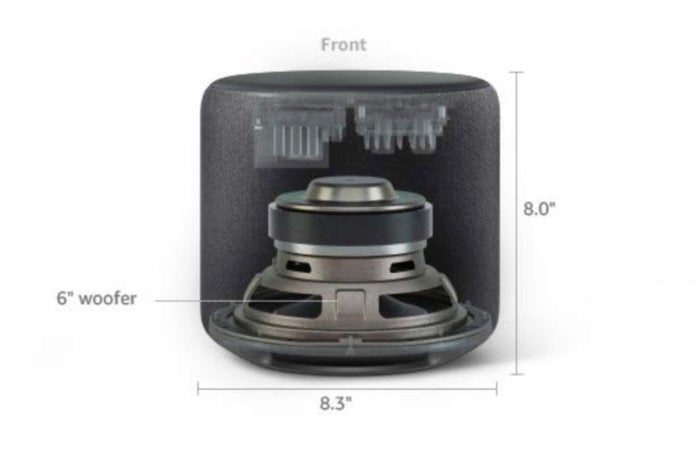 Speaking of lower frequencies, the Echo Sub's bass extension is specified to reach down to 30Hz (-6 dB). That's pretty good for a single 6-inch conical driver, which is made of coated paper in this case. The low-frequency response is aided by the fact that the driver fires downward toward the floor; sound emerges through slots in the base. The floor acts as a boundary that reinforces the low frequencies. To boost the bass even more, you could place the sub near a wall or corner, but Amazon recommends that you place it well away from walls and furniture.
The driver is powered by a 100-watt Class-D amplifier. This is a highly efficient amp design commonly used in active subwoofers. A system-wide, three-band EQ lets you boost or cut the treble, midrange, and bass by ±6 dB. To adjust the EQ, you need only say something like, "Alexa, set the bass to six" or "Alexa, set the treble to minus three."
The Echo Sub receives its signal via your home network (802.11a/b/g/n at either 2.4- or 5GHz). It has no physical audio connectors, unlike the main Echo speakers, which have an 3.5mm aux output. And the sub cannot receive signals by itself, only when it's paired with certain Echo speakers–and only a limited number of Echo speaker models can be joined together as stereo pairs with the Echo Sub. What's more, the Echo Sub can be used only for music–not video–playback on the Echo Show (first- and second-generation). You can refer to this chart on Amazon for details.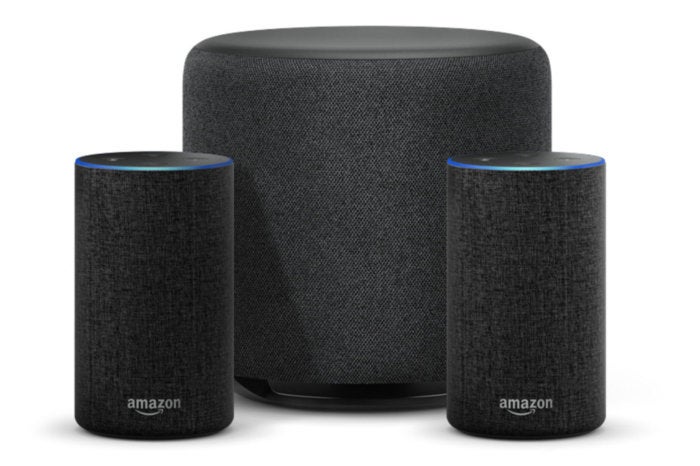 Low frequencies are routed to the sub using what Amazon calls an adaptive low-pass filter with a crossover frequency from 50- to 200Hz. According to Amazon, that means "we can change the crossover frequency in software, depending upon factors such as the type and number of devices in the speaker group." The low-pass filter has a steep slope of 24dB per octave, which provides a fairly sharp division between the frequencies reproduced by the main speakers and the sub. This can cause phase-shift issues, but I didn't hear any problems in that regard.
User Interface
Other than a receptacle for the AC power cord, the Echo Sub has only an Activity button on the back. A light in the center of that button indicates the unit's status, and holding the button for 25 seconds resets the sub to its factory defaults.
You set up the system using the free Amazon Alexa app, which is available for Android and iOS mobile devices. I installed the app on my iPhone 6. It's pretty basic, but it gets the job done. Once the system is set up, you control it with voice commands that begin with the Alexa wake word.
Setup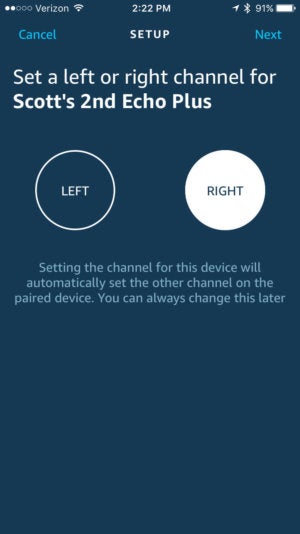 The Echo Sub's packaging is excellent. It is swaddled in a black bag with handles, making it easy to extract from the box. A note covering the AC-power receptacle instructs you to set up the main Echo speaker(s) before pairing the sub to them. Amazon sent me two second-generation Echo Plus speakers to use with the sub, so I set them up first.
I've read several user reviews of the Echo Sub on Amazon complaining that setup is not simple. However, I had only one problem. When I plugged in the two Echo Plus speakers, the Alexa app only "saw" one of them. I unplugged the one it didn't see, then plugged it back in, and the app recognized it after that.
I started by placing the two Echo Plus speakers on top of my main left and right house speakers, which are located away from the walls. Next, I configured the Echo speakers as a stereo pair without the sub and tried to listen to a few tunes from my iPhone 6 via Bluetooth. I quickly discovered that Bluetooth does not support a stereo pair, only one speaker. Amazon confirmed that a stereo pair works only with online streaming, so I switched to Amazon Prime Music.
Performance
Since this is a subwoofer review, I selected music with plenty of bass. "Flight of the Cosmic Hippo," by Bela Fleck and the Flecktones from their album of the same name, is an excellent subwoofer test. It sounded pretty good on the Echo Plus speakers, but the bass did not have the authority I've come to expect from this tune.
Unfortunately, there is no way to quickly add or remove the Echo Sub to an existing pair of Echo speakers. You must delete the stereo pair and create a new set with the two speakers and sub, which takes a minute or two. This made it impossible to easily compare the sound of the system with and without the sub. So, I set up the two speakers and sub as a system and settled down for some serious listening.
"Flight of the Cosmic Hippo" sounded much better with the sub engaged. However, the bass seemed too loud relative to the mids and highs. Also, bass-drum hits were quite thuddy, and the pitch of some bass notes seemed sharp, an effect I've never heard before. I reduced the bass by 2dB, which helped balance the bass with the rest of the frequency spectrum. (At least, it seemed to; there is no confirmation that the command was executed. I wish there was some sort of confirmation.)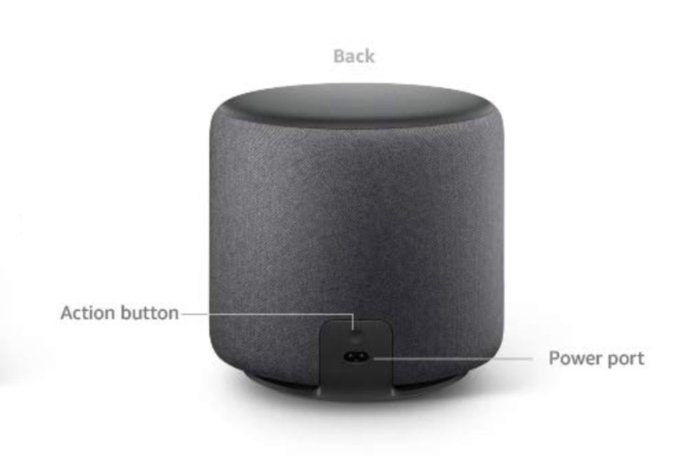 Human vocals are a good test of any sound system, so I played "These Bones" by the Fairfield Four, an a cappella male quartet. The bass singer has an amazingly low range, and he is prominently featured in this tune. All voices sounded natural and rich, including the bass. I heard no problems here. On Leonard Cohen's "Hallelujah," sung by Pentatonix, another a cappella vocal group, the bass voice sounded a bit bloated, but it was otherwise fine.
For voices with instruments, I listened to "Birdland" by the Manhattan Transfer, which has a synth bass, drums, and other jazz instruments throughout. The voices sounded great, but the bass drum still sounded a bit thuddy, even with the bass set to -2.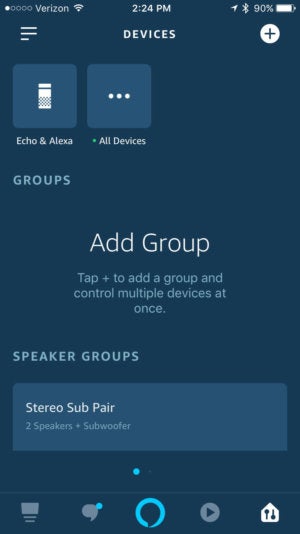 Turning to classical music, I played the third movement of Beethoven's Symphony No. 6 recorded by the Vienna Philharmonic in a live performance. I started with the bass set to 0, which sounded somewhat boomy. Then, I set the bass to -2, and it sounded much better, confirming that the command was executed. The same was true of Ralph Vaughan Williams' Fantasia on Greensleeves, as performed by the Boston Pops Orchestra. The sound was nice and clean with rich low frequencies that weren't boomy once I set the bass to -2.
I'm also a fan of electronic music, so I listened to "Surface" from Robert Rich's Rainforest Suite, which includes some ethnic acoustic instruments as well as synthesizers. Everything sounded quite good, but every so often, I heard some slight distortion. After asking Alexa to lower the volume a bit, that problem disappeared. The low frequencies—for example, a low gong—integrated nicely with the rest of the spectrum.
I ran into a couple of operational problems during my testing. First, when I stopped playback, Alexa announced that it was connected to my iPhone, which interfered with subsequent commands if I happened to start them as the announcement played.
Occasionally, only one speaker played when streaming from Amazon Prime Music. Stopping and starting playback seemed to correct the problem, but it shouldn't happen in the first place.
Finally, it sometimes took a while for playback to stop. In some cases, one speaker stopped while the other speaker and sub continued playing for a while. This was not consistent, but it was annoying when it happened.
Should you lower the boom?
Overall, I'm quite pleased with the Amazon Echo Sub. It adds good bass to the sound of Echo speakers. It's not audiophile quality—it can sound a bit boomy and thuddy on some material, and the extreme low end is not what I'd call prodigious. But neither is it a "one-note" sub; pitches are clearly defined.
For $130, it's well worth adding to one or two Echo speakers for that extra kick only a subwoofer can deliver. If you've invested in Amazon Echo speakers—or you plan to—be sure to add an Echo Sub to the system for maximum performance with all types of music.