At a Glance
Expert's Rating
Pros
Best-in-class recording and playback features
Simpler to set up than networked DVRs
Helpful voice controls with the Vox remote and Alexa integration
Cons
Pricier than other options, especially for whole-home viewing
Poor selection of streaming apps
Bulky, noisy hardware
Our Verdict
TiVo's cord-cutting DVR gets a boost from voice control, mobile streaming, and lower subscription fees, but it's still missing some modern touches.
Cord-cutters are no longer second-class citizens in TiVo's world with the new $250 TiVo Bolt OTA DVR, which is based on the same hardware platform that TiVo offers cable-TV subscribers—less the CableCARD slot.
TiVo's previous antenna-only DVR, the Roamio OTA, launched more than four years ago and is based on a cable box from 2013. The new Bolt OTA includes such features 4K UHD video support, voice control, and built-in streaming to smartphones. And while you can technically use the regular Bolt with an antenna, the Bolt OTA's DVR service is less than half the price.
Still, the Bolt platform remains outdated in several ways, especially compared to networked DVRs that send video to modern streaming boxes, including Nuvyyo's Tablo, SiliconDust's HDHomeRun, and Amazon's forthcoming Fire TV Recast. The software is missing too many important streaming video apps, and viewing on additional televisions currently requires expensive add-on boxes. TiVo's core DVR chops are solid as ever, but everything else continues to show its age.
Pricing out a TiVo
At $250, the Bolt OTA is $50 less than a standard Bolt with the same four tuners that enables you to watch and record up to four live channels at a time to 1TB of onboard storage. Unlike the regular Bolt, the OTA model offers no options for more or less storage, and while the Bolt OTA does have an eSATA port for expandable storage, the only expansion drive that TiVo officially supports was discontinued years ago. (A pair of USB ports around back can charge your phone, but you can't plug external hard drives into them.)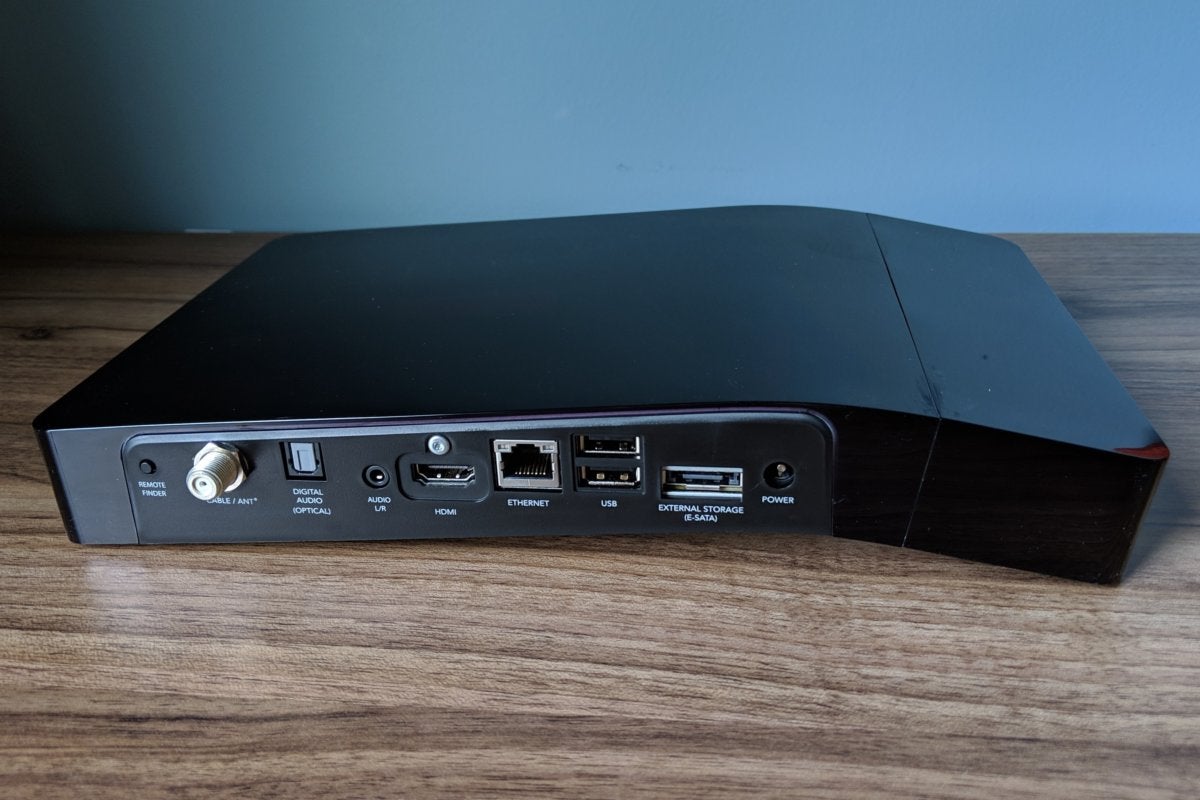 As for service fees, TiVo's OTA subscriptions cost $7 per month, $70 per year, or $250 for a lifetime plan, versus cable service at $15 per month, $150 per year, or $550 for life. With a lifetime plan, TiVo's Roamio OTA was actually $100 cheaper than the Bolt OTA at $400 total, but the up-front costs are now much lower.
Mentioned in this article
Nuvyyo Tablo Dual
Price When Reviewed:
$200.00
Even with lower device and service pricing, TiVo is still expensive for an over-the-air DVR. Tablo's Dual Lite DVR costs $140—albeit with only two tuners and no built-in hard drive—plus $150 for lifetime TV guide service. Amazon's quad-tuner Fire TV Recast with 1TB of storage will cost $280 with no service fees. The dual-tuner AirTV DVR, which integrates with Sling TV, costs $120 and also has no service fees, although you must provide your own external hard drive for storage.
TiVo's big advantage over those options is that it's much simpler, plus its recording and playback capabilities are without peer.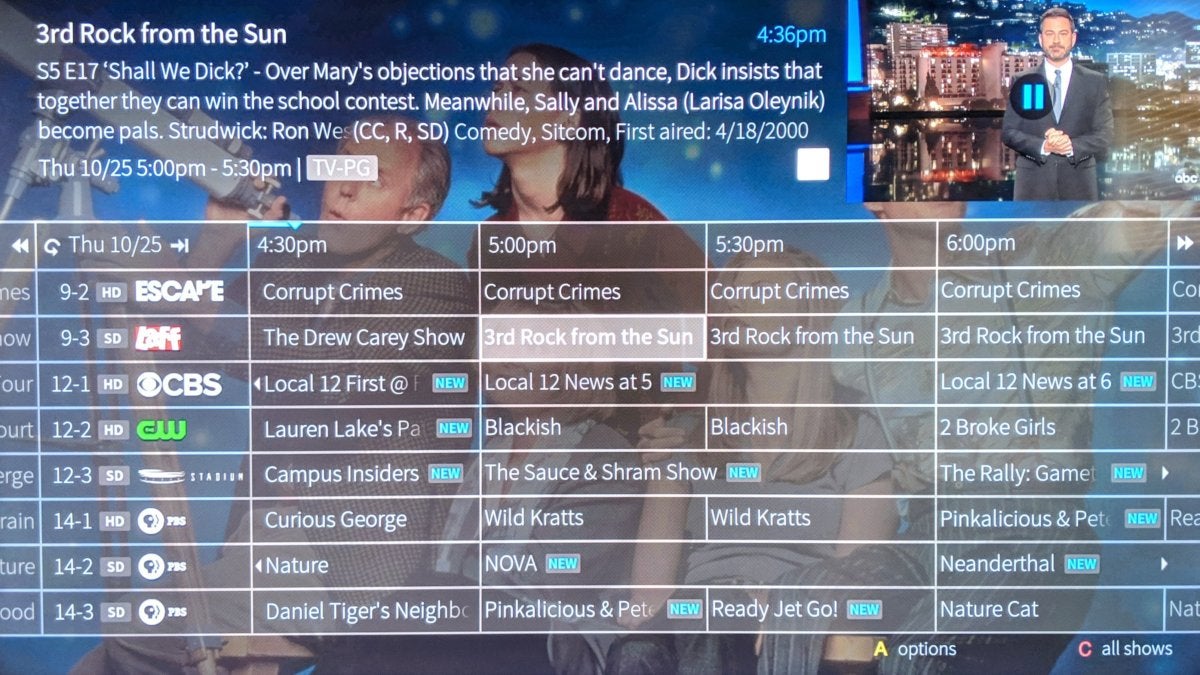 Where TiVo shines
Unlike a networked DVR, which requires a separate streaming box, TiVo connects directly to your television and plays local channels at full broadcast quality, so there are no external drives to connect, and you don't need to worry about the strength of your Wi-Fi when it comes to streaming video to your TV. If there's a problem with the picture, it's almost certainly because of antenna reception.
And while TiVo isn't the only over-the-air DVR that plugs directly into your television—others include Tablo Engine and the dirt-cheap Mediasonic Homeworx HW180STB—none of the others rival TiVo's recording chops.
Creating a series recording (a "OnePass" in TiVo terminology) brings up all kinds of detailed settings. You can decide which season to start recording from, omit reruns, keep only a certain number of recent recordings, limit recordings to either high- or standard-definition, and create start and stop buffer times. You can also create manual time-based recordings and look through a "to-do list" to manage existing ones. TiVo will alert you when you've run into a scheduling conflict.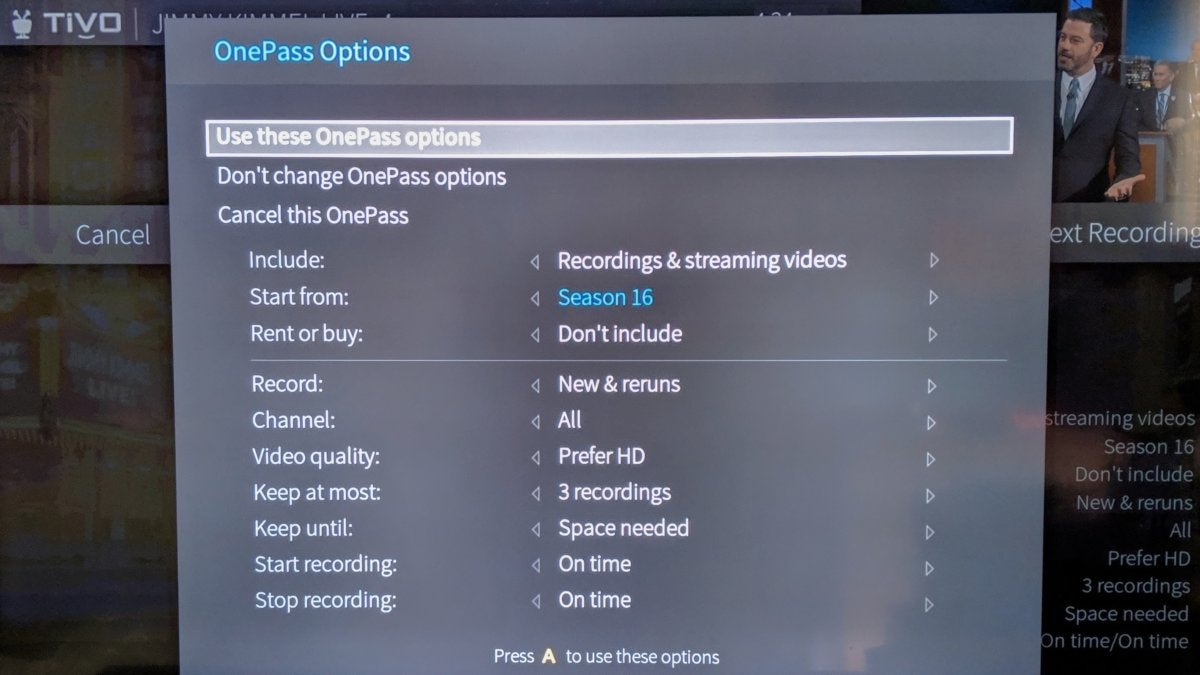 TiVo also nails a lot of the little things that some other DVRs don't. While watching a live channel, for instance, TiVo automatically starts recording so you can pause, fast forward, and rewind through live TV. You can also start watching a partially recorded program and skip through the commercials. And because you're playing video directly from TiVo's hard drive, instead of streaming it, fast forwarding and rewinding is instantaneous.
Mentioned in this article
Fancy Bits Channels DVR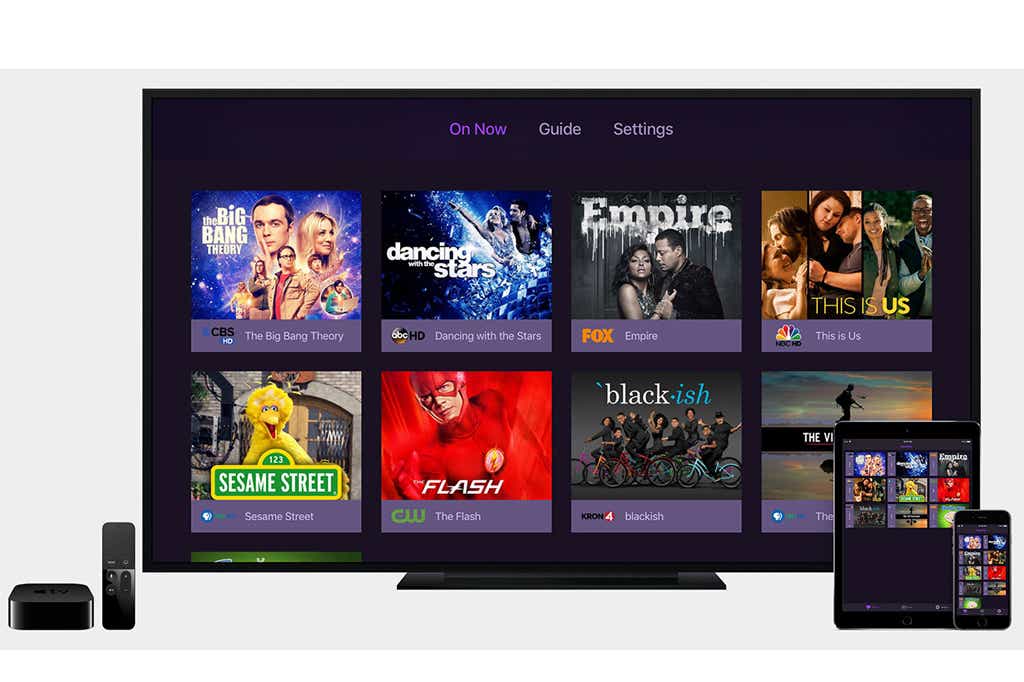 Meanwhile, TiVo's SkipMode lets you bypass entire commercials with one button press. Unlike the ad-skipping features of Plex and Channels DVR, SkipMode doesn't work with every program—it mainly applies to prime-time shows—but because the ad breaks are marked by humans instead of algorithms, you need never worry about fast forwarding to the wrong place.
For shows that don't support skip mode, the remote provides a handy 30-second skip button, and TiVo's "Quick Mode" (accessible by pressing up, then OK) plays broadcast shows 30-percent faster, which is a bit weird but nice to have for news or other talk-driven programming.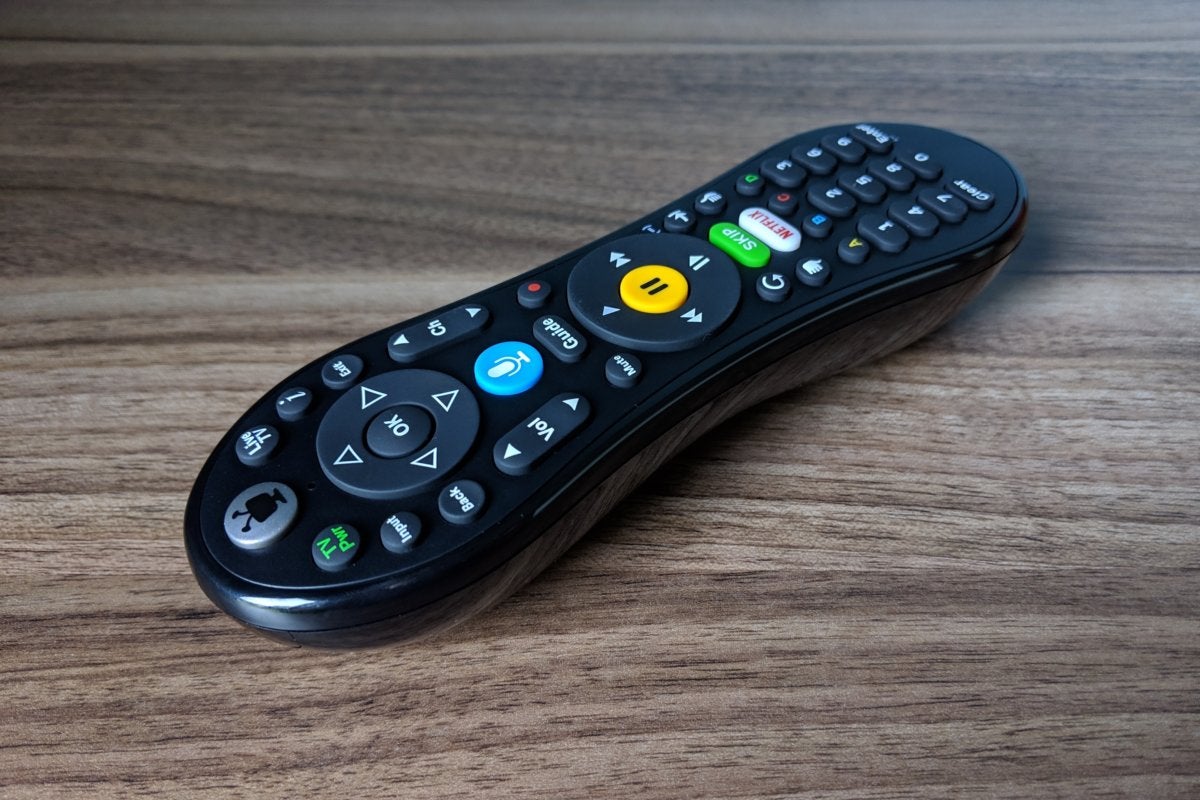 All of these features make TiVo the most powerful over-the-air DVR on the market, at least in terms of basic recording and playback. TiVo only starts to falter as you drift away from its core recording functionality.
Trouble around the edges
Like TiVo's other products, the Bolt OTA doesn't act as a whole-home DVR on its own. It can stream live and recorded video to Android and iOS mobile devices, but if you want to watch on additional televisions, you need a $180 TiVo Mini Vox hooked up to each one. TiVo plans to offer apps for streaming TV devices, such as Apple TV and Amazon's Fire TV, but hasn't given a timeline for when these will launch.
Streaming video also remains a sore spot for the TiVo platform. While TiVo supports several popular streaming apps, including Netflix, Amazon Prime, Hulu, and YouTube, it's missing a bunch of others that might be useful to antenna users, including Showtime, Starz, Sling TV, Philo, PBS Kids, Crackle, Pluto, and NBA TV. Compared to Roku, Fire TV, Apple TV, and even Android TV, TiVo's app store—licensed from smart TV software firm Vewd—just isn't a competitive option.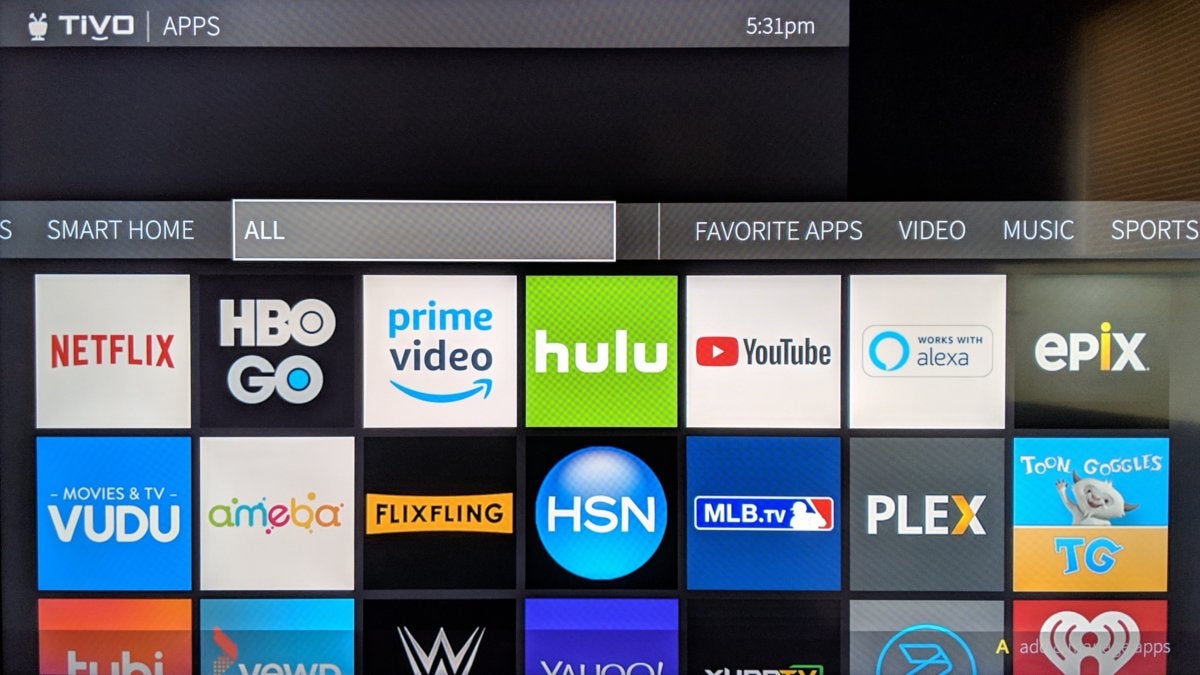 TiVo hasn't completely failed to modernize. The remote's voice controls are a nice touch, letting you jump to live channels and search for titles, actors, and genres, both in over-the-air channels and certain streaming apps. If you have an Amazon Echo speaker, Alexa integration lets you perform these actions and skip commercials with hands-free voice commands. (TiVo announced Google Assistant support back in January as well, but it won't launch until sometime next year.) TiVo also integrates with IFTTT, allowing for some neat tricks such as automatic commercial skipping and notifications from smart home devices.
But because of Tivo's app deficiencies, you might end up wanting an additional streaming device to go along with your TiVo, at which point you might consider getting a networked DVR such as Tablo or the Fire TV Recast instead. They might be more complicated to set up, but they let you access over-the-air TV in more places, and spare you from switching inputs when you want a full selection of streaming apps. They're also much cheaper to boot.
My reviews of TiVo's hardware sound like a broken record at this point, because not much has changed over the past few years. While the company's software received a fresh coat of paint last year, and its remote now offers voice controls, under the hood it's still the same platform. That means its solid DVR features are somewhat offset by an outdated selection of apps, expensive whole-home viewing, and a clunky box that always seems to give off a faint whirring sound even on standby.
Meanwhile, other over-the-air DVRs are becoming more refined at lower prices, making TiVo's premiums harder to justify. But at least with TiVo, you know what you're getting—both the highs and the lows.