At a Glance
Expert's Rating
Our Verdict
Home security made ultra-easy, with the option of paying nothing for the system up front.
Best Prices Today: Cove Home Security
Consumers might shy away from DIY security systems for a few reasons—perceived lack of genuine security, fear that their investment will be wasted on a broken system—but one of the biggest is a perennial DIY con: It might be too difficult to install and manage. That's a fair criticism of many smart home products, and it's led some manufacturers to focus squarely on that very problem. Products like SimpliSafe even put "simple" in their name in the hopes of proving that a do-it-yourself security setup can be as easy as operating your toaster.
Newcomer Cove takes direct aim at SimpliSafe (and Ring's Ring Alarm) with its offering, and it's designed to be as foolproof as is humanly possible. The secret sauce is that Cove is largely configured for you before it's shipped. You specify what sensors you want when you purchase it, and these are paired to the Cove hub at the factory.
It's a point-and-click affair of telling Cove you want one door sensor, one motion sensor, a CO monitor, a (separate) smoke detector, a leak sensor, and two remote key fobs. You can even name which room each sensor will go in, after which Cove gives you a price and your choice of monitoring plans. (Glass-break sensors and medical alert buttons are also available.)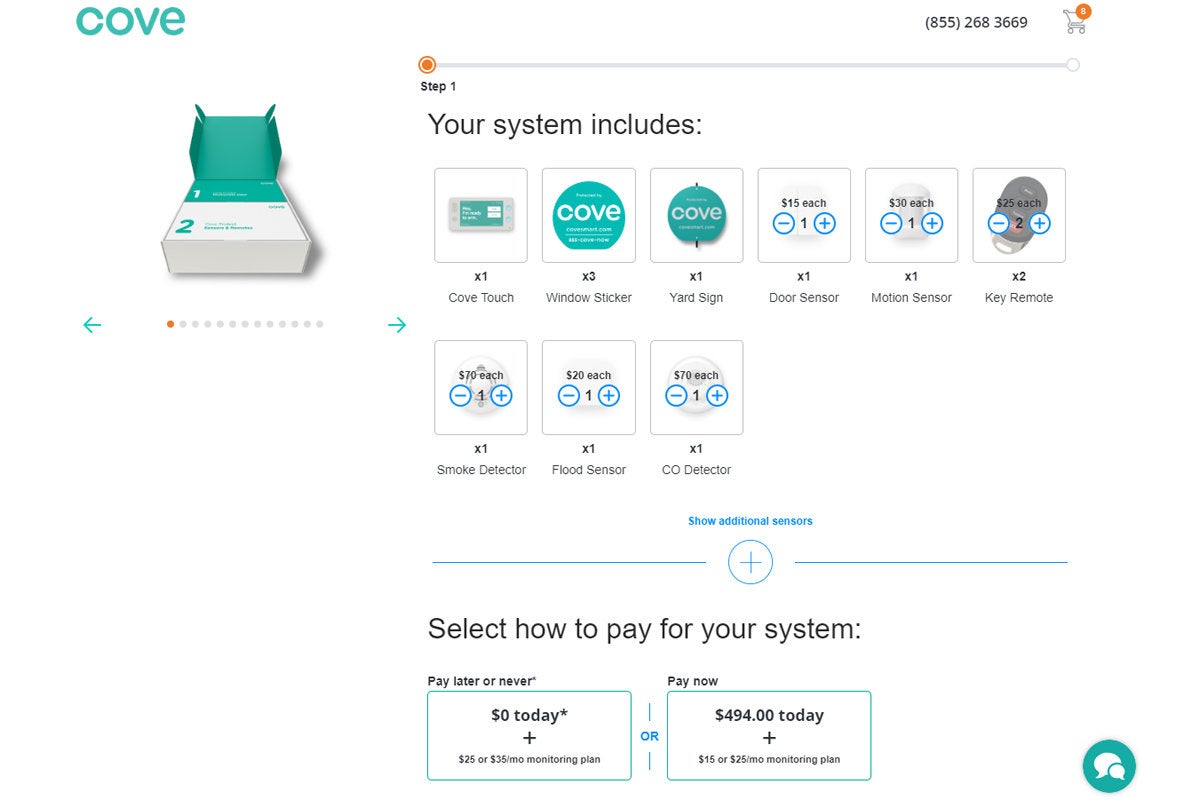 If anything is complicated about this process it's in selecting how to pay for the system, as there are at least four different ways: You can pay nothing up front (for up to $500 worth of gear), and then pay either $25 or $35 a month for professional monitoring; or you can pay for the gear up front ($494 in the example above), and then pay either $15 or $25 a month for monitoring. Cove is not available without a monitoring plan, but none of its plans require a long-term contract.
Mentioned in this article
SimpliSafe The Essentials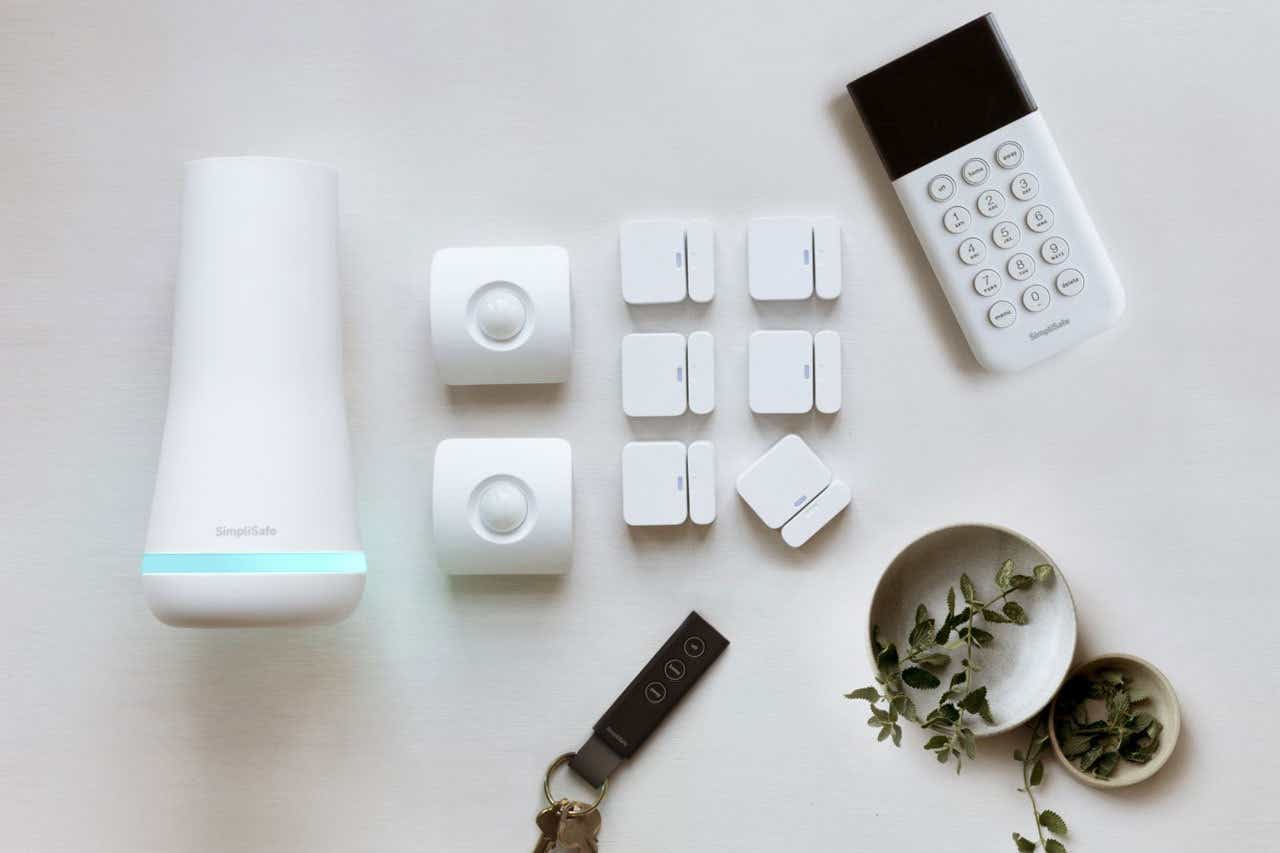 Price When Reviewed:
$259
Professional monitoring is optional with both Ring ($10 per month, including unlimited cloud storage for Ring cameras) and SimpliSafe ($15 per month or $25 per month if you want to receive text messages and the ability to remotely arm and disarm). Those companies' service plans don't require you to sign a long-term contract either.
Cove's plans differ in two major ways: The lower-end plan includes 24/7 monitoring, cellular connection, and battery backup, while the more expensive plan adds the ability to use Cove's mobile app, a $5-per-month credit toward future sensor purchases, and a lifetime equipment warranty (instead of just one year). You do own the equipment you purchase, but if you choose the pay-nothing-up-front option and cancel your service within 36 months, you'll be on the hook to pay for the gear in full.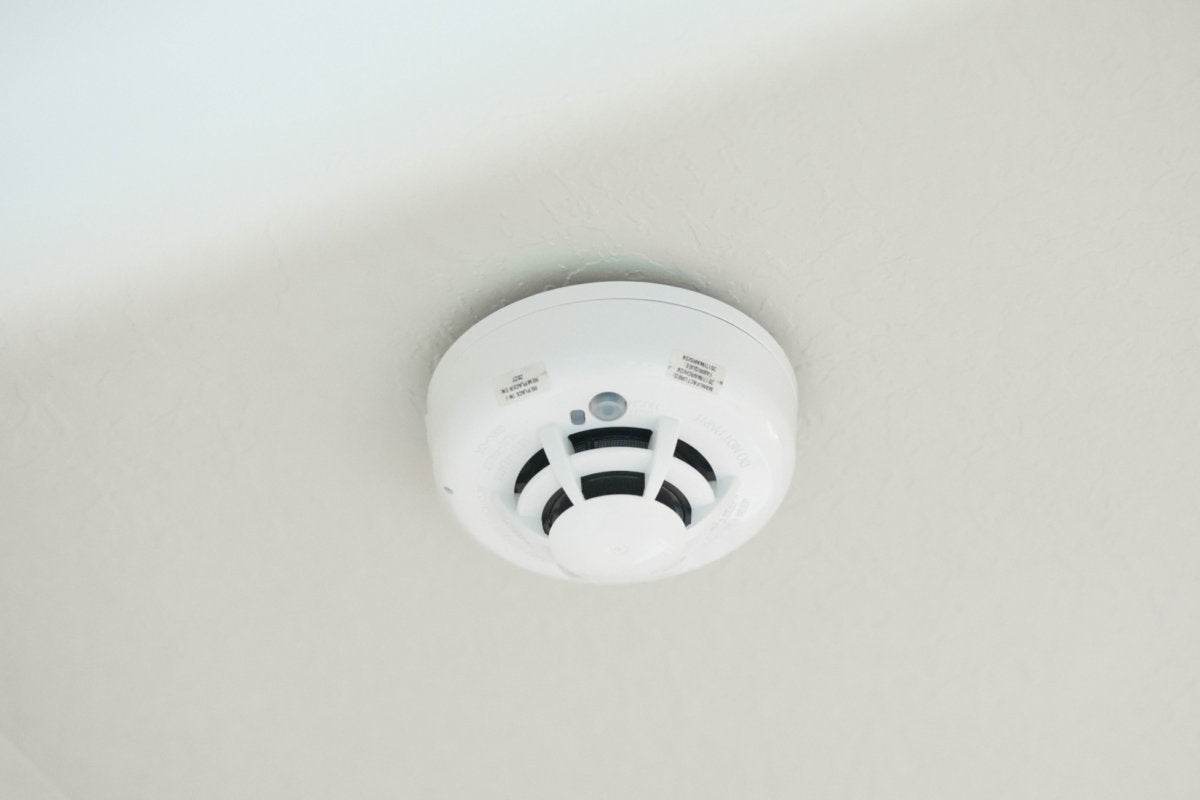 Easy installation
When your equipment arrives, setup is unlike anything else on the market: You just plug in the base station—essentially a tablet with an integrated siren—at which point a customized walkthrough on the screen steps you through activating each sensor in turn. The whole process took me less than five minutes; getting the boxes open was the most troublesome part of the operation. (The sole hiccup: My leak sensor had been left out of the custom setup routine, though adding it later was extremely easy and didn't even require looking at the extensive manual that's included.)
How does Cove keep things so simple? By stripping it down to the basics. You don't have to plug Cove into your router or configure a Wi-Fi password because it doesn't use Wi-Fi. It communicates with HQ exclusively through its cellular radio, and sensors talk to the Cove hub through over the unlicensed 345MHz frequency band. (You can even talk to Cove's monitoring service or call emergency services directly through the panel.) The downside of this is that Cove doesn't work with any of your smart home gear at all: no third-party hubs, no voice assistants like Alexa, not even IFTTT. You can't add things such as smart entry locks, either.
Cove is completely self-contained, but that means it's also completely isolated from everything else you might have going on. And unlike SimpliSafe and Ring Alarm, Cove doesn't offer any home-security cameras, even as an option.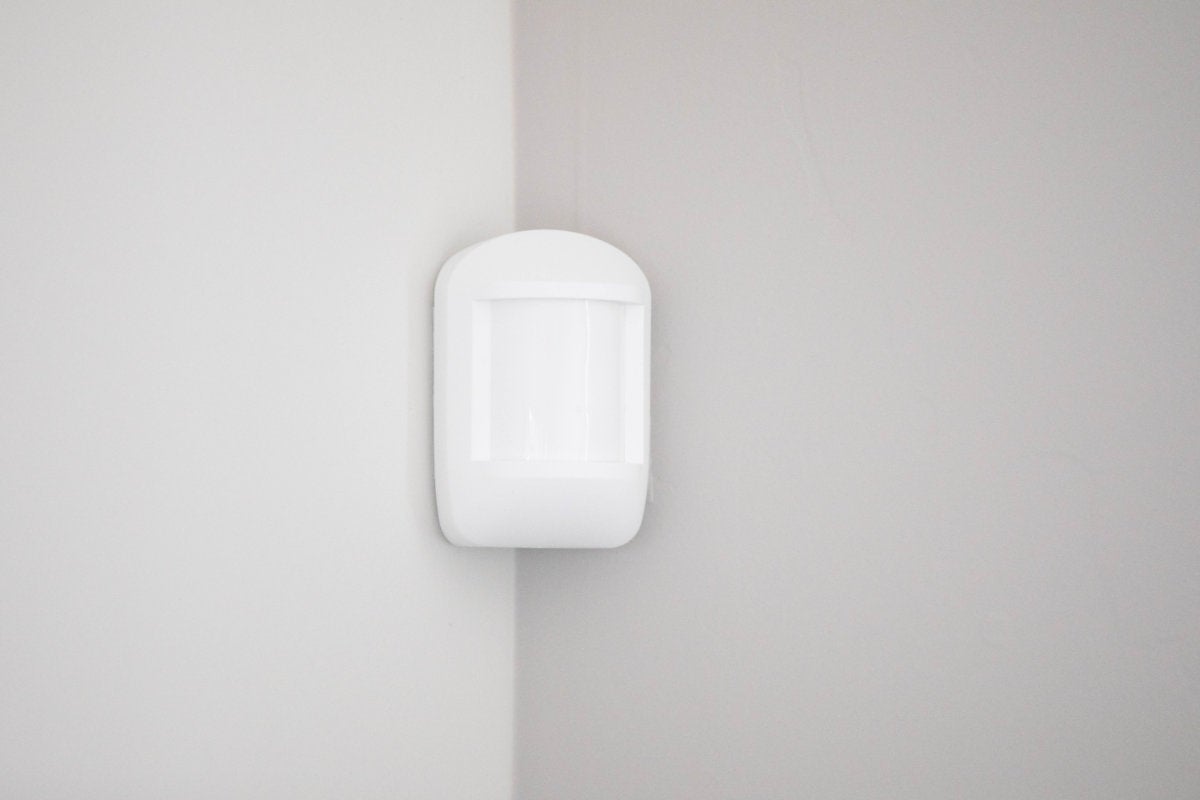 Cove's equipment won't win any design awards. It's utilitarian and chunky but functional, and most of the gear is on the large side. The CO monitor and smoke detector in particular look as though they were designed for a motel than the average suburban home.
Mentioned in this article
Ring Alarm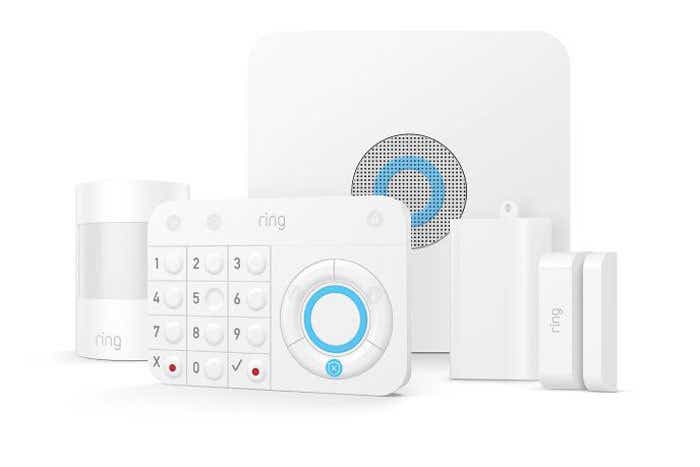 Price When Reviewed:
$199
The good news is that, for the most part, I had no trouble with operating the equipment. Door sensors worked as promised (a chime on the base station also announces which door has been opened), the leak sensor was immediate with its detection of water, and the smoke alarm was as sensitive as I'd hoped. (I did not test the CO detector's sensitivity.) The control panel—which features the typical Away, Stay, and Off modes—is also extremely basic and simple to use, with just a handful of settings that can be configured, clear on-screen directions, and helpful voice prompts.
Some minor hiccups
I did encounter two problems of moderate severity. The first involved the smoke detector: When I exposed it to smoke, the detector erupted in a siren as expected, as did the panel. When the smoke cleared, the detector's siren promptly shut down, but the panel's did not. It took a very unpleasant 15 minutes and a call to tech support to get the panel to stop shrieking (pro tip: hold down the two physical buttons on the panel to perform a hard reboot), though the support agent assured me this problem was "very rare."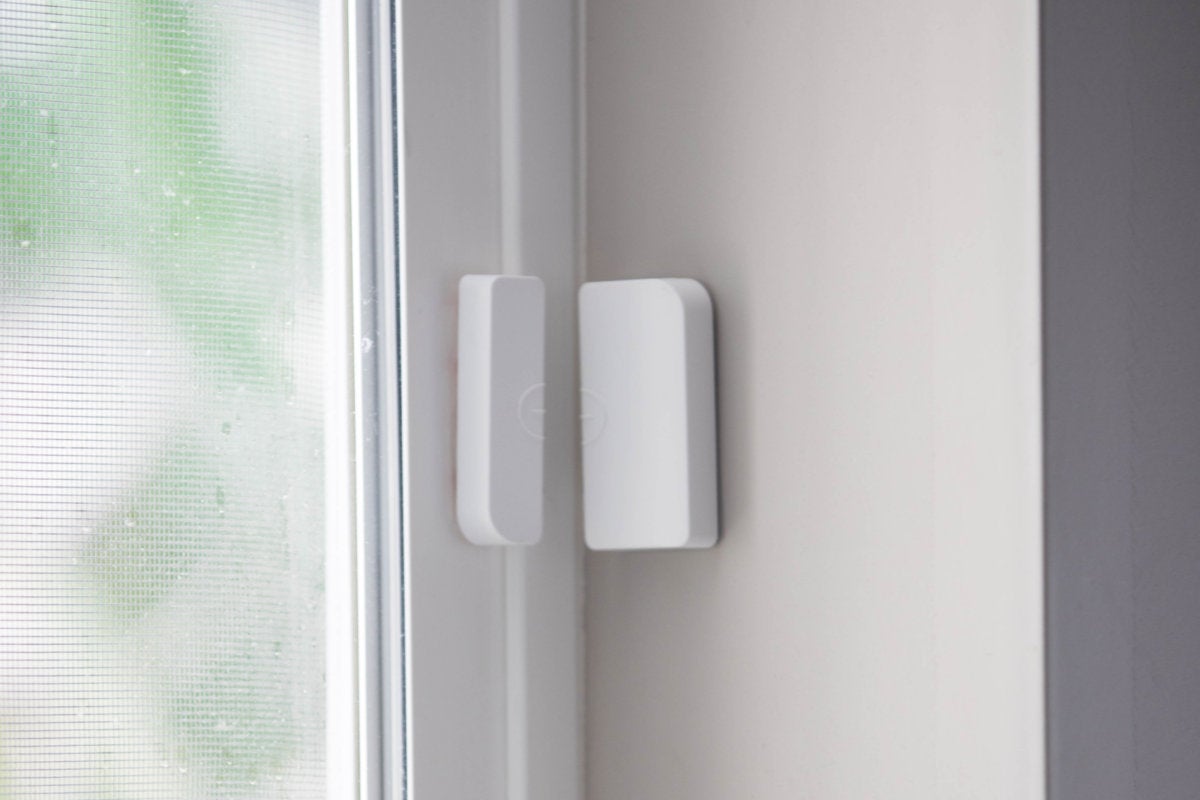 I also had trouble with the motion sensor, which I found to be quite a bit too insensitive as I was often able to freely walk back and forth in front of it without triggering a siren. Sensitivity settings can be crudely adjusted if you crack open the sensor and adjust dip switches inside, but I suspect that will be well beyond the comfort level of Cove's intended audience.
Of special note is the siren, which is ear-piercingly loud and shrill—to the point where my ears still hurt hours after setting it off in close proximity—but there's only one siren for everything. A leaky toilet earns the same alert that you get if a midnight intruder breaks through a window. Cove rates the unit's battery backup at 24 hours, and my testing got even more running time than that.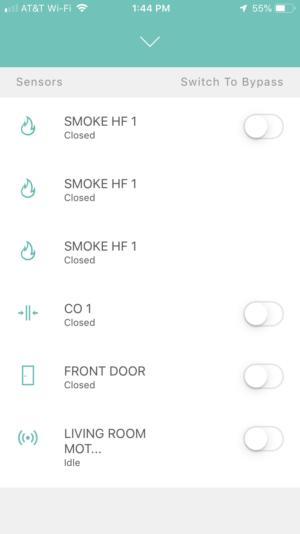 Cove's mobile app is the weakest link in the ecosystem. While extremely limited in function (basically it's only good for turning the system on and off), it also manages to be obtuse in design. Click the sensors tab and you get a list of sensors, some of which can be "bypassed," along with some cryptic status messages. Presumably, bypassing a sensor enables you to arm the system even if you leave a window open. According to Cove, I have three "SMOKE HF 1" (the smoke detector, I presume) devices in my house, and they are all "Closed" (an "open" sensor would trigger an alarm).
The app adds virtually nothing to the experience here; if you don't require a lifetime warranty—and I don't know why you would, considering the gear is so cheap—and you don't care about the system send you text messages, I'd heartily advocate going with the less-expensive monitoring plan.
You do receive text message service no matter which plan you choose, and while these missives can be a bit overwhelming with their four or five lines of chunky text, they're workable enough at alerting you to problems when you're not at home. Naturally, Cove's monitors will call you via voice should the alarm go off and not be disabled quickly.
Worth the price of admission?
In the final analysis, while Cove has some room to grow, it has largely achieved what it set out to do, providing an easy yet capable security system with minimal strings attached. Smart home enthusiasts looking to get fancy with connected lights and complex interactions with other gear won't be satisfied, but, let's face it, there are plenty of alternatives on the market if that's your bag.
Best Prices Today: Cove Home Security