At a Glance
Expert's Rating
Pros
High accuracy
Competitive price
Best-in-class mobile app web interface
Cons
Alexa compatibility only, no IFTTT support
Easy but long installation process
Potentially glitchy lightning detection
Our Verdict
The AcuRite Atlas is a great value in personal weather stations with near prosumer-level accuracy. It still needs more smart home capabilities, however, and hopefully the lightning detection isn't as glitchy as some claim.
Price When Reviewed
From $150
Best Prices Today: AcuRite Atlas
AcuRite has been promising to deliver this new prosumer personal weather station, dubbed Atlas, for nearly two years. The company has had one goal in mind: give consumers a modern alternative to Davis Instruments' rapidly aging Vantage Vue and Vantage Pro 2 lines. Now it's finally here—or at least for the Vantage Vue.
While Atlas was worth the wait, other competitors have jumped into this space, too. Ambient Weather has the best product right now, with its WS-2902 Osprey (also the best choice if you're looking for smart home integration), but Netatmo, BloomSky, and a few others also have pretty good products. Not that it's difficult to beat the market leader in modern functionality: Davis hasn't updated its weather station line in close to a decade, forcing consumers to deal with an outdated console and software (Davis' new WeatherLink web portal makes it a little more bearable).
A modernly modular system
I've previously praised AcuRite for offering their weather stations in a modular fashion, giving the user a good degree of flexibility in how to set things up. At a minimum, you must purchase the $150 5-in-1 sensor suite, plus a second device that enables you to see the information the weather station is reporting. You can buy the AcuRite Atlas touchscreen display; the AcuRite Access, a device that connects the weather station to the cloud, so you can use AcuRite's Android or iOS app or a web browser for remote monitoring; or you can buy both. Each of those devices costs an additional $100.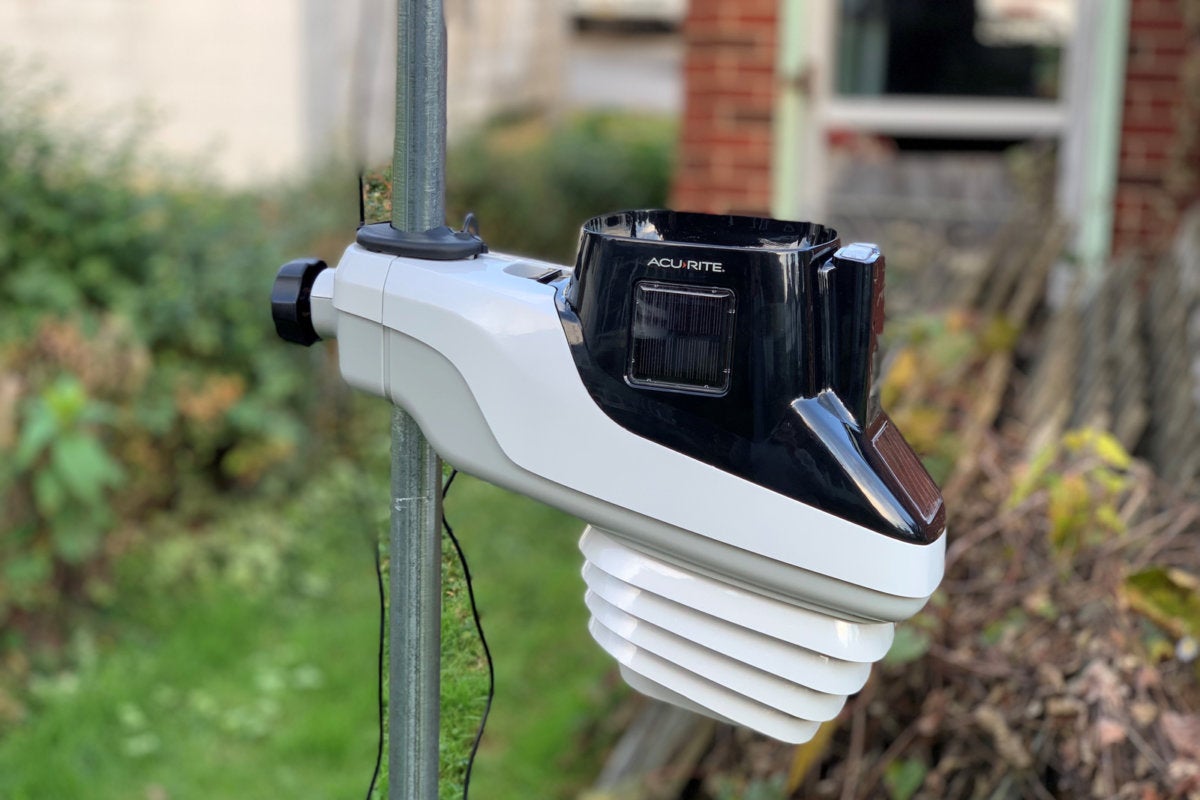 From there, you can select from a few additional options:
A lightning detection module, $40
Wind Vane extension (for mounting to a mast), $30
Remote battery back for the sensor suite, $20
AC power adapter for the sensor suite, $20
Of these I'd most recommend the lightning detection module, as the rest of the components would depend on your setup plans. At a minimum, you'll spend $250 to get set up, with a fully featured station with all the bells and whistles coming in at $480 (you don't need both the battery pack and the AC adapter, just one or the other).
Setting up the Atlas
If you read my earlier AcuRite review, you'll remember the amount of trouble I had setting up the SmartHub—AcuRite's earlier device for connecting its sensors to the internet. AcuRite Access is the new version of the SmartHub, but it's not much different from the original. Just remember to set up the Access as your final step, and wait about 30 minutes for the sensor suite to connect and start reporting.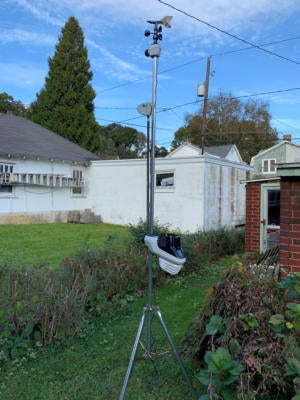 I hate all-in-one sensor suites, because they're so inflexible when it comes to placement. But I have few complaints about the one that comes with the Atlas, because if you purchase the $30 Wind Extension Kit, you can separate the wind vane and anemometer from the rest of the sensor suite. This is pretty simple to do, and it will give you much more accurate wind readings because you can place those instruments at a height that's closer to where wind measurements are officially taken (read why in the sensor placement section of our buyer's guide).
I installed the sensor suite in two parts on a 10-foot mast, placing the main sensor suite at eye level and using the extension kit to mount the wind vane and anemometer at the top of the mast. Overall, I'd estimate you'd need anywhere from 30 to 90 minutes to set everything up, depending on which accessories you buy.
My experience with the Atlas
AcuRite says its Atlas weather stations are designed to compete with Davis, so that's what I'll compare features and accuracy to. I'm generally happy with the construction of the sensor housing, although some of it is made of awfully thin plastic which might reduce it's durability (I'd need to perform an extended test to find out for sure). You'll need four AA batteries to power the sensor suite at night, but four solar panels surrounding the rain gauge assembly provide all the power needed while the sun is shining.
Instrument accuracy was a step up from the AcuRite 5-in-1 Environment System I evaluated previously. With sufficient radiation shielding around the thermometer and hygrometer sensors, I found readings to be accurate, and close enough to both the Davis Vantage Vue and the nearby National Weather Service station to call it within the margin of error.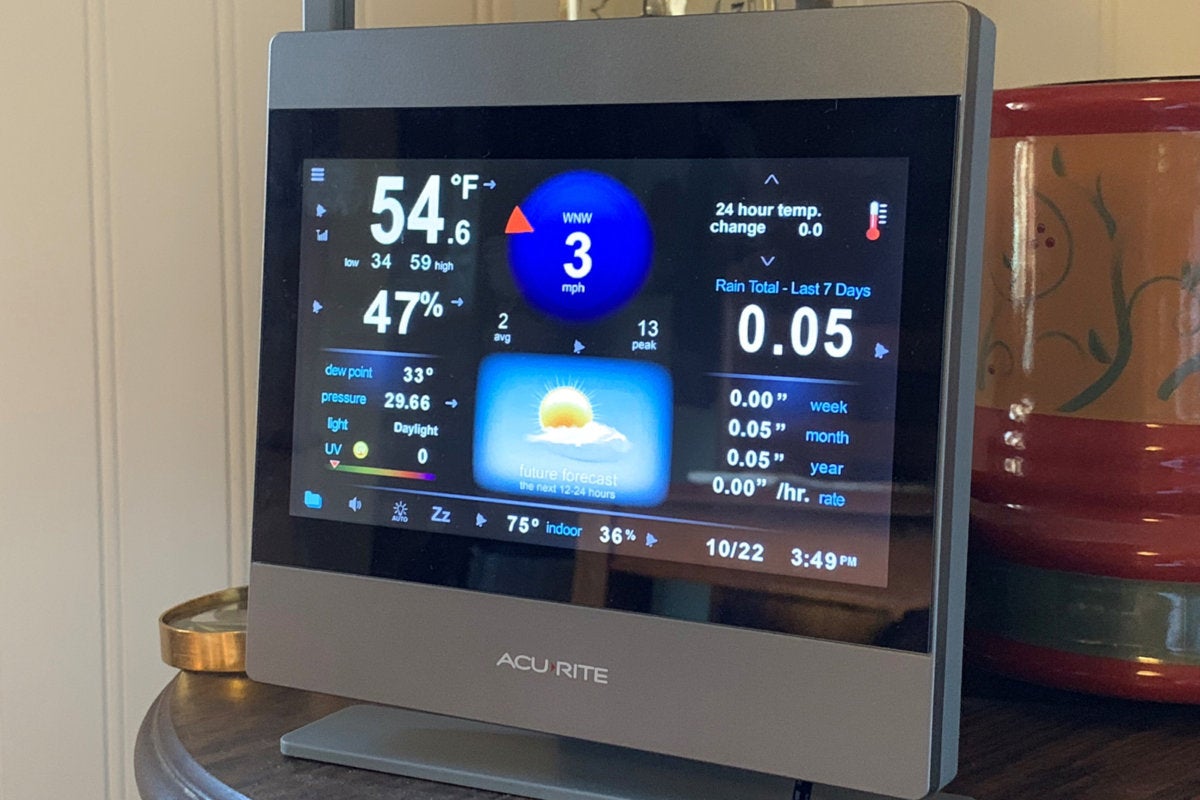 Having the wind vane extension kit paid dividends. My wind readings feel much more accurate as a result, and I was lucky enough to have a strong fall cold front pass through during testing to see how the Atlas performed. While wind readings are still low—remember, you want the anemometer at 33 feet—they're much more accurate at 10 feet.
Rain readings also matched up well, and barometric pressure readings were quite accurate (an improvement over my previous AcuRite evaluation), but note that you'll need to calibrate the barometer with a nearby reading during setup to get the most accurate measurements.
AcuRite provided its lightning detector, which I unfortunately didn't have an opportunity to thoroughly test. The system did register a false strike near the end of my test, which apparently is a fairly frequent issue. I am concerned, however, about the possibility of interference from nearby power and cable lines, but I'll update this review as soon as a good thunderstorm passes through and I can judge if those power lines do in fact interfere.
A beautiful console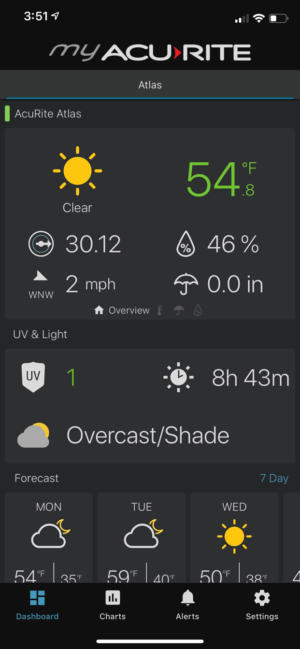 Weather measurements are displayed on AcuRite's 7-inch TFT touchscreen display. While the screen isn't exactly of the highest quality, and the user interface is perhaps a bit rough around the edges, it looks nice and it works fairly well. It at least looks and feels as though it belongs in a modern amateur weather station. That's in sharp contrast to Davis' console, which looks and feels like something out of the 1990s or early 2000s—essentially because it is.
I like the option to review graphs of weather data directly on the console, either over the past six or 48 hours. You can also adjust the brightness—including a helpful sleep mode that dims the console considerably while still providing some useful data. You an also set all kinds of alarms for defined weather events.
The only negative I can point out is that it doesn't support the display of any more data than that produced by the Atlas sensor suite. None of the additional AcuRite accessories you buy will show up on your console. These can be added to the AcuRite Access, but you'll need either the mobile or a web browser to view that data. Nothing has changed considerably from our previous review, so in the interest of brevity, I'll direct you to the app and website section from TechHive's other AcuRite review.
Marginally better for smart home enthusiasts
AcuRite has been reluctant to support smart home technologies. They argue that options such as IFTTT too often delay the triggers that activate your smart home gadgets. I'd disagree with that premise and argue that it should be left up to the customer to decide whether such a delay is acceptable or not. That said, I applaud the company for building an Alexa skill that works well.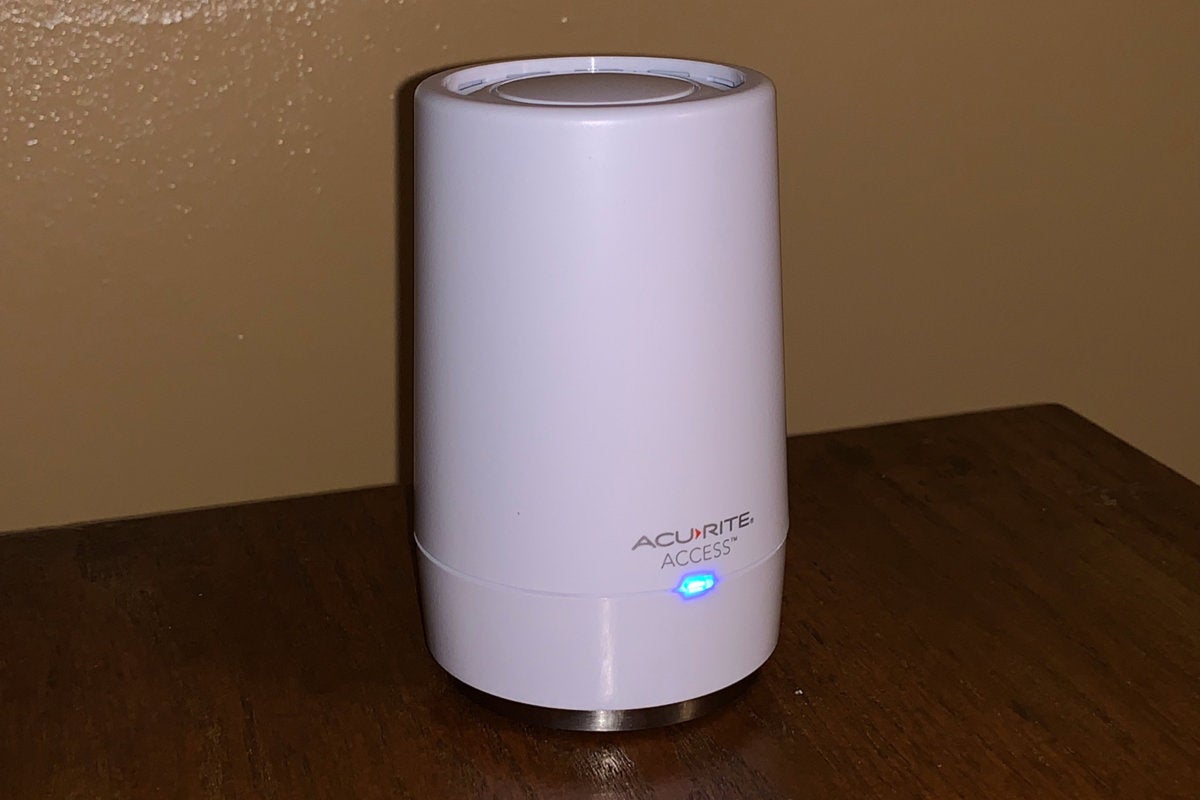 I think the way AcuRite has prioritized what Alexa reports is better than Ambient Weather's skill, but I'd still prefer to say "Alexa, ask My AcuRite about the current outdoor temperature," or rainfall or wind speed and so on, as opposed to hearing every measurement recited.
Final thoughts
While the AcuRite Atlas is somewhat pricey—it's a good deal more expensive than the rest of the company's line—you are paying for quality. The Atlas is a worthy competitor to the Davis Vantage Vue, and if the Atlas Elite ever sees the light of day, it could be a better value than Davis' Vantage Pro 2.
I remain disappointed that AcuRite continues to resist adding more smart home connectivity to its lineup, and that's the primary reason Ambient Weather's WS-2902 earns a slightly higher score—although both products earn TechHive's Editors' Choice award. Should AcuRite relent and more fully embrace smart home integration, I will revisit this review. The Atlas is that close to eclipsing Ambient Weather's offering as our top pick.