At a Glance
Expert's Rating
Pros
App control
Amazon Alexa support
Budget-friendly price
Cons
Doesn't support 5GHz Wi-Fi
Our Verdict
The Deebot N97S is a great cleaner with app control and Amazon Alexa support at a budget price.
Robot vacuums typically fall into one of two categories: pricey premium models that come with cool features like app control, mapping navigation, and smart-home support, and budget-minded models that that, well, don't. The reasonably priced Deebot N79S bridges that chasm a bit by offering a simple but elegant app experience and Alexa-enabled voice control.
The N79S sticks pretty close to the blueprint of other Deebot robot vacuums we've tested: a simple circular design—13.9 inches in diameter in this case—in a modest black color. The Auto button and Wi-Fi indicator sit on the brushed-metal top and there's a power switch on the side. Underneath are a single roller brush, two spin brushes, a pair of treads and a nose wheel. Infrared sensors are housed in the front bumper, and the dustbin sits in the back.
The robot comes with a physical remote control. This includes a monochrome display, a directional pad for manual control, and buttons for scheduling, setting the remote's clock, Wi-Fi setup, and various cleaning modes. You control the N79S with the Ecovacs mobile app, as well. And if you activate the Ecovacs skill in the Amazon Alexa app, you can also use voice commands to tell the vacuum to start and stop cleaning and to return to its dock via an Amazon Echo device.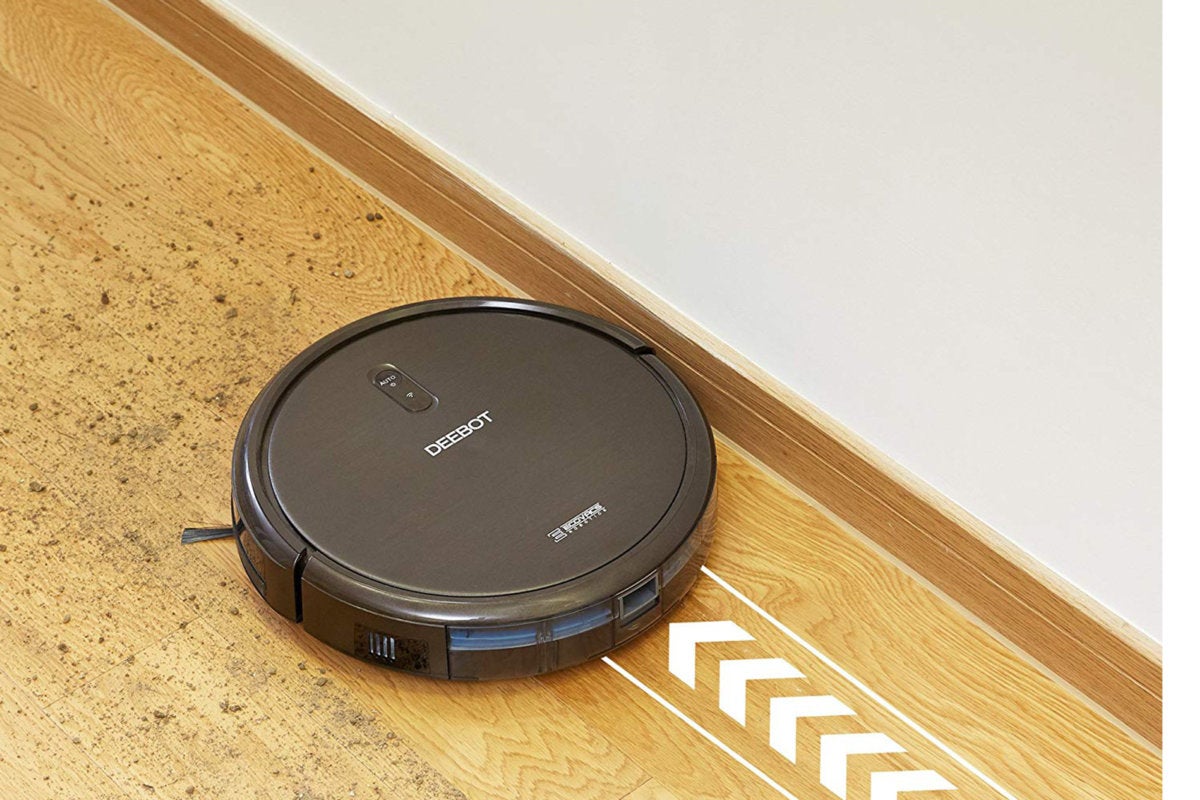 Setup and usage
You'll need the Ecovacs app to connect the N79S to your Wi-Fi network. After you select the N79S from a list of Ecovacs models, the app guides you through a straightforward setup. It's important to note, however, that Ecovacs robot vacuums don't support 5GHz networks, so if you have a dual-band router as I do, you'll need to take steps to make sure you're connecting to the router's 2.4GHz network or the setup will fail.
After the N79S is connected, the app shows its current status and the battery-charge level across the top of your device screen. A directional pad for manual steering sits in the middle of the screen, and buttons for the various cleaning modes–auto, edge, spot, and single room—are in a row across the bottom, along with a recharge button that sends the robot vacuum home to its charging dock.
I first had the N79S do a cleaning of my downstairs in auto mode. It navigated around furniture and other obstacles pretty deftly, slowing and changing direction when its sensors detected something in its path. Only a few times did it actually collide with an object before maneuvering out of the way. Occasionally, it would simply attempt to push through an object if it encountered little resistance. At one point it simply scooted the dog's water dish along in its path, so gently that it didn't spill a drop.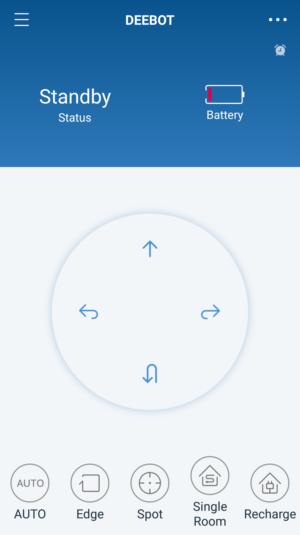 At 3.3 inches tall, the vacuum had no trouble getting under a couch, easy chair, and kitchen cabinets. It also smoothly traversed carpet, hardwood, and linoleum without its treads getting hung up.
The vacuum easily sucked up pet hair, food crumbs, and tracked-in dirt and dust. It even grabbed a couple of small toys, and in these cases the app alerted me to the problem at the same time the vacuum beeped in distress, so I could dislodge the object and resume the cleaning. Despite the N79S's powerful suction, it is remarkably quiet and unobtrusive when doing its job.
While auto mode is great for maintenance cleaning, edge mode sends the vacuum around the perimeter of the cleaning area, so it can tidy up along baseboards and in corners. In spot mode, the vacuum cleans an area of concentrated dirt in a spiral pattern with maximum suction. Single-room mode is used when you only want to clean a bedroom, den, or other contained space and it requires you to shut that room's door.
You can set a cleaning schedule for the N79S in the Ecovacs app: Just pick a time and then choose the day(s) you want it to clean. You can also track the remaining life of your brushes and filter in the app, so you'll know when to replace them.
Should you buy one?
Advanced robot vacuum features like voice control are almost unheard of in this price range. That reason alone makes the N79S worth a look if you're on a modest budget. But it's also a diligent and relatively quiet cleaner, which is really how any robot vacuum should justify its price tag. Together, that makes the N79S a steal and earns it our vote for best budget robot vacuum.