Apple TV just got a lot more interesting for cord-cutters now that its TV app supports PlayStation Vue.
The TV app, which aggregates video from different providers into a unified TV guide, previously didn't integrate with any live TV streaming bundles. If you wanted to watch cable channel programming through that guide, you had to download and log into individual apps from networks like NBC and FX. Those apps don't support DVR the way PlayStation Vue does, they don't always offer live TV feeds, and in some cases require repeat logins because they don't support Apple's single sign-on feature. The whole thing was a hassle that made the TV app easy to ignore.
PlayStation Vue, which starts at $45 per month for more than 45 channels, appears to be the first live TV streaming service that integrates with the TV app. (Hulu says it will also add TV app integration to its $40-per-month live TV service soon.) That means you can access Vue's on-demand shows, DVR content, and live sports straight from the Apple TV's default home screen, alongside content from several other apps. With this one addition, Apple's vision for the future of television seems a lot more complete.
One-stop shop
To be clear, a PlayStation Vue app has been available on Apple TV since late 2016. The difference now is that Vue ties into Apple's own centralized TV guide, which by default pops up whenever you hit the remote's home button. (This would be a lot less confusing if Apple used some other name, like Watch or Guide, for the Apple TV's TV app.)
Why would you use the TV app instead of just opening Vue directly?
Mentioned in this article
Apple TV 4K
Price When Reviewed:
32GB $179 | 64GB $199
For one thing, the TV app lets you browse multiple streaming video sources at the same time. If you're currently watching shows on PlayStation Vue, Amazon Prime, and PBS, the TV app provides a universal watchlist for catching up on new episodes. And when you're not sure what to watch, the TV app gives you recommendations that span multiple services.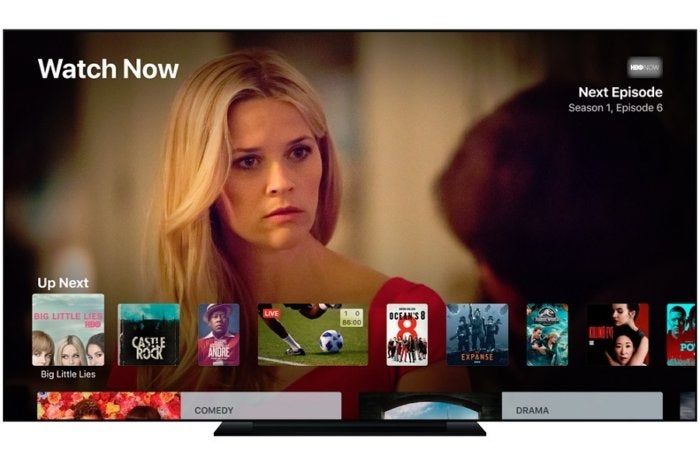 I'd also argue that the TV app is easier to navigate than PlayStation Vue (and most live TV streaming apps, for that matter). The Vue app isn't terrible, but it's still rooted in traditional TV concepts like surfing live channels and scrolling through a sprawling grid guide, and it can also be slow to load.
Apple's TV app cuts all that cruft away and focuses on a handful of basic concepts. Your watchlist is at the top of the screen for easy access, followed by sporting events, news feeds, and recommendations. (You can also add sporting events to the watchlist and get reminders when they're live.) The lack of a traditional grid guide seems like an intentional—and in my view, welcome—design choice.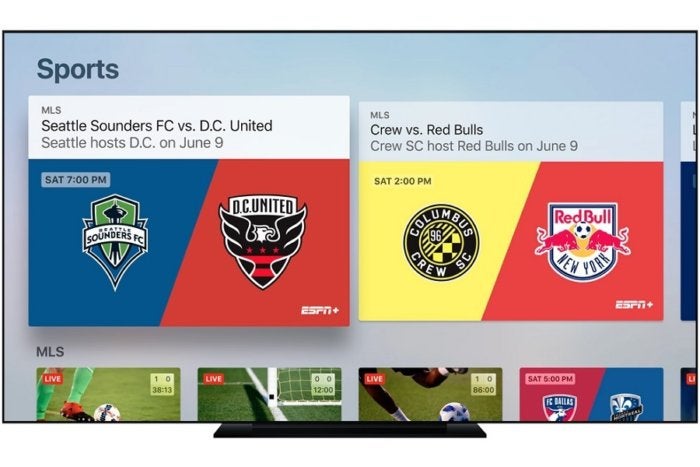 The TV app is not a complete replacement for Vue's own app. You'll still need to launch PlayStation Vue to manage your DVR and access specific live channels (though for the latter you can skip Vue's menus by asking Siri to launch a channel directly). Vue also doesn't integrate with the TV app's news section, so you'll need to open Vue directly to watch CNN or other live news channels. Still, if you're just looking for a movie or show to watch, the TV app could be all you need.
What's next for the TV app?
Mentioned in this article
PlayStation Vue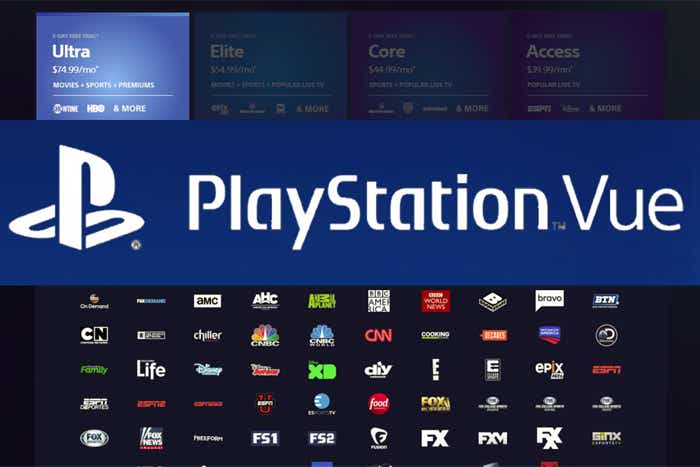 So far, I haven't gotten many answers on whether other live TV streaming services will follow PlayStation Vue's lead, but Shannon Prior, a Hulu spokeswoman, says the company is working on TV app integration. It should be available "in the next couple of weeks," she said.
Representatives from FuboTV and Sling TV said they had nothing to announce, while representatives from DirecTV Now, Hulu, Philo, and YouTube TV didn't provide comments in time for this column.
Apple didn't respond to a request for comment either. It's no secret that the company wants cable providers to embrace the TV app, but hopefully the company is urging live TV streaming services to get onboard as well.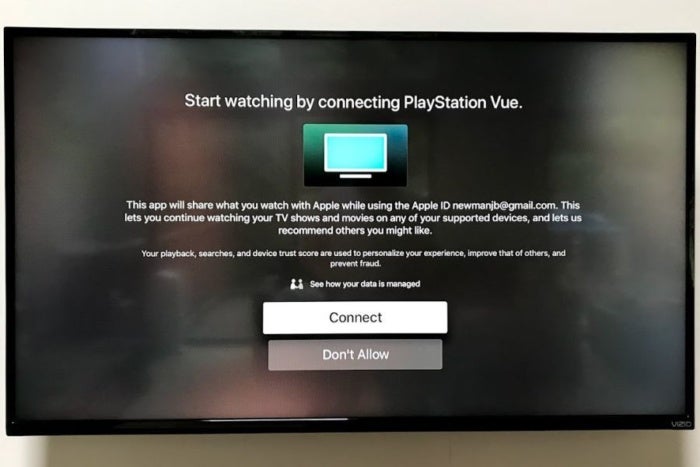 In the meantime, there's room for the TV app to improve in other ways. It still doesn't show content from some major streaming services—most notably Netflix and YouTube—and it doesn't work with over-the-air DVR solutions such as Tablo, HDHomeRun, and Plex. Without more content sources, Apple TV users will still have to frequently double back to the device's traditional app launcher. (As a reminder, you can map the Apple TV's home button to either the TV app or the regular app launcher by going to Settings > Remotes and Devices > Home Button.)
Still, the current Vue integration makes the TV app a lot more functional for cord-cutters than it used to be. If you own an Apple TV and subscribe to PlayStation Vue, consider making it your first stop when picking something to watch.
Sign up for Jared's Cord Cutter Weekly newsletter to get this column and other cord-cutting news, insights, and deals delivered to your inbox.