At a Glance
Expert's Rating
Pros
Some amazing setup tricks get some devices up and running in seconds
Universal search across all your devices and services is a game changer
Fairly intuitive remote with a slim learning curve
Cons
Not quite as universal as one might like
Only four devices supported, making it imperfect for complex home entertainment systems
Some features still rough around the edges
Our Verdict
This innovative approach to a universal remote revolves around another set-top box, but its universal search capabilities dramatically upgrade streaming as we know it.
Best Prices Today: Caavo Control Center + Universal Remote
A rectangular black box that sits in your entertainment center: It sure does look like another streaming box competitor, but it's important to understand that the Caavo Control Center isn't that at all. It's a universal remote control that takes a wholly different approach than those used by Logitech.
This is actually Caavo's second run at this concept. The first was a wildly innovative (and pricy) crowd-funded system designed to be NORAD for your entertainment system; you plugged everything into the Caavo, then controlled it all with its custom remote. With eight HDMI ports, two USB ports, and more, the $400 device was clad in steel and decked out in fancy wood, built to be an eye-catching showstopper.
The system, which launched in very limited quantities in early 2018, met mostly with resistance and confusion, which sent Caavo back to the drawing board to come up with a more approachable and affordable concept.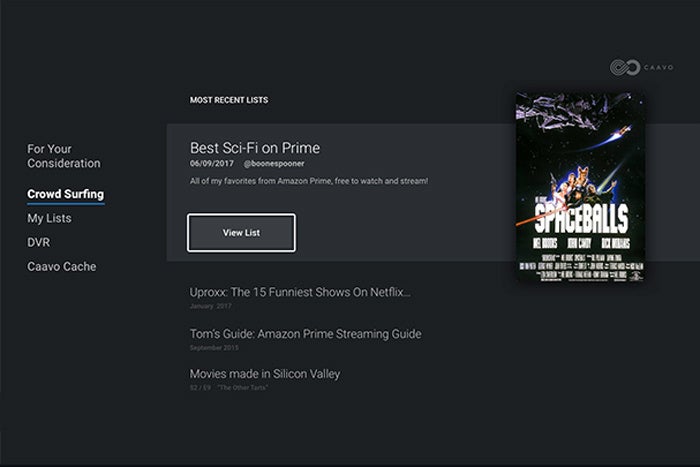 Enter Caavo 2.0, the Caavo Control Center, a simpler yet equally capable product that's more back office than bling, and which is on sale now for just $100.
Conceptually, the Control Center revolves around the same ideas as the original Caavo. Connect up to four HDMI devices to the ports on the Control Center, then connect your TV to the dedicated output port. You can daisy-chain audio gear into the mix, too, if your system is suitably complex.
Once connected, Control Center gets to work figuring out how what's what and how to control it all. For many devices, Caavo can figure out what they are simply through the HDMI connection. Others (especially older products) might have Caavo asking you what type of device it is, then it figures out the rest from there via electronic voodoo. Very old gear may have to be programmed manually, button by button, but this isn't too taxing through Caavo's walkthrough.

When Caavo figures out something correctly, it's a dream. After some scanning, Caavo asks whether a windowed representation of the device's menu is the correct device, and it asks you to test the controls on its universal remote. When this works, it's as close to magic as I've come across in a home electronics device, requiring virtually no programming at all. This auto-configuration doesn't always work, of course, but it's impressive when it does.
With all your gear connected, it's time to start using the product. Caavo's big selling point is not just that it can control all the hardware you have connected, but that it can run all the apps on those devices—and search across all of them, too. If you've ever wasted time scouring various services one at a time to see whether something is on Amazon Prime, Hulu, Netflix, or available on demand, Caavo's one-stop-shop is the perfect fix.
That said, it's critical to understand that Caavo is just a remote-control system that is fairly helpless on its own. Caavo can stream Netflix from an app installed on one of your devices, but it can't connect to Netflix directly. Similarly, you can tell Caavo that you're an Xfinity subscriber, but you can't watch cable TV unless you have a cable box attached to the Caavo. In other words, this is not a replacement for your Roku, Fire TV Stick, or Apple TV unit, but rather an enhancement to them.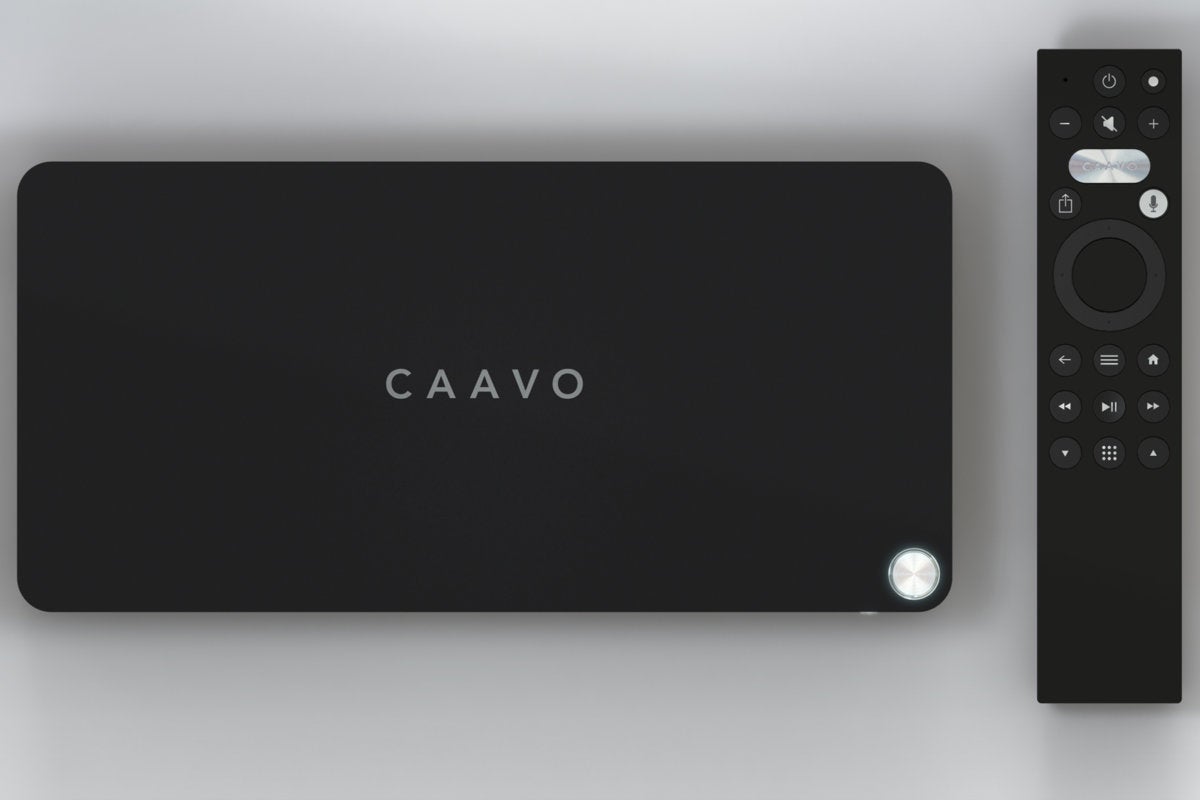 In usage, Control Center has a mild—but not flat—learning curve, as the spare remote (which offers just 22 buttons, none with significant labeling) takes some getting used to, particularly since you're replacing all of your existing remotes with this minimalist gizmo.
The design is decidedly imperfect. For example, the buttons on the edge of the navigation ring—where you'll spend most of your time—are tough to hit with accuracy since the ring is so thin, and the positioning of the oft-used volume buttons, at the top of the remote, puts them in an uncomfortable location. Also, my older Blu-ray player (which Control Center had automatically discovered and configured during setup) balked at some of the commands. For example, the play/pause button would only pause content, not restart playback. That said, the inclusion of voice navigation on the remote streamlines many functions, especially searches.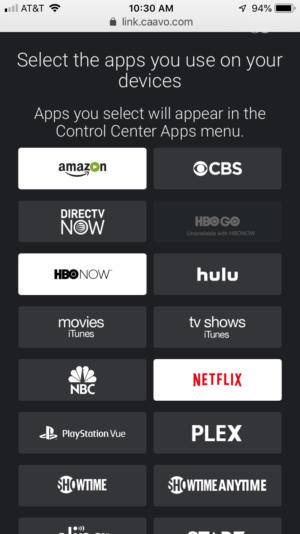 I encountered other issues during setup that bear noting. When Control Center detected my Apple TV, the screen suddenly went dead. Tech support said this was due to a rare incompatibility between Apple TV and my Sharp television, and ultimately walked me through a workaround. Similarly, while Caavo supports Alexa (and Google Home), I was unable to configure Alexa properly by using the specified voice prompt Caavo provided. Again, this was blamed on a rare incompatibility with other Skills I had installed, and after using a workaround to finish setup, I was told that a fix was in the works. That's an awful lot of rare trouble for a single writer.
On the other hand, everything did ultimately get working without too much of a headache. Again, Caavo's sophistication shines. For example, the feature that lets you find your lost remote by asking Alexa, which causes it to emit a musical chime, is one of the cooler uses of the voice assistant in a smart home setting that I've encountered to date.
After a 45-day trial period, you'll find that the vast majority of Control Center's features only work with a paid service plan, and while it's cheap—$1.99 per month or $19.99 per year—it's not nothing, particularly since no other universal remote requires a subscription. That said, given the relatively low price of the hardware and some of Caavo's niftier capabilities, it's still arguably worth it. In that spirit, here's hoping that some of its early issues get ironed out through service updates over the coming months.
Best Prices Today: Caavo Control Center + Universal Remote