At a Glance
Expert's Rating
Pros
Excellent sound
Psychoacoustics enhances frequency response
Nice basic black look
Cons
Sound image flattens a bit at very high volumes
Our Verdict
We've rarely heard $200 bookshelf speakers that sound better than the Fluance Ai40s. Though the woofer is only 5-inches, psychoacoustics allow for very good perceived low-end performance. The remote control is a perfectly simple and handy adjunct.
If my recent assignments are any indication, Canada is the new hotbed of speaker technology. Case in point: Fluance's Ai40, a $200 pair of nicely sonorous bookshelf speakers with all the Bluetooth accouterments—including aptX support. Their secret? Messing with your mind via your ears.
Design and specs
If you're looking for something that's exciting or unusual in appearance, then the Ai40's are not for you. These are basic black, baby, but I like 'em. The 10.9-inch-tall, 6.5-inch-deep, 7.6-inch-wide speakers feature 5-inch woofers and 1-inch silk dome, ferrofluid cooled tweeters (with a crossover at 2600Hz). Ferrofluid, as you might have guessed, is nothing more than iron particles suspended (magnetically) in a light viscosity liquid. It's generally employed in a ring surrounding the voice coil to reduce heat transfer from the coil to the diaphragm.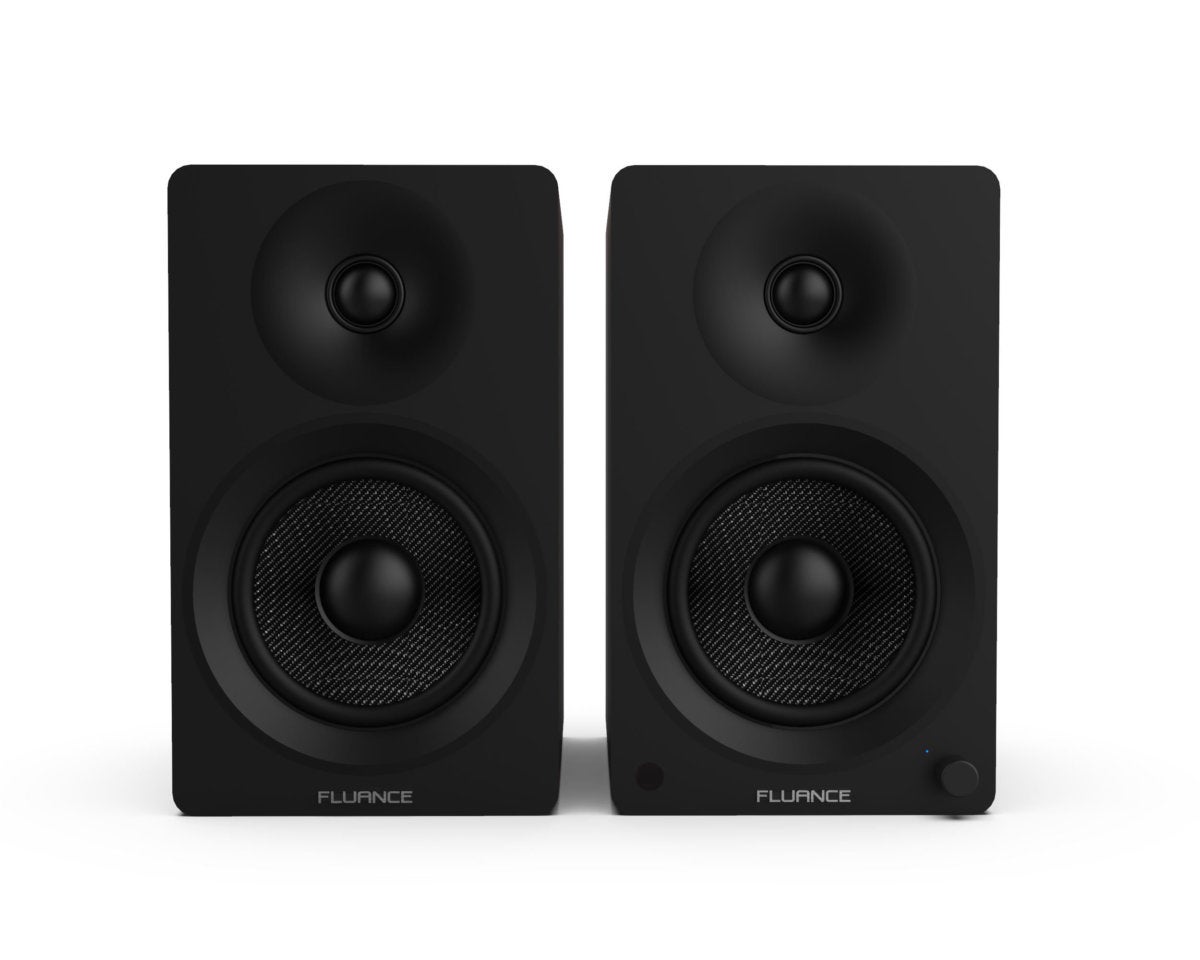 The Ai40 cabinets are manufactured from MDF (medium-density fiberboard), not hardwood. MDF is made from wood pulp and glue, which is denser than plywood and has acoustic properties close to that of hardwood.
There's 70 watts total power onboard (35 watts per channel), supplied by a Class D amplifier inside the right-hand speaker, which also houses the controls. Class D is a power-efficient, lightweight design used widely in self-powered speakers to reduce the tonnage—in this case, to a manageable 15 pounds for the pair.
That right-hand speaker hosts a volume control/power button on the front, the wire connection for the left-hand speaker on the back, and a Bluetooth pair reset button (the Ai40s will automatically try to pair the first time you power them on). The power jack is also on the back, and it connects to an external power supply brick, so there is that to deal with in terms of hiding clutter.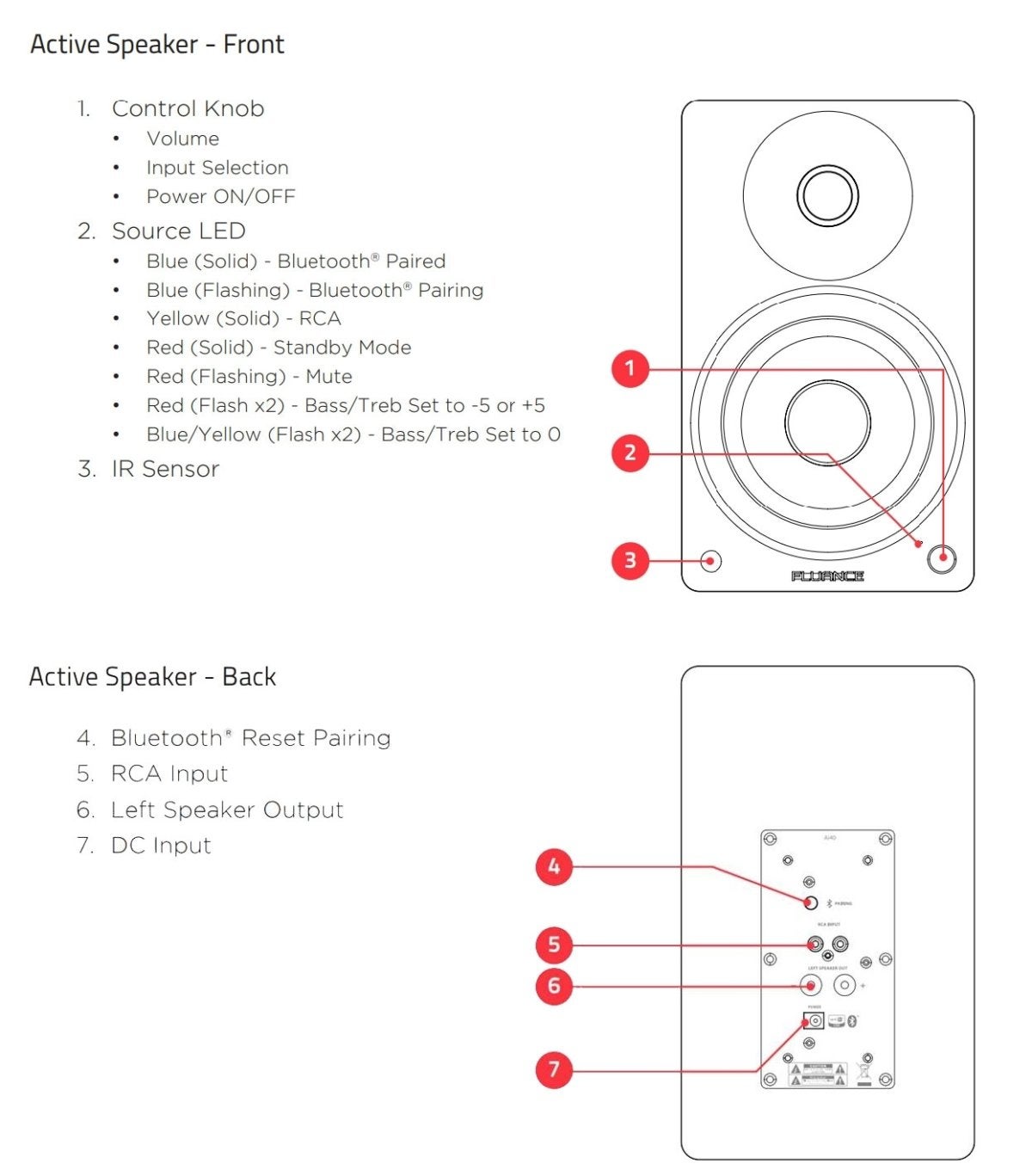 The Ai40s ship with an infrared remote control that can be used to turn the speakers on and off, mute them, adjust the treble or bass, and increase or decrease the volume. It's nicely simple and works quite well, though it can be just a bit laggy.
Not having talked to the company, my eye was caught by a line in the product description stating "DSP Virtual Sound Perceived by Ear" next to the 40Hz-to-20kHz frequency response range specification. Forty Hertz is an awfully low frequency for a 5-inch speaker to produce, so I'm guessing that Fluance is employing psychoacoustics to heighten the perceived bass and perhaps treble response. If you've ever used the TRS Wow effect included with Windows Media Player, that's what I'm talking about.
Psychoacoustics can also be used to change perceived spatial characteristics, but if Fluance is doing that, I didn't notice it.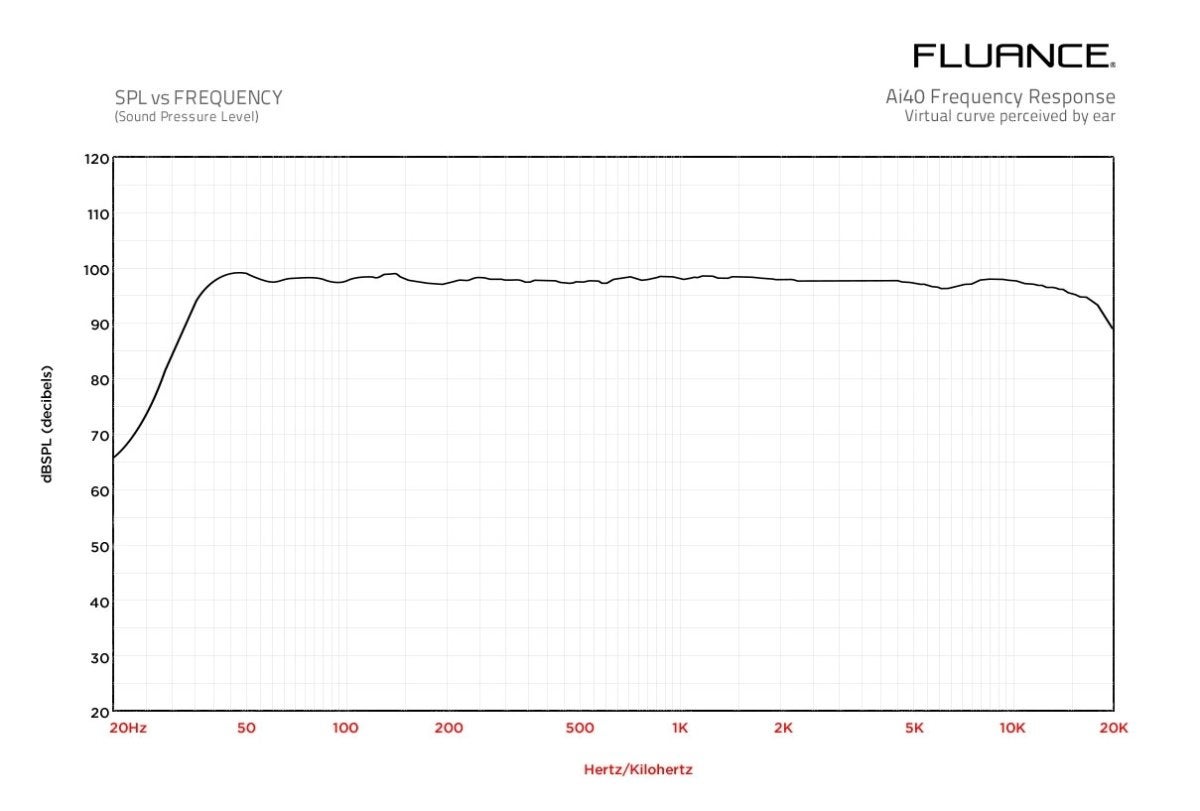 Sound
Whatever technology or trickery Fluance is using, the Ai40's sound nice. Really nice at anywhere from low to medium volume. The acoustic image flattens out a bit once things get loud, but I'm talking loud enough that you'd have to shout to make yourself heard. At normal listening levels, it's all good.
There's plenty of thump for the average user, though perhaps not enough for subwoofer addicts. There was just enough top end to give sound that glassy shine that I like. Given the age of my ears, that's likely more than enough for anyone.
I could go on with the adjectives and metaphors, but for a $200 pair of speakers, these things are killer. One caveat. As Fluance is playing in the "perceived" arena, the Ai40's aren't suitable as reference monitors, which are prized for sonic accuracy, not necessarily pleasant tones. That said, I could easily pick out delicate parts of mixes (subtle shakers, tambourines, clicks, and the like) that aren't reproduced by more average Bluetooth speakers.
Buy them
If you want a darn fine-sounding pair of speakers that will outperform just about any soundbar—and most bookshelf speakers at this price—the Fluance Ai40 should be on your short list. They compare well sonically with the Edifier S2000 Pros I reviewed recently, and they cost $50 less. Good stuff, Canada.