At a Glance
Expert's Rating
Pros
Excellent color
Lots of peak brightness to make HDR pop
Affordably priced for a quantum dot TV
Cons
Doesn't support Dolby Vision
Doesn't include the One Connect breakout box
Our Verdict
The Q8FN doesn't include the One Connect box, and its luminance spec is slightly lower than the more-expensive Q9FN, but it's every bit as good on all other counts. It's a great TV at a very good price.
Quantum-dot technology is hard to beat when it comes to vibrant and accurate color. Even when it's in a less-expensive QLED, such as the 65-inch-class Samsung Q8FN reviewed here. By cheaper, I mean a street price of $2,300 as opposed to the $3,000 that the Q9FN will set you back. That's still a pretty heft sum, but it's only $300 more than the Q7FN—and it's $100 less than the Q7FN was just a couple of months ago. Yup, it's getting to be that time of year again.
Let's examine the major differences between the three: The least-expensive model—the Q7FN—uses edge backlighting, while the Q8FN has full array direct backlighting (so it delivers better blacks than the Q7FN). The top-of-the-line Q9FN, meanwhile, nets you full array direct backlighting, Samsung's nifty One Connect box (which will save you some cable wrangling), and 25-percent higher dynamic range than the Q8FN).
Considering the Q8FN's narrower dynamic range is far wider than what you'll encounter in most other TVs on the market—apart from the Q9FN, of course—and cables aren't all that hard to wrangle, I consider the compromise pretty easy to live with given the Q8FN's lower price tag.
Design and features
The Q8FN I tested is of the 65-inch class (55-, 75-, and 82-inch models are also available), with a 64.5-inch panel running at 120Hz. Resolution is 3840×2160, aka, 4K UHD or 2160p. The TV is a thin-bezel design that weighs in at right around 60 pounds and is VESA wall-mountable. Samsung won't say how many lights or zones there are in the backlighting. Why the reticence, I can't say, but there are a lot.
I was surprised to discover that the Q8FN's ports are on the TV, as opposed to the aforementioned One Connect box, since Samsung bundles that with both the less-expensive Q7FN and the top-of-the-line Q9FN. Plugging all the required cables into the TV itself is slightly more awkward, but you easily save enough money to come up with another hidden solution, such as a cable raceway painted to match the wall. And if you're not wall-mounting, the absence of the One Connect box is a moot point anyway.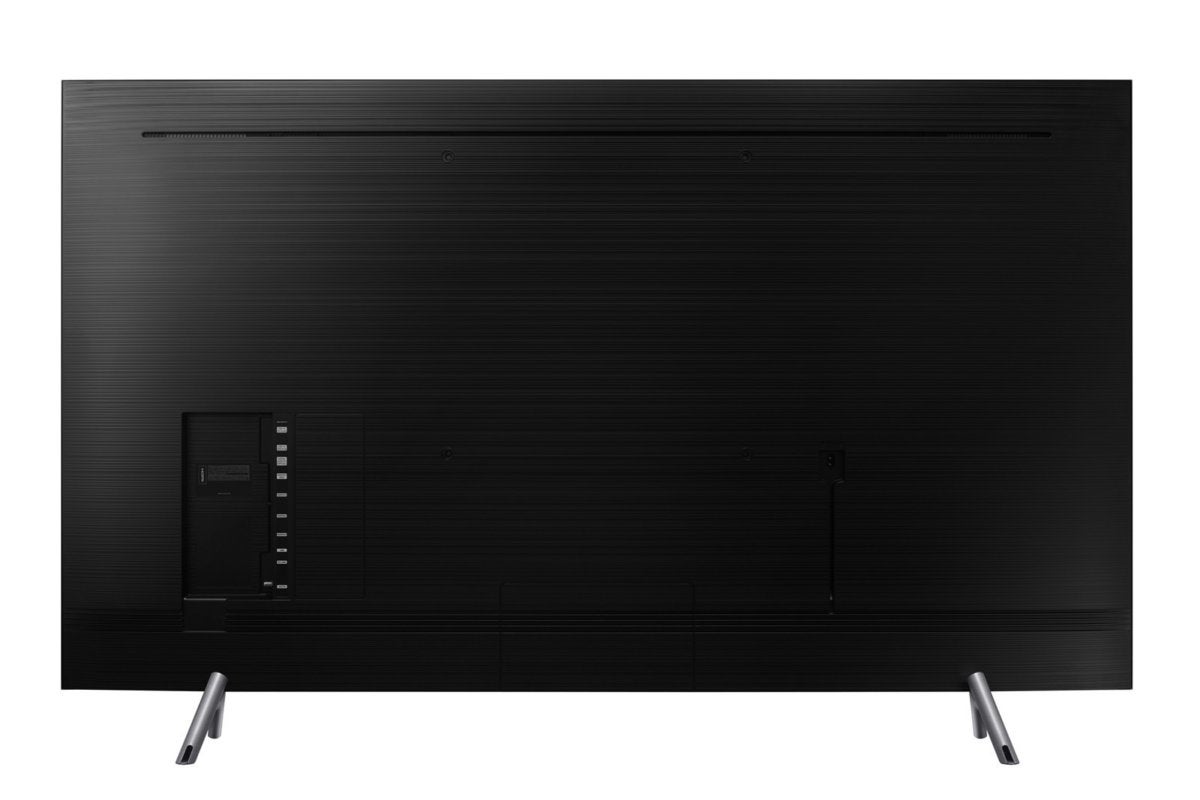 The TV is equipped with four 60Hz HDMI ports, with one supporting ARC (Audio Return Channel; a coax connector for cable or an OTA antenna (there is a tuner on board); two USB ports; an ethernet port; and an optical audio output. A/V and component input is supported via 3.5mm ports and adapter cables. There are also Wi-Fi and Bluetooth adapters onboard.
Alas, that means it's now time for my Samsung-doesn't-support-Dolby-Vision warning. I still haven't seen any meaningful amount of content encoded in HDR10+ (Samsung's Dolby Vision equivalent, with dynamic metadata but without the 12-bit color palette). Content encoded with Dolby Vision, on the other hand, has become very common, and in my experience, it generally looks better than HDR10. It's not light years better, but it's better.
The Q8FN does support Samsung's ambient mode, where you use the Samsung app to take a picture of the TV's surroundings, then create an on-display wallpaper with it so that the display "disappears" into its background. It's a neat party trick, but it's not as valuable as supporting Dolby Vision.
Interface and remote
I've complained mildly in previous reviews about the Samsung Smart Hub interface not always returning you to where you left off. But having just spent some time with Android TV, I have a renewed appreciation for Smart Hub's clean design and thoughtfully logical organization. With just a few tweaks, it could be the best interface available.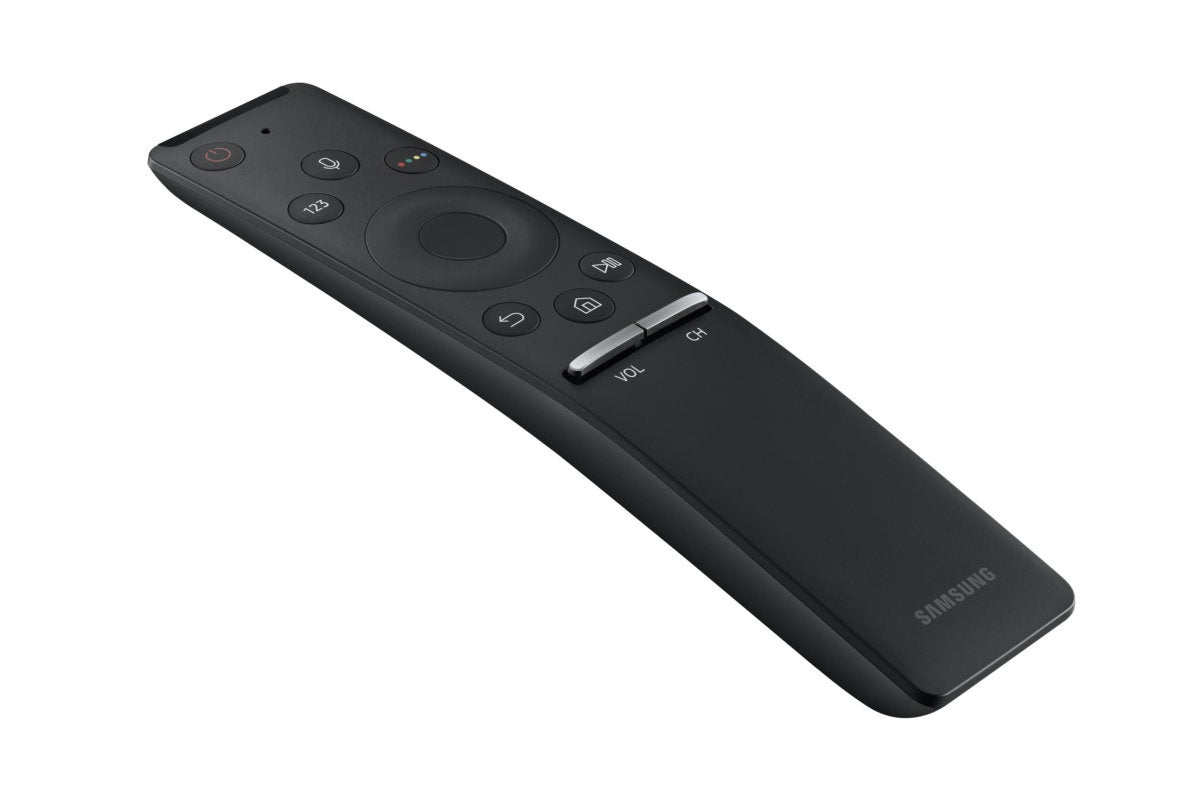 I also think the One Remote universal remote errs just a hair on the side of minimalism. Add a full complement of dedicated transport buttons and a real "escape" function to close all menus in one stroke, and it would be perfect. Regardless, it's still one of my favorites and a joy to use compared to most. It supports voice navigation as well as Samsung's Bixby digital assistant.
Performance and picture
Before I nitpick, the Q8FN's picture easily makes the 95th percentile. After living with other brands for most of the last two months, viewing it reminded me just how good the QLEDs are. Great black (for an LED-backlit LCD) along with great peak brightness, and the best color in the business. Since I no longer have the Q9FN to make a side-by-side comparison, take this with a grain of salt, but I was actually happier with the Q8FN's image that I remember being with the Q9FN's.
It might have something to do with the array backlighting, which supposedly isn't quite as granular and produces 25-percent less peak brightness. I still measured 1600 nits at one point, and the blacks were largely spot on. Perhaps there's a sweet spot the Q8FN hits that the Q9FN doesn't.
In addition to being quite bright, the array backlighting also proved largely artifact free. There's very little blooming or other artifacts with bright objects on a black background, and the blacks, as I already mentioned, are pretty darn good. There are times when you can see some mild bleed, but it's nothing compared to what you see from lesser TVs.
The Q8FN's color is every bit as accurate as the Q9FN's thanks to a layer of quantum dots. Straight LED/filter technologies are getting closer to true reds and greens, but QLEDs are already there. Indeed, you must retreat to the old CLF-backlight days to find color that's a vibrant and true.
The only other difference Samsung talks about is that the audio is only a 4.1-channel speaker system with a 40-watt amplifier onboard, compared to the 4.2-channel, 70-watt amp on the more expensive model.
I do have two minor complaints. The first is that the backlight and other optimizations aren't always instantaneous. In other words, you'll see some slight blooming or judder for an instant before the Q8FN figures out what's going on in the video and compensates.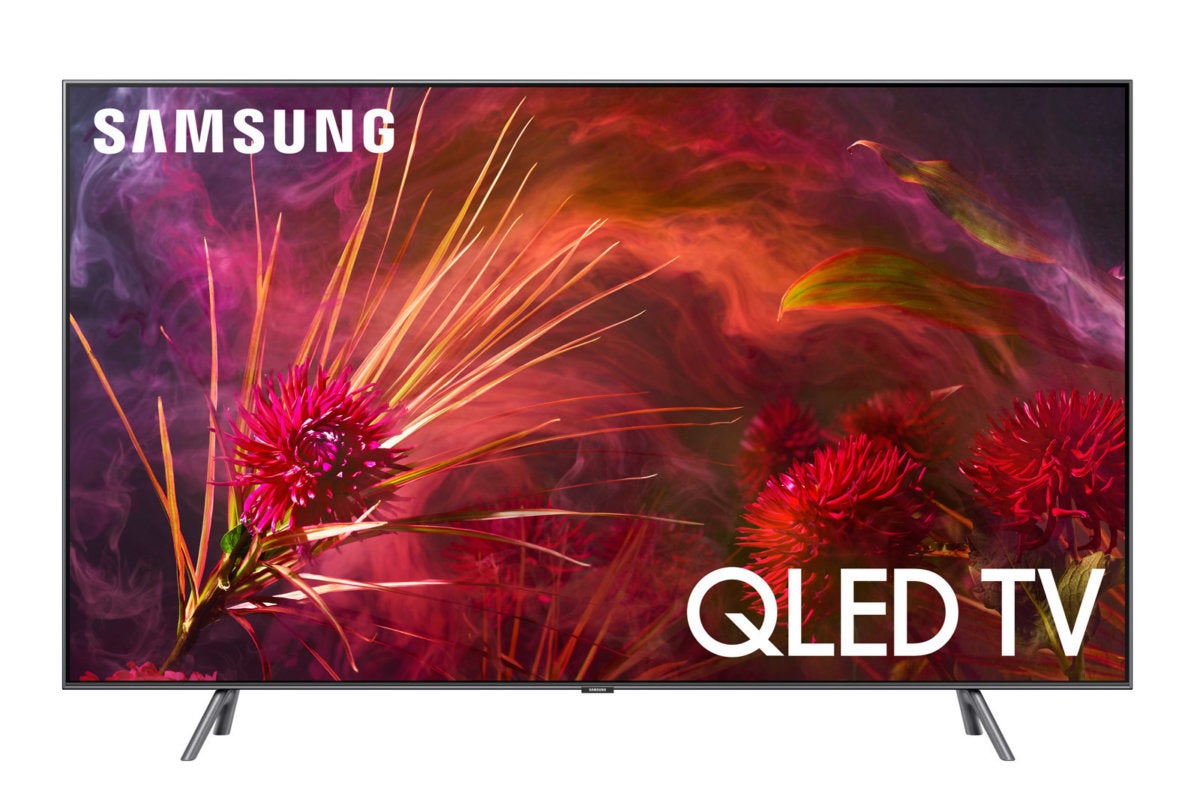 The other nitpick has to do with the panning of highly detailed patterns, which is a complaint I have with nearly all LED-backlit LCD TVs. There's often a slight shimmer or indistinct moiré. You can dial this out of most material, but not without loss of sharpness and detail. The only TVs I've seen that handle this particular type of artifact well are from Sony, which are otherwise, not quite in QLED's class.
HDR renderings offered plenty of pop in the highlights. With all of our test material being HDR10, however, there is compromise. HDR10 relays adjustment information to the TV only once, at the beginning. HDR10 palettes tend to be darker than that of the Dolby Vision equivalents I've seen on other TVs.
I wish Samsung would bite the bullet and pay to license Dolby Vision—at least until HDR10+ gains traction. Assuming it does. Note that I have asked Samsung for HDR10+ files, but they don't seem to exist at the moment. Only Amazon streams HDR10+ the last time it checked.
Stated maximum power draw of the Q8FN is around 280 watts, though I never saw more than around 200 with HDR (High Dynamic Range) material. With standard dynamic range, power consumption was about half that.
The sound from the Q8FN isn't bad at all, and you could probably live with it if you're not too picky about such things. I mentioned 4.1-channel audio, but that's simply the onboard speaker count. Via HDMI or other outputs, the Q8FN will drive larger setups.
Top banana
Of all the 65-inch TVs I've tested in the $2,000 to $2,500 price range, the Q8FN is easily the best. Actually, it can hold its own with the finest TVs at any price point. The HDR is vibrant, the colors true, and the blacks very dark. The only caveat is the lack of support for Dolby Vision.