At a Glance
Expert's Rating
Pros
RF tech means line of sight isn't needed
Extensive configurability lets you tweak to your heart's content
Costly, but still a good value considering its power
Cons
Those with complex home entertainment systems won't find this remote powerful enough
Programming process can be convoluted and time-consuming
Our Verdict
Expand the capabilities of the Harmony Hub with the simple, but easy-to-use, Companion remote.
Best Prices Today: Logitech Harmony Companion
Logitech's Harmony Companion consists of a Harmony Hub and a relatively simple, familiar-looking remote control that communicates with it. The Hub component works exactly the same way as a standalone Hub—a central command center for all your devices via IR, Bluetooth, and Wi-Fi—complete with smartphone and PC configurability. Perhaps the easiest way to think about the remote is that it simply provides access to a number of shortcuts, though you will still need your smartphone to do any heavy lifting.
The setup
Mentioned in this article
Logitech Harmony Hub
Price When Reviewed:
$99.99
Setup is a two-step affair. First, you configure the Hub through the same procedure as outlined in that review, then you assign actions and commands you created on the Hub to the Companion remote. Three buttons at the top of the remote can be set to multi-step actions—those broad processes such as "Watch TV" or "Listen to Music" where numerous devices are controlled together. The remainder of the buttons on the remote are contextually sensitive, based on which of the three actions you used last. Play and pause work with your DVD player if you're watching a movie, or they'll control your CD player if you're listening to music.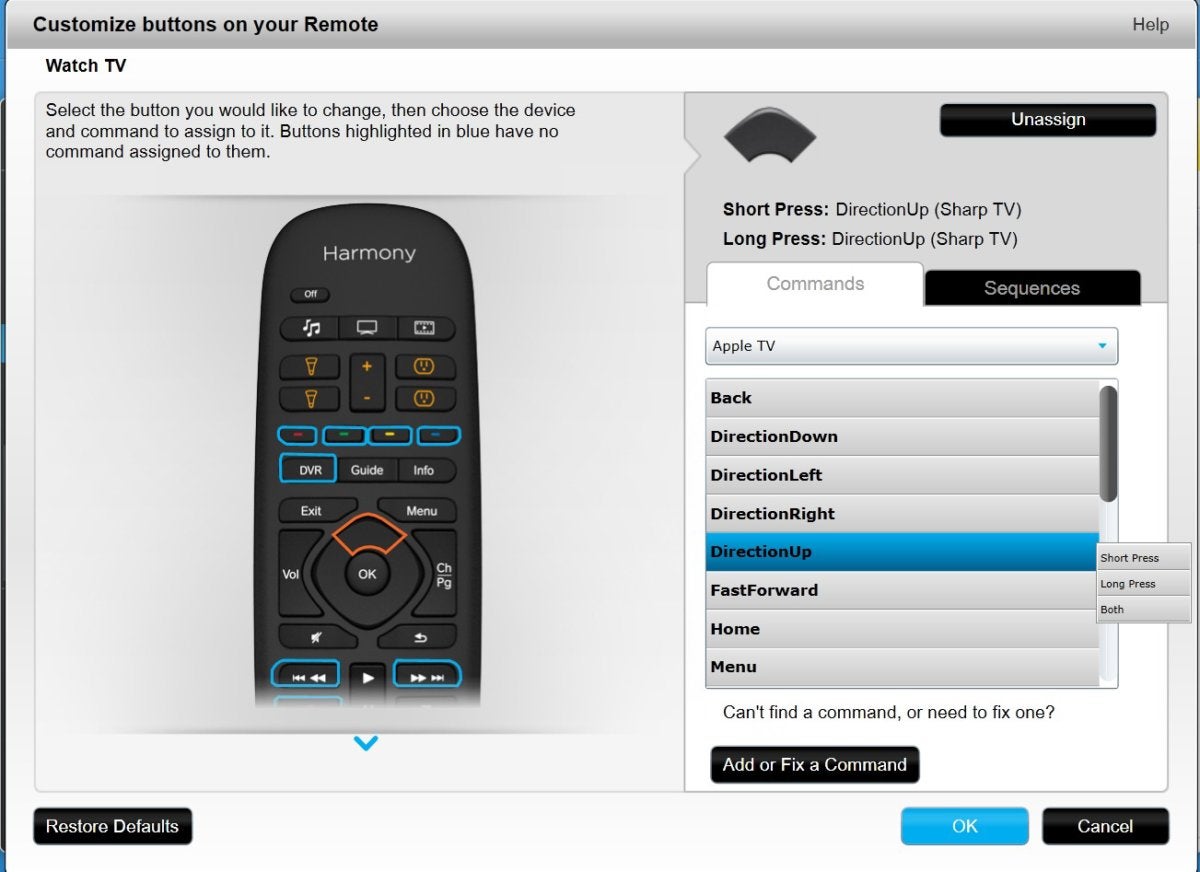 Alas, the remote is not entirely straightforward on this front. When I assigned "Watch TV" to engage my Apple TV, none of the buttons worked with the Apple TV unit; instead they were all keyed to the television by default. Of course, you can (and will) reprogram the remote, button for button, but the process is slow and painstaking, and a small mistake could have you redoing your work. Considering that any changes you make require resyncing the Hub with your PC via a wired USB connection or via smartphone, it's not a process to be taken lightly.
For some, the six buttons up top dedicated to smart home functions will be even more of a convenience than the TV / Music remote functionality. These buttons carrying symbols for lights and plugs, plus an up/down rocker, can be assigned to any shortcuts for your smart home gear via the Harmony apps—but note that they can't be reassigned to non-smart home functions. That said, it's incredibly handy to be able to, say, program that rocker to dim and brighten your lighting, without having to resort to your smart phone app or yet another remote control.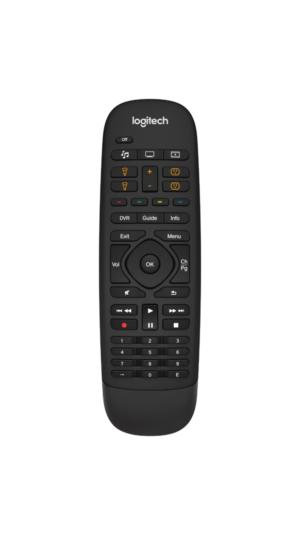 Once fully programmed, the Companion remote is responsive and feels good in the hand. It's well-designed and easy to navigate, with buttons placed right where they should be. It's critical to understand that the remote does not have its own IR emitter; the Hub handles all of that. Instead, the remote talks to the Hub via an RF connection, which the Hub translates into an IR, Wi-Fi, or Bluetooth command. That's important—and liberating—because it means you don't need a line-of-sight connection between the remote and the Hub (or any of your devices), so you can control your devices from all over the place, even another room.
The Companion remote is powered not by the usual AA or AAA batteries but rather by a single coin cell. Logitech claims the coin cell will survive a full year of regular use, though I haven't been testing the device for nearly long enough to verify that claim.
Bottom line
Mentioned in this article
Logitech Harmony 665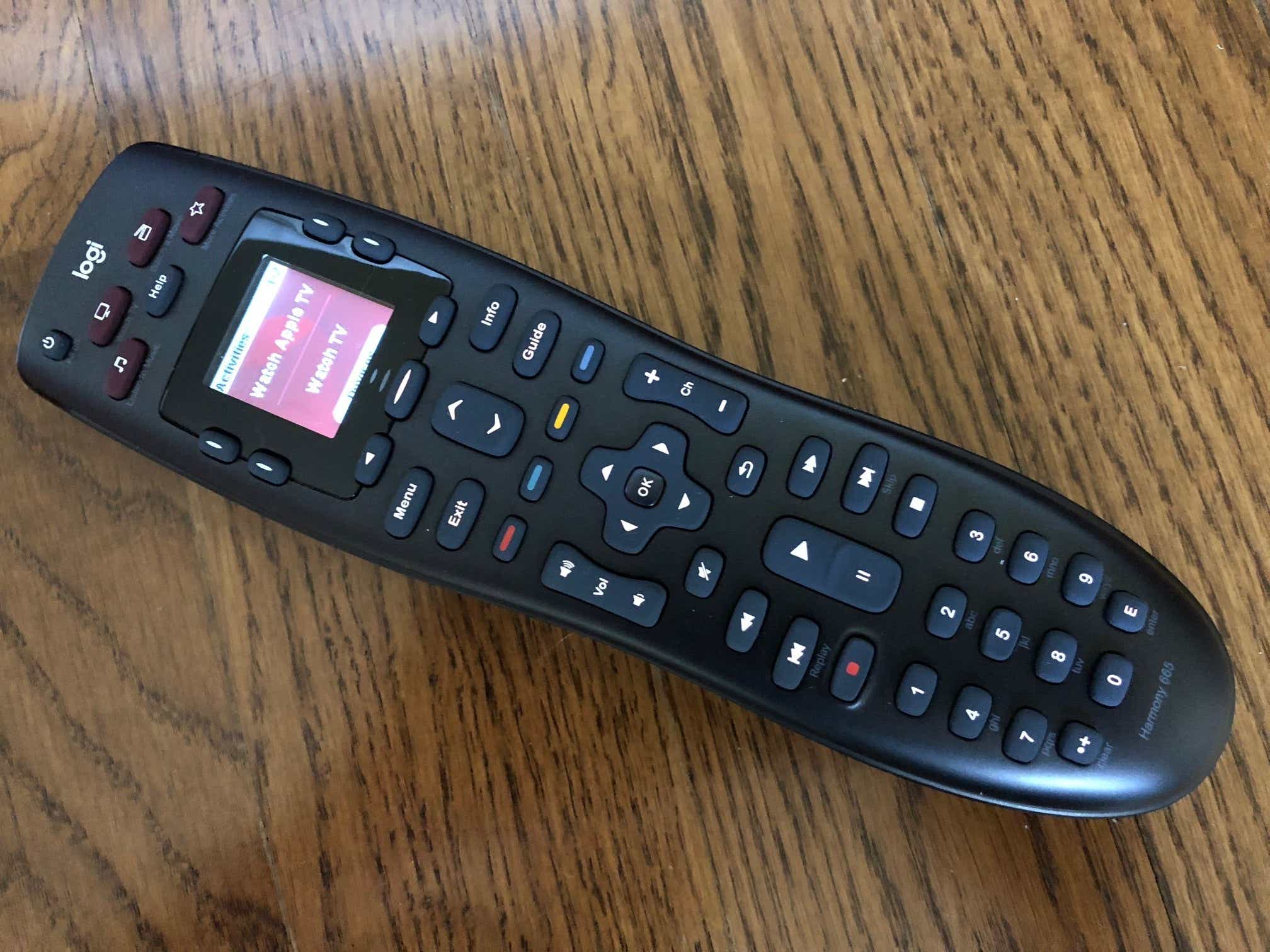 Price When Reviewed:
$69.99
The Companion package costs approximately $50 over the price of the standalone Hub—or roughly the cost of a good, standalone remote control like the Logitech Harmony 665. I suspect that most users will find this a worthwhile upgrade over the remote-free Hub, and while it isn't perfect for every situation (such as in my Apple TV example), it will get the job done for most—and represents a solid value in the category.
Best Prices Today: Logitech Harmony Companion