At a Glance
Expert's Rating
Pros
Self-sealing pod prevents dirt and dust from escaping during dispoal
Easy to maneuver around and under furniture
Can be converted into a hand vacuum
Cons
More expensive than many competing cordless vacuums
Battery provides only 35 minutes of use on a full charge
Our Verdict
This is an effective cleaning option for folks with allergies or asthma, but its high price tag might put off other users.
Best Prices Today: Oreck Cordless Vacuum with POD Technology
Vacuum bags, containers, and dustbins share a common flaw: They tend to release dirt and dust into the air when you detach and empty them. Much of that dirt and dust settles back on the surfaces you just cleaned. For allergy and asthma sufferers, this is more than an annoyance—it can trigger an attack that can make performing this household chore a risky proposition.
Oreck's POD Technology addresses this problem with a self-sealing and disposable container that locks in dust and debris, so it doesn't escape into the air when you remove it from the cordless vacuum. Instead of emptying the pod into the trash can, you drop the whole thing in and replace it with a fresh one for your next vacuuming. Oreck sells a pack of five refill PODs for $15.
It's a unique and pretty effective fix. The POD—which is essentially a small vacuum bag collapsed between two pieces of plastic—starts out flat and expands as it fills with whatever the vacuum sucks from your floor. Oreck says each POD holds three times more than the cup-style dustbins on competing cordless vacuums, and each one can last a month or more. Indeed, a single pod was good for multiple cleanings of the downstairs of my condo, unlike the dustbin on the Roidmi F8 Storm, which had to be emptied once or twice during a single cleaning.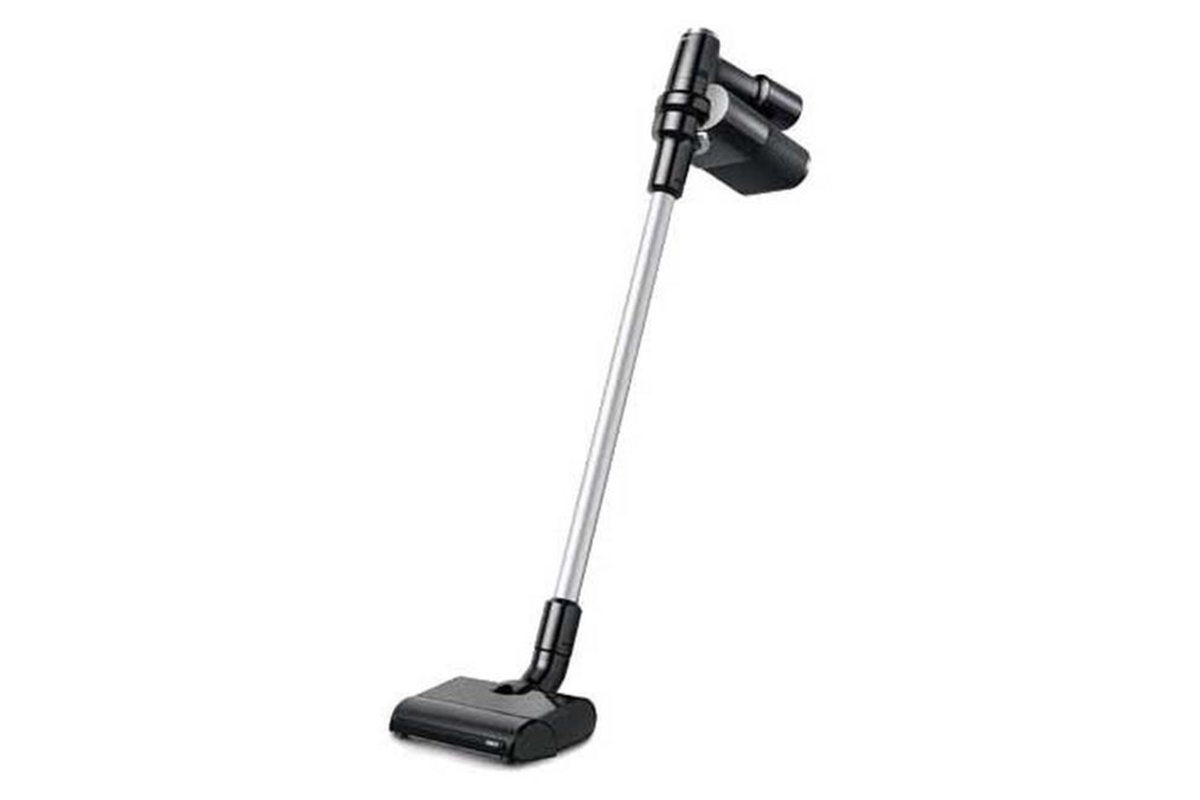 When the POD is full, the POD indicator on the vacuum's power dial changes from green to red. You then just release the POD case from where it attaches under the vacuum handle. The POD's opening self-seals and all you need to do is tip the container over your trash can to dump the whole thing. There's no cloud of dust, no mess, and you don't even need to touch the POD.
Mentioned in this article
Roidmi F8 Storm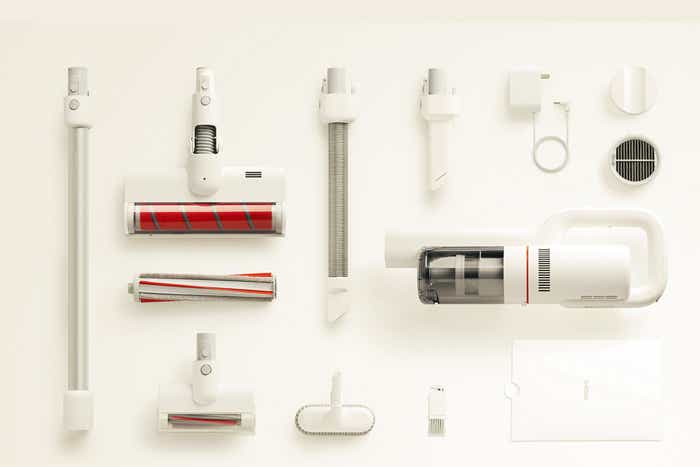 Price When Reviewed:
$399
Of course, none of this matters if the vacuum itself isn't good. Oreck's vacuum has two speeds, one for hard floors and a stronger suction for pulling dirt from carpet fibers. Similarly, it's main floor attachment employs a specialized brush roll with alternating hard and soft bristles for carpet and hard floors, respectively. Overall the Oreck did a fairly good job at getting dirt, food crumbs and pet hair from the surface of my low-pile carpet and hardwood. I still had to pull out my corded stand-up vacuum for deep cleaning, though, so the Oreck quickly became my go-to for daily maintenance between more comprehensive weekly vacuuming.
Unlike a conventional vacuum, this Oreck is light in weight and easy to push around and maneuver. Its low-profile head slips easily between chair legs and under couches and cabinets. Using it overhead to grab cobwebs and to clean curtain tops won't strain your back either.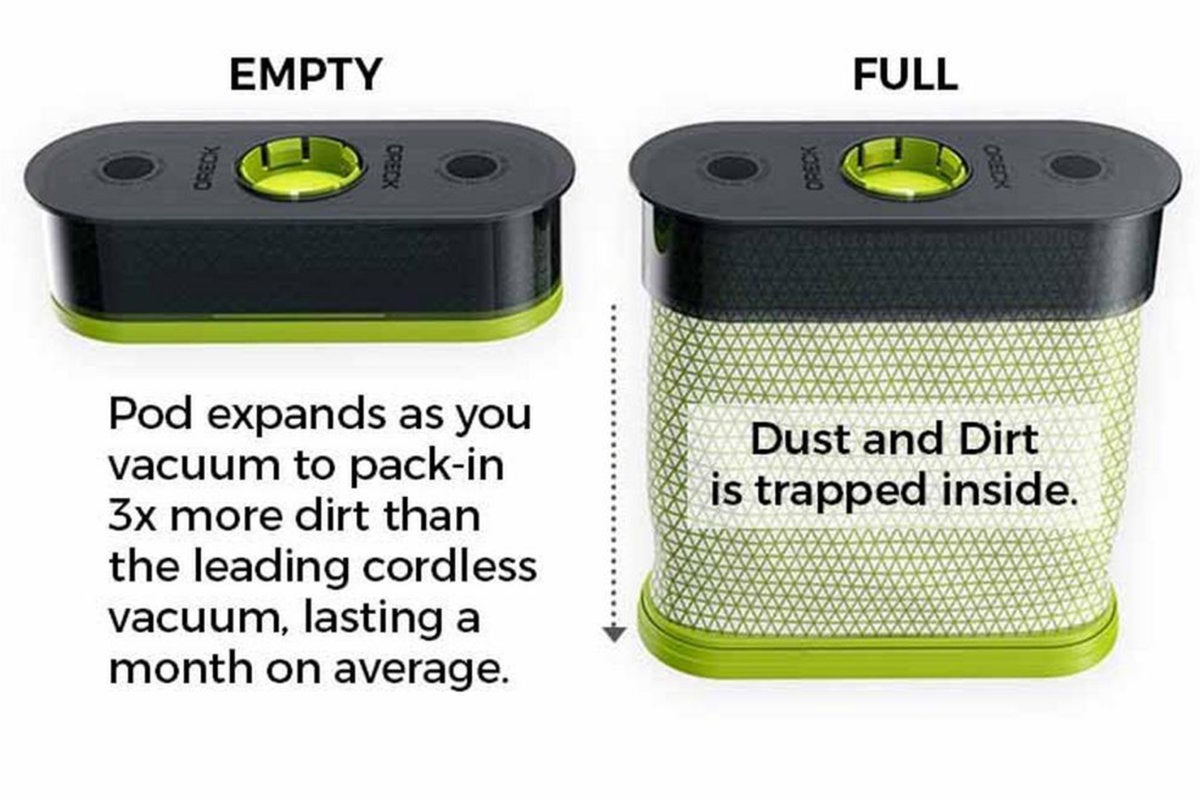 The Oreck can easily convert into a handheld a vacuum—something that's indispensable for cleaning the crumbs your kids left behind in your car, or for vacuuming a flight of stairs—and it comes with a pivoting brushroll, a soft-bristle dust brush, and crevice tools. Oreck also provides a plug-in wall mount charger and a tool rack, so you can keep everything tidy when the vacuum is not in use.
The Oreck's lithium-ion battery gives you a maximum of 35 minutes to vacuum after a full charge. That's not a great return on the 2.5 hours it takes to charge a fully depleted battery. For comparison, the Rodimi F8 will run for 55 minutes on a 2.5-hour charge.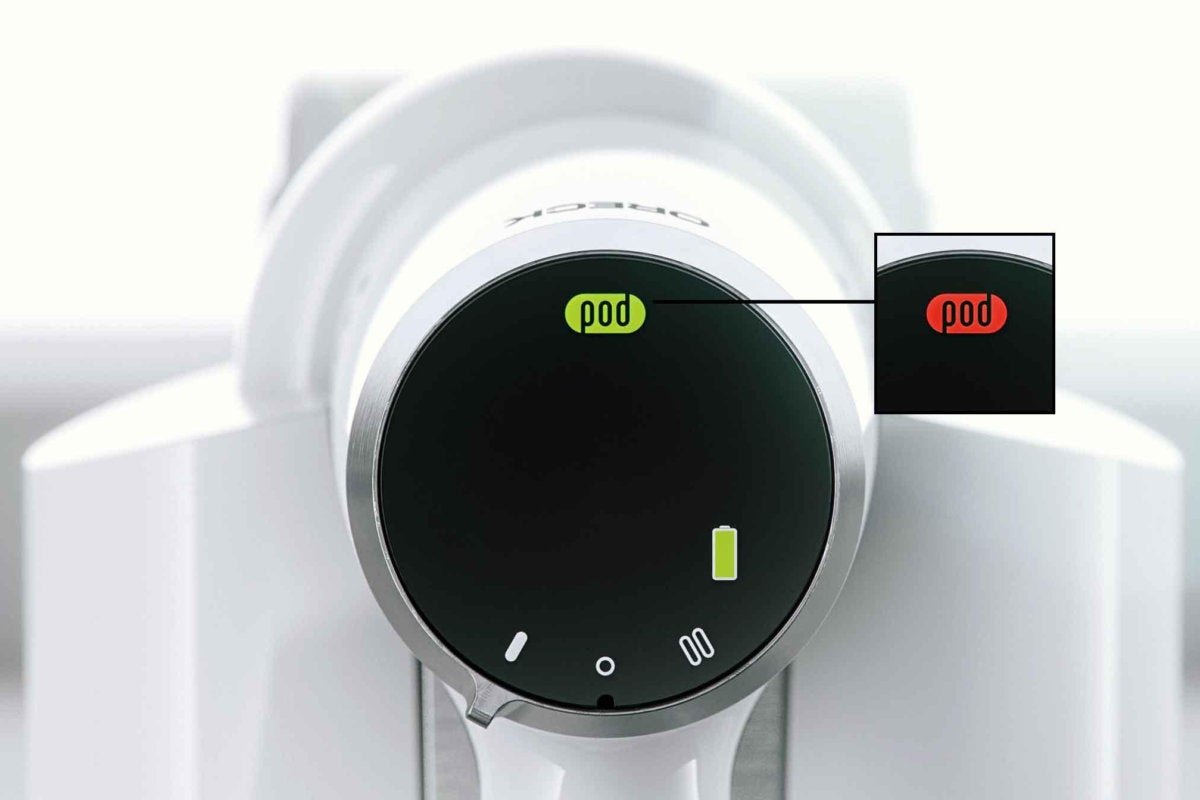 Should you buy one?
There's no question the Oreck Cordless Vacuum with POD Technology's unique bagless solution is a boon to anyone with respiratory issues. But any enthusiasm about its dust-free disposal will be dampened by its $569 price tag. That's nearly twice the price of the Roidmi F8, which has a significantly longer run time, and it's a considerable investment for a vacuum that isn't powerful enough to be your main dust buster. If dust exposure isn't a concern for you, there are plenty of more affordable cordless vacuums that will be healthier for your budget.
Best Prices Today: Oreck Cordless Vacuum with POD Technology