At a Glance
Expert's Rating
Pros
Big and natural sound in a small footprint
Responds promptly to your requests to find music, time a cooking session, or unlock the front door
Plays well with other voice-activated speakers in the Google Assistant family
Cons
Gets the jitters if simultaneously linked to a network streaming service and a Bluetooth-connected device
Nondescript industrial design evokes Hi-Fi aesthetics of the 1970s
Unlike true Google Home speakers, it can't make voice calls
Our Verdict
The JBL Link 300 is as pleasant as a stay at your favorite Hotel California, serving warm and entertaining sound and plenty of smart home utility at a very reasonable price.
Best Prices Today: JBL Link 300 smart speaker
Not too big. Not too small. Just right. That's a conclusion many shoppers will reach when spotting the JBL Link 300, the mid-range of JBL's Google Assistant-powered Link smart speaker lineup. Its $250 price tag makes for a reasonable port of entry for anyone looking to build a voice-activated, multi-room audio and home-control system on a miserly budget.
And since this speaker also supports Google's Chromecast audio technology, the Link 300—and any of its bigger or smaller siblings—can be paired with any other speaker that supports Chromecast. Delivering JBL's signature "California studio monitor" sound—a warm, realistically fleshed out soundstage and presence with soul and the stamina to crank—the Link 300 outperformed the vaunted Sonos One in many of my listening tests.
While demanding a larger spot on the table than the entry-level Sonos, the JBL Link 300 rewards with a more open, airy sound, equally comfortable with everything from pop wonderkid Arianna Grande's Sweetener and the pumped-up dance rock of The Chainsmokers (with the fresh EP Sick Boy . . . Side Effects), to the rich soloing sonorities of Yo-Yo Ma (Six Evolutions—Bach: Cello Suites) and the elegantly spare acoustic jazz sessions (think Sarah Vaughan, Hank Garland, Bobby Timmons, and Melody Gardot) that are stock-in-trade on TSF Jazz—Paris, my favorite compare/contrast streaming channel.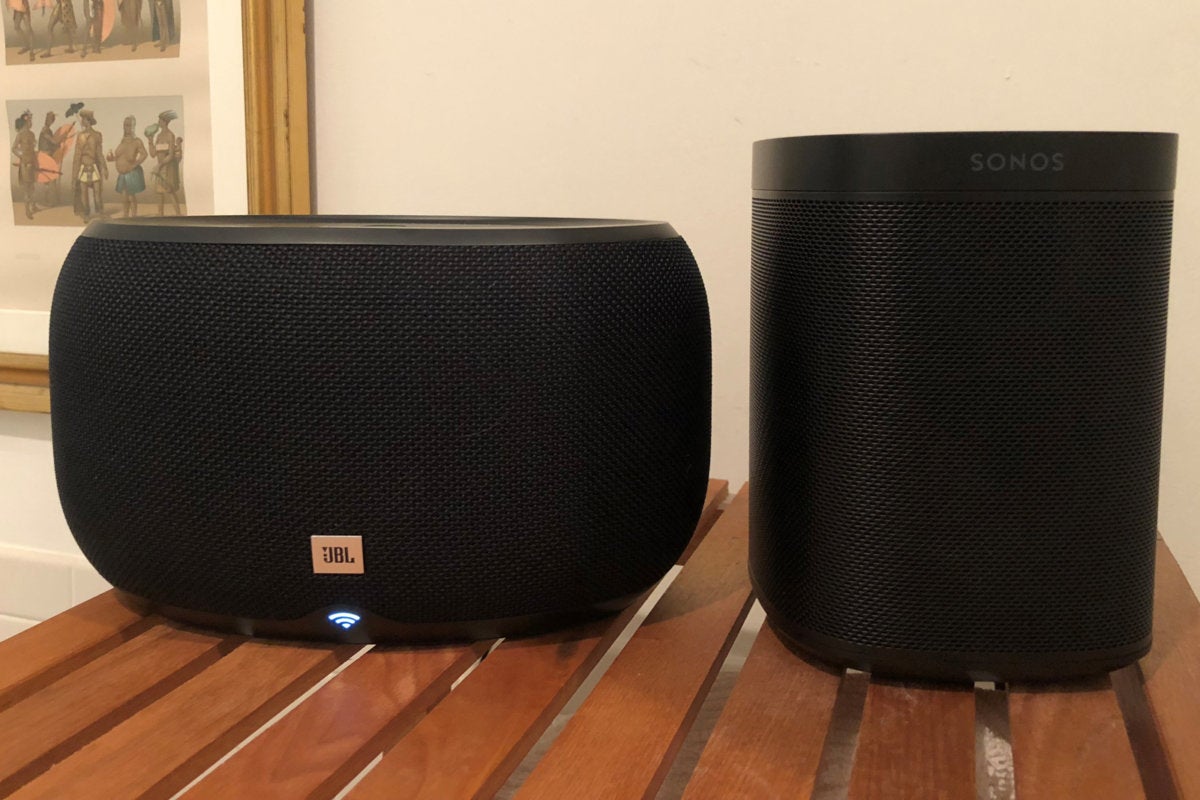 The JBL Link 300 also impressed with a significantly bigger (though not overblown) bass that I initially found annoying until I learned how to work it. But the Link 300 is not quite as razor sharp as the Sonos One at celebrating searing high-frequency tones (sorry, jam-band guitar heads).
Oval shaped and available in black or white, the Link 300 has a wrap-around textured mesh grill masking a front-mounted 0.8 inch tweeter and a 3.5-inch woofer, with a large passive radiator in back that's crucial to that JBL sound signature.
The ever-ready Google Assistant wants users to control almost everything by voice. Still, this speaker's hard plastic and rubbery-surfaced top offers press-deep (not thermal contact) volume and pause/play buttons, as well as the obligatory microphone mute button to tap if you fear Big Brother is listening. Also note the Bluetooth pairing button and a centered home button. Pressing the latter lets you abbreviate a voice command to eliminate the tedium of saying "Hey Google" before calling out a radio station, artist, or action request for news, weather, jokes, movie times, recipes, light switching, door locking, and hundreds of other commands.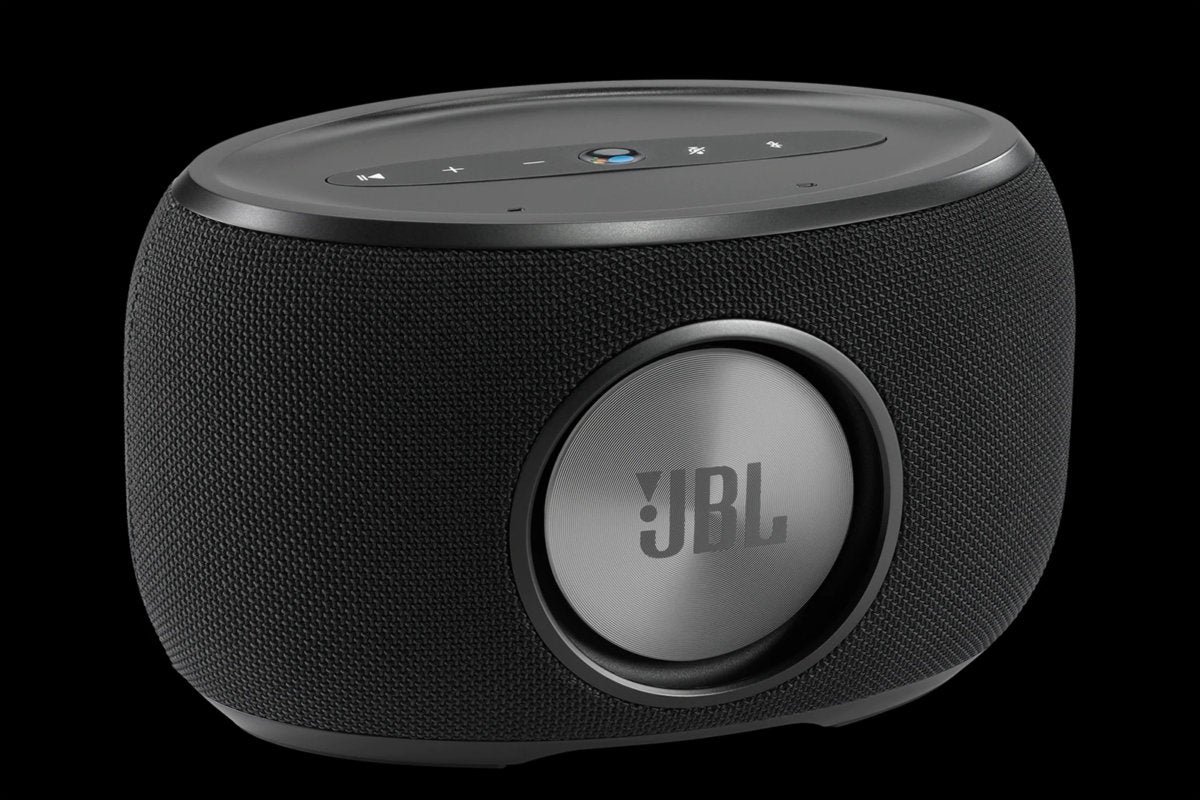 Although there are just two far-field microphones fitted on the top of the Link 300, they did a good job of hearing my requests, even from across the room. But this thing never comprehends when I ask for KCRW, always serving up KCRC. To score KCRW I must add the locating words "Santa Monica."
Four white indicator LEDs just below the top edge of the speaker glow when the Link is listening and when the volume level is being raised or lowered. A three-bar light at the bottom reveals Wi-Fi signal strength.
Pair and pair alike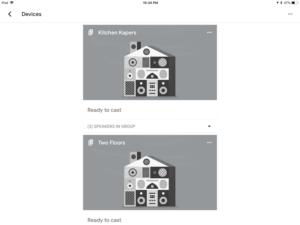 Synching music to play across a multiroom system is easily done with any other powered speaker that supports Chromecast, either onboard or "ready" to add with a dongle (as some Como Audio products now allow).
Onboard music delivery apps include Spotify (both the premium and free, ad-supported versions), Pandora, Google Play Music, and YouTube Music. Amazon Prime Music is notably absent here, but you can pump up a multi-room party—at resolutions and sampling rates up to 24-bit/96kHz—with any phone or tablet music app that supports Chromecast networking. And you can beam any sonic stream to a single Link 300 via Bluetooth. But then the multiroom-audio option goes away.
I created a three-room system by pairing the Link 300 with Google Home and Google Home Mini smart speakers. After the three were registered, I was ready to combine the speakers as groups—assigning them the names "Kitchen Kapers" and "Two Floors." Thereafter, I could get a group going by saying "OK Google, play dinner music on Two Floors," triggering a playlist or artist from my default music service. Up to six users can be voice-registered to a single Google Assistant smart speaker, which thereafter will recognize each person's voice and switch to his or her default music service.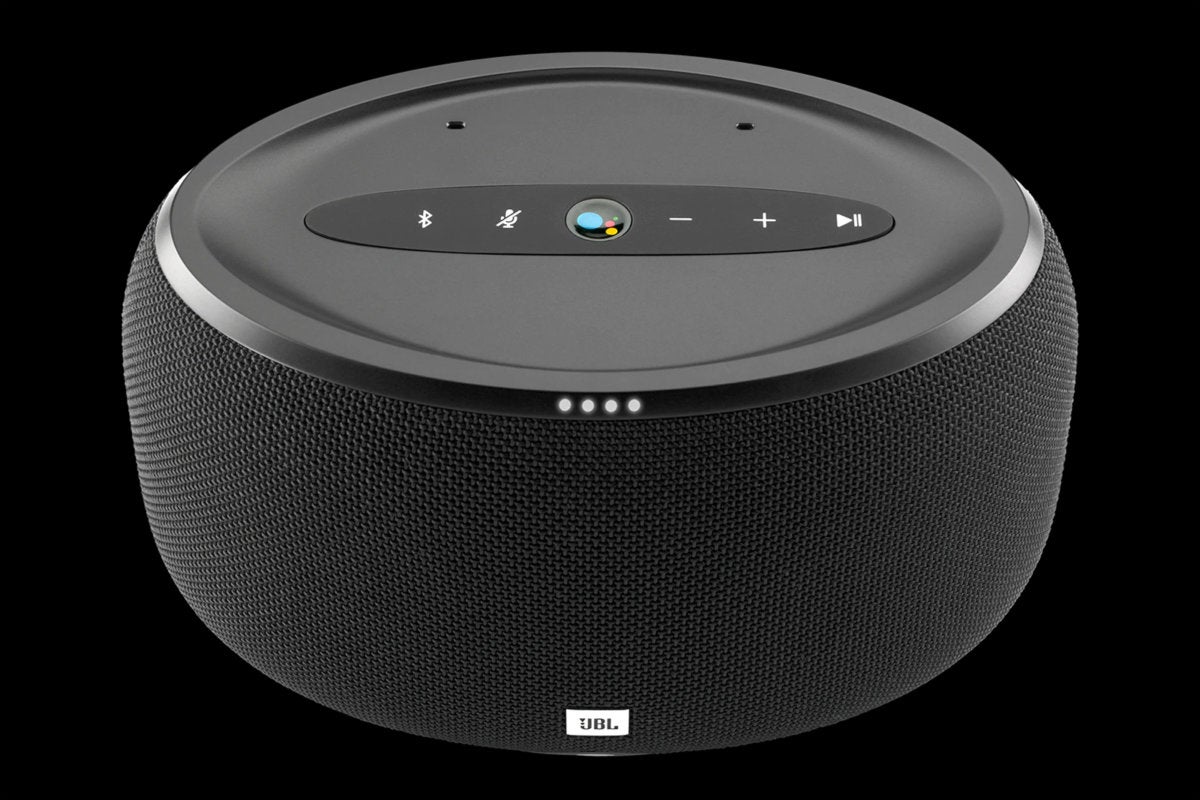 The networking of speakers (spaced one per floor) worked well in my environment, with the shared content synching up with hardly any dropouts. If you move the 3.8-pound Link 300 from one location to another, it quickly re-establishes Wi-Fi connectivity on either the 2.4- or 5GHz frequency bands. But I discovered one design weakness: The Link 300 kept cutting out when a text message came in to my smartphone. It finally dawned on me that my iPhone X was still Bluetooth-linked to this speaker from an earlier streaming session. As soon as I switched off the phone's Bluetooth, the hiccups disappeared and the speaker streamed just fine.
The JBL Link 300 is no raving beauty, and its reliance on the Google Home app means its onscreen user interface isn't much to write home about either—it certainly can't compete with Sonos when it comes to deep musical explorations and multi-room customizations (Sonos also supports AirPlay 2, for starters). But the JBL Link 300 is great for casual listening, and JBL has two portable, battery-powered, and waterproof speakers in its Link lineup where Sonos steadfastly refuses to come up with anything weatherized and portable.
Best Prices Today: JBL Link 300 smart speaker